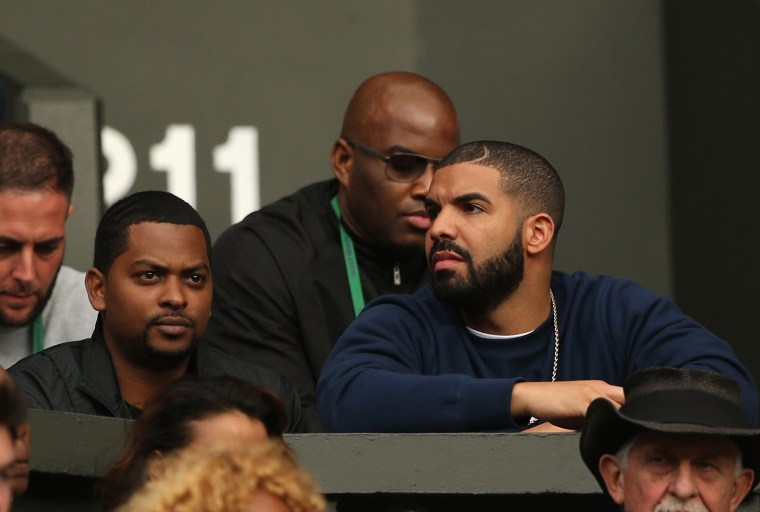 When Drake returned to Beats 1 Radio this weekend, most of the attention was on the new tracks: the Meek Mill-response "Charged Up," the "Cha Cha" rework "Hotline Bling," "Right Hand," and a new collaboration between Partynextdoor and Travi$ Scott titled "No Feelings." But the show featured plenty of other music as well. Oliver played a lot of Future along with the new Rico Richie hit "You Ain't Poppin,'" and Noah "40" Shebib showed up for a guest set, mixing OVO artists—iLoveMakonnen, Partynextdoor, Majid Jordan—with classics from Aaliyah, Notorious B.I.G., and Kool. G. Rap.
DJ Zane Lowe meditated on the broadcast during his Beats1 show on Monday afternoon. He revealed that OVO only sent Beats1 the full show 90 minutes before it was broadcast on air. He stressed that wasn't normal for the channel and said "there's nothing I can say about this record that isn't in the record" before playing "Charged Up."
Check out the full lists below, and revisit the first episode track list here.
Oliver Set:
Future ft. Young Scooter - Show Money
Future - Blow a Bag
Sly Glizzy fy. Quavo & Offset - Head Honcho
Rowdy Rebel - Kevin Durant
Kodak Black - Shoulda Woulda
Rico Richie- You Ain't Poppin'
Toronto Street Anthem - Still (Mo G & Smoke Dawg)
Safe - Hang
Roy Woods - Get You Good
Amir Obé - Jus Know
Partynextdoor ft. Travis $cott - No Feelings
Future - Thought It Was A Drought
Chief Keef - ICarly
Rich The Kid - Where The Cash At?
Future - Freak Hoe
Kodak Black - No Flocking
Drake Set:
Skooly ft. Sas - Who Is You Kiddin'
Cashy - Playa Pimpin
Lais ft. Skizzy Marz - For You (Remix)
Drake - Charged Up
Drake - Hotline (Cha Cha Remix)
Drake - Right Hand
Noah "40" Shebib Guest Set:
Nas - Street Dreams
Aaliyah - Heartbroken
Drake ft. The Dream - Shut It Down
Mariah Carey - Underneath The Stars
Waldeck - Children of the Ghetto
Faze-O - Riding High
OC's - Outtro (Sabotage)
Drake ft. Lloyd - A Night Off
DMX - How's It Goin' Down
Drake - Stunt On You
Aaliyah - One In A Million
Santogold - Unstoppable
Majid Jordan - U
ILoveMakonnen ft. FATMANKEY - Doubted
Group Home - Up Against The Wall
Goapele - Closer
Partynextdoor - Break From Toronto
Drake - Something
Aaliyah - Choosey Lover
Memphis Bleek ft. Jay Z - Dear Summer
Kool G. Rap - Fast Life
Notorious BIG ft. Junior MAFIA - Get Money