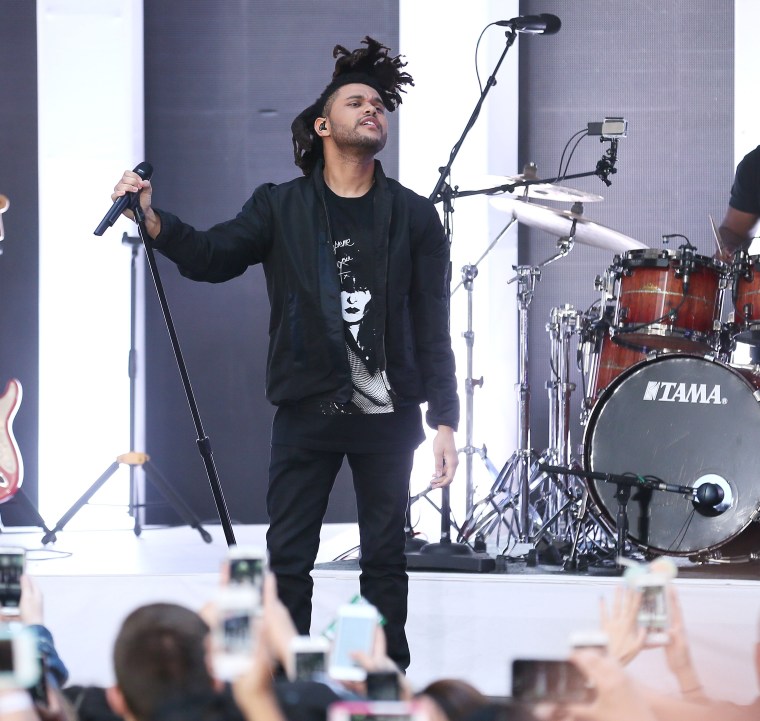 Abel Tesfaye, who performs as The Weeknd, is dropping a new full-length August 28, and The New York Times Magazine managed to profile the famously reclusive singer before his highly-anticipated release. Check out some highlights from the article below, and read the full piece here.
When he was first making music, Tesfaye held down a job at American Apparel: "His anonymity was so complete, he says, that his co-workers at American Apparel would listen to his music while he was working without realizing it was his."
He decided to majorly change his approach after Kiss Land only sold 268,000 copies: According to Wendy Goldstein, the head of urban A&R at Republic, "He said, 'I absolutely wanna be the biggest in the world.'"
He went to work with Max Martin on the new album: "Martin's team presented Tesfaye with a selection of prewritten material, and he rejected it all."
He hopes to combine MJ, Prince, and Whitney Houston: ''These kids, you know, they don't have a Michael Jackson. They don't have a Prince. They don't have a Whitney. Who else is there? Who else can really do it at this point?''
Tesfaye took some inspiration from Barry Manilow: "Before going into the studio, Tesfaye was listening to ''Copacabana.'"
He's excited to make pop songs: "'My head-space now is, I love choruses,' Tesfaye says. 'A chorus is not easy.'"
His team likes mixed-metaphors: Jason Quenneville, Tesfaye's engineer, described Kiss Land as, "'O.K., let's play baseball,' but you're swinging a plate of spaghetti. 'Now it's like, 'Fine, I will apply myself, play ball with a ball and stick.'''
He's afraid of love: "'Probably my and my manager's biggest fear is if this kid falls in love, we're done, we're finished,'' Tesfaye had said in December."
But he might be in love now with Bella Hadid: "Asked if he was in love, he replied: 'I don't know, to be honest with you. I don't think so. Maybe. It's no, it's yes, it's maybe.'"
Revisit the Weeknd's video for "The Hills" below.