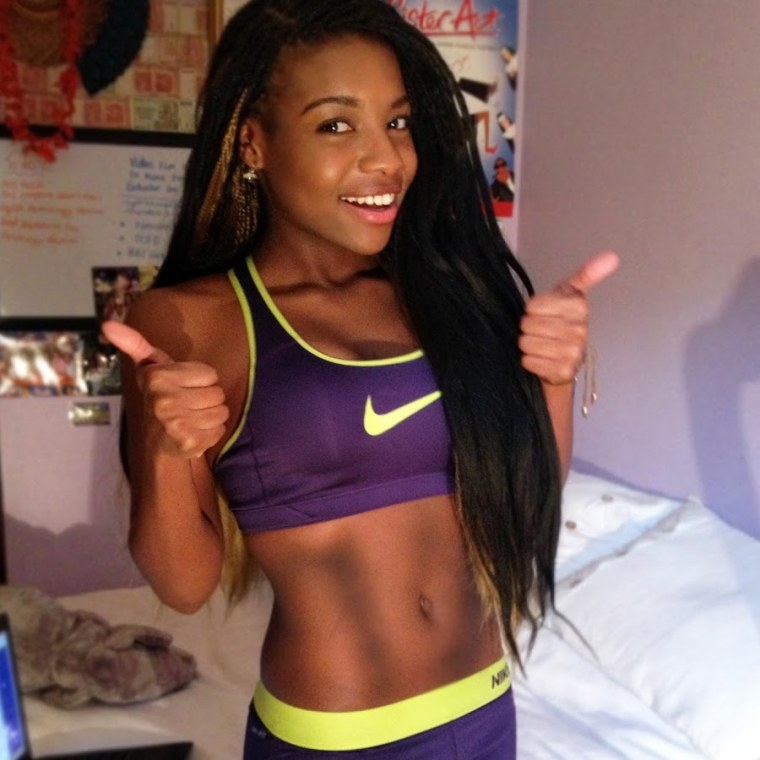 Earlier in the summer, I went to a friend's soca party. After a couple of hours of wukking and wining, I crawled off the dance floor sweaty and winded. The next day, I woke up sore, like I'd pushed a couple plates or bested my usual spin class endurance—I realized it was the best workout I'd had in months, and it wasn't even a workout.
Scola Dondo, a 19-year-old Zimbabwe-born, UK-raised physical trainer, works within that same framework: the best workouts should be the most fun. Her Afrobeat-themed exercise videos and remarkable weight loss story have earned her a following of people seeking fitness inspiration. The FADER caught up with Scola to talk about fitness, Afrobeats, and why African rhythms are the perfect soundtrack for exercising. Read up below, and get into this Scola-inspired playlist of Afrobeat songs for your workout.
Tell me a bit about your background. How did you get into fitness?
Growing up, I was quite a chubby kid and I continued to gain weight until I was obese. When I was 14, it got too much with bullying and I just wanted to do something about it. I decided to just started losing weight. All along I was into YouTube and making funny videos for my friends, so when I started losing weight, it felt natural to talk about weight loss and what I was doing. Once I'd lost all the weight, a lot of people kept asking me how I'd done it.
When did you realize people were paying attention, and looking up to you?
I started being more serious with the videos in 2012, when I realized there were people listening to what I have to say. But it was one video that I made—10 tips on how I lost 50 pounds—that got many, many views. Even today, it's my most viewed video. It's just about being active on social media and talking about fitness and weight loss in a positive way—not just, like, in a "get a thigh gap" kind of way. It was at a time when there was a new movement coming up. Health and fitness is a huge trend now and it's probably the best trend ever.
How did you start incorporating Afrobeats into your workouts and videos?
I went to my cousin's wedding in Zimbabwe [in 2012], which is where I'm from. Traditionally, the whole wedding party does a dance leading into the reception. It's super fun. That's when I first got into Afrobeats. When I got back [to the UK], I started watching loads of videos online and started dancing when I was working out, because it had become my workout music. I realized I was getting just as much of a workout through dancing, so I decided to mix the two. I think it's the perfect style of dancing compared to other kinds of dance workouts—aerobics, and things like that—because here you can almost freestyle it. I thought it would be a really great way to get exercise without even realizing it because you're having so much fun.
How do you go about picking the music and creating the workout?
I usually just get inspired by a song. I'll start dancing to the music and see what I come up with. I try to focus on moves that people can replicate but are also really fun and make you feel good about yourself. And then I try to incorporate fitness moves, too. Often you're dancing, but I'll have you moving in such a way that you're burning your thighs and you don't even realize it. So it's all about finding movements that are dances but also workouts. Like squatting to work your leg muscles. Sometimes I'll be obvious about it and put a fitness routine in there so you can get the hard part done, and then you just get to dance after.
Looking through the comments on your videos, a lot of people have been introduced to Afrobeats through your workouts.
Definitely. I have such a broad range of audience, it's crazy. It's not just one type of person. It's all kinds of people. Mothers, daughters, every range of age. And I realized it's a genre that people aren't really aware of. Recently, it's becoming mainstream, especially in the UK with [artists] like Fuse, but people don't know how much is out there.
As a genre, it's becoming more popular through backdoor channels—things like your workout videos and also unexpected collaborations between international artists. What does that mean to you?
It's a cool way of getting it out there because it's always hard getting anything from Africa into the mainstream. I'm really loving the collaborations—like, Krept & Konan just did an Afrobeats remix of one of their songs. I'd love to do a workout to it because people who are into UK rap and grime might be able to get into Afrobeats because of that song. Also, like Drake and Skepta with Wizkid. It's always hard to break the mainstream, so to me it's really cool the way that's getting out there.