VEJAS' Spring Presentation Was Like Waking From A Strange Dream
Stunning new looks from one of Fashion Week's most talked-about brands.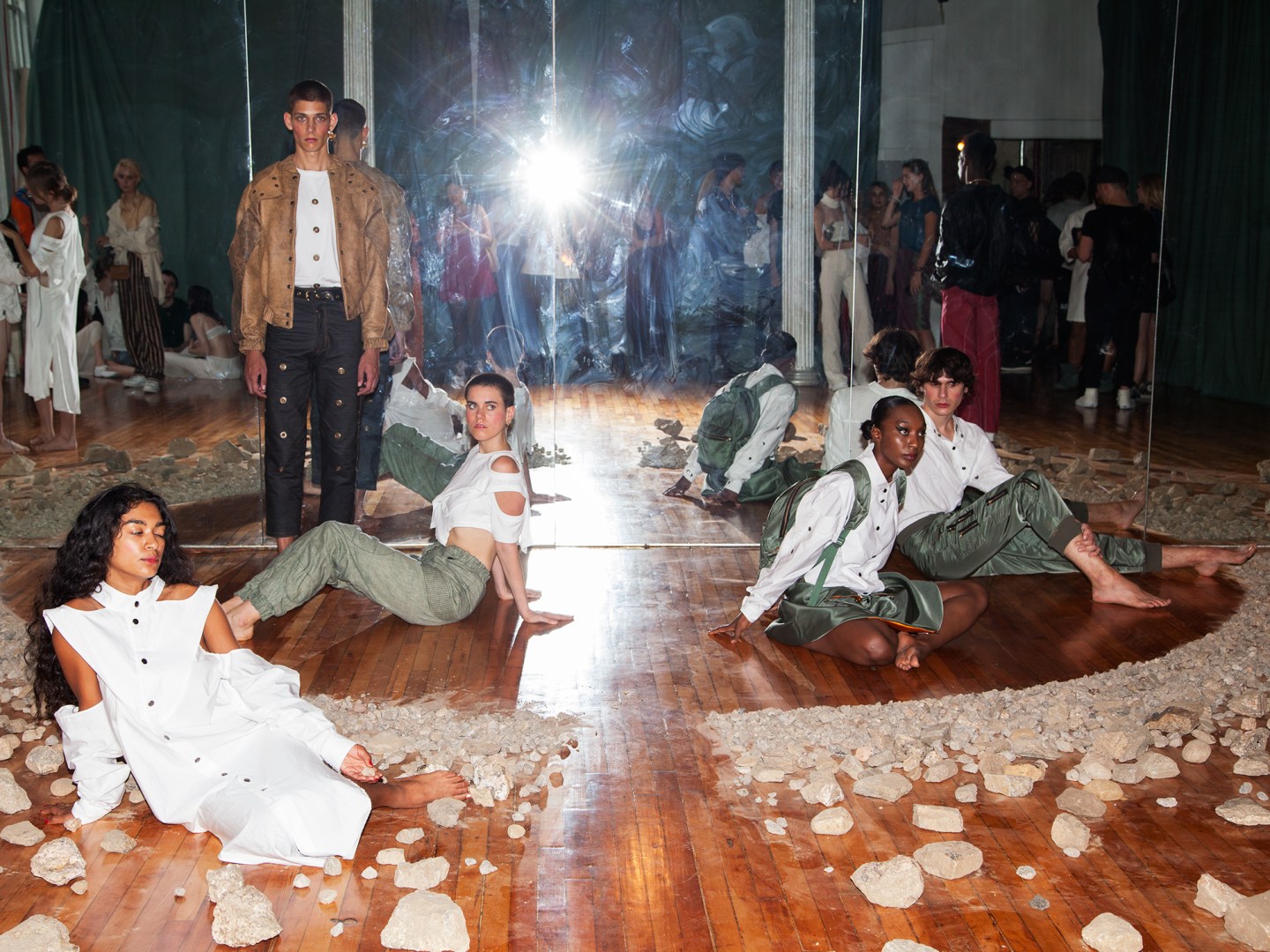 If you leaf through the most recent issue of The FADER, you're likely to stumble upon an article about a teenage designer named Vejas Kruszewski, his stylist Marcus Cuffie, and the avant-garde apparel brand called VEJAS that they manage together. While the interview mainly focuses on the pair's inclusive vision and the brand's smartly gender-neutral look, it also touches on the boys' circle of New York fashion friends—a close-knit clique seemingly determined to help each other succeed at any cost. On Saturday, if you climbed up the creaky SoHo staircase and entered the bare-bones second-floor studio where VEJAS was hosting its buzzed-about Spring Summer '16 presentation, you might have seen what that mutually supportive scene looks like in the three-dimensional world. Most members of the soft-spoken crowd who weren't designers themselves were photographers, stylists, or models, and a lot of them were decked out in pretty, handmade clothing designed by VEJAS contemporaries like Moses Gauntlett Cheng, Vaquera, or even influential post-apocalyptic forebearers Hood By Air.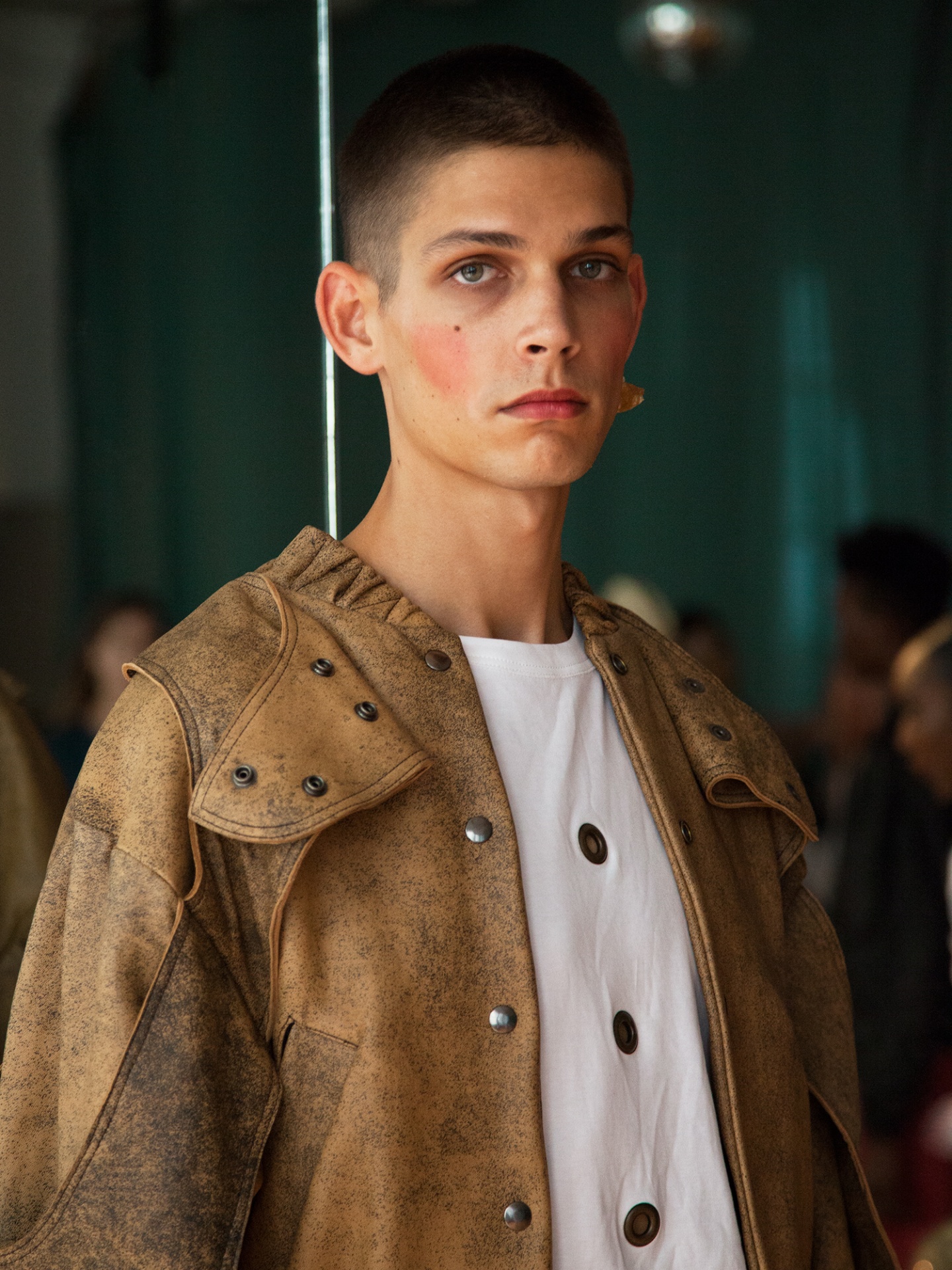 The presentation itself was like the calm, confusing moments after a strange dream. Rocks were densely arranged in a half-circle that stretched from one end of the room to the other. The studio's back wall was a floor-to-ceiling mirror, preserving an illusion that the space, which felt like some sort of otherworldly secret garden, was double its actual size. It was a simple, organic extension of the survival-themed vibe that VEJAS established at its sparsely attended breakout show last season. The aura of the "final girl," the horror-movie heroine that Kruszewski has cited as a thematic inspiration, still loomed over the affair; one short-haired model wearing an abstractly layered top and military-green pants looked a bit like Sigourney Weaver in Alien 3, while another in a scrunched-up white dress adorned by a dozen dangling drawstrings recalled Milla Jovovich in the last scene of Resident Evil, when she wakes up in a clinical gown with a mysterious mess of hospital wires attached to her body.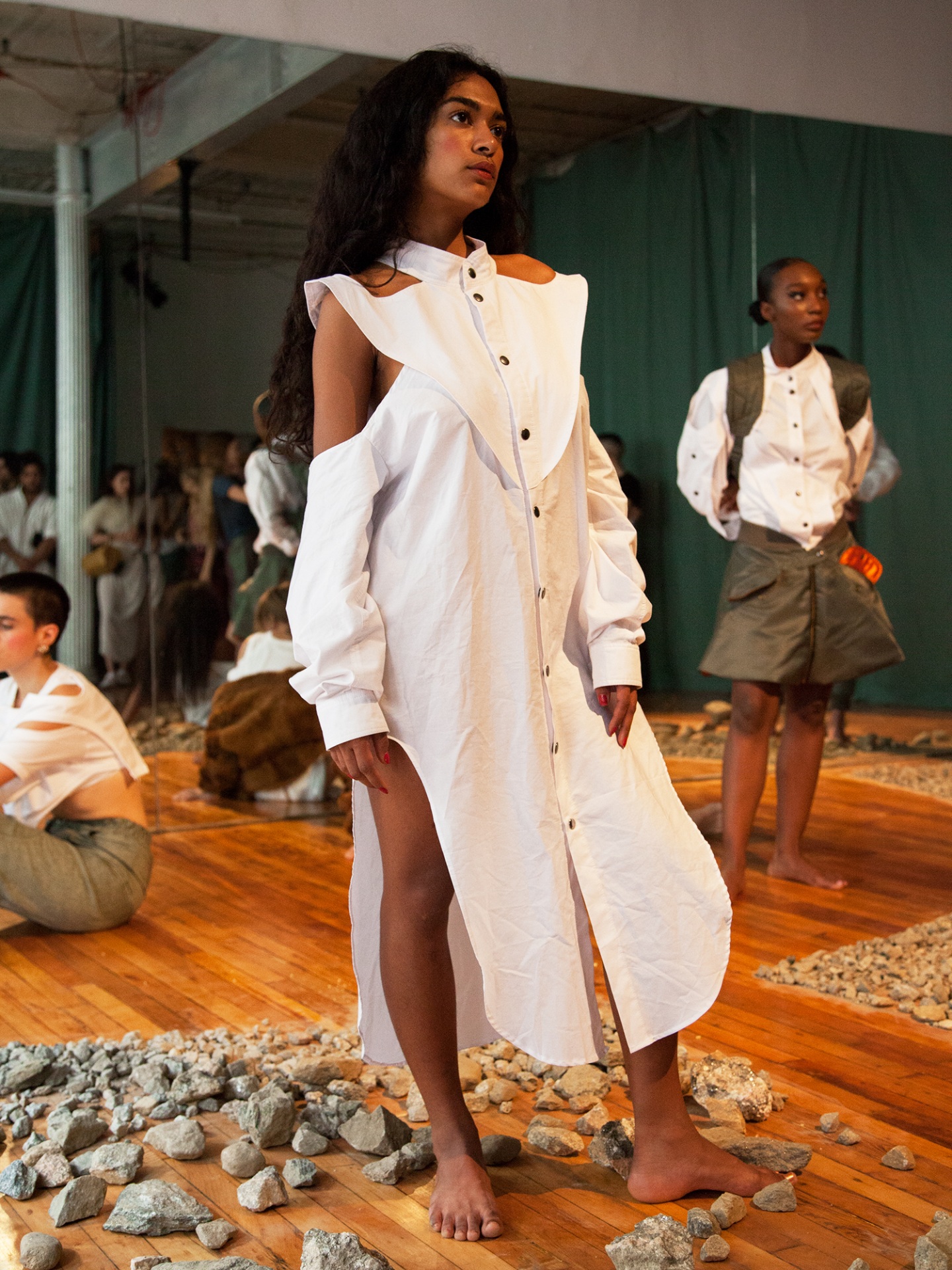 Because the fashion world loves declarative statements, VEJAS is already being heralded as the future of New York, and one of the key players shaping the city's present style climate. Kelela is a fan, and according to a new Dazed feature, Kruszewski recently hand-delivered several VEJAS pieces to Beyoncé's stylist. This latest presentation was a low-key, refreshingly humble offering from a brand that everyone seems to be watching right now. Examining the seven modestly futuristic new looks, nearly all accented with vaguely seafaring costume jewelry, it really wasn't hard to figure out why VEJAS has emerged as the unofficial ringleader of this resourceful new class of underground designers. The clothes are simply a pleasure to look at, whether it's a skirt fashioned from a classic bomber jacket, a pair of comfy-looking blood-red track pants with loopy visible seams, or a surprisingly symmetrical, floor-length white dress with disjointed sleeves. It's impossible to tell the future, or predict VEJAS' place in it. Even that sweet street psychic who smells like patchouli in Greenwich Village probably doesn't know what's coming next. But there will be beautifully dressed people there, we do know that, especially if VEJAS has any say in the matter.