Kanye West's 808s & Heartbreak Live Show Is Proof Fam' Can't Kill Him
At the Hollywood Bowl in L.A. last night, 'Ye reminded us that the greatest creative risk of his career might've actually been his safest.
Fame Kills really almost happened. The ill-fated 2009 tour was meant to be a traveling pop-art carnival co-starring Kanye West and Lady Gaga. The two would showcase what were up until then their loudest, shiniest works: West's 808s & Heartbreak and Gaga's The Fame Monster, side-by-side. West had spent the past year shaking off his sample-filled backpack to become a load-bearing stake in music at large: if "Stronger" and the Glow In The Dark tour made him biggest rapper in the world, the only goal left was to be the "greatest living rock star on the planet," too. So, as he'd done before with Jay Z, Jon Brion and Daft Punk, West stood next to an artist that would drag him out of his comfort zone, gaining new fans and a sure footing with dance, pop, rock, and even gay audiences. "It's going to be one of the most groundbreaking moments in touring history," Gaga promised then, excited to fully consummate hip-hop and pop's flirtatious summer spent singing along together to the Black Eyed Peas. But at the 2009 Video Music Awards, Kanye West interrupted Taylor Swift to declare that her Best Female Video award, the first VMA awarded to a country artist, should have gone to Beyoncé. Thousands of the fans West planned to meet on tour with Lady Gaga instead got to know him on TV with Taylor Swift. Within weeks of the airing, Fame Kills was cancelled. Gaga back-peddled in the press. West took a two year hiatus. 808s & Heartbreak was never toured.

The cancellation is a curious asterisk to note now, ultimately less remembered than the Swiftgate that caused it, and might've remained a simple footnote in a career of major headlines had Kanye West not spontaneously revived the album for two nights at the Hollywood Bowl in Los Angeles this weekend. The concert's extravagant, tightly-coiled production is a hint at what that 2009 tour might've played like, but watching it Friday felt like a confirmation that the tour shouldn't—couldn't— have been.
That era was one when music's stars fought for control of the center via radio spins and album sales; today, just six years on, they lead an obsessive cult of their own at the fringes, buoyed by the internet. West hoped to Trojan Horse the eccentric, misunderstood 808s through Gaga, a prospect that now seems preposterous, considering where the two are today. As Gaga strove for total saturation, her identity chipped away into a hundred fragments. On the other hand, West—having alienated his rap fans with an album of Auto-Tuned pop and his pop fans with an outburst of uncut hip-hop—had to start from zero. Fans that stuck it out, who obsessed over 808s in spite of skeptics and defended West against those who criticized his behavior, became the strongest base he'd ever had: the kids who today line up for Yeezys, and saw multiple nights of Yeezus. With 808s, his fourth album, the cult of Kanye West was born.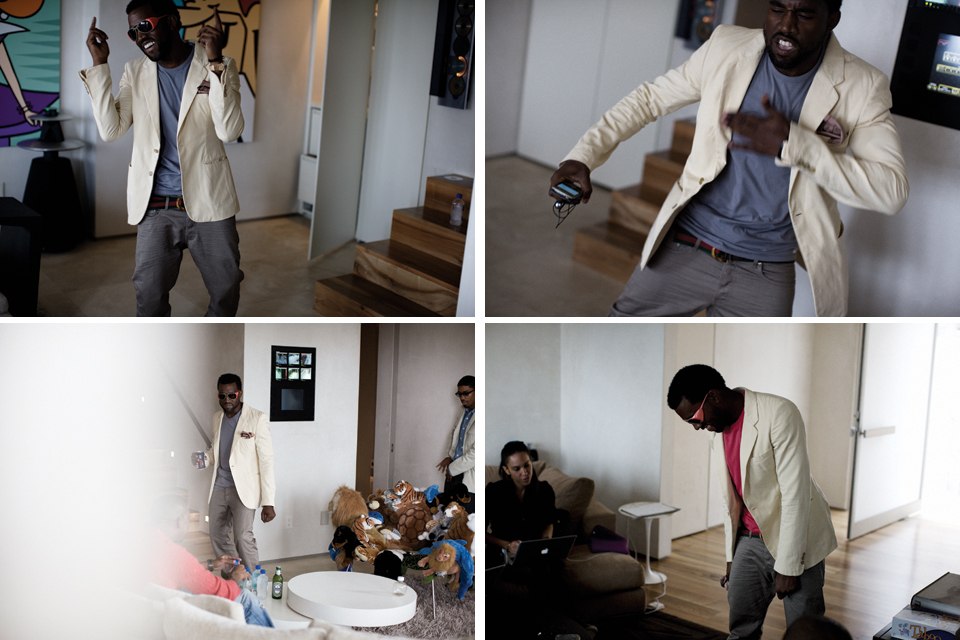 At the time, I was not a member of this cult. 808s was confusing: the sonics were foreign, the lyrics were esoteric, the guests were unfamiliar. None of the songs took on the radically social and political causes for which I'd come to depend on him, and it was devoid of the inside jokes and cultural references that made the rapper feel like a friend. Instead, it was a record of muted self-reflection, one that recalls Drake's recent description of his own potent work in his FADER 100 cover story: "We're talking about triumph, we're talking about failure, we're talking about nerves. We're talking about fear. We're talking about doubt." These are themes fans hear across rap and pop today, but were foreign in a time when Lil Wayne dominated with a lyric about getting licked like a lollipop. So it was bewildering to watch 808s burst back to life years after it'd pivoted rap toward an entirely new direction, consciously or not.

Last night, West's 808s stage production featured a focused white palette, swirling choreography and set changes, and ornate wardrobing that were all distinctly post-Yeezus. The show featured a live orchestra, a six-man choir, three free-rotating staircases, and a chorus of women draped head-to-toe in limbless white veils. There were scenes of pure theatrics: for "Say You Will," a lone, gold-painted Zoe Kravitz sulking on stage and soon reappearing feet above the nosebleeds behind the audience, overlooking the proceedings; for "Love Lockdown," a chilling army of topless, chiseled males, coated with ash and recalling Senegalese wrestlers of Dakar, who snaked through the crowd with stone-faced poise; for "Coldest Winter," a funeral for a silent, still-bodied matriarch wheeled out on a slanted bed and surrounded by pallbearers. West casually paced around the choreography, letting fireworks, costume changes, and a massive pulsing orb take priority over his own physical use of stage space. The special guests were significant as well: Kid Cudi was a potent hype-man and beefed up West's wily vocal runs on "Heartless," a muse back at home with his mentor, while Young Jeezy and Mr. Hudson may have only contributed to the illusion that viewers were really back in 2008. "Shout out to Kid Cudi and Mr. Hudson," West shouted as "Paranoid" closed and core collaborators like Plain Pat, Emile Haynie, and Virgil Abloh watched from VIP seats. "This how it was when we was down in Hawaii and made this sound."
"Pinocchio Story," so raw for it's freestyled spontaneity, revealed itself as the most forward-looking of the batch: West rapped from under a dense, Tim Burton-esque mask, working through a hatred of fame without showing his face—a core motif to the Yeezus tour he may not have had the confidence to go for six years prior.
Yes, that sound—one West had to defend back then, but is now an ace card in his arsenal of "I told you so"s. Songs like "Paranoid" came closest to the melodically explosive, radical twist on '80s male-driven pop West aimed for with 808s, and registered even more strongly today as The Weeknd's "I Can't Feel My Face" conquers the Hot 100. "Street Lights" flooded the theatre in stop-sign red light and still sounds like the best record of the bunch, even more clearly influential to Drake's style than "Say You Will." West rallied the Los Angeles crowd to sing along to the lyric Spoiled little L.A. girls during "Robocop" and they gleefully obliged—a topic Travi$ Scott is still having fun with today. And "Pinocchio Story," so raw for it's freestyled spontaneity, revealed itself as the most forward-looking of the batch: West rapped from under a dense, Tim Burton-esque mask, working through a hatred of fame without showing his face—a core motif to the Yeezus tour he may not have had the confidence to go for six years prior. Behind the mask, his vocal performance, which has been inconsistent throughout the evening, hit its peak with fearless harmonizing and charged screams, and reminded viewers that for all his creative strands of output, Kanye was always a vocalist last and exhibitionist first. "They tell you, 'You on TV, you gotta move like this, you gotta talk like this, and you better not miss, nigga don't miss, or we gon' treat you like this, we gon' tell you we hate you,'" he improvised.

Many will always remember 808s & Heartbreak for Auto-Tuned vocals. Fewer may remember it in context—the album was preceded on Billboard by Beyoncé's I Am… Sasha Fierce and dethroned by Britney Spears' Circus. But watching the record performed live in 2015, it's remarkable to see just how safe this massive creative risk turned out to be. After all, doesn't fame kill everyone a little bit? "You ever hear some really, really bad news, and it hits you like a gunshot?" West asked the crowd during "Bad News," before the jarring sound of a gun cocking and firing sent him sprawling to the ground. He lay still, until he got back up.