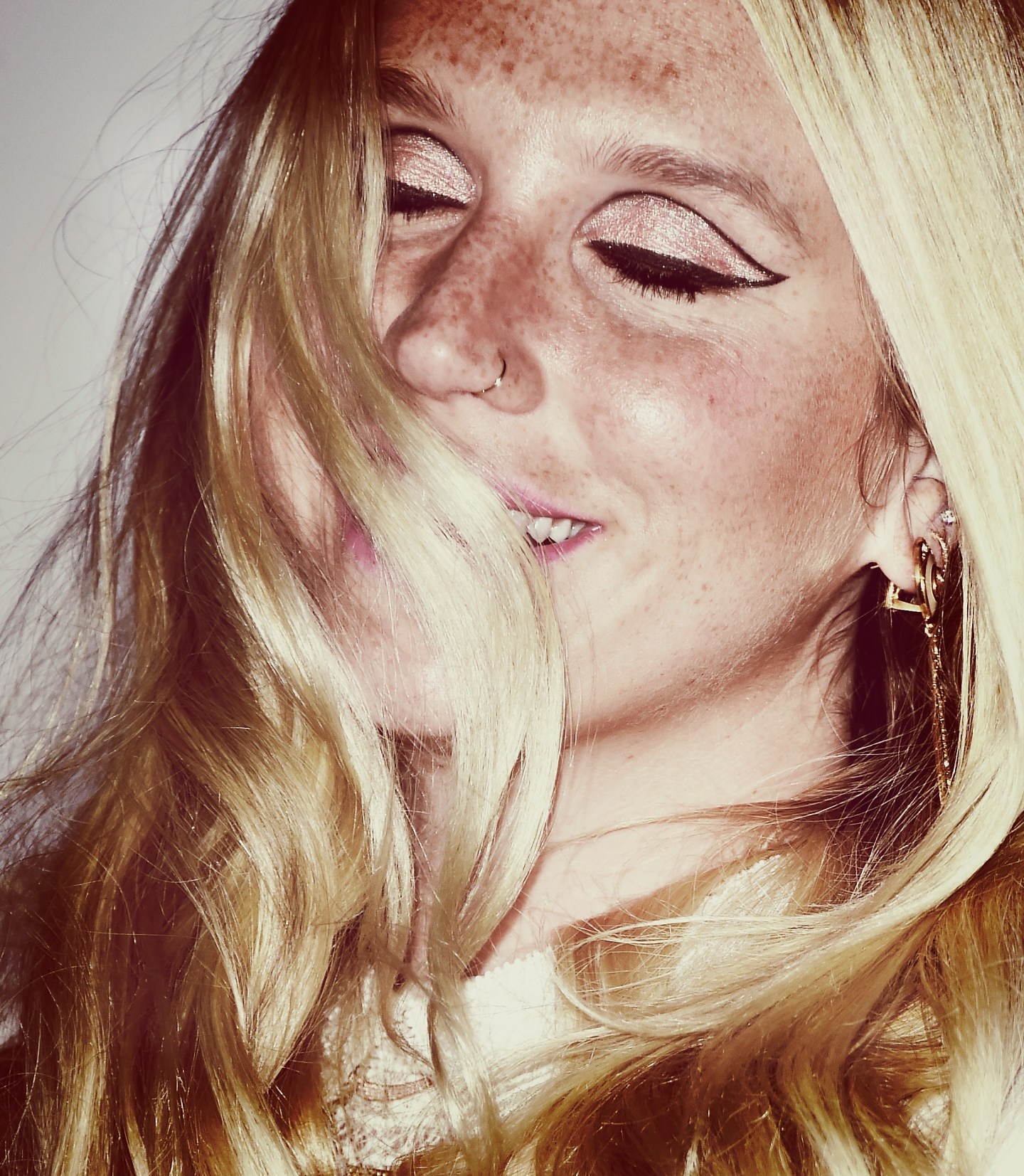 In an Instagram post earlier this year, glitter-pop giant Kesha shared a rare glimpse into her unedited, acapella vocal and her personal writing process. The clip, shot shakily in the studio, featured her singing the words of an unheard song: Stay young/Wild one/I know your heart has been through it all. Lyrically, it's classic Kesha, echoing her singles "We R Who We R" and "Die Young" by rooting for the underdog and defending wild youth. The clip came with the caption, "I will release new music as soon as I possibly can animals. As soon as I fucking can." That was almost 10 months ago, and today Kesha is still far from recording and releasing this song.
The reason for Kesha's silence is an ongoing legal battle with her ex-manager and producer Dr Luke, who she alleges abused her emotionally, physically, and sexually throughout their almost decade-long working relationship. In a lawsuit filed in 2014, Kesha—real name Kesha Rose Sebert—claims among other things that the producer took credit for songs he didn't write, caused her eating disorder with verbal insults, forced her to take drugs, and raped her. Last week, she pushed for a preliminary injunction in her case against Dr Luke—aka Lukasz Gottwald—claiming that until a judgement is made, her career hangs in the balance (she last featured on a song in 2013). Kesha says she feels unsafe working with Gottwald, but is locked into a contract that prevents her from working with anyone else; which leaves us with nothing but Instagrammed fragments of her new songs. "Kesha is at an impasse," her attorney wrote in a memorandum to the judge. "She cannot work with music producers, publishers, or record labels to release new music. With no new music to perform, Kesha cannot tour...Her brand value has fallen, and unless the Court issues this injunction, Kesha will suffer irreparable harm, plummeting her career past the point of no return."
Prolonging Kesha's purgatory, Dr Luke is counter-suing her for defamation, and maintains via a spokesperson that her allegations are "false" and "without merit." Most troublingly, Sony themselves responded to the situation with a victim-blaming statement this week. After Kesha amended her lawsuit to state that Sony put female artists "in physical danger" by allowing Gottwald to take control of their careers, the label wrote a motion to the judge discrediting their own artist: "[The] admission—that Sebert never spoke of or reported the alleged misconduct—is fatal to each and every one of her claims against Sony and Kemosabe Records...Sebert cannot have it both ways: She cannot claim that Gottwald intimidated her into silence, then—as an apparent afterthought—seek to hold Sony and Kemosabe Records liable for failing to act on conduct that she did not report."
As long as this tangled legal matter continues to tie itself in more knots, the charts are missing Kesha's important, distinctive voice. The familiar narrative is that Gottwald, who signed Kesha when she was 18, made her what she is today. But Kesha also did the same for Gottwald. Her first hit came through an (uncredited) feature singing the infectious hook on Flo Rida's "Right Round", resulting in Gottwald's first number one single achieved without super-producer Max Martin. With the debut single that followed, "Tik Tok" (which is to date the biggest selling single Gottwald has ever produced), the talking point surrounding the smash single wasn't his production flourishes, but this brash new character who wakes up in the morning feeling like P Diddy. Gottwald knew it; he told Billboard in 2010 that he snapped the teenage Kesha up after hearing two of her demos, knowing "that kind of bravado and chutzpah" was rare.
The industry was happy to profit from Kesha's empowering voice—until they were ones on her hit list.
Kesha herself is what made Kesha singles so abrasively, thrillingly weird, and without her mainstream pop music is missing a female voice unafraid to kick against the rules of respectability. With her rhyming flippantly about getting wasted and casual sex on "Tik Tok," early reviews branded her as a "hussy," exposing exactly how archaic the pop world's attitudes towards women still were. Kesha didn't care, and that's what made her the coolest. As she once said about her 2010 single "Blah Blah Blah"—where she raps, just turn around boy, let me hit that—"I wanted to talk about men the way men talk about women...I'm a young, responsible woman who can work and party as hard as any man. So, if I want to talk about drinking and sex, I'm going to do it." In an industry rife with passive representations of female sexuality, and slut-shaming for anyone who dares to be different, Kesha was unafraid to express what she wanted, when she wanted it, with no apology.
As well as her pop image being radical, Kesha used her position in the public eye to be overtly political. For just a few examples, she acted as ambassador for the Humane Society; recorded a personal vlog for the "It Gets Better" anti-bullying campaign; spoke out against anti-same sex marriage laws; spoke about her vegetarianism, and appeared in campaigns for PETA. Even now she's been all but forced out of the public eye, she continues to be vocal about important issues on social media, to officiate same-sex weddings, and to attend fundraisers—this week she performed a cover of the Beach Boys' "God Only Knows" at a fundraiser for ocean life conservation. She's also always been a frankly open pop star, unafraid to use the platform of artist interviews to discuss personal issues like her sexuality and experience of eating disorders that fans might identify with. In the process of writing her second album Warrior, she told MTV News: "I have learned over the past three years of doing this that being vulnerable doesn't mean you're weak. I very much want to be seen as a strong woman, but I realize that vulnerability can also be a strength."
Vulnerability became strength in some of Kesha's biggest hits, which reached out directly to the underdog and told them they were worth something. She told Rolling Stone in 2010 that her huge single "We R Who We R," which declares you know we're superstars, we are who we are!, was written explicitly with the aim of reaching out to and empowering depressed teenagers. It may not be world-changing, but it's a political slant that's decidedly missing from the singles Dr Luke has produced for the charts this year (including those for Nicki Minaj, Ciara, and his latest teenage protégé Becky G) without her writing involvement. Kesha herself was the voice of the outcast and the downtrodden in pop music; which makes it all the more tragically ironic that the very industry that profited from her songs is now attempting to silence her for speaking up about her own victimhood.
The legitimacy of Kesha's claims against Dr Luke aside, Sony claiming that her accusations are false reeks of gaslighting. Gaslighting is a technique used by abusers and those who support them to distort and omit information in order to make a victim doubt their own sanity and memory of events. In this case, Sony are saying that since Kesha didn't report the abuse at the time, it can't possibly have happened. They dismiss out of hand her own memory of her own experience, and completely skim over the possibility that Kesha could have been too scared or otherwise pressurized to speak out against Gottwald earlier—a very real possibility given his control of her career, and in light of the fact that most cases of abuse and rape are never reported at all. Put another way: the case of Kesha versus Dr Luke isn't only exposing the alleged predatory nature of one man; it has damning implications for the industry at large. Regardless of the judge's verdict, this indicates young stars are not safe in the hands of a company like Sony that will happily profit from their talent and image, but use the classic tactics of abuse to silence them when they speak out against their mistreatment.
There's nothing an abuser wants more than the silence of their victim. But "Kesha is focused on reclaiming her voice and her freedom," as her attorney Mark Geragos told TMZ last year. Why wouldn't we want to hear the voice of a popstar who, as she once told Seventeen magazine, named her second album Warrior because: "I remember every person who told me I couldn't do something or that I was ugly or too fat...You can be a victim and let that eat your soul, or you can say, 'You're going on my list and I'm going to prove you wrong!'" The industry was happy to profit from Kesha's empowering voice—until they were ones on her list. Now, as long as she's unable to release music and Dr Luke continues to be prolific, pop is missing one of its strongest fighters.