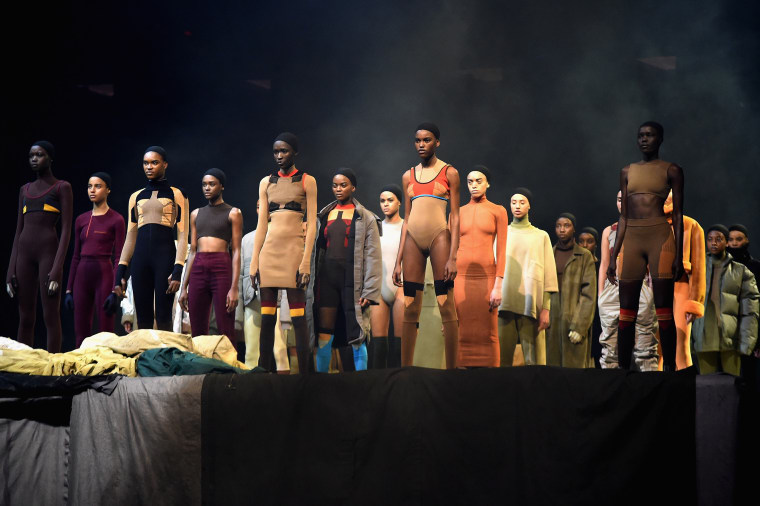 It's hard to write about Yeezy Season 3 without writing about The Life of Pablo. The album, which Kanye West debuted this evening at Madison Square Garden alongside his new Adidas collection, is heavily collaborative and full of features—certain songs aren't immediately recognizable as Kanye joints. The same spirit of generosity extended throughout the entirety of his presentation, where he was flanked by Frank Ocean and NBA player Nick Young, cheered on by the Kardashians and Jenners, and modeled for by hundreds of anonymous volunteers, most non-white, and a few rappers.

But underlying the vibes of unity and camaraderie were rigid structural and aesthetic considerations. The models followed widely circulated "rules" that included instructions against whispering and smiling, cautions against trying to look cool or glance at the jumbotron, and the magnanimous suggestion that if they were to tire during the hour-plus presentation, they were allowed to sit or lie down. (The most retweeted image so far seems to be one Young Thug looking bored; though, arguably, this meme is all to Kanye's credit, with Thug's boredom a well-curated event.) In the half-hour run-up to the show, models held their positions under a taupe tarp as MSG crew shook out the edges periodically to circulate air and keep the heat down.
When the tarp was thrown off at the apex of "Ultra Light Beam," a new song featuring Chance The Rapper, there were audible gasps. The writhing tarpaulin fell back to reveal a Terracotta Army of models, clad in oxidized outerwear locked together in a tightly coordinated wave formation. Atop two massive stages stood the star models, stick thin, separated by gender, and wearing the most luxurious Yeezy pieces.

For all its pageantry (and its pageantry was fucking fantastic), there was, as we've come to expect, a hollowness to the actual clothes. Critics have taken Kanye to task for his utilitarian, supposedly unisex collections being presented as starkly gendered. For all its Mad Max-worthy dystopia, Yeezy's world is one that adheres to traditional gender spheres. As The FADER's senior writer Rawiya Kameir tweeted last time around, "kanye still doesn't want women to wear pants huh." For Yeezy Season 3, not only were the female models given their own pedestal, they were, for the third time around, bald cap-clad and pantless. I'm sure tomorrow, as the hot takes simmer, larger questions about the collection's intentions will be raised (and not just the role of women in the Yeezy-verse, but why the tarpaulin-draped set pieces seemed to directly reference improvised buildings in a refugee camp).
That said, there were stand-out pieces in the new collection. While Kanye mostly chose to play around in a slightly rustier version of last season's flesh tones, when he did experiment with color it was highly successful. A long coat in a bright, pale shade of yellow shearling worn by Young Thug particularly popped, as did its female counterpart, a high-collared leather jacket trimmed in neon orange fur cropped to just below the rib cage. But Yeezy Season 3, was, largely, exactly what we've come to expect from Kanye; and that's not necessarily a good thing.

When I say it's difficult to write about Yeezy Season 3 without mentioning The Life of Pablo, I mean more that it's disrespectful to his status as a designer: whenever the event lagged sartorially, it was immediately, automatically revived by the soundtrack, which thrummed with a levity and ingenuousness missing from the collection. Comparisons between the two are inevitable: a consummate showman, Kanye played his biggest card—long-awaited and much-teased new music—in order to draw attention to his clothes. Maybe it's not even about the clothes, but his overall creativity: he also teased a video game about his mother's ascent to heaven. On display was the entirety of Kanye West's genius, and not all of his output is equal. That's not to say that Season 3 was a failure, but that when the audience looks back on this day, which felt so big and shook every corner of Madison Square Garden—they still might not remember the clothes.