How Artists Have Helped Sustain Bernie Sanders' Run To The White House
The Vermont senator continues to gain support from the creative community, but can they bring him the election?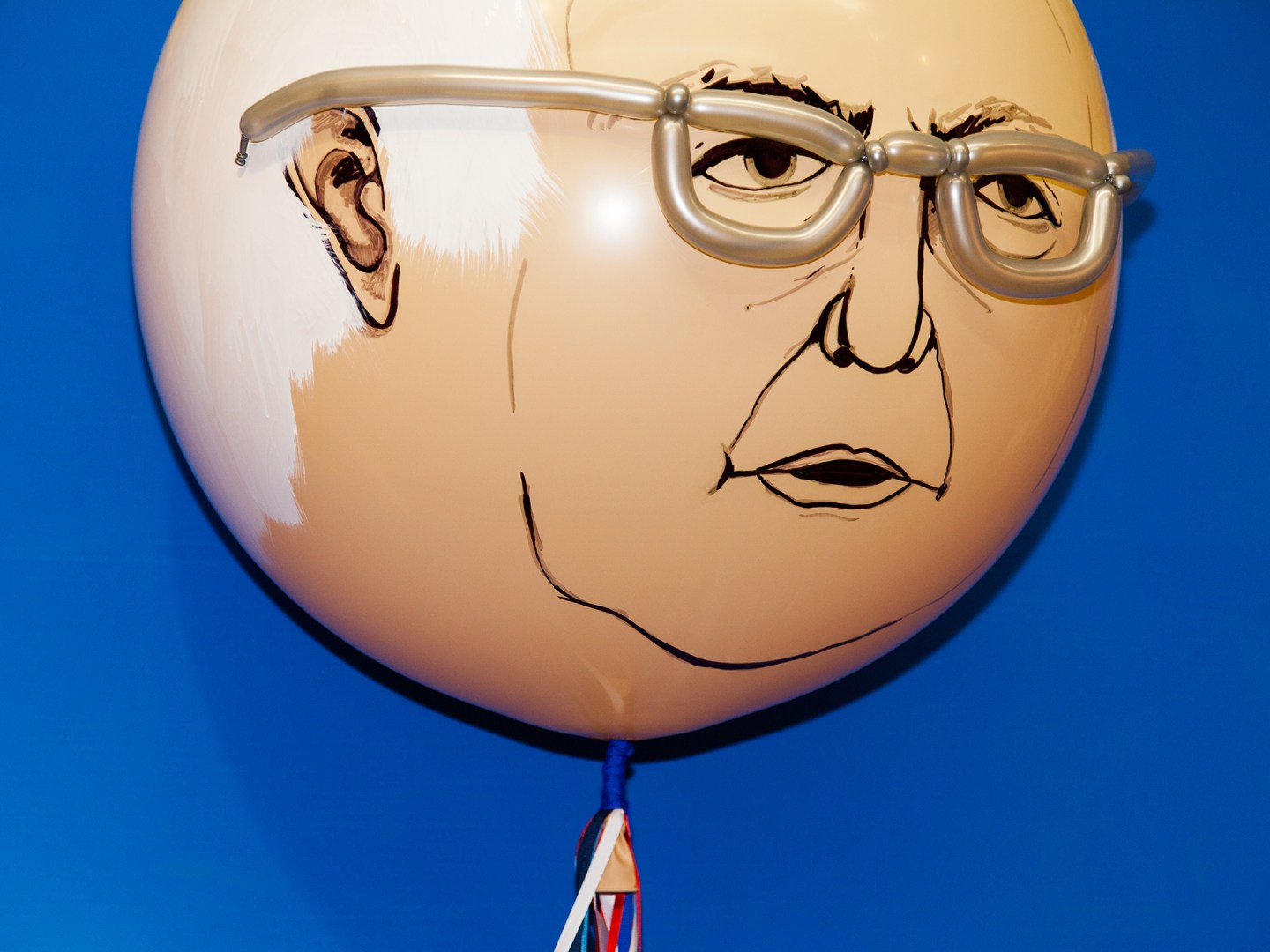 The students in the The Royal Knights marching band could hardly fit inside Brooklyn's Wayfarers Gallery where they performed last weekend at a benefit for Democratic presidential candidate Bernie Sanders. The walls inside the cozy space were covered in cardboard that had been painted blue and held politically bent art installations, like a videogame that shot bankers into space and a digitally manipulated photo of Donald Trump as a giant mouth. In the corner of the densely packed room, a "Bernie Bodega" served donuts and kombucha for the price of one "Bernie Buck," which Sanders supporters were given two of upon arrival. With drums in tow, the five-piece band comprised of local teens tip-toed around a nearly eight-foot tall statue of the Vermont Senator's head that housed a shredder to dispose of student loan bills. Despite the commotion, their performance felt like church, and the passion on display for Sanders' presidential bid seemed to fill everyone in attendance with the infectious kind of electricity that turns any closed, intimate space into something sacred.
The show, titled Weekend With Bernie, was organized by 27-year-old artist Matt Starr and ran on a budget of $54, which he and his producer Brittany Natale split evenly. Starr's and Natale's single contributions have a bigger significance, though, as it's the average individual donation to Sanders campaign. Currently, Sanders has raised over $20 million in individual contributions, a fact that has become a unifier among supporters.
"I wanted to make it a point to show people that anyone who wants to help out with the campaign can find a way," Starr said in an email ahead of the event. All of the artwork for the show—from political curiosities like an installation by digital artist Ryder Ripps that features video chats with the members of the prolific Facebook group "Bernie Sanders Dank Meme Stash" to a painting of Bernie Sanders as Lil B (B for Bernie, of course) made by electronic producer Ryan Hemsworth—was donated, with sale proceeds going directly to the campaign. Artist input, Starr said, is vital. "I believe the creative community assists in making politics more accessible."
Just weeks before, in January, South Williamsburg venue Baby's All Right hosted another pun-centric Sanders benefit—Brooklyn Is Berning. A weekend-long affair, the event brought performers like Wet, Frankie Cosmos, and Mas Ysa together to "feel the Bern," with proceeds from ticket sales going to the campaign. Events of this nature have helped sustain the Vermont senator's presidential run, which just six months ago seemed like a longshot; and today is very much plausible.
When I asked guests at the art show why they were backing him, they didn't respond with anything about the candidate himself but rather that a Sanders presidency to them meant a presidency truly run by the people. "To me, Bernie is the realest politician out there," Regina Foster, an attorney, said. "The biggest issue for me in this election is Citizens United because I don't think we can have a government that works for people as long as lobbyists have this much power."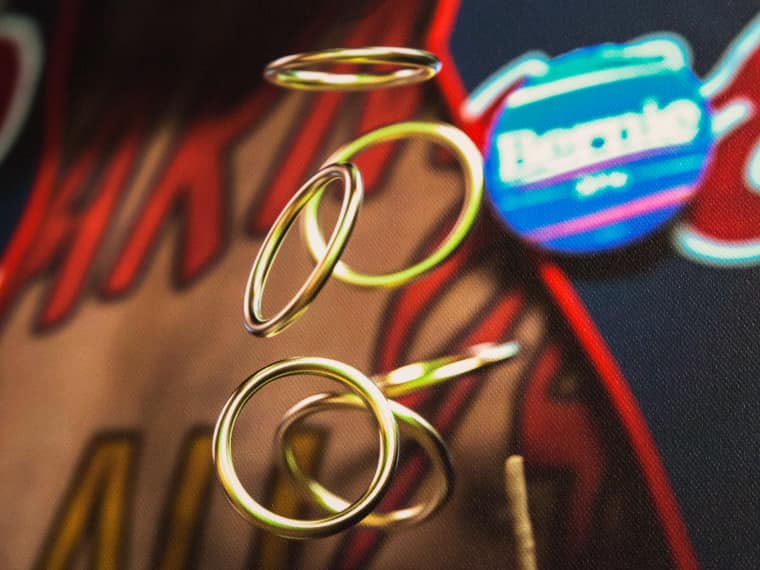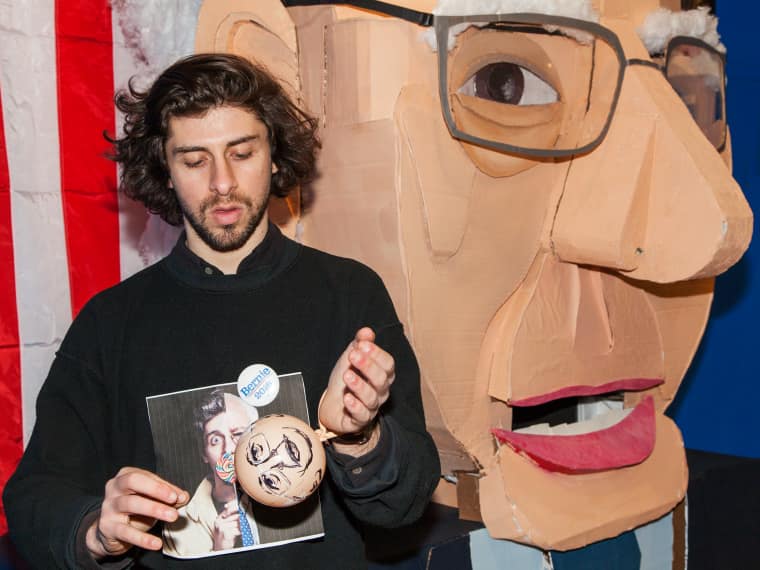 Winnie Wong is the co-founder of People For Bernie Sanders, a nonprofit group that helps mobilize the hundreds of local campaign organizations around the country. She helped curate the lineup for Brooklyn Is Berning, and her organization offers help to people looking to throw their own event in support of Sanders' unlikely play for 1600 Pennsylvania Avenue. "We amplify the organizing of grassroots efforts around the country for Bernie Sanders," she said over the phone last week. "Whether it's helping with strategy or volunteer outreach, we help individuals spark their own political revolution."
Before she became an organizer, Wong was a part of the Riot Grrrl movement in the '90s that mobilized women in the punk community around feminism and gender equality issues. To her, Sanders' candidacy represents a chance to capture a similar ethos and take it to the White House. "Bernie invokes this spirit of punk that no other candidate ever really has," she said. "When I look back at the punk scene in the '90s, one of the things I wish we had then—and am most excited about this campaign—is the specific policy goals that Bernie is pushing." Wong is referring to the pillars of the Sanders campaign, which have catalyzed everyday Americans and include a plan to reform our country's campaign finance system, a proposal for universal single-payer healthcare, and a complete overhaul of America's criminal justice system.
These issues have excited artists of varying mediums and genre. In recent months, a number of notable musicians have come out publicly in support of Bernie. Rapper Killer Mike gave a rousing speech last November in support of the senator, saying: "In my heart of hearts, I truly believe that Senator Sanders is the right man to lead this country." Mike also invited Sanders to his Atlanta-area barbershop late last year for a widely viewed six-part interview. In a recent video for i-D, Odd Future affiliate Tyler, the Creator previewed merch that he designed for the candidate. "I don't think people realize he's one of the first ones to really understand," he said, holding up a shirt that, in typical Tyler fashion, featured a photo of Sanders with the caption, "Loves Niggas." In August, Lil B appeared on CNN and offered an endorsement for Sanders. "I started paying attention a little bit more and really seeing that Bernie was a part of fighting against segregation," he said. "That was something that really touched my heart." Another Bernie evangelist, Vampire Weekend's Ezra Koenig, joined the senator on stage alongside Dirty Projectors' Dave Longstreth this month at a campaign rally in Iowa. "Watching old videos of Bernie in the House and Senate was very compelling," Koenig told me over email. "He's had a highly unusual level of integrity and consistency when it comes to issues like the U.S. needlessly bombing the Middle East or large numbers of Americans living in grueling poverty."
"Bernie invokes this spirit of punk that no other candidate ever really has. When I look back at the punk scene in the '90s, one of the things I wish we had then is the specific policy goals that Bernie is pushing." —Winnie Wong, co-founder of People For Bernie Sanders
When Sanders' opponent in the Democratic primary, Hillary Clinton, dabbed on national television in January it felt like a calculated public relations maneuver, one which seemed more concerned with tying her campaign to a moment in pop culture—trying to convey cool—than with the actual needs of the culture that birthed the dance move. Sanders' campaign, though, appears to operate in a different context. For all of the critiques the senator receives about the viability of his proposals, he's admirably consistent in his answer: the type of radical change that he's pushing will only work if everyone gets involved. It's what makes Sanders such an appealing candidate to the scores of young people throwing DIY benefits for his campaign and to the major names in music and art throwing their support behind him. One of the speakers at Weekend With Bernie, Latinos For Bernie Sanders organizer Carmen Hulbert, captured the sentiment best: "The way I see it, we're all cells in this and the more of us [who] do our part the stronger the larger body becomes."
That body endured a crucial blow on Saturday when Nevada voters handed Clinton a win in the state's caucus. Sanders hasn't completely lost his shot to secure the Democratic ticket, but it will take a particularly rapturous turnout in the remaining primary states for him to lock down the nomination. Still, Sanders' supporters—the lifeblood of his campaign—haven't given up hope.
"I still think it's likely that Bernie can win, but only if his supporters go out and vote," Matt Starr said. "Bernie and what he represents have already won. The other candidates have started to echo his talking points because they know he's touching on something real. Regardless of who ends up winning the primary, Bernie has won the people. And the people aren't going to stop being dissatisfied with the status quo."