Kaytranada Is Reaching 100%
With a new album and chapter in his life, Kaytranada is giving all of himself for the first time.
Last fall, Louis Kevin Celestin found himself in an unbreakably terrible mood. As Kaytranada, he had sold out shows all over the world with his joyful house and disco music, but when it came time to finish up his debut album, 99.9%, the 23-year-old producer was exhausted and lashing out at his family, including his younger brother Louis-Philippe, 21, with whom he still shares a basement bedroom in his Montreal childhood home. Kay would sit up all night working on music, sleep into the afternoon, then spend the day generally inconsolable. "My mom would always say, 'What's wrong with you?'" he remembers. "I was hella depressed."
It was the first significant stretch of time Kay had spent at home since he'd started touring three years earlier, in 2012, after his unofficial remix of Janet Jackson's "If" went viral among SoundCloud's emerging dance scene. The rework took a song that pretty much everyone on the planet had heard and put it in a contemporary, context-less light, with euphoric percussion and a new spin on Jackson's vocals that shifted her from foreground to background, so she appeared to whisper seductively at first then shout with command. The song has always been about intense desire, but in Kay's hands, it practically became desire itself. It was thanks to "If," and his equally ebullient follow-up remixes of Amerie and Missy Elliott, that, in early 2013, he flew on a plane for the first time since he was a child to play a show in Halifax, and was soon booking shows across Europe.
Tour money was good, so Kay dropped out of high school and began helping to support his family, which had immigrated from Haiti to Montreal in 1993, shortly after he was born. His dad has earned money as a taxi driver and real estate agent, and his mother worked in the healthcare industry; they divorced when Kay was 14, and proceeds from his shows were a big help to everyone. But being on the road didn't always suit him. "I was touring with Ryan Hemsworth, and I'd see him have so much fun," Kay remembers. "It was depressing for me. I was lonely." He asked Louis-Philippe, whom he calls his best friend, to drop out, too, and join him on the road to cheer him up, but it didn't fix things.
Part of the problem was that nonstop touring was keeping Kay from working on the album he'd long dreamed of making. In 2014, he signed to XL Recordings, the storied London label that's been home to M.I.A. and Adele. He wanted to be known as an artist, not just a DJ and remixer, and thought that if he could make a statement with his debut, maybe the world would see him that way. But despite the deal, his managers kept insisting he stay on the road, building momentum instead of hunkering down with his songs. In early 2015, he finally told his agents to stop booking shows. "One day I woke up like, 'I can't do this,'" Kay says. "I was like, I'm not that dude." He went back to Montreal to focus on recording, but even then he wasn't free: should his goal be experimentation, or, as others were pressuring him, to craft radio hits?
At home, his depression only escalated. One day, he got in a fight with his mom and his brother about "stupid shit," and he ran down to the basement. "I knew what was wrong," he says. "I knew why I was pissed off out of nowhere." His older sister, who also lives at home, came down to console him. She found him in tears and started to cry, too. It was then that he told her a truth about himself, the root cause of his turmoil: he was gay. "I just snapped," he says. "Something inside me was like, 'Wake the fuck up.' I felt like there were two people inside me. I was trying to be somebody I was not, and I was frustrated that people didn't know who I was."
His sister offered to help him find a psychologist, but he declined. Instead, he focused on coming out to his mom and his brother. In truth, he had sort of already told them. At the age of 16, in a fit of self-assertion, he had admitted to both of them that he was bisexual, but had quickly retreated and never spoke about it again. "It was too many emotions at the same time," Louis-Philippe remembers. "I was like, 'Oh that's good,' and at the same time, I was like, 'Oh what does mom think?' We're Haitians, and Haitians don't appreciate gay people at all. I thought maybe it was a phase." And on the outside it may have looked like one: not long after, Kay ended up involved in a long-term relationship with a woman that ended only last year. Finally, in early winter, he told his brother and mother definitively that he was gay. Though his mother, a Catholic, did bring up Bible verses that condemn homosexuality, Kay says both were supportive and told him that they'd always love him no matter what. "I feel better than I ever have, you know?" he says. "I've been sad my whole life, but fuck that. I know I have good things ahead. I don't know honestly if I'm fully, 100 percent happy, but I'm starting to get there."
"I've been sad my whole life, but fuck that. I know I have good things ahead."
Kay and his family live 15 miles from the city center, in quiet Saint-Hubert, in a house shaped almost exactly like the Monopoly piece: classically suburban and noticeably compact. There's not really anywhere to hide. Sitting together in the living room, beside family photos and wooden statues, we can hear his mom milling about upstairs. His dad, who is visiting, keeps yelling excitedly to Kay's brother in a thick Haitian accent. Kay's little dog Boris, who he constantly Snapchats, clicks around. "I don't go out that much because when I'm out, I just think about the dog," Kay jokes. We're keeping the lights off, so the room only glows dimly from the neighboring kitchen. Our voices are hushed so as not to disturb the family.
Though Kay seems relieved to be finally making his truth known, he still expresses a stilted caution borne of life in the uber-straight world of a tiny suburb of Montreal or a traditional immigrant community. "Growing up with a lot of friends who are making homophobic remarks," he says. "It's kind of like, 'Damn, I don't want nobody to know that I'm that person.'" Kay has not told his father yet, something he is still slightly unsure of how to handle. As for the rest of the world, he says, he's treating this interview in part like the rip of a Band-Aid. He's talking to me so he won't have to go through the painstaking process of coming out to every single person he knows. He says he guessed I was gay, too, after I mentioned how much I loved Nicki Minaj when we first met. I'm the first gay person he's ever told about his sexuality, it turns out. He asks me about my own coming out.
At first, he's tentative with the gay label, unsure of what committing to it will mean for his life and his career. "I don't call myself straight, I don't call myself gay, it's just me…" he says quietly, before finally speaking more directly. "But, I guess, I am gay." He says he hasn't hooked up with a boy yet, nor has he visited a gay bar, as he doesn't have any gay friends to go with and, though he recently told most of his straight homies about his sexuality, he feels weird about bringing them along. Using apps to meet guys makes him nervous because of his relative fame. Like so many before him, he is doing all of this blindly, with few people to help guide his path. "I just wanna come clean and shit," he says. "Just to be less awkward with people. It's so wack [to lie]. This is another step in my life. I haven't changed since high school. I'm ready to move on."
99.9% is an integral part of his next step. Out in May, it's the exuberant proof of the weight off his shoulders. A consistent, insatiable rhythm carries you through disco and soul and hip-hop and R&B, as guest vocalists like Anderson .Paak, Craig David, and Vic Mensa sing and rap about flossing your freedom and hooking up at the club. When I tell him I am shocked that an artist on the brink of such a big, boisterous debut is still living at home, sharing a room and sleeping on a twin bed, he says that after the album comes out, he has plans to finally move out of the house, maybe to an apartment in Montreal proper. "When the album comes out, I swear I'm gonna be everywhere. I'm gonna be, like, not just staying here in this basement making beats all the time," he says. "I'll be like a fucking bird from the nest, just fucking flying away to be free."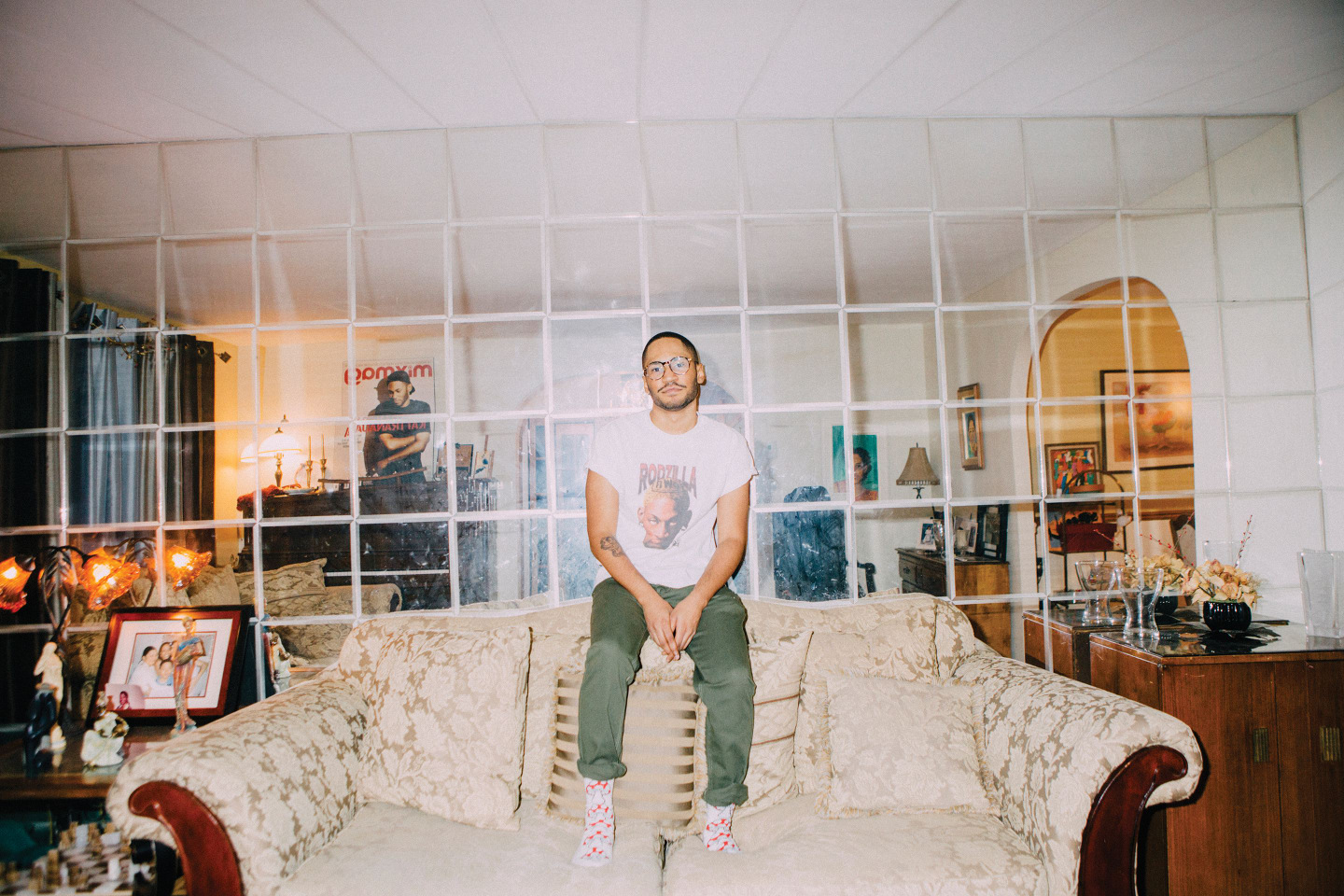 Kay was just a couple months old when his family immigrated to Montreal, and he spent his childhood in their close-knit care. "It was another level of strict," he says. "Like, I didn't even see other kids growing up." After his father left—he simply disappeared one day and called the house to reveal that he had decided to live elsewhere—his mother struggled to make ends meet. "People look at Kay and the fact that he doesn't have his own apartment and they think it's weird," says Louis-Philippe. "But we went through so much shit, and that's why we're so unified. Divorce, struggle, literally being poor, living on $100 per week, saving lunch money to do stuff. I didn't eat at school because I wanted to buy video games." That's how Kay remembers it too: "We'd order food, and there would be five chicken wings for the whole family."
Kay's not the only musician in the house: Louis-Philippe has been trying to make it as a rapper in the Montreal hip-hop scene, though he hasn't had much luck yet. (In 2014, they released a mixtape together as The Celestics; Louis-Philippe rapped and Kay made the beats.) Perhaps it's with that in mind that their mother describes Kay as uniquely blessed. "I think that Kevin is a little genius," she says, one afternoon when we're all sitting in the kitchen, drinking mango nectar and eating bountiful macaroni with shrimp and turkey wings that she has made. "I didn't expect that it would be like that, OK? [But] I am a person who prays a lot. And I know that it's a miracle." After the meal, his sister, standing by the fridge, calls him "the chosen one." For Kay's part, he says he knew what music meant to him by the age of 3, when he heard a Bob Marley song at a family reunion. "They used to play straight Haitian music, and then they just switched it up and played 'No Woman, No Cry,' and I started to cry," he remembers. "He was a sweet one, a calm one," his mother remembers. "He's still shy!"
At school, though, he was bullied mercilessly. He was held back in seventh grade for three years in a row because, as Kay explains, he was never good at subjects like math and history. But that's how he fell in so tight with Louis-Philippe and his group of friends, all hip-hop nerds obsessed with A Tribe Called Quest and J Dilla. "They were funny as hell," Kay says, "and they were all immigrants, so we could relate to each other." It was Louis-Philippe who first showed him how to use FruityLoops. "At 15, 16, I started putting things online, and there was a whole YouTube community of beatmakers, like Munoz and Tek.Lun," Kay says. Uploaded under the name Kaytradamus, his earliest works are unsophisticated but excitable, choppy little beats with samples sliced up at the speed of a sugar rush: "It was straight hip-hop shit."
Eventually his style evolved, expanding in part thanks to an obsession with collecting vinyl from across the genre spectrum. "I barely buy any records that are made past, like, 1989," he says. (This is a playful exaggeration more than a statement of fact: when I visit, he has just received a package containing Usher's 2001 single "U Don't Have to Call," produced by two of his heroes, Pharrell Williams and Chad Hugo.) Around 2010, he started posting songs that were increasingly dance-leaning to SoundCloud, a then-novel service that was was quickly becoming known for breaking new producers and DJs—though Kay says the attention was both a gift and a curse. "They put me in this box of people like Disclosure and Soulection, but I wasn't only making house beats [like them]," he says. "They were calling me a house producer, but that's not me. I make all kinds of beats."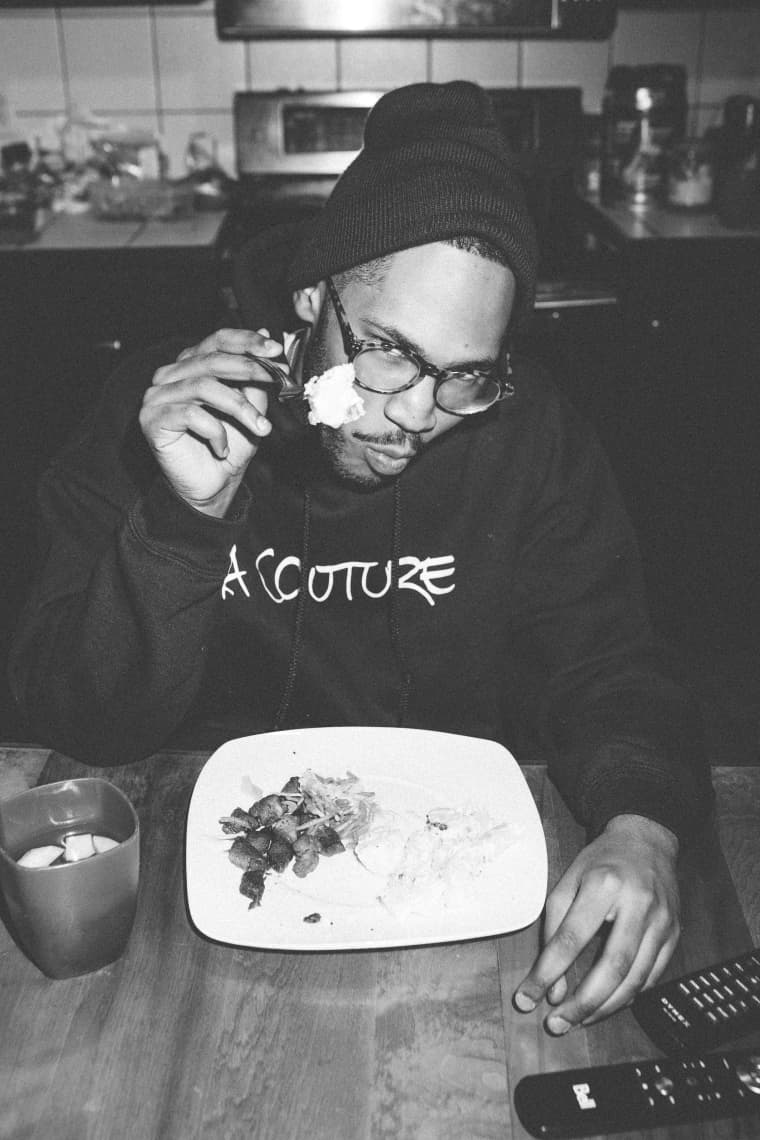 "I feel like we won the lottery when I got on tour and made all this money. To just help my mom and the whole family, that was our main fucking goal growing up."
His goal since his early days had always been to produce for rappers, but he found himself pushed by unexpected success into party DJing and making remixes. Madonna personally called and asked if he'd be her opening tour DJ, which he did on a few dates of her North American run. Janet Jackson reached out to tell him that she liked his "If" remix, and they are currently in talks about him making her a new, official one. "I feel like we won the lottery when I got on tour and made all this money," Kay tells me. "I'm about to cry—to just help my mom and the whole family, that was our main fucking goal growing up." At first, his mother didn't quite understand how music, which she thought of as a hobby, could be an entire life. "I told her, 'Kevin's gonna be the one to take us out of the struggle,'" says Louis-Philippe. His income has allowed their mother to work less. "Now, I can breathe more," she says of the financial support.
What happens next is a source of some tension within the household. Kay doesn't have his high school diploma as a backup, in case the music thing doesn't work out, and many in his family, especially his mother, don't feel like he's quite ready to leave the nest. "I'm very afraid if Kevin leaves now, perhaps something bad can happen," she says. "I would like to have him more strong in everything. I don't know. Everything can fall down. Making music, it's risky, it's very risky." Kay seems to have absorbed these nerves, and in our conversations he often dials back his plan to "fly away," even though he knows that living solo could give him a better chance to explore his newly declared sexuality. He seems caught between the idea that the rest of his life is beckoning and a self-protective desire to stay where he is. "You gotta, like, move out at one point," he says. "[But] I don't have any motivation. And I have my mama."
Wherever his personal life is at, 99.9% certainly sounds like the work of a mature artist. He rides a dominant wave throughout that could come to be seen as the signature Kaytranada sound, an amalgamation of house, disco, and hip-hop that he and his brother jokingly call "black tropical house," a play on the recent, notably white, EDM trend. Kay often uses a synth called FM8 that he has customized uniquely, so it sounds something like a cross between a church organ and an accordion. "Pharrell did the same thing," he says. "There are sounds that we recognize, 'Oh this is Pharrell, this is Timbaland, this is Trackmasters.'" He recently locked in a publishing deal with Def Jam legend Rick Rubin, who brought Kay out to Shangri-La, his studio in California. "He told me he liked how the drums were out of place sometimes," Kay says. "He knows that I'm doing an art form, and he really, really likes it. He's from hip-hop, so he understands."
Though Kay has sent beats to Drake and Kanye, he has had little luck getting big-name rappers to record over his work. His shyness has probably hindered him, but it's not like his sample-flipping style is especially suited to the music of the moment. "They want that 808," he says. "I still put 808 on my shit, but it's just a different kind of 808." In the face of rap's dominant, bleak trap sound, he's making nostalgic songs about breakdancing, and imagining the genre the way he wants to hear it: cheerful and utopian. One song on 99.9%, for example, features North Carolina cult rap legend Phonte—not exactly a sought-after collaborator these days, but someone Kay has worshipped since his youth precisely because of his commitment to his own style. "He's got soul," Kay says simply.
At times, Louis-Philippe seems to have a clearer sense of Kay's strengths than even Kay himself. "Every EDM producer is white, or it's dominated by the white population," Louis-Philippe explains. "Kaytra is one of the only ones who is black and is making black music. He mixes disco, funk, hip-hop, house—all of that together—and everybody goes crazy because they never heard that sound before. Maybe it could be a birth of a movement, like, 'Damn, this black guy is doing something big for the community." At one point, the three of us are sitting around Kay's computer listening to his music with his dad, who has a near-spiritual pride about hearing his native country's influence in Kay's newest songs. "Me, I didn't accept that he wasn't making Haitian music at first," his father says. "But Kevin, he's a revolutionary. Now I understand that he didn't forget Haiti! You can feel it!" Kay puts on a song from 99.9%. "Tak takka tak, tak tak tak, takka tak tak!" his dad exclaims, taking a sip from his Heineken and hitting his knee to the beat. "That's Haitian roots!"

Music journalists often have to beg their subjects for time, but Kay seemed more and more happy to hang out with me. His whole family had described him as shy, but to me, it seemed his openness came naturally once given the space. On what's meant to be our last night together, we head to a nightclub on Saint Laurent Street, a cool stretch of the city, with his manager, his brother, and a friend from high school named JC. The staff treats them like big shots: we skip the line, and the club's owner, one of Kay's earliest supporters in the city, comes over to personally take drink orders and chit-chat. We take shots and huddle as the DJ plays rap radio hits, and servers deliver champagne bottles with sparklers around us.
Later that night, once I'm back in my hotel, Kay sends me a text to see if we could talk the next morning, before my plane heads back to New York. I say sure, but given his usual sleeping schedule, I'm still a little surprised to see him follow through the next morning, promptly at 9:30 a.m. We meet up at my hotel and walk to a breakfast place nearby. He's freshly showered and looking smart, in a slim blue hoodie and tortoise eyeglasses. We both order eggs, but Kay barely touches his and sips tea instead. He tells me he hasn't had much of an appetite this past week.
We talk about the normal things that two guys might talk about over brunch in any city: last night's party, the type of person we hope to end up with, how much we hated high school. I tell him I'll take him out in New York after this article comes out. Sometimes, we veer into more serious topics. He remembers a kid throwing a rock at his forehead. He remembers how his dad used to tell him to fight back against bullies at school, but that he always just felt like a wimp. It's hard to be objective in moments like this. I tell him I hope he does move out on his own. I tell him I think he'll have a good year ahead of him, maybe the best of his life.
Afterward, we walk back to my hotel. He worries at one point that I'll get sick because I am not wearing a hat. As I pack, we listen to Kanye. He sits on my bed, and we pull up funny videos of Azealia Banks interviews. The hotel maitre d' knocks on the door to tell me I have stayed too long past checkout, but still, Kay sticks by me. We sit in the lobby bar while I wait for my car to the airport. I order a glass of white wine to soothe my hangover.
Sitting there, Kay tells me about a happy time he remembers from last year, a year filled with difficult and important moments, but one in which he began to take the tough steps required to live life exactly as the person he is. He had gone to the south of France to play a festival and happened to wake up early the morning after the show. It was quiet there, he says, and he noticed he was, for once, all by himself. He had nothing to do and nowhere to be. It was warm, and he opened the door and felt the sun shining on his face. He went swimming. I ask him why that moment made him so happy but he can't really find an answer. Nothing major happened. It was just a nice day.