Listen to Murlo's Soundtrack For Nasir Mazhar's Fall '16 Show
Where London club meets high-end streetwear.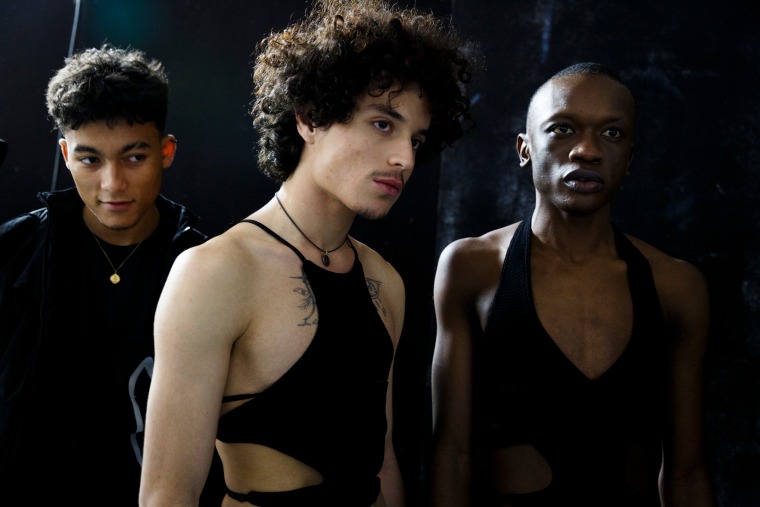 London designer Nasir Mazhar tapped Murlo to soundtrack his recent all-black-everything, The Fifth Element-chic AW '16 runway show. The Mixpak producer had only seen "bits and bobs" of the collection ahead of time, but going off Mazhar's word on what it might entail, he whipped up a mix that incorporates dark house sonics, fairground rave sounds, and classic grime elements. In short, its a whirlwind tour of London club scene.
Listen to Murlo's mix, read more about Murlo and Mazhar's collaborative process, and view exclusive photos from the collection below.
How did you find out about each other's work?
MURLO: I've been aware of Nasir's work for a while, think I came across him on Instagram a couple of years ago. The first thing that struck me was how different and individual the style was, I don't think I'd ever seen anything like it before. So unique.
NASIR MAZHAR: I've known Murlo's work from time. He's made some epic bangers and his grime instrumentals are legendary, but when I heard his Odyssey EP, I flipped out. And I'm not exaggerating. You know when music just takes over your body and you have no control? That's what happens.
How did you come to collaborate professionally?
MAZHAR: I called a friend of mine, Stuart at Rinse FM, and asked if he could put us in touch and he did. We met up, talked, played some tunes and then I left it up to Murlo to put together the show music and seating soundtrack.
MURLO: Nasir hit me up and asked if I was interested in working on his show. I enjoy collaborating, especially if it's something new to me. I gave myself a few weeks over Christmas whilst I was still living in London and worked solidly on some new songs. I decided to use only my own productions for the 45 minute seating mix, which gave me more reason to create new stuff for the actual show.
How do you think the clothes and the music compliment each other?
MAZHAR: For me personally it's hard to describe the show mix. It's partly really dark and grimy, then it has these really uplifting, almost dark house sounding moments, and then these fairground rave sounds that build up into big drops. Then it finishes on these beautiful soft vocals which switch back and forth into very recognizable classic grime sounds. It's a mix of a lot of worlds and sounds and it feels really new and quite unrecognizable as one. I think if you take away the fact that the collection is all black, there's a lot of different references and worlds in there as well and I'm always trying to push things forward and keep it new and exciting and that's where I feel it worked. The energy was high.
MURLO: Yeah, I could see that too. It was only when I got to the show that I saw the whole collection. I'd seen bits and bobs and had gotten a general vibe from talking to Nasir, but he helped guide the feel of the music so it all gelled together in the show.