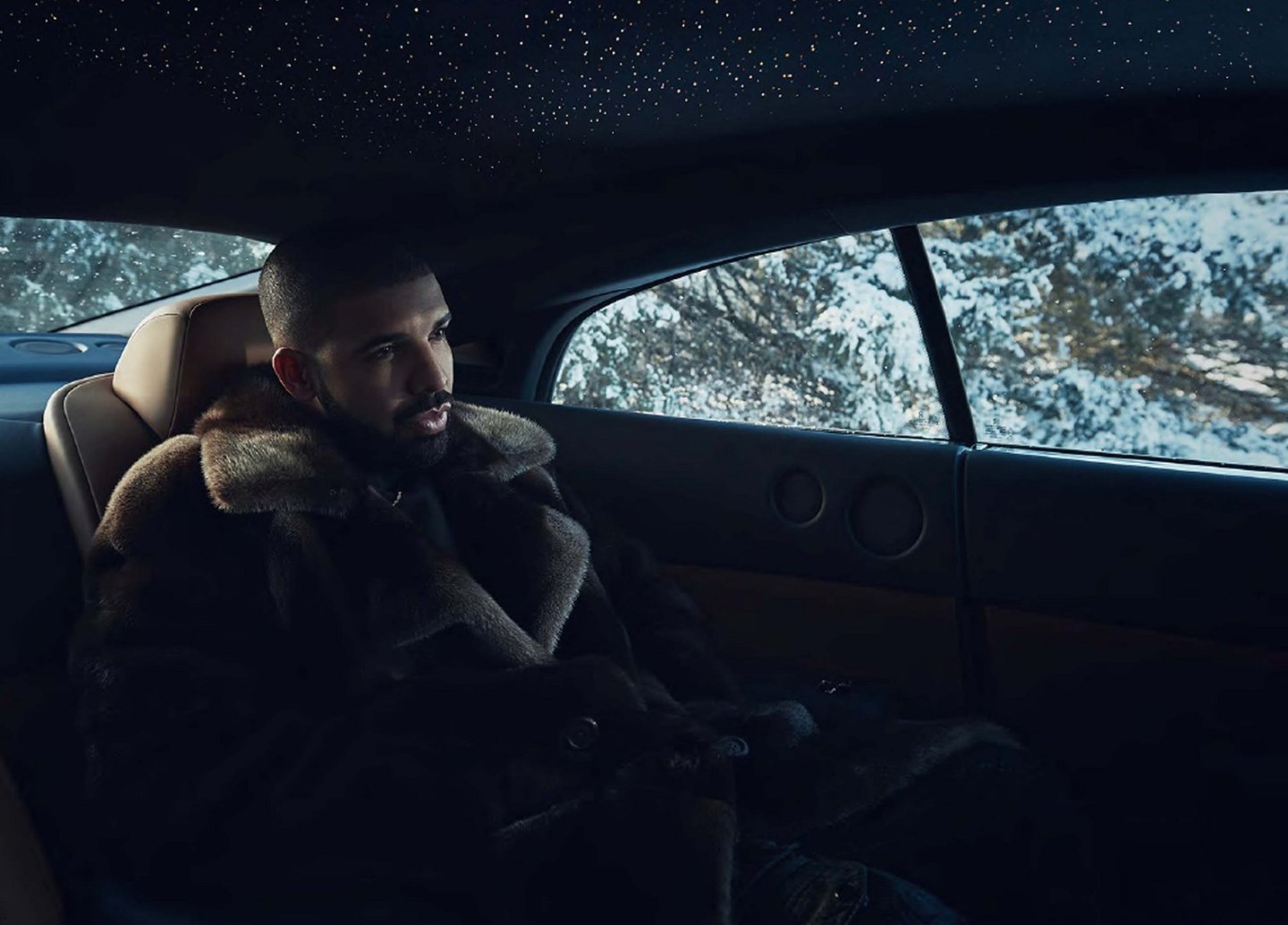 "I've been a lot of places because of being on TV and doing music [but] there's no feeling I get like coming back to Toronto, seeing Toronto from a plane… that feeling when you get back home you realize what a great place this is. Everybody I connect with just appreciates this city, and I think that's a great thing."

—Drake, 2007
It took a decade from the release of his first mixtape, Room For Improvement, for Drake to receive a key to the City of Toronto. He did this through a combination of genuine enthusiasm, expressed off-the-cuff on his Instagram, for local characters and city institutions, and also through a more calculated push that resulted in people, businesses, and even our typically conservative national broadcaster, the CBC, incorporating "the 6" into its branding. Drake's ability to rally a citizenry as ethnically, economically, and spatially diverse as Toronto is truly unprecedented. And Views From The 6, the original name for the rapper's most recent studio album, suggested there was a story to tell about this rise.

But the real Views is an album in service of Drake's specific musical and personal nostalgia. References to now-defunct businesses, old haunts, and a series of samples that would've been big in his years as a full-time Torontonian—from Glenn Lewis and Jelleestone, to DMX, Mary J. Blige, and Beenie Man—situate Drake, who turns 30 this year, in the past. Views is a narrative built on the memory of a rapidly changing city. And because Drake has been the catalyst for so much of the city's cultural momentum of late, this thematic retreat delivers little pay-off. On this album, which sprawls over 20 tracks, Drake works from a comfort zone that often feels sealed off from the rest of us.
In the right hands, nostalgia can feel urgent. Dev Hynes, who makes the saxophone sound brand new, is someone who does this well. On Views, Drake recycles past motifs—antagonizing himself and old lovers over seabed-grazing sub bass and muted synth palettes—to justify a retreat into interiority. The first hint he's suspended in time blows in on a high-pitched wind. All of my "let's just be friends" are friends I don't have anymore, he sings on the album opener "Keep the Family Close." A flock of bass clarinets takes flight, and we're back on the treacly territory of 2011's Take Care. Two tracks later, on "U With Me?" he says it outright: I made a career off reminiscing. On Views Drake talks shit with his friends, crunches through the snow, and, when "Controlla" and "One Dance" and the Rihanna-featuring "Too Good" hit, begs a bubble like he's reliving his Acura days. The Boy is back in town and on the road—perhaps he test-drove Views on the 401, a swoop of highway that bisects the city—but home is getting to his head.

Anklebiters, nebulous foes, day ones, and a seriously staggering amount of ex-girlfriends haunt this record. Fuck being all buddy-buddy with the opposition he sneers on the penultimate track, "Views." As usual—last summer's Meek Mill beef was an exception—you have no idea who Drake is talking about. On Views he nudges toward megalomania: turning producer Maneesh's flip of The Winans sublime gospel—The question is, will I ever leave you? No, no, no, no, no, no—into a pledge of romantic allegiance, and tracking his girlfriend's mileage on his Bugatti.
The biggest challenge Views presents listeners is with Drake's singing; he's trying new ranges and applying a targeted precision to his phrasing—keychain go jaaaang-a-lang—that can feel uncomfortable if you prefer the idea of Drake as a rapper. "With You" serves as the centerpiece of Views's central musical conceit: Drake, the singer, harmonizes with both PARTYNEXTDOOR and Jeremih. Yet it's "Feel No Ways," a glowy retro-pop bounce produced by Majid Jordan's Jordan Ullman, that is the album's first dynamic shift. You can hear his voice stretching as he hints at a world beyond interpersonal drama: There's more to life than sleeping in and getting high with you/I had to let go of us to show myself what I can do. But the set-up suggests this isn't a song about different lifestyles—he's lashing out: Who is it that's got you all gassed up?/Changing your opinion of me. Later, on "Redemption" he turns the line of questioning on himself: Why do I want an independent woman to feel like she needs me? Much of why Views feels stale is because of Drake's continued obsession with his own fragile masculinity.

These ideas, representing Drake's comfort zone, have been present in his music, dating back to 2006's Room For Improvement. They became musical currency on Take Care because that record built on work by peers like Kanye West and Kid Cudi, whose emotional transparency complicated the way we understand rappers and rap music as a form. 2013's Nothing Was The Same was a showcase for his voice, and gave his sentimentality a 3D quality: he boomed like a stadium jock while rapping, and was his closest to angelic on "Hold On, We're Going Home." Later that year, when he co-wrote "Mine" with Beyoncé, Noah "40" Shebib, and Majid Jordan, the performance manifest as a contrast in perspectives. And his pettiness worked on last year's diss tracks, "Charged Up" and "Back To Back," because Drake finally named his foe like he names his homies and past lovers. Even last year's "Hotline Bling" (which should be unmoored from Views like "Bitch Better Have My Money" was from Rihanna's Anti) transcended its mopey premise because Nineteen85's production was addictive and laser cut in its pop instincts, but also because it unintentionally made a folk hero out of the girl who stopped calling.

What made 2015 so significant, amping up the expectations for Views, is Drake proving he had more to offer. If You're Reading This It's Too Late, and his collaborative work with Future on What A Time To Be Alive were imminently quotable rap albums that eradicted the limits of Drake's versatility. Both were recorded in relatively short periods of time (three months, and six days, respectively) away from home—as Views was incubating with 40 in Toronto—proving he understands the value of musical and thematic immediacy.
So is Drake's insistence on traditional, long-format album-making holding him back on Views, or is it just poor decision-making (he's not immune as the album's Popcaan-free version of "Controlla" indicates)? 40's meticulousness as executive producer, which makes every track on Views feel like it was aged in the same barrel despite contributions from different producers, is commendable. "If I want to make the album I want to make, I have to go find [40]. I have to go sit with him, and we have to really put in effort," Drake told The FADER last year. They've been "Drake and 40," since So Far Gone, and Shebib has done well to provide a consistent sonic template—clean, sensual, atmospheric—derived from their mutual love of the more soulful side of hip-hop and R&B. On Views, 40's samples for "Weston Road Flows" and "Redemption" are atypically rough around the edge. "Child's Play" is a very different tempo for the pair, but 40 buffs its spiky meter to fold into the album's mood. Still, reliability can protect bad habits.

In a massive first quarter for music, our biggest pop stars—Rihanna, Kanye, Beyoncé—have found success by challenging their artistic and private personas, while also muddling genre distinctions and defining new sounds. In 2016, social justice movements are colliding with pop culture, and even if the message is complex, or messy, (or, in Kanye's case, similarly self-obsessed) these big releases have opened conversations that matter about faith, technology, feminism, and black identity. In this respect, Drake is out of pace with his peers. Views seemed exciting when Drake teased at incorporating stronger global references but those three tracks, including the groovy soca lilt of "Too Good," can't overshadow the album's ambient malaise. It's disconcerting that Views arrives at Toronto's peak PR moment—something Drake has taken ownership of—but we've learned nothing new about him or the city. There's no civic rallying call like "Know Yourself," to keep Raptors fans huddled outside the Air Canada Centre during playoffs warm, there's no story that provokes the existing narrative of Toronto's diversity beyond slang and reminiscence. Views is the work of people who are very good at what they do (certainly, "One Dance" deserves to go #1), but it is ultimately more bloated than brilliant.

And that's the rub of what home can do to the ambitious. Home has limitations: it can suffocate dreamers. In spirit, sound, and execution, Views is a record by someone seeking validation from a city that's ultimately too small and reliant on being part of his orbit to challenge him for more. Over the years he's incubated a sound within OVO's roster, and by proxy through his co-signs of artists like Mo-G, that has spread through the city—but, aside from The Weeknd, he's still the only Torontonian who commands local commercial radio. Views should be a victory lap. Its 80-minute length infers complexity. But instead, Drake's stories are like the plot of Groundhog Day set inside The Shade Room. That a man who pits pools in a dick contest with Kanye West is flummoxed by his success doesn't make him humble, it's exasperating. We should all love where we come from enough to not use home as an excuse to stop growing.