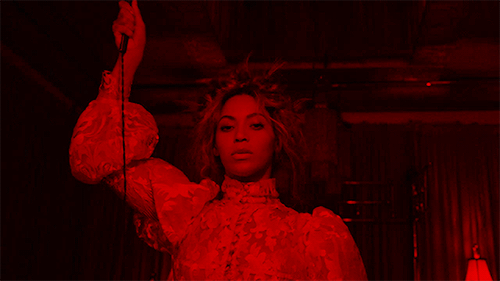 In the video for "6 Inch," the fifth song on Beyoncé's Lemonade, the singer stands in a dark plantation parlor ominously swinging a red bulb like a lasso; the light illuminates a group of seated women in the room with her. It's a fitting image for an album that gathers and brings to light black women that history has cast into shadows. Lemonade constructs a quiet army of these women who have worked too hard for the money, or whatever else they could get, and are not forgetting.
In the two weeks since its release, Lemonade has been expertly explored as a work of history, memory, conjure, and reckoning. The album also invokes and transforms black musical history. When Beyoncé loops Isaac Hayes's female backup singers into her song "6 Inch" and features Nina Simone's 1967 LP Silk & Soul in the video for "Sandcastles," she spotlights what accounts of soul music obscure: the artistic labor of women. This revisionary work is especially powerful in light of recent works about soul icons—James McBride's James Brown biography Kill 'Em and Leave, Cynthia Mort's biopic Nina—that either write black women out of American popular music or portray them as secondary characters in their own stories.
"6 Inch" is alternately a bumping and skittish song co-written with The Weeknd that describes a sex worker and evokes Donna Summer's 1983 hit "She Works Hard for the Money." It samples Hayes's recording of Burt Bacharach and Hal David's "Walk on By," the epic cover that inaugurated Hayes's 1969 album, Hot Buttered Soul and with it, a revolution in Southern soul. By sampling the song's fierce network of ascending strings "6 Inch" harnesses Hayes's grand orchestral treatment to a woman's story. But the song also amplifies the women's voices within Hayes's work: less dramatically but constantly, the track samples Hayes's three female backup singers singing "walk on."
These singers are Pat and Diane Lewis, and Rose Williams, a group that Hayes amusingly yet narcissistically named "Hot Buttered & Soul." They provided the backing vocals for several of Hayes's Stax masterpieces, such as "Part-Time Love," from 1971. In that song, Hayes longs for a temporary fix during times of abandonment brought on by his lover: Can't you see I'm working on it? the women singers ask, repeating the line with increasing urgency throughout the out-chorus. Their frenetic vocal work allows Hayes to play it cool. As Beyoncé loops his singers, she hints at other black women "behind" his song: Dionne Warwick, who originally recorded "Walk on By" in 1964, and Carla Thomas, whose hits helped establish Stax as a viable Southern soul label in the first place, though she would soon be overshadowed by her male peers.
The trick of "6 Inch" is how it tucks the stories of multiple women into the image of a singular figure. The lyrics first describe a woman who walked in the club and murdered everyone with her fierceness, while the beat reflects her slow strut. But the tempo picks up in the bridge, where the woman grinds from Monday to Friday, works from Friday to Sunday. These lyrics might reveal the grind behind one woman's glamor. But, as the beat subdivides in this section, so too might the women themselves. Is the "she" who is too smart to crave material things the same "she" who is stacking her paper? Is the badass diva in 6 inch heels the same person with stars in her eyes who sweats those sleepless nights? Are these different sides of one woman, or different women?
The song's ambiguities evoke Nina Simone's kaleidoscopic classic "Four Women," in which Simone impersonates four generations of black women including the sexually exploited "Peaches," who screams her name to end the song and perhaps the intergenerational trauma it tracks. Beyoncé too slips on various vocal and visual guises, singing in her lower register, then bringing a cry to her voice in the bridge and pushing the line she gone slay to make slaying sound like work. In the video, she plays a stripper onstage at the club, a woman of the night cruising oblivious men in a Lincoln Continental, and an antebellum horror-movie fire-starter on the plantation. This multiplicity is embodied by the women in the parlor where she swings that light bulb. Those women later stand with her before the burning plantation, literalizing and collectivizing the lyric about the woman in "6 Inch" having murdered everyone.
Lemonade revives these musicians and muses, who can seem like the ghosts of the soul tradition: Nina Simone, Carla Thomas, Dionne Warwick, and Hot Buttered & Soul.
As Brittany Spanos wrote with regard to the rock tradition, women are everywhere in Lemonade, and they show up in unexpected places. Even "Daddy's Lessons," which might be the album's most beautiful song, bears the musical lessons of women: the Dixie Chicks but also Stevie Nicks, whose 1975 performance of "Rhiannon" is melodically quoted in the verses of "Daddy's Lessons," thereby adding a Welsh goddess to the album's pantheon of black Atlantic deities, such as Erzulie and Oshun. The album's very multiplicity of genres, from the field holler to reggae to rock, recalls soul women's own mastery of multiple idioms, which Simone displays on Silk & Soul. When the video for "Sandcastles" opens with strains of Simone's "The Look of Love" and a shot of that album, Beyoncé ensures that at least one of her black female influences will be seen as well as heard.
Lemonade revives these musicians and muses, who can seem like the ghosts of the soul tradition: Simone, Carla Thomas, Dionne Warwick, Hot Buttered & Soul. And insofar as it constitutes the most radical (if fictional) airing of a couple's dirty laundry since Marvin Gaye's infamous break-up album for Anna Gordy, Here, My Dear, it also invites us to imagine Gordy—whom Gaye had left for the very young and beautiful Janis Gaye—writing back.
By reviving these women, even as spirits or shadows, Beyoncé performs her most powerful act of black feminist alchemy. Soul music, like the blues, is filled with other women (and men) that threaten monogamous coupledom. But Lemonade turns the other women that are its stated concern into allies. While Hayes bemoaned the confusing pull between "One Woman" and another on Hot Buttered Soul, and Nina Simone imagined both competing with and being "The Other Woman," Beyoncé makes those competitors kin. Unknown women wander the hallways at night, she notes early on in the film. This ultimately becomes her advantage.
Of course, the visual album's additional other women are mothers holding portraits of slain black boys and men in a chapter titled "Resurrection": Trayvon Martin's mother Sybrina Fulton; Eric Garner's mother Gwen Carr; Michael Brown's mother Lezley McSpadden. Just as Martin Luther King's assassination was a subtext for Hot Buttered Soul, Beyoncé's concept album is shaped by the murders that brought forth the #BlackLivesMatter movement. But Lemonade is less about loss than rebellion, as "6 Inch"'s Southern gothic women's uprising reveals.
At the end of that song, Beyoncé echoes the backup singers' lyric walk on but changes the words to come back. Repeating the call like an incantation, she might be heard as not only addressing an absent lover but also hailing women themselves: those voices in the background of soul, and the backrooms of slave plantations. To come back and do what? One answer: help the community heal. Another is, help burn shit down. These are not necessarily different.