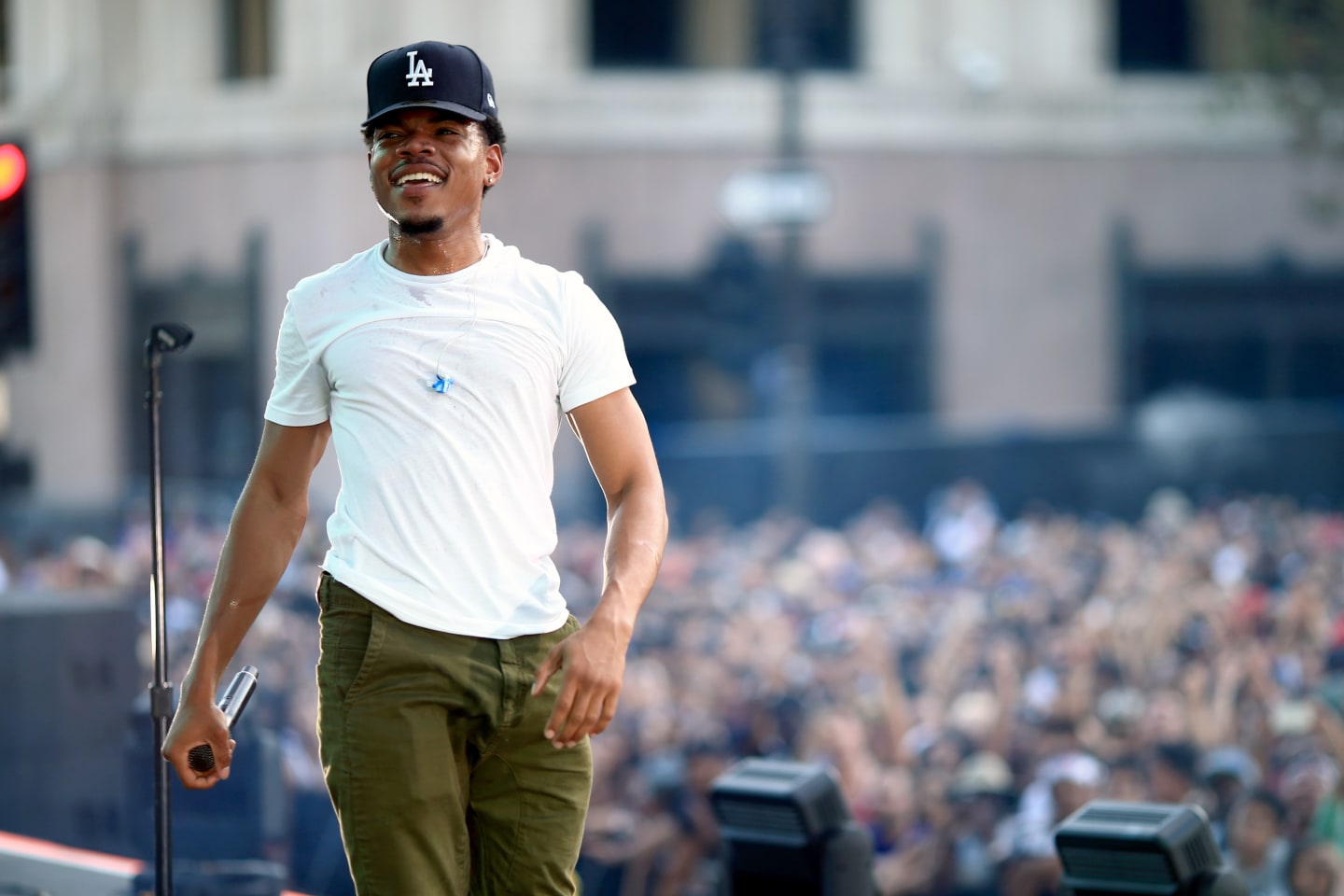 In 2014, when Chance The Rapper was tapped to be a part of XXL's Freshman class, he had to participate in the tradition of recording a freestyle video. A few bars performed under the presumed guise of being off-the-cuff, these freestyles are typically fine but rarely particularly incredible. Yet something about Chance's was unshakeable. The video opens with the camera lingering on his clasped arms, and he belts out a hymnal that you could imagine a grandmother singing to herself as she wanders about the house: Ice melting in my chain, pretty as my hair, ugly as my name. He follows this with a joyful, almost slam poetry-like testimonial of God's grace on his life: That's my G, he got me shinin'/ My hair, he made it tangled/ My seed, don't need no lining/ A halo fits on an angel. He's joyful in this moment, animated in his blackness and because of God's grace in his life.
That same joyfulness is what powers Coloring Book, Chance's follow-up to 2013's Acid Rap. From the outset, the album is sweeping and grand. The opening track "All We Got," featuring Kanye West and the Chicago Children's Choir, starts with the thunderous arrival of heaven's trumpets, welcoming listeners in with pure glee and a warm embrace. In this moment, Chance is both MC and motivational speaker, exciting and inspiring at once. This for the kids of the king of all king/ This is the holiest thing/ This is the beat that played under the word, he raps with fervor. When Kanye's chorus comes in and he sings Music is all we got, the feeling that pours forth is the rare kind of syrupy-rich elation that you may have experienced as a child: giddy with happiness, eyes and ears wide, taking in the world's fullness all at once.
A lot of the album's joy is captured through this kind of teamwork: like last year's Social Experiment album Surf, Coloring Book feels like a collaborative album on which Chance is the bandleader. He galvanized singers like D.R.A.M., T-Pain, and Eryn Allen Kane, trap rappers like Young Thug and Future, a children's choir and gospel impresario Kirk Franklin—he even found rap's Where's Waldo, Jay Electronica—in an effort to use their talents in the most functional way, each artist helping to situate the energy and warmness of the record.
At Coloring Book's base is religion. With strong Christian overtones and biblical references, the message is one of salvation; it praises the Lord purely for the opportunity to be alive. It's reminiscent of Sundays spent at church when a young adult choir might perform and an entire church might be moved by a pastor's sermon. Religion can be alienating and even off-putting to some, but Coloring Book's primary interest is to bring about the kind of joy that church brings for so many people. The chest-thumping "No Problem," the exhilarating bounciness of "Angels," the goosebumps that manifest when you hear the choir in "How Great"—it all inspires a spirit of uplift like that of church, where you dance, shout, wave your hands back and forth, you do something with your body and you can't explain why but something about being in this place, with this music and these people is causing you to cast out your burdens and delight in celebration. The same kind of celebration Kirk Franklin & God's Property achieved, when you didn't know gospel could sound like this, Chance has brought to a rap record.
But it's not all Sunday morning worship music: "Mixtape," featuring Young Thug and Lil Yachty, is the most obvious club record and it's mesmerizing nonetheless; over infectious 808s, the trio's staccato rhythm protests that they're "the only niggas that still care about mixtapes"; "Juke Jam," on which Towkio and Justin Bieber help Chance interpolate R. Kelly's classic slow-jam "Feelin On Yo Booty," is a sultry dedication to the parties of youth and first loves. "All Night" is a sugary dance-pop party record with Knox Fortune that is a new sound for Chance but feels like an obvious fit for him.
All the shifts in tone on Coloring Book are threaded by an infectious joy. Even in times of suffering, joy remains. It's what separates it from simply being happiness. On the reflective and somber-themed, but deceptively playful-sounding, "Summer Friends," featuring Jeremih and Francis & The Lights, Chance reminisces about childhood Chicago summers, when the crime rate typically shoots up: We still catching lightening bugs/ When the plague hit the backyard/ Had to come in at dark cause the big shorties act hard. Even in this depressing hit of reality, Chance uses personal memories and nostalgia to highlight moments that once brought joy, like the ice cream truck and the beauty supply. At 23, he has become an ambassador for Chicago, and the more famous he becomes, the more he's shouldered that responsibility by using his platform to bring awareness to the conditions black people face in his hometown. Chance is perhaps most aware of that when he raps, Jesus's black life ain't matter on "Blessings," the Jamila Woods-guested song that features vocals from gospel artist Byron Cage. There is pain and suffering in black history, and it would seem silly to expect us to hold on to that sense of child-like wonder. But Chance's insistence that we do is what makes him appealing: choosing the light every time the darkness threatens to set in.
At times, it can feel as if pure joy is unattainable. To think of all that is robbed of you, asked of you, assumed about you, and to think of the looming specter of death that surrounds you—to come out of that with a spirit that is cheerful in spite of the odds is both beautiful and admirable. At the end of the sparse, elegant "Same Drugs," Chance references Peter Pan when addressing a lost friend, Don't forget the happy thoughts/ When did you start to forget how to fly? he raps. It's an innocent question but a poignant one, especially for black people to grapple with in the years since Trayvon Martin's killing. But that's the inspiring thing about Coloring Book: it dares to tell us that we can fly again. Joy is omnipresent in Chance's career and Coloring Book, for all its religiousness, is dedicated to using this expression of joy without restraint. Apostle Paul said to the church of Corinth, "I felt sure of all of you, that my joy would be the joy of you all." Music is all we got and nobody can say he didn't give it all he got.