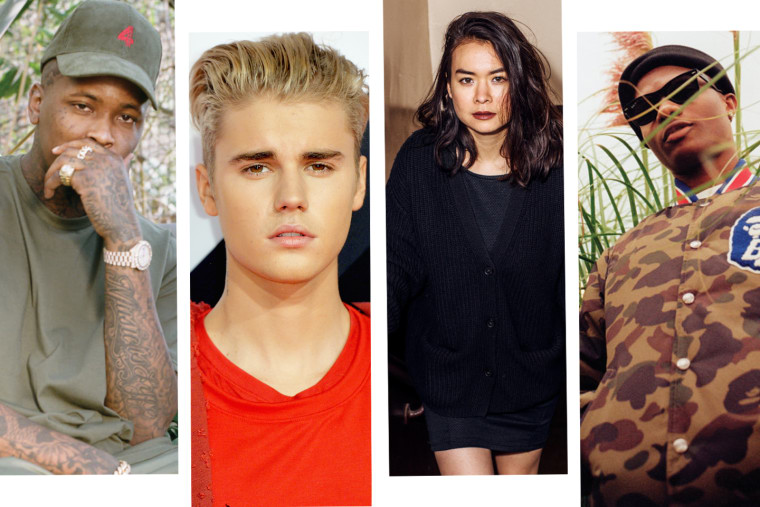 1. YG recently dropped "Still Brazy," the feel-good title track from his long-time-coming, newly re-named full-length. He also shared some new artwork, which is part Where's Waldo, part Mr. Krabs.
2. Justin Bieber made a pretty undeniable edit of Drake's summery-as-hell Views standout "One Dance," which features Wizkid.
3. Speaking of Wizkid, he's got a seasonal anthem of his own: it's called "Like This," and is notably more tailored for partying than last year's life-affirming "Ojuelegba." But it seems just as likely to take over the world.
4. If any Mitski song is too much — too sad, too raw, too real — it's probably "My Body's Made Of Crushed Little Stars," her new album's brief, blown-out seventh track. Listen to her voice crack while singing I don't know how I'm gonna pay rent, and just try not to fall apart.
5. Not sure what's better: Wiki's literary-feeling, Kaytranada-produced "3 Stories," or the day-in-the-life animated video Jayme Lemperle and Evan Borja made to go with it. Glad we don't have to choose.
6. Awful Records affiliate Abra recently signed with True Panther, and her new song "CRYBABY" has dancefloor beats, echo-y vocals, and the sort of gutted pop production that you could imagine Dev Hynes bopping his head to.
7. Terry, the latest Australian guitar-rock band to steal our hearts, is comprised of two couples, and its members have played in Dick Diver and Total Control. "Third War," the latest from their first album, is level-headed with pleasant harmonies — plus an auxiliary buzzing sound that keeps things weird.
8. Yes, "All That She Wants," the new song by Egyptian-Iranian artist Lafawndah, is a cover of the early-1980s Swedish pop classic by Ace of Base. Her version is a little more skeletal, but it's just as catchy and strangely hypnotic.
9. Brandy Clark's "Homecoming Queen," about a grown-up high school royal who never made it out of town, is a bummed-out country song vividly detailing the way things rarely work out how you imagined. Too bad life ain't a local parade, Clark sings.