The Kondi Band Is Taking Sierra Leone's Traditional Music Into The Club
Wisconsin producer Chief Boima's collaboration with Sorie Kondi might've been ten years in the making, but the timing is perfect.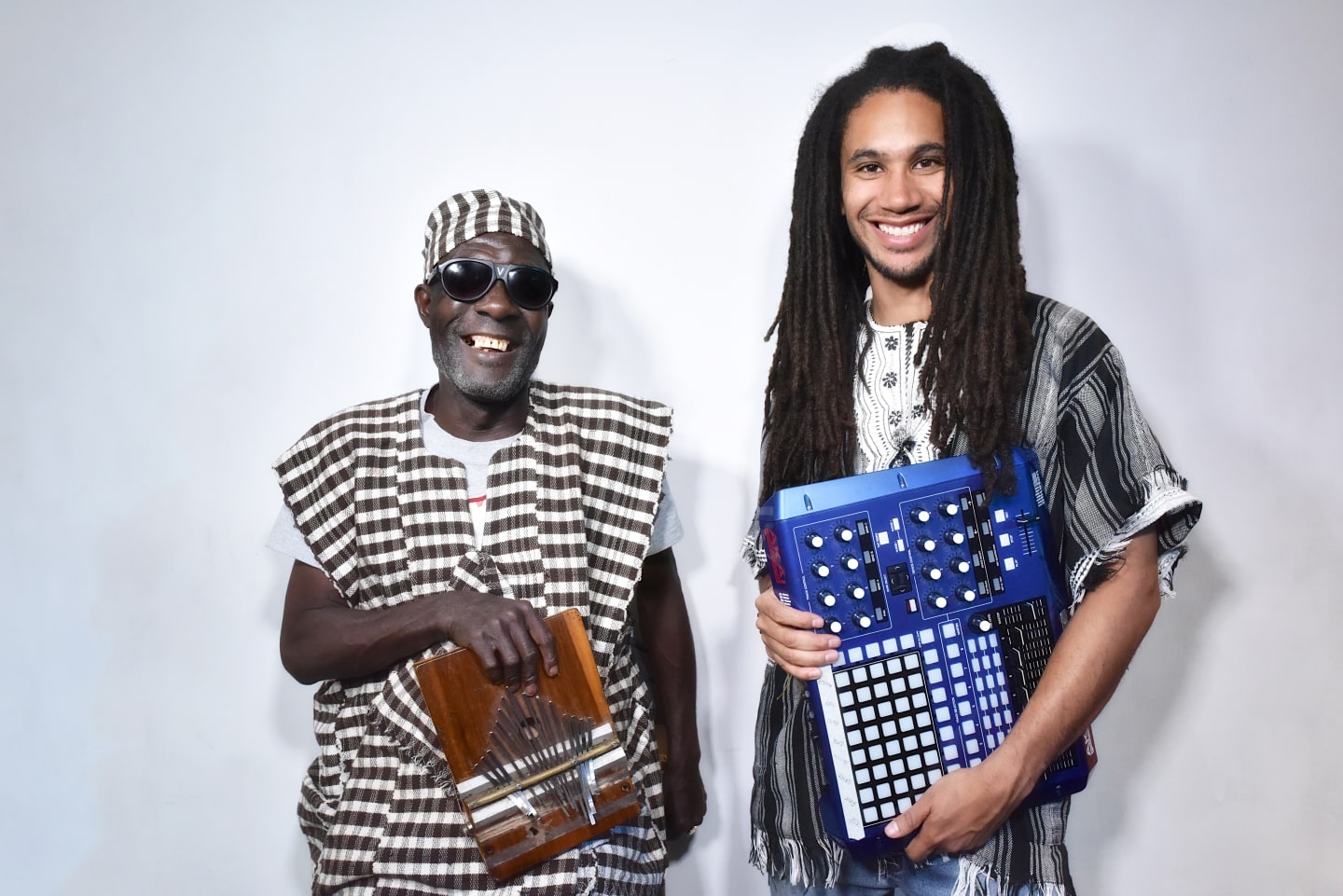 Growing up in Milwaukee in the '80s, Sierra Leonean-American DJ, producer, and writer Boima Tucker discovered the music of his father's continent during lively New Year's Eve parties his parents threw in the basement of his childhood home. Tucker, who makes music as Chief Boima, still has vivid memories of hearing Congolese soukous and Ghanaian highlife pulsing throughout the house. However, it didn't immediately catch his ear: "For me it was always old people's music," Tucker tells me today, speaking via Skype from his home in Rio de Janeiro, Brazil, where he's lived since 2014. His locs are tied in a bun behind his head and a dark hoodie hangs over his shoulders. Growing up as a first generation immigrant in the midwest wasn't easy, and therefore connecting with his African roots took a backseat until Tucker left Wisconsin for San Francisco to explore new opportunities in 2004. Seeking the food and community of his childhood, he stumbled across a bar named Little Baobab, run by Senegalese owners from Paris. There he heard the music his father used to play alongside something new: coupé-décalé, an Ivorian dance music created by immigrants in Paris based on the fast-paced zouglou and zouk music of the Ivory Coast and the Caribbean. This new African sound was a revelation to Tucker, "the hip-hop version of my father's music." Taking up a DJ residency at the bar, he realized he could create his own black identity rather than the African-American one forced upon him. An identity defined by "a mix of immigrant places," through which he could articulate the world around him.
In May this year, Strut Records released the first EP from The Kondi Band, a duo composed of Tucker and Sorie Kondi, a blind master of the kondi — Sierra Leone's version of the thumb piano. Having spent years producing and DJing as part of the '00s global bass movement (a loose network of artists and fans releasing and contextualizing music online and in clubs), The Kondi Band marks a new step forward for Tucker. This time the music is a fusion of the Loko tradition of Sierra Leone that Sorie was born into and Tucker's own midwestern electronic roots; a meeting of generations and cultures. "For me, fusion is more like a circle than a spectrum, it always comes back," Tucker explains. "I'm borrowing from a tradition that's mixed already and bringing it back, in conversation with our current hyperconnected moment where [the water separating us has] dried up."
The Kondi Band came into being in fits and starts over a period of nearly ten years. In 2007, Tucker discovered the video for Sorie's "Without Money, No Family," which was produced with the help of Banker White, an American filmmaker Tucker had met in San Francisco. Captivated by Sorie's melodies and vocals, Tucker bought the album and remixed the track, sharing the bootleg with friends. In April 2009, the remix landed on The FADER via a guest mix from German DJ Tim Turbo. The next year, on his return from a summer in Freetown and Monrovia, Liberia, Tucker received an unexpected call from Sorie's manager, who had seen the remix online. "He's telling me Sorie wants to tour the U.S. and can I help him," Tucker recalls with a laugh. By then Tucker was living in N.Y.C. and involved with the Dutty Artz label. "We were doing showcases at South By Southwest and I knew we could get an invite," he says. "We did a Kickstarter to raise funds for the visa but missed the deadline." Undeterred, Tucker released African In New York, his last EP featuring a collection of remixes including his take on Sorie's "Without Money, No Family," in early 2012. In the autumn, they used the Kickstarter funds to bring Sorie to America for a five-date tour during which the pair began to work on what became The Kondi Band.
"I believe there's a rhythmic DNA that Freetown represents by being a transnational city with links across the Americas, Africa, and Europe."
For Sorie, it could be said that the kondi is everything. Now in his 50s, the musician was born in a village in the Port Loko district, a northern province of Sierra Leone known for mining and agriculture. Blind since birth, and thus unable to contribute to farming activities, Sorie was gifted his first kondi by a village member and encouraged to play. Self-taught, Sorie became so proficient in his instrument — which originates with the Loko and Limba ethnic groups of Sierra Leone — he left for the capital of Freetown as a teenager to urbanize himself. Busking for money while living in the city's slums, Sorie accrued a reputation as a master musician. In a 2010 profile, the BBC referred to him as "Sierra Leone's Stevie Wonder." Sorie says it was the kondi that helped him learn to sing and become a musician, hence he took it as his last name. "The kondi is very important," he tells me via Tucker, who translated my questions to him into Krio, Sierra Leone's national language. "It has helped me live well and get a name."
Tucker first became aware of Sorie's compositional process during their first show in Brooklyn in 2012. "The fact he is on a traditional instrument and stripped down acoustically is misleading," Tucker explains. "He has full compositions in his head, he is engaged with the idea of electronic music but he gets frustrated. Seeing him perform in spaces with loud acoustics [you can hear] the layers of his compositions reverberate and create things like bass noises."
Through repeated interactions over the past few years, both in Freetown as well as during a recent trip to England, Tucker has sought to get inside Sorie's compositions to create something bigger. With Sorie contributing voice and kondi, Tucker says he had to learn the instrument and find a way to contribute to it. "I'm translating in some way," he says of the results. "Pulling on U.K. bass sounds, Caribbean styles, contemporary African electronic music. I try to be true to where Sorie wants the music, which is a big sound. My job is to split the difference between his expectations and those of a young global audience." Sorie says he enjoys working with Tucker because "he's not proud and he knows how to take care with a blind man." He also enjoyed the band's recent rehearsals in London, alongside additional live personnel including British producer Will Horrocks from LV, but laments not being able to do the same in Sierra Leone.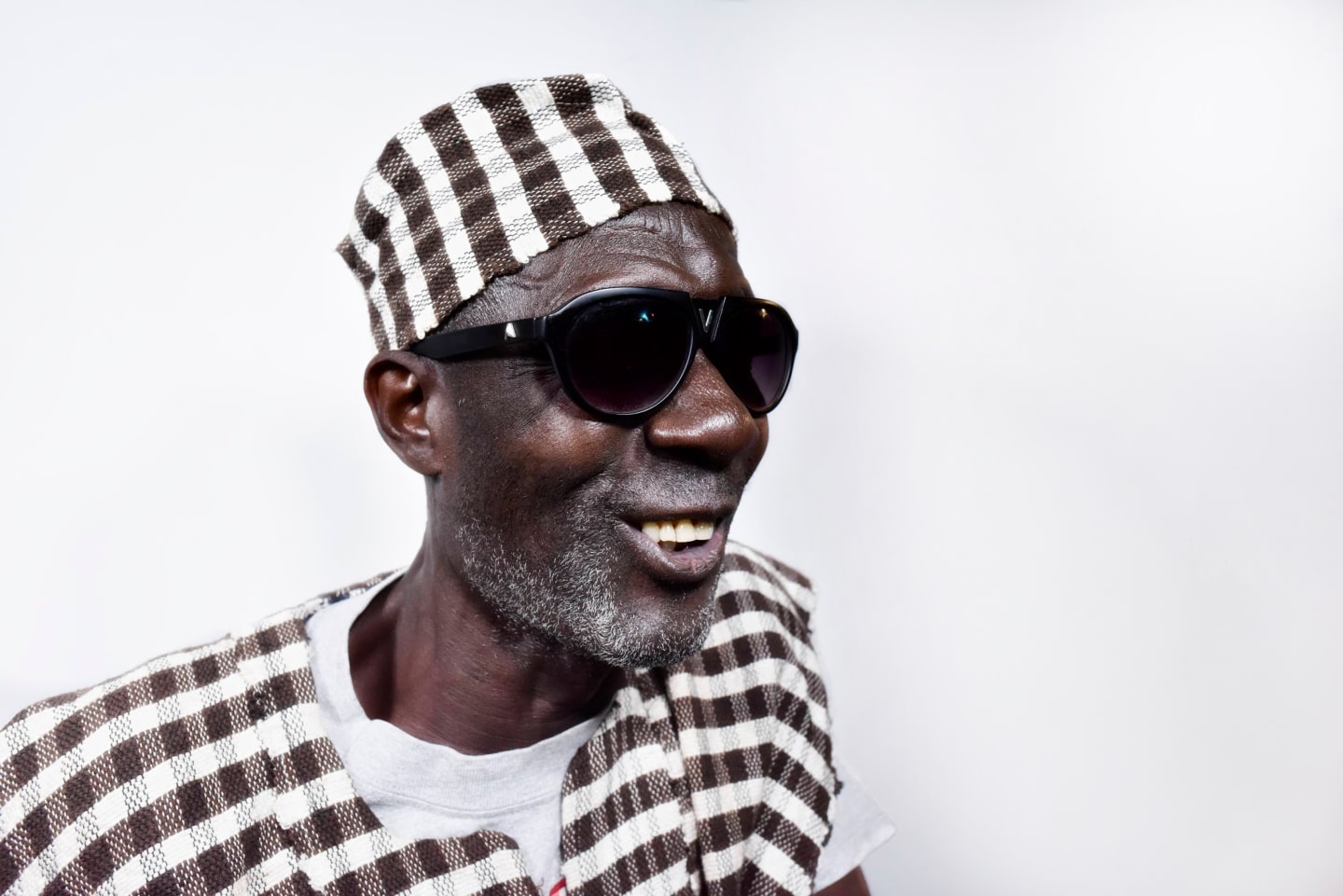 "The fact Sorie is on a traditional instrument and stripped down acoustically is misleading. He has full compositions in his head."
Located on the southwestern coast of Africa, Sierra Leone has long been populated by African immigrants. In the late 1700s it received an influx of Caribbean people and freed African-American slaves. As a result, the modern music of Sierra Leone is an intricate mix of local and imported traditions from Africa, Europe, and the Caribbean, with instruments, rhythms, and genres reinterpreted across centuries. Tucker cites two popular Sierra Leonean bands from the 1970s — Afro-National and Super Combo, who mixed gumbe, a vocal and percussive West African music, and Ghanaian highlife — as spiritual influences on The Kondi Band. This was the pop music Sorie heard growing up and what Tucker heard coming from the basement NYE parties, as well as in his dad's car. "I think gumbe is what makes it a distinctive Sierra Leonean rhythm," Tucker says. "That's our building block and then I'm adding the accent of Chicago or London or even L.A. I believe there's a rhythmic DNA [that] Freetown represents by being a transnational city with links across the Americas, Africa, and Europe."
From an unofficial remix to a forthcoming debut album spanning five cities, three continents, and two generations of Sierra Leonean musicians, The Kondi Band is testament to the importance of globalized cultures, such as the one born of the black Atlantic. Yet it's also a statement on the fragility of these same cultures. While Tucker and his peers were sharing the music they loved with context during the 2000s, a younger generation now seems to thrive on de-contextualizing sounds and appropriating identities. "Rae Sremmurd and [Nigerian artist] Wizkid are like this," says Tucker, bringing the palms of his hands together to show how little separates the current aesthetics of American rap and African pop music. From his current viewpoint in Rio, Tucker hopes The Kondi Band can become a first step towards working on the ground in West Africa in a way that empowers artists and reflects the diversity of the black Atlantic. In late 2015, he set up his INTLBLK label (self-described as "Pan-Afro anarchist pop") for such projects. "History and context is everything," he adds, "[especially] in an unequal world."
Listen out for a full-length album from The Kondi Band later this year.