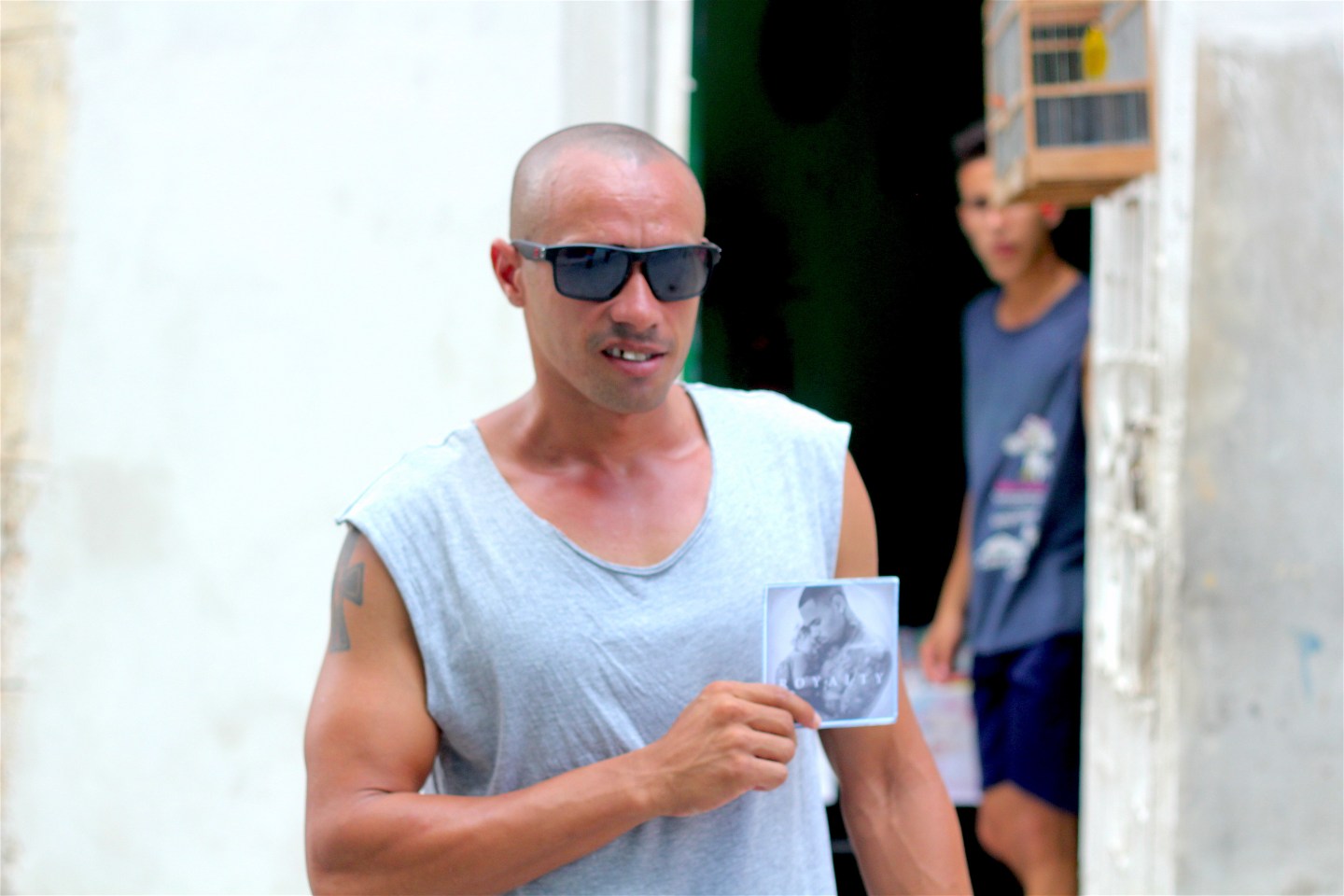 In spite of a Cold War, a trade embargo, and decades of frigid relations between the United States and Cuba, there are still vestiges of American culture all over the Caribbean island. A daytime stroll through the streets of Havana reveals some traces you might expect: memorials to Ernest Hemingway, classic American cars, and Coca Cola for sale. Other American cultural exports, however, might take you by surprise: like cans of Red Bull sold alongside pineapple soda, counterfeit Yeezys on the feet of residents and, much to my bemusement, Chris Brown's music blasting from stereos. To be sure, Brown is a bonafide superstar in Cuba, and his catalog — which spans 11 years and seven albums, from "Yo (Excuse Me Miss)" and "Gimme That" to "Fine China" — can be heard playing from windows, pedicabs, cars, and barbershops throughout the island.

After more than a year of reporting on policing and race relations in the United States, I traveled to Havana in May to cover race in Cuba and the impact of President Obama's recent visit on the Cuban people. I thought I was mistaken when, on the first day of my visit, I heard a voice that sounded like Brown's coming through the walls of the Old Havana home where I was lodging. Then, during a visit to a barbershop where not a single soul spoke English, I saw a photo of Brown's smiling face taped to a wall alongside those of other men with sharp-cornered haircuts. Finally, on the third day of my trip, as I walked toward an open-air market that sits on the Bahia de la Habana, a tall young man who introduced himself as German stopped me.

"Where are you from," he asked in a thick Cuban accent. I told him New York City not sure if he'd recognize Columbus, Ohio.

German explained to me through a combination of English words and hand gestures that he could show me where I could get a good deal on premium cigars. We walked together for a few yards before he stopped and ducked into a doorway where two men stood. When German returned, he emerged sans cigars holding a small square envelope with a photo of a man holding a child on it. It contained a bootleg of Chris Brown's Royalty album.

"Chris Brown," he said with a smile. "It's very nice."

Perhaps it should be no surprise that Brown, a black American musician, would become popular in Cuba. Black Americans and Cubans do after all share an undeniable cultural connection to Africa, a link forged through the Transatlantic Slave Trade, which dispersed West Africans throughout the Americas. In the United States, the rhythms of West Africa re-emerged as gospel, blues, jazz, funk and rock and roll. In Cuba, they became rumba, son, yuka, and batá.
"I'm always updated with Chris Brown's music, which is a bit difficult here in Cuba because the internet is very bad, but I will follow him til death." —Einel
"Cuba and the U.S. share a very long, rich and synergetic musical history," Fabien Pisani, co-founder of the Musicabana Foundation, an organization that promotes continued U.S.-Cuba cultural exchange through musical events, said. "Not surprisingly — and despite the recent political history — American pop culture presence and attraction has always been very strong in Cuba."
Cubans and black Americans have maintained strong cultural connection over the centuries, most notably through music. Daily ferries between Havana and New Orleans facilitated the exchange of sounds and as early as the 19th century. Over time, black American music — cakewalk, ragtime, and jazz — began incorporating distinctly Afro-Cuban musical elements. Early jazz pianist Jelly Roll Morton called the "Spanish tinge" an essential "seasoning" for the genre. Conversely, jazz found a home in Havana nightclubs — like La Zorra y El Cuevo and The Jazz Cafe — and persists as an incredibly popular genre on the island today.

Starting in the 1960s, U.S. travel restrictions made it illegal for most Americans, including musicians, to visit Cuba. Bans on imports and exports also limited the exchange of media between the two countries. Through some ingenuity, however, hip-hop made its way to the island in the early 1990s when young Cubans living in East Havana used radio receivers made of wire hangers cans to record broadcasts from 99 Jamz, a local radio station in Miami. Enamored with the sounds of acts like 2 Live Crew and Naughty by Nature, many young Cubans picked up the microphone and began creating their own unique brand of rap.

Digital technology has aided tremendously in an unofficial cultural exchange between the U.S. and Cuba. Today, music made by singers like Brown is making its way to Cuba via the internet. But with internet access still limited to the small populations of Cubans who can afford a connection or Wi-Fi cards at around five dollars per hour, a lot of media is shared through a much slower network of young people who pass files on flash drives.

Einel is probably Chris Brown's number one fan in Cuba. The 20-year-old Havana resident is the creator of a Team Breezy fan club on Facebook and even styles himself to look like his idol.

"I started listening to Chris Brown 11 years ago and have not stopped since then," Einel told me through a translator. "I'm always updated with his music, which is a bit difficult here in Cuba because the internet is very bad, but I will follow him til death."
Einel said that he created the Facebook group — its official title is Team Breezy Cuba Fans To Chris Brown — so that Chris Brown fans across Cuba with restricted access to the artist's music, videos, and photos can experience it all in one place. When asked what exactly about Brown he liked so much, Einel responded flatly that he likes the way the he sings and dances. He was seemingly unaware of the near-constant controversy surrounding Brown — his 2009 assault on Rihanna, various run-ins with the law, and his regular spats on Instagram with Karrueche Tran, one of his ex-girlfriends.
"For whatever reason, Chris Brown is a big deal in Havana," said Amberly Alene Ellis, a filmmaker from Baltimore who lives in the the country's capital city. "In the U.S., his popularity has diminished some, but he still makes a ton of music. Coincidentally, American artists who make a lot of music and videos are assumed to be popular in the United States. To Cubans, Chris Brown seems big — like Michael Jackson big."
According to Ellis, Brown's success in Cuba can be also be attributed, in part, to his personal style. She said that because of limited internet in the country, very few people have access to fashion media. Instead, they get their ideas of what's hot from music videos brought in on USB drives from other countries, especially the United States.
"One person or one artist can be very influential," said Ellis. "In the video Chris Brown had with Usher and Rick Ross, he had on all white and a really long white t-shirt. One day I was in a pizza parlor in Havana and there was a TV playing music videos. Every Cuban rapper whose video played was wearing the same outfit Chris Brown wore in his video."
Ellis, who was still living in the U.S. when Brown assaulted Rihanna, chalks the Cuban non-reaction to Brown's bad behavior to a lack of information and cultural differences.
"I don't think people know that much about him personally," she said. "Cubans have a tremendous amount of respect for people who are artists, so you don't see a lot of tabloids. I've never seen anything like People magazine in Cuba. Personal lives are regarded as people's personal business."

It's easy to forget, living in the U.S. with instant access to Brown's every bad decision, that the singer has all of the trappings of a music superstar: he's handsome, a skilled dancer, and charismatic performer who possess a distinct range as a vocalist. Those qualities have garnered the 27-year-old tremendous success, both home and abroad. Since emerging at age 16 in 2005, Brown has become one of the biggest — if not somewhat contentious — names in R&B, dance, and pop. He's had 61 songs chart on the Billboard Hot 100, including two No. 1s and 13 top 10 singles. Because of the underground network of file sharing that's responsible for the proliferation of Brown's music in Cuba, however, a lot less is known about exactly how his fandom grew on the island. There are clues, though — like a series of creative decisions that speak to the singer's versatility and business acumen.
In 2011, Brown made his first foray into the Latin music market with "International Love," a collaboration with the insanely popular Cuban-American rapper Pitbull (the video has over 515 million views on YouTube). The song was only a moderate success but big enough for the pair to perform it live for the broadcast of Univision's Premio Lo Nuestro Awards in 2012. That year, Brown further made his mark on the Latin market when he was featured on "Me Gusta De Ti (Something About You)" by Puerto Rican reggaeton duo Wisin & Yandel. The song was a colossal hit, spending 14 weeks at No. 1 on Billboard's Hot Latin Songs chart. Brown followed it up with another feature, "Control," a song by Wisin on which Pitbull was also featured, and in 2014 Brown made his Latin Grammy debut alongside Wisin and Pitbull. More recently, Brown again teamed up with Pitbull for "Fun," a track from the rapper's 2014 album Globalization. In the music video released last year, Brown and Pitbull were cast as pastel-clad detectives in a Miami Vice-themed storyline.
Previously, under the U.S. trade embargo, American artists could only perform benefit concerts in Cuba. Earlier this year, however, the U.S. Treasury Department announced updated regulations that will allow performers and promoters to turn a profit from shows. There is one caveat, though: all shows must be either free of charge for Cuban citizens or at a price, in pesos, that they can afford.
Fabien Pisani's Musicabana put on a Major Lazer concert in Havana in March, making the group one of the first U.S. acts to perform in the country since the reestablishment of diplomatic ties. Turnout for the free event was enormous. "Almost half a million people showed up at their concert, not only because they knew of them or loved their music, but because they wanted to experience something new, the forbidden fruit," Pisani said. "The appetite for live music and anything that bring us closer to the outside world is huge. The potential is there especially for those who will come to honor their Cuban fans."
With his eighth studio album reportedly in production, it's unclear whether or not Chris Brown plans to take advantage of thawing U.S.-Cuba relations. (Requests to Brown's team at RCA went unanswered.) What is certain, however, is that if Brown decides to put on a show he'll have legion of devoted Cuban fans ready to receive him.
"If Chris was to give a concert in Cuba, I would be the first to be there," Einel said. "Whatever the cost."