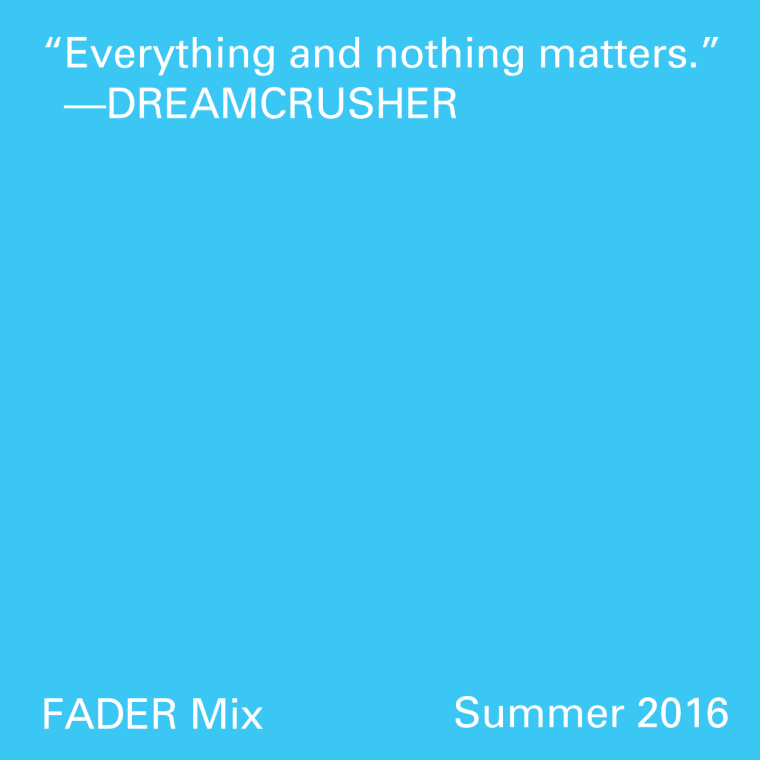 Last year, Luwayne Glass, a.k.a. Dreamcrusher, moved to Brooklyn from Wichita, Kansas to make harsh noise music in a city with a similarly amped-up industrial energy. Glass calls the sound NIHILIST QUEER REVOLT MUSIK*, and has put out a number of EPs that fit the bill, the most recent being March's revelatory smasher, Quid Pro Quo, which contains four songs that are somehow joyful even in their madness.
Dreamcrusher's FADER Mix is tumultuous. Frenzied punk transforms into a Prince sample. Violent vocals dissolve into weirdo hip-hop. Stretches of heavy techno, a blissful nook of R&B provided by '90s group Force MDs, and Blood Orange-collaborator Ian Isiah's "247" are united by ecstatic nihilism. "Everything and nothing matters," Dreamcrusher explained in an email interview, which you can read in full below. Let's celebrate that sentiment by losing ourselves in this hour-long labyrinth.
Where are you right now? Please describe your surroundings.
I'm at a Starbucks downtown watching a twink send rosebud pix on Grindr.
Tell us a bit about this mix — what do you imagine people doing while listening to it? What was the vibe while making it?
When I make mixes I just put together songs I like right now that I keep listening to. I listen to a lot of music, new and old, and there's a lot of good stuff out right now. I hope people celebrate that when they listen.
What did you open and close this mix with and why?
I opened it with Boards of Canada "Gemini" snippet followed by Show Me The Body (my favorite New York band). I thought the two clips juxtaposed each other in a funny way. I ended it with Janet Jackson "Empty" because it's from my favorite Janet album, Velvet Rope — her goth phase. It's one of the few mainstream albums that I listen to when I'm depressed, sad, or deep in contemplation.
What is your favorite summer activity?
Not being outside.
What is NIHILIST QUEER REVOLT MUSIK*?
It's a moniker that I wanted other thrashy, weird, crusty, noise-loving kweens, queers, tramps, and tgirls with good taste to vibe to, rock, and be proud of. So much of noise and alternative music excludes us on various levels and I wanted to provide an alternative to the alternatives.
What are you working on right now?
Making some sculptures and large drawings for an artist residency, writing my second book, and some zines for Europe.
What is the best dream you've ever had? The worst?
The best: I dreamt we were all free and didn't police each other into being the same.
The worst: I was diving off a cliff leaving behind a completely unresolved life.
What's the last book you read that had a big impact on you?
I recently read about artifacts from the Middle Ages. It impacted me because I realized that everything and nothing matters.
And finally, what's your favorite dish to cook and how do you make it?
My favorite thing to cook right now is channa masala with quinoa and handmade roti. I make it with a bunch of shit and make it as often as possible.
Tracklist
Boards Of Canada - "Gemini" (snippet)
Show Me The Body - "Aspirin" (live in London)
Prince - "Tick Tick Bang" (1981 demo)
Siekiera - "Wojowniku Zabij Ich"
Peaches - "I Don't Give A Fuck"
Para One - "Mother" (Mr. Oizo remix)
Kevin Jz Prodigy - "Hair"
Wench (Arca and Hood By Air's Shayne Oliver) - "Galvanize" (snippet)
Clark - "Kin Griff"
Blacknecks - "Hotline"
Best Available Technology - "Sony Hifi 120 Side B City Jitters"
Smif-N-Wessun - "Sound Bwoy Bureill"
Force MDs - "Tender Love" (snippet)
Ian Isiah - "247"
Autechre - "V-Proc"
Janet Jackson - "Empty"