Hieroglyphic Being's New Album Is A Gift Of Healing
Storied Chicago artist Jamal Moss draws from Ancient Egypt and sound therapy on The Disco's Of Imhotep.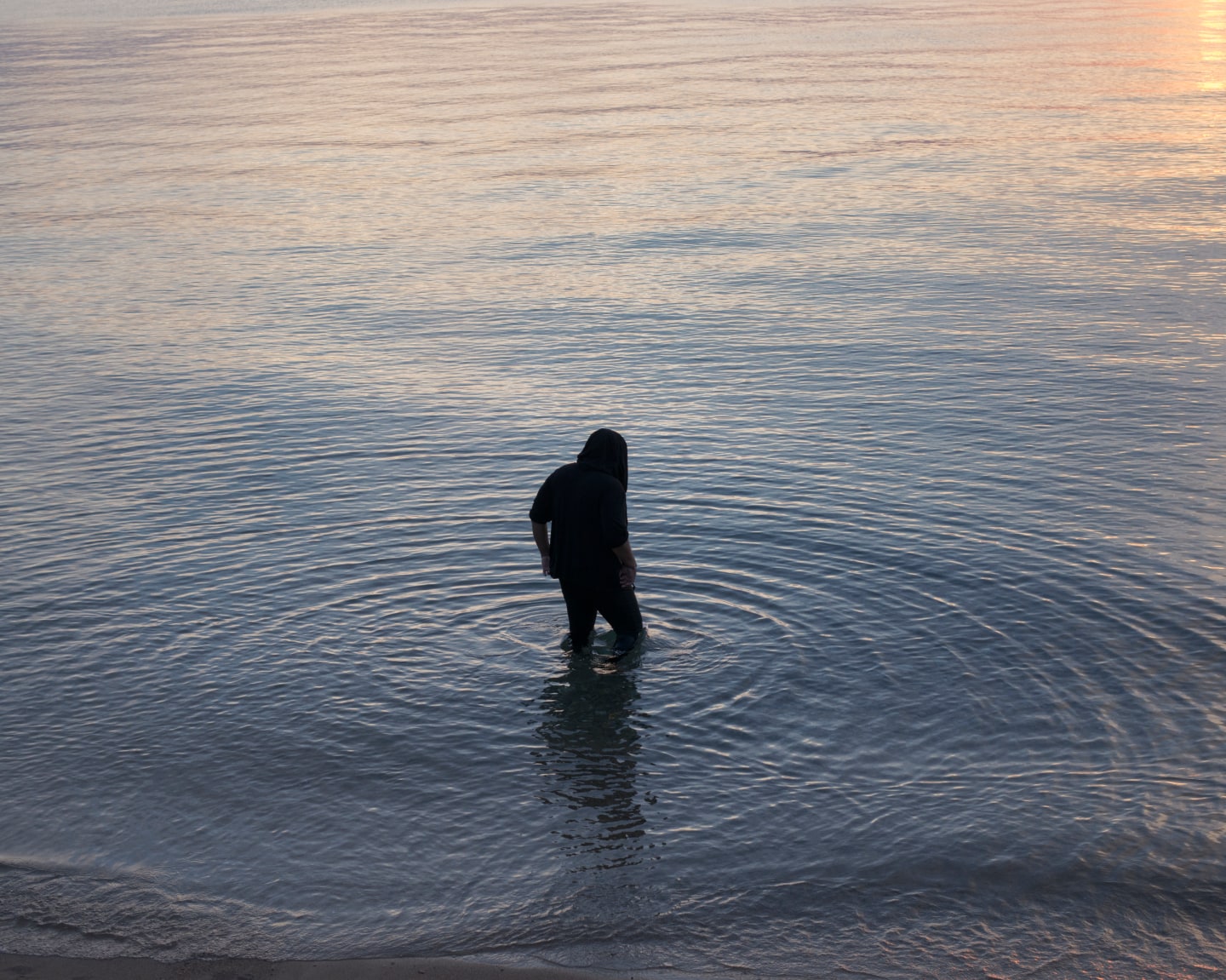 These are trying times in America. Every day new stories emerge adding ever more strands to a never-ending narrative that combines war on terror, police brutality, gun violence, institutionalized racism and sexism, economic inequality, and political instability. As the pressure rises, safe havens are more necessary than ever; places in which to commune, heal, renew. For Jamal Moss, a Chicago native who records and performs electronic music as Hieroglyphic Being, the one place he could do that as a wayward youth in the '80s was in the clubs of the city's west and north side, like Medusa's and The Reactor. "Chicago's house music culture and the music saved me; it healed me," Moss says over the phone from London, where he is currently on tour. "It was an alternative to the macho music of the streets that was centered on the ego. I was looking for something more enlightened. When I had hard times dealing with my family, education, or my environment, I looked to the weekend when I could renew myself with energy." On his new album, The Disco's Of Imhotep, Moss channels those early experiences to provide sanctuary within the frequencies of the music.
Moss was tutored in the art of music production by Steve Poindexter and Adonis, two early Chicago pioneers of house music he met through DJing around the city in the '90s. The latter was also a mentor to the young artist, helping cement a "Nubian-centric point of view" in him that instilled "a sense of pride." Moss's adoptive parents were also instrumental in his self-education, encouraging him to read a lot of "unconventional books" from early on: thesauruses, encyclopedias, the fiction of Jules Verne and Ray Bradbury. After he left home, he gravitated further towards esoteric sources of knowledge and, thanks to Adonis's interest in the subject, to Ancient Egypt in particular. "Black people needed a savior [then]," he recalls of his attraction to Nubian deities like Ra and Horus. "[Ancient Egypt] was something we could look up to, something to not submit to the negativity pushed upon us." This is how Moss discovered Imhotep, an Egyptian polymath from the 27th century BC, who is upheld by some as an early father of medicine. "Imhotep always resonated with me because he was something positive," Moss tells me. "On this record I tried to merge the idea of Imhotep as a healer and discos as places where people renew themselves through music."
"Chicago's house music culture and the music healed me. When I had hard times dealing with my family, education, or my environment, I looked to the weekend when I could renew myself with energy."
Throughout his twenty-year career as an independent DJ and producer, Moss has been an important force in Chicago electronic music. Key to his resonance within the scene is his focus on sound above genre — form above function — which can be attributed to a prior stint as a painter in his early 20s. "I decided to apply what I did visually to sonics," he explains of his decision to move away from painting. "I don't consider what I do music, it's more like sonic art." On The Disco's of Imhotep, the latest album in a discography that numbers more than 30, Moss eschews restrictive rhythmic conventions. Instead, he brings layers of drum hits and percussion in and out of auditory focus just as Cubist painters, an avowed inspiration, used multiple viewpoints to expand the context of their subjects. Amidst these slippery rhythms, Moss weaves hypnotic synthesized melodies, shards of samples, and vocal incantations. The result is music as personal therapy, a sonic representation of the contradictions we carry within us. "[My music is] all about perception and how someone wants to, or not, receive it," Moss explains. "Chaos, beauty, straight babble."
In the promotional material for The Disco's of Imhotep, Moss refers to "binaural beats" (auditory illusions that are perceived when two pure-tone sine waves of different frequencies are presented dichotically) and "hemi-synced harmonies" (a similar form of brainwave synchronization as binaural beats that is used to affect states of consciousness). "People use sound as a form of healing in many ways, in many traditions," Moss explains. "The same applies to machines, you just have to tune into the right frequencies to be able to heal." Rather than trying to precisely replicate the brainwave effects in the music, Moss says he drew inspiration from them to imbue his tracks with what he hopes are healing properties. The mystical qualities Moss attributes to his work — ineffable but evident if you submit yourself to the music with headphones — offer a link to another Chicago pioneer: the late, boundless jazz artist Sun Ra. (Moss has collaborated with Sun Ra Arkestra leader Marshall Allen in recent years.) Just as Ra used music to transcend space and time, Moss uses it to explore ways of helping us heal. "The beats and frequencies I used, when heard [correctly], get people moving," he tells me. "I'm trying to bring people together through the music."
"People use sound as a form of healing in many ways, in many traditions. The same applies to machines, you just have to tune into the right frequencies to be able to heal."
Beyond his desire to heal through sound, Moss is also driven by a belief in honoring those that came before him, and sharing lessons learnt with a new generation of artists. Raised in an era when house music clubs were a utopian haven for sexual and racial minorities, Moss eyes the current status quo of music as entertainment suspiciously. "A lot of the dance music culture right now is about ego and self-gratification," he says. "Black people create a certain type of aesthetic culturally that we have no problem sharing with others to rejoice in and celebrate but then other cultures come in and for economic reasons take over. People get displaced, and it's not healthy." Instead of being bitter, he offers his new album as a gift to the new generation. "I want to give back," Moss states. "I won't let go. It's part of my fabric and being. The music saved me and healed me in ways other things couldn't. When I go to clubs or on the streets back home, the youth are seriously lost. I feel like I should help them find a way out."
A few days after speaking to Moss I found myself beneath the Prison Ship Martyr Monument in Fort Greene Park for the 15th anniversary of Soul Summit, a yearly outdoor house music festival similar to Chicago's Chosen Few Picnic — an event Moss brought up in our conversation as essential for its celebration of the communal powers of house music. All around me on the makeshift dancefloor were people of all ages, creeds, races, and sexualities dancing together. And all around us, spread over the park's small hill, clusters of families and friends were eating, talking, and cheering under the trees. Many were dancing in the grass like no one was watching. Regardless of the music that brings us together on such occasions, the sentiment remains the same: these gatherings are a form of resistance for thousands who face systemic oppression everyday. As I danced on that sunny afternoon, I kept thinking back to what Moss had said about the music: "This is what's gonna save us from ourselves."
Technicolour will release The Disco's Of Imhotep on August 5 (pre-order here).