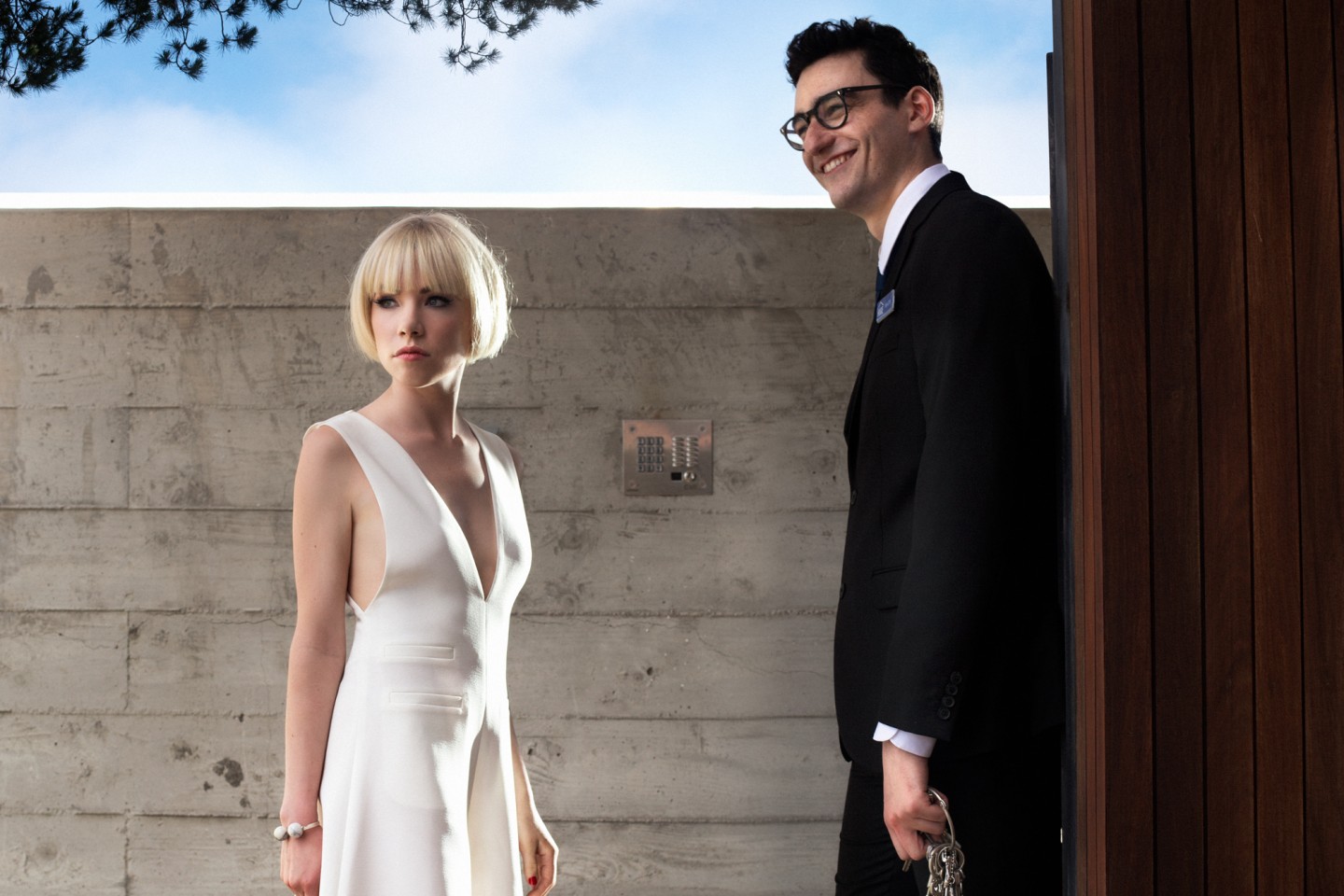 Carly Rae Jepsen's 2015 album E•MO•TION marked her transition from Top 40 sensation to cult pop icon. Its fluid, joyfully shapeshifting sound — which included collaborations with songwriters Dev Hynes, Rostam Batmanglij, and Ariel Rechtshaid — combined her earworm hooks with her desire to push the limits of just how inventive mainstream pop can be. Still, her latest collaboration may be her most adventurous yet. Today, August 12, U.K. producer Danny L Harle unveils his new single "Super Natural," featuring Carly. Imagine that the first-kiss sweetness of her biggest hits "Call Me Maybe" and "I Really Like You" was magnified to the point of toothache: "Super Natural" is breathless, high-octane, and as suitable for jumping around the house singing about your crush as it is for 2 a.m. in the club.
The song's zany energy is typical of Danny's rave-channeling music. If you're not familiar, he's a classically trained producer who's part of the experimental London-based collective PC Music, which rose to notoriety in 2014 with an onslaught of hyper-glossy productions that many critics read as a parodic commentary on "real" pop. In a move that blurred the lines between PC Music's sincerity and irony completely, Danny and the rest of the crew announced a "partnership" with major label Columbia in 2015. Danny's past singles "Broken Flowers" and "In My Dreams" sound like they could have been mega-hits from years gone by, but "Super Natural" marks his crossover into the world of actual chart contenders.
This isn't just due to Carly's star power, but the touch of heartfelt humanity that her vocal brings. Usually, Danny's productions feature an anonymous, pitched-up vocal, but with her characterful voice that's as bright as Danny's synths, Carly couldn't feel like more of a (super) natural part of the PC Music universe as she sings: It's just like we don't try/ We just fit, you and I.
For both artists, this collaboration has opened doors into new corners of the music industry. Carly recently made a surprise appearance at PC Music's L.A. event Pop City — where the crew's longtime collaborator Charli XCX also performed — and found herself fascinated with what she described as a "Andy Warhol-ish" take on pop. Danny, meanwhile, has now entered the realm of big-budget pop video production, and writing sessions for Carly's next album. The FADER spoke with Danny at London's Field Day festival, and later with Carly on the phone from L.A., to talk about their working relationship, and what they've both got coming up next.
How did this collaboration come about?

DANNY: "Super Natural" was my first attempt at writing real pop music. But I couldn't just write pop music, it had to be my brand of pop music. I don't remember when Carly came into the conversation — I just thought it was an L.A. thing, [the label saying] like, "This would be great for Beyoncé!" or "This would be great for Rihanna, or Ariana Grande." Then it actually became real, and I realized it was not actually out of my reach. I kind of didn't think the pop world was real, because it's presented in an absurd way, but it is real. Basically, on my first go, I got one of my favourite pop stars ever to feature on the track, and I couldn't really believe it.
CARLY: The way I got wind of the whole PC Music scene was through my friend, Nate Campany, who's actually a co-writer to ["Super Natural"] as well, with Danny. I was in L.A., and Nate said, "You've got to come check this out, I promise you haven't heard anything like it." I met Danny and he was instantly charming, and all the things you want in a collab — just somebody who's very excited about the whole thing. He played me some stuff and the first feeling I had was, I've never heard anything like this! Today in music, that's such an exciting feeling.
Getting to come to [Pop City], and bring my parents, and see the whole world of it — I was taken aback by how almost Andy Warhol-ish [it was], the live art/performance art mixed with this kind of computer pop music. I just love the whole thing. There was one girl in particular [QT] who kind of [acted] the part for a soda drink, like Red Bull, and mimed and lip-synced her way through [the performance]. It's a different way of — not poking fun, but making a statement about the pop industry, and what it can sometimes become, and I really enjoyed that part of it. It was really thought-provoking.
The world of PC Music has some irony to it, but it's also just ridiculous fun, right?
CARLY: Yeah! If you close your eyes and don't look at the girls blowing the bubbles and the guy in the mad scientist costume, and just listen to the song itself, it's actually quite musical in a different way than I've heard [before]. It's not quite EDM, but it's got elements of that. It's a lot more unexpected. Like, you don't just have the drop — it's a little more intricate than that. And then, on top of that, to go to a show and be immersed and see the people in costumes, and feel like you are in this different, underground place where you can be whoever you want to be — I think that's really refreshing.
What did your mom and dad make of it?
CARLY: They were so game to come: they had gotten all dressed up for their idea of what nightlife was going to be. [They were wearing] black everything. They looked very classy, it was very cute...I think watching them take the whole thing in was equally as enjoyable as the rest of the show for me. They were so fascinated by it all.
"Danny played me some stuff and the first feeling I had was, I've never heard anything like this! Today in music, that's such an exciting feeling." —Carly Rae Jepsen
What does "Super Natural" mean to you both?

DANNY: I had my girlfriend in mind when I was writing it. Because there was no dating period of me going out with my girlfriend — we just immediately got on, as if we had always been best friends. There wasn't any awkward banter, and it almost feels unfair how we get on in that way. It's not what you usually hear about in terms of how a relationship develops. We're still like that. Usually my songs come out of a more melancholy place, but this one was doubtlessly upbeat. It was a slightly different approach to songwriting, and it was so fun.
CARLY: I'm going to London in a couple of weeks, so Danny's going to introduce me, hopefully, to his lady, so I can get the full-circle story of it. I think everyone can relate to that feeling where, in the first time in a long time, the relationship just feels like it works, and it's easy — there's no games, no nothing. It feels like you almost have a superpower together, because of the fact that you just fit perfectly.
Carly, do you feel like this is a new side of you as a musician that you're getting to explore?
CARLY: When it comes to collaborations, what excites me the most is doing something that's completely outside the world that I have been in, and that's why I was very excited to collab with Dev Hynes [on E•MO•TION]. Equally, it's fun to get into Danny's world for a while. I think it's fun to not stick to the norm of what you're comfortable or used to, and just play. It's one of the joys of this career.
What was it like working together in the studio?
CARLY: Danny's adorable! Every time I would do a take, he would be like, "Damn." I've always been attracted to people who aren't too coy about their emotions in the studio. It is a place to be excited, and creating the music is the most enjoyable part to me. So, if you're in a room where it just feels sterile, and nobody's really getting hyped about it, then it kind of feels like, What's the point? When you work with people who are likeminded and passionate, it just makes all the difference.
"I really started [the new album] from a disco-inspired place. Like Donna Summer: dreamy, sexy disco." —Carly Rae Jepsen
What else are you both working on right now?
CARLY: Over the next couple months, I'll just continue chipping away on the new album. When I was on the Canadian tour [April/May 2016], we didn't have internet on the bus, so there wasn't much else to do other than write songs. Two of my favorite collaborators, my saxophone player Jared, and Tavish Crowe, who was actually a part of "Call Me Maybe," are in the band with me, so we'll make pop-up studios with a laptop and our gear wherever we are.
I really started [the new album] from a disco-inspired place. Like Donna Summer: dreamy, sexy disco. I think I have about 17 songs that were started [on tour], just as little demos, that I [then brought] to Sweden. I went to Sweden for two and a half weeks, and I worked with a lot of the people I worked with on the last album, Mattman and Robin, and I had sessions with Karl [Johan Schuster] and Rami [Yacoub]. When we were in Sweden, we probably had seven or eight completely new ideas. That's the fun right now: to just write and play, and listen back, and see what's starting to feel right. It's still so new.
There's a lot of people in the world who I'd be really excited to work with. I'm actually going to the studio with Danny and Nate [Campany, songwriter] and Kyle [Shearer, producer], and we're going to write some things, potentially for my album, because the vibes were good [on "Super Natural"]. I had a meeting in London with Rod Temperton, the writer of "Thriller." He's just the most amazing man — he played me the "Thriller" demo, which was crazy to hear. In the original lyrics, [Michael Jackson] used to be like, Starlight, stars so bright. It was just cool seeing his process, and meeting the man behind that killer hit. We just talked about what disco meant to him. I'm just going to dig in, and do my research, and figure out what exactly it is about disco that's exciting me. But, I started in one place with E•MO•TION, and then I landed in the '80s, and that was an unexpected journey. I'm allowing myself the freedom to not be totally committed.
DANNY: I'm working on so much stuff. I used to have 20 unfinished songs; now I have like, 100. I'm at the whim of whatever artistic direction I want to go in. Columbia have been amazing for that. They just follow the route that I want to go in and that will produce the best results from both sides, from the audience and me. That's all I can do. I could never ever do a thing like make some tropical house or something if I wasn't into it. It would have to come out of a place of love.
"Super Natural" is out now on PC Music and Columbia Records.