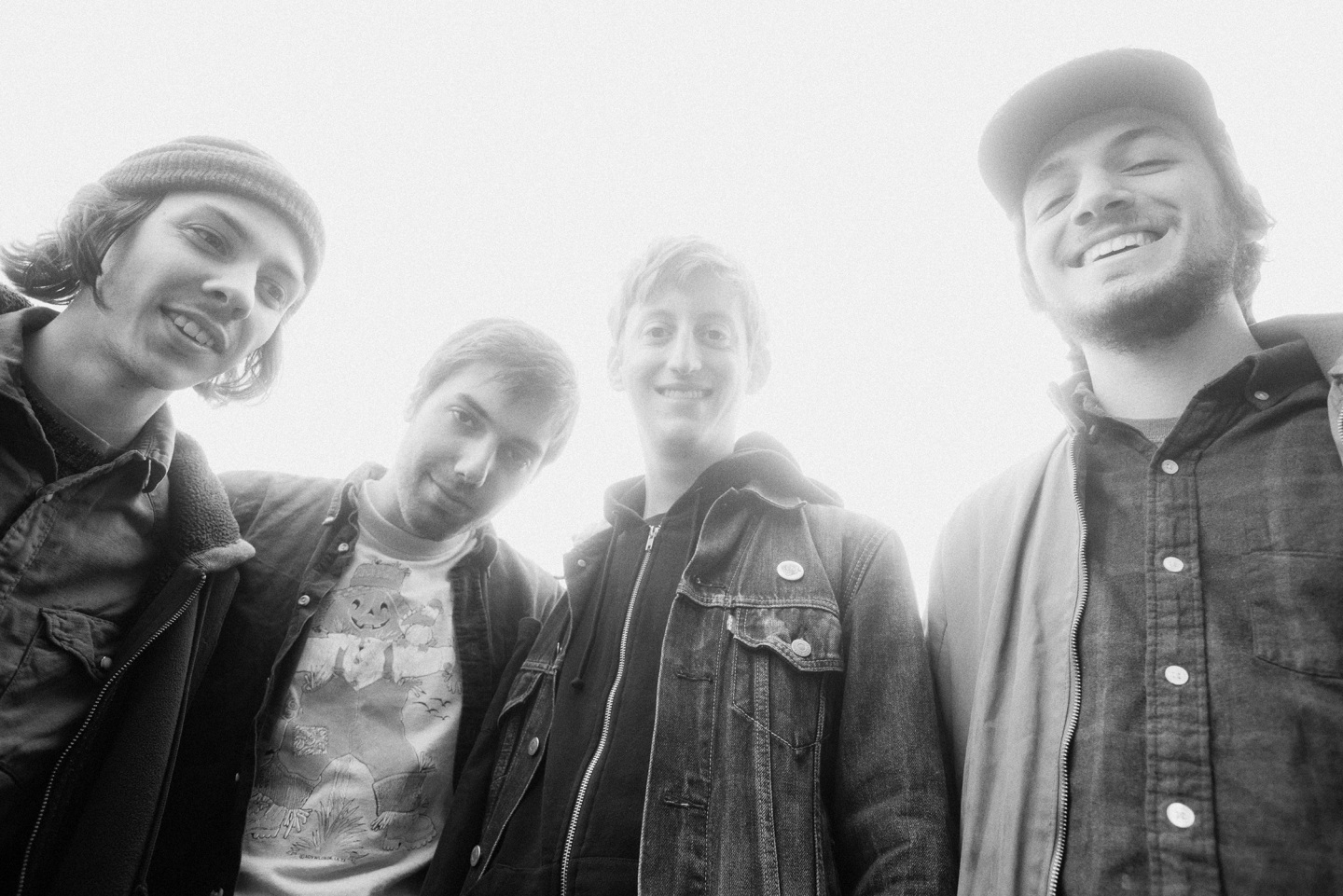 There's something special going on between Mike Caridi, Greg Rutkin, Dave Benton, and Nick Corbo, the four musicians who make up LVL UP. The Brooklyn rock band's sense of unity is evident in basically everything: their casually empathetic demeanors; their dry, gregarious senses of humor; the way they finish each other's sentences; and the cohesiveness of their newest set of songs. The band's third full-length record, Return To Love — which follows up 2014's excellent coming-of-age album, Hoodwink'd — comes out September 23.
The four-piece met at SUNY Purchase, a New York state university known for music and the arts. In their sophomore year, Mike and Dave formed their own label, Double Double Whammy. They put out LVL UP tapes and releases by other local Purchase bands, like Nick and Dave's old band Spook Houses, and later, records by Frankie Cosmos, Eskimeaux, Quarterbacks, Free Cake For Every Creature, and more. They're all 25 now — except Corbo, 26, who was a year ahead in school.
All four members grew up in the commutable tri-state area (Greg in Westchester, Mike and Nick near New Haven, and Dave in New Jersey). Now, they are an unapologetically "New York band." They're regulars at Bushwick DIY hangout David Blaine's The Steakhouse (there's even an ode to the amazingly named venue on Hoodwink'd), have developed a local cult following, and co-released their last album on New York indie label Exploding In Sound. Though in conversation they often hide behind self-deprecation, they're actually a hardworking crew with a lot of love for their community — and for the cool, sincere shit they make as a team.
LVL UP has a Thermals-level knack for making angsty and heartfelt guitar records with enigmatic, Built To Spill-style poetry. They're so in sync that you might not be able to tell that guitarists Mike and Dave and bassist Nick write songs separately (Greg, on drums, doesn't write any lyrics). Their individual narratives collide in the most harmonious way on Return To Love, which is hinged on heavy contemplation and an open-hearted sense of reinvention. I feel like a sketch of a perfect circle/ Light still leaks in, Nick sings on the languid "Spirit Was." David echoes the sentiment on "Hidden Driver," the album's catchy opener: God is peeking/ softly speaking/ breaking everything.
After releasing a few EPs on DDW after Hoodwink'd, putting out their own music was finally getting a little exhausting. They had considered breaking up a bunch of times before, due to lingering possibilities of grad school and general existential hesitations. But a lot of people believed in them as a band, so they stuck with it. One day last year, they had a little pow wow and decided to go big or go home. Fate led them straight to Sub Pop, the storied Seattle indie label.
In early August, I met the boys at Regalo Taqueria, a greasy Bushwick haunt that's right up the block from Market Hotel, where LVL UP will host their album release show on September 24. When I arrived they were surrounded by roommates and friends, ordering tacos and beers from the counter while the JMZ subway rattled overhead. We chose the only empty table and talked — about Return To Love, about evolving as musicians and humans, and about how they got rescued from the brink of breakup.
---
What was it like getting signed to Sub Pop? How did that happen?
GREG: We had a big talk in the car like a year and a half ago. David and Mike didn't want to put out the next record on Double Double Whammy, because it was really annoying to put out an album on our own label, and then tour on it, and not be able to publicize the record well. So we thought, If we're even gonna do another record, then we should do it on a cool label. Like Sub Pop.
MIKE: We narrowed it down to like, three labels: Sub Pop, Merge, or Matador. We were either gonna sign or break up.
GREG: We have a friend who plays in a band called The Sidekicks, and he told his friends in Seattle to see us when we were there. His friend Nick Duncan, who works at Sub Pop, came to see us.
MIKE: A couple months later, he messaged us and said, "A bunch of people in the office have been listening to your record a lot. Do you have any demos?"
GREG: Then we had a big show at Silent Barn during CMJ, and Nick said he was bringing the label manager into the show to see us. We were like, Oh shit. This is our big break. In a very naive, nervous way.
DAVE: I mean, it kind of was our big break.
GREG: We fucking rocked that show.
NICK: That was our best show.
GREG: We usually suck.
MIKE: I love telling this story because we tell it like it's a movie or something. But also, it was like that. It was cinematic in a way.
After we played we were like, "Well if they don't sign us then it's whatever because we just performed our best." And then at the end the label people said, "We wanna work with you." And then they walked out. And we all silently hugged.
NICK: I feel like we keep running into people who, out of the kindness of their hearts, or just out of interest in the band, have...
GREG: Saved us from the brink of destruction.
Do you have regrets about not pursuing more conventional jobs after school?
MIKE: Not really. Sometimes I wish that I could, like, pursue a career or something. I wouldn't go to grad school now — I was going to go for teaching. I think all of us are sometimes like, Fuck, I wish I could get a job that was more of a steady thing.
GREG: I had that thought today. Oh, wow, wouldn't it be nice if I didn't have to worry about money at all and find a job that was consistent? But, you know, being in a band is a cool job.
What's keeping you guys together, then?
NICK: Not much.
MIKE: People took chances on us, and now we have to do it.
GREG: We had a long talk before we made the album where we were like, "Okay. If we're gonna do this thing we have to commit to it, for at least three to five years."
DAVE: We're all pretty committed. We talk. We definitely had that conversation where it's like, Are we all in for this for a while? And everybody's like, Yeah, guess so. And you can't fuck everybody over.
MIKE: We have a bad habit of talking to people about the band and making it seem like we are about to break up.
DAVE: It's a weird, self-deprecating thing.
MIKE: Maybe we are about to break up. But also, like, we're not gonna break up.
"We were like, Oh shit. This is our big break."—Greg Rutkin
So you guys love each other, ultimately.
GREG: At the core of it, yes we do. I think if we had recorded the album and we thought it sucked, then probably things would be worse. But I think we're all really happy with the end result.
DAVE: We all really like the record and we just want people to hear it.
MIKE: Some of the long-term fans might disagree, but I think this is the best thing we've done. The songs are more thought out.
NICK: It's like the show at Silent Barn. We did our best. I don't have any reservations about it.
DAVE: I can't say the same for any of our previous stuff.
GREG: I feel like whenever we finish anything else it's like, This definitely sounds bad. I don't really love it. Now I'm like, Oh shit. We spent like two weeks in a studio, making it sound exactly how we wanted it to sound. It was a luxury, and a very special thing.
NICK: We can go back and George Lucas all the old albums.
Return To Love is a lot more sophisticated than Hoodwink'd in many ways.
NICK: Some of that, on my part at least, might be reactionary. When I listen to some of the Hoodwink'd stuff it feels almost immature. It is very breakup-heavy. It's very like, I'm with my friends now-heavy. I was younger, obviously. I was in a different place. I'm not looking back on it negatively, but things change. It's almost nostalgic at this point.
MIKE: It's hard to speak for everyone because three different people write the lyrics but, I mean, we're not in college anymore. We obviously were young when we were there. On Return To Love, lyrically the songs hold more importance.
DAVE: It's less trite bullshit. All the subjects on our old songs were kind of basic. We're exploring more complex emotions.
NICK: If you compare breakup stuff with weird ideas of universal spirituality, it's a pretty clear distinction of maturity.
So, you guys all write. Do you find you are exploring the same things together?
NICK: Whenever a song is finished it goes to the group and we all hear it. I start to build on that a little bit, I think we all do. Although we write separately we're still influenced by one another. That's how the themes start to build. That's been a big thing for us, making references and cross-references to each other's songs, building this kind of web.
MIKE: I think we're all exploring ideas of ourselves. It's not observational, or things that are happening to us, it's more of our internal thoughts.
NICK: I have this one fan who's been like analyzing — I guess just my songs — very deeply. He's been asking me about them via Facebook Message.
GREG: He'll send a message that's like, "When you say this, does it mean this or this? This is extremely important to my understanding of this song and will completely change the way I feel about it based on what the answer is. Please respond."
NICK: There's a song where I say "lit minor," and I meant literature minor — I think obviously — and he was like, "Did you mean literature minor, or a young person who's high on marijuana?" And we were like, "literature minor." And he was like, "Thank you, thank you. Now I can rest."
MIKE: I don't think we should ever tell them when things don't have an actual meaning. I don't want to crush him.
MIKE: When we were in Seattle, the guy who works publicity at Sub Pop was telling us about Built To Spill lyrics. He was like, "I don't want to ruin anything for anyone, but I know for a fact that a lot of those lyrics don't mean anything. They just sound nice together and they're open to interpretation." Sometimes I don't wanna know what a musician is singing about because it means something to me.
NICK: The other day someone asked me like, "The lyrics are so crazy in the new record. Like the last song, what are you talking about when you're talking about that weird stuff?" And it's like, I was watching Planet Earth, I dunno. A lot of things that seem crazy can be traced back to something totally normal.