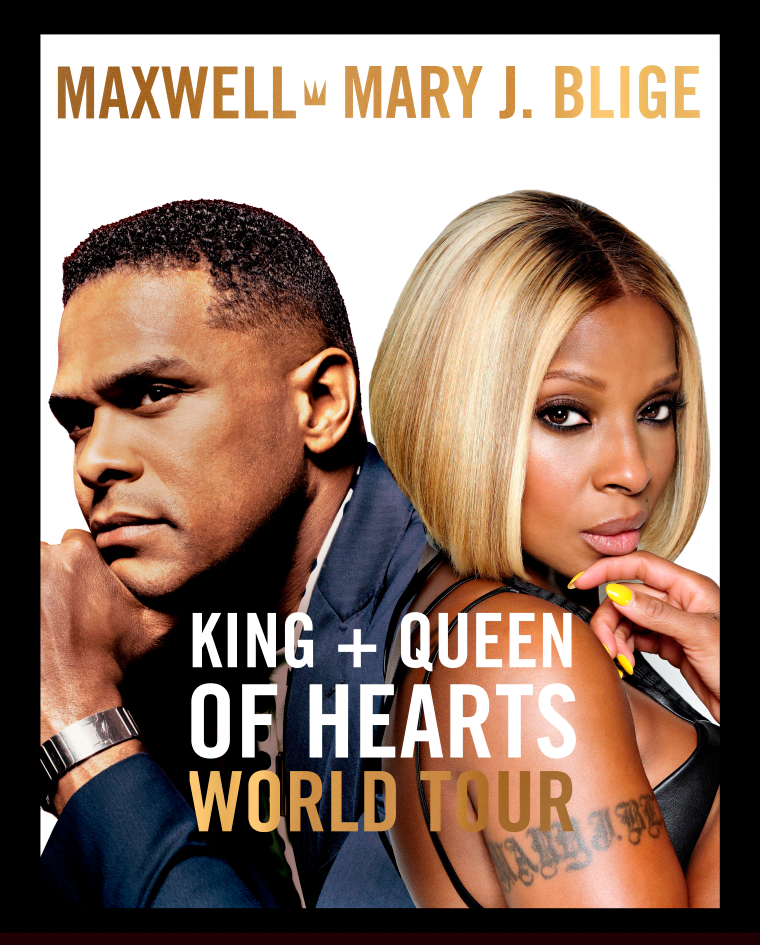 This October, trailblazing R&B and soul music singers Mary J. Blige and Maxwell are finally making their longtime dream come true as they embark on their King and Queen of Hearts Tour together. Before this tour came into being, Blige says, it was a "loose idea" that both her and Maxwell talked about until they buckled down with their teams to really make it happen.
"This is not about who's getting what, whose dressing room is bigger or what microphone looks nicer," said Maxwell. "We're working together and we want people to feel happy, forget their struggles and remember the good days and what they were doing when they were listening to their music."
During a phone conversation with The FADER, Mary J. Blige and Maxwell spoke about their admiration for each other, how they've sustained their connection with fans for over 20 years, and Blige's inspiration for her beloved dance moves.
---
How did this idea come together for you two to do this tour together?
MARY J. BLIGE: The idea was something that we both wanted to do and it was a loose idea. We started talking about our schedules and people realized what an amazing event this would be. It took us some time but we're here now and everyone is excited and serious about what it's going to be.
MAXWELL: When I went on Mary's Beats 1 show and did the interview with her, that was the seal the deal moment for me and for her. We were sitting across from each other and we were reminiscing about our careers. It was supposed to be an interview about me and my album, but of course, me being the fan that I am, I'm interviewing Mary on her own show and finding out all of this stuff about when Mary started. If you listen to the interview, you'll see that it's this give and take. For me, just spiritually, it was so fly. I already loved her and we've already known each other for so long and in the studio while being on her show, I was able to explain how much she meant to me. I think that moment was when we were like, "You know what? We're doing this." It came together and I'm so grateful because I'm such a fan.
I'm not only a fan of her music but what she represents, what she means to women, what she means to black women, and how she conveys all of their issues. Their perseverance and the strength of women in general — she's one of a kind. You know how Miles Davis had phases in his career? In her music, you can hear the sad Mary, then there's the empowered Mary, the Mary who's in love and whose got it. It's just phenomenal. In her career, there are people who started, began, and gone, and there are hundreds of them. Some of them were carbon copy versions of her. So for me, this is very exciting and I'm not only working with an original and a legend but I'm working with someone who has been an inspiration to me as African-American man who comes from Brooklyn, New York. She's from New York and we're taking New York to Europe. That's basically what's going down. The Big Apple is going abroad.
It's called the King and Queen of Hearts Tour. Who came up with that name?

MAXWELL: Mary came up with the name of the tour and I've said this before: in the game of chess the queen has all the moves. She was like, "This is called the King and Queen of Hearts Tour" and I said, "Done." We're talking about the heart which is the gateway to the soul which you feel when your heart is speaking to you through your emotions. When we got the name, I knew that we're going to be able to work good together. This is not about who's getting what, whose dressing room is bigger, what microphone looks nicer. We're working together and we want people to feel happy, forget their struggles, and remember the good days. If they made children to our music we want those people to be be like "Yay! I remember when my mom was playing this stuff." [Laughs]
You both have an endless impact on music. How does the name of the tour speak to that?
BLIGE: Maxwell is the king of what he does and every time I'm singing, I'm serenading from my heart. I'm singing songs that make people feel beautiful, sexy and empowered. The connection that we make is that we've been speaking to the hearts of people throughout our careers. We've touched their lives through our own lives and we speak our own lives through our songs. People just want to be moved. Music is the highest form of communication and it's real gratifying. It feels good, it's medicine and that's what our music represents. It represents love, spirituality and all of that. People are yearning.
What type of experience do you want to provide for the crowd?
BLIGE: People are going to be uplifted because it's touched by what we do. They're going to just have a good time. You just never know what we're going to do because the thing with me is I don't know what's going to happen. It's so much of real life and when I sing these songs that anything can happen and the same thing with Maxwell. All I can say is that they're in for a treat. And maybe a bunch of surprises.
MAXWELL: A lot of surprises.
Mary, everyone loves your dancing so much. It's something that a lot of us really look forward to when we see you perform. Has that excitement inspired you to do incorporate more dancing on this tour?
BLIGE: It's not even about incorporating the dancing. The dancing just happens when the sounds happens and the beat happens. It's like when you're in the club and your favorite song comes on and you can't control your body. So it's not choreographed, but it ended up being choreographed like, "Let's put it here and put it there." It's embedded in me. This not something I've learned but it's something that I am. We don't know what's going to happen when "No More Drama" comes on or when "Not Gonna' Cry" comes on. That's honest to God, I just don't know. Things happen and I wake up like "Oh my God." As far as dancing, I can't help it. I can't.
The King and Queen of Hearts U.S. Tour Dates
November 5: Baltimore, MD / Royal Farms Arena
November 6: Washington, DC / Verizon Center
November 9: Philadelphia, PA / Wells Fargo Center
November 10: New York, NY / Madison Square Garden
November 12: St. Louis, MO / Scottrade Center
November 14: Toronto, ON / Air Canada Centre
November 16: Cleveland, OH / Quicken Loans Arena
November 18: Detroit, MI / The Palace of Auburn Hills
November 19: Indianapolis, IN / Bankers Life Fieldhouse
November 20: Memphis, TN / FedEx Forum
November 22: Charlotte, NC / Time Warner Cable Arena
November 23: Richmond, VA / Richmond Coliseum
November 25: Atlanta, GA / Philips Arena
November 26: Greensboro, NC / Greensboro Coliseum
November 29: Miami, FL / AmericanAirlines Arena
December 1: New Orleans, LA / Smoothie King Center
December 2: Dallas, TX / American Airlines Center
December 3: Houston, TX / Toyota Center
December 6: Los Angeles, CA / The Forum
December 7: Oakland, CA / Oracle Arena
December 9: Las Vegas, NV / T-Mobile Arena
December 11: Bossier City, LA/ CenturyLink Center
December 12: Kansas City, MO / Sprint Center
December 14: Chicago, IL / United Center
Find the dates for the Europe tour here.