For Sudanese Artist Alsarah, The Diaspora Is The Divine
On her new album Manara, the "East African Retro Pop" musician eschews tradition and stakes out her own musical home.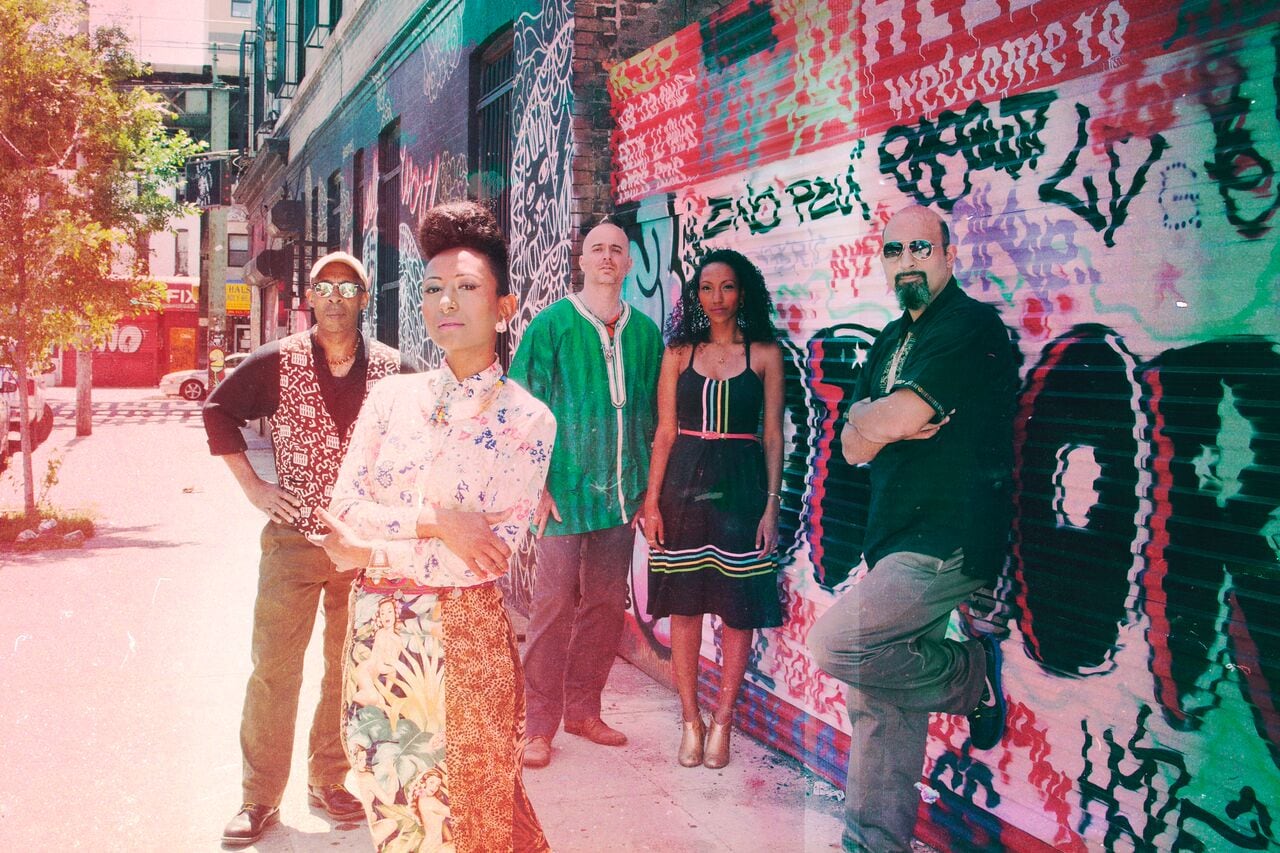 Alsarah is an artist and a participant in the sonic history of music. Born in Khartoum, Sudan, of Nubian descent, she sings of migration, love, and nationhood in both Arabic and Nubian languages, with her band The Nubatones. Their first album, Silt, followed the motif of the 'Songs of Return,' a musical genre inspired by the forced displacement of Nubian peoples due to environmental and political strife. One of Silt's standout tracks was a cover of Ahmed Mounib's "Bilad Al Dahab." On the original, Mounib's voice is light and precise over a beat made of hollow drums, skillfully-fingered oud, and rhythmic claps; Alsarah's take incorporated a more pronounced oud presence, and soulful vocals filled with yearning for a place that no longer exists.
Alsarah & The Nubatones is a five-piece band, including bass and trumpeter Mawuena Kodjovi from Togo and Martinique, an Ohioan oud player Brandon Terzic, background vocalist and percussionist Rami El Aasser from Egypt and Quebec, and additional vocals from Nahid, Alsarah's sister. Fresh off of two years of touring and the devastating loss of Haig Manoukian — the band's original oud player — Alsarah & The Nubatones will release a second album, Manara, on September 30. Silt was about remembrance and memory, but Manara features original content and serves as a contemporary look at Alsarah's world now: irreparable relationships caused by distance, soundbites of Sudanese children playing at refugee camps. Manara is a glimpse at what it means to be Sudanese in Nubia and greater Sudan, as well as what it means to be outside of the nation, looking in. Alsarah spoke to The FADER about how history can inform music, and why diasporic art is much more complex than a longing for home.

How did the band form?
Rami and I had been working together in the New York music scene for a few years on various projects. He was also working on his dissertation about modern-day migration patterns and its effect on agriculture and food in Egypt, and simultaneously, there was a lot of discussion about Nubian movement because of the building of the Aswan High Dam [a key reservoir built across the Nile]. We would talk about music and discuss his perspective as someone studying it from the outside, and mine, growing up with all of these songs and putting them, now, in context of their history. He would say, 'Wouldn't it be cool if we had a concert like that?' and I said, 'Wouldn't it be cool if we had a band like that?' It quickly moved into becoming much more than Songs of Return; it grew into us finding ourselves as diasporic people and immigrants within the story and how, in different cultures, the idea of soundscapes can come into view. The idea, to me, is that there's a universality to being an immigrant beyond just one location.
Where are you originally from? What languages do you speak?
I'm from Khartoum. I was born there. I speak Arabic. I never learned Nubian. That's part of the discussion that happened when I did the Songs of Return: I was going through translations from Nubian to Arabic and recognizing that there was a generation encouraged to not speak their language so that they could blend more easily. So I don't speak Nubian, I speak Arabic. And I don't think that's an accident.
Silt featured many covers as an ode to the history of Nubian peoples. Manara, to me, doesn't sound like that.
[Manara] is a natural continuation of Silt. It has almost no covers, there are only two: one is "3yan T3ban," which I learned from girls in a refugee camp. The other cover is "3roos Elneel," but that's us revamping it completely and almost turning it on its head. I think of music like a ladder, you know? You make one step then take another. I didn't think anyone was going to hear this beyond the borders of New York City; I was a local artist, that's how I made it. I made Silt to teach people around me about where I come from, so that we could move on to making Manara, which is a much more intimate, original exploration of my ideas of sound. I made Silt so I could make Manara: I first needed to make a project about the sonic history that we come from.

Can you tell me about the interludes on Manara?
The Yusuf Batil refugee camp was a home to the latest wave of displaced people in North Sudan from the Blue Nile area. I went out there to work with a Sudanese filmmaker, Hajooj Kuka, on the documentary Beats of the Antonov. The magical thing about this camp was that most of the people wrote music and made their own instruments, even. So there's a clique of little girls, aged 11 to 15, and they adopted me as their new friend and taught me this song. That clip of them talking [on "3yan T3ban"] is them trying to decide what song to teach to me. I wanted to do it as an ode, as a thank you to them.
How do you think your music is perceived by Sudanese people, especially intergenerationally?
I've sort of embraced the idea that I don't make traditional Sudanese music because I was told by Sudanese people that I don't sing haqiqa [classically traditional] enough. Manara is intentionally not supposed to sound like older stuff. It's about my sound. I want to create my current home, that's made up of the bones of my old home and my new home. I was born Sudanese and I will die Sudanese but [being] Sudanese doesn't mean that I'm stuck in one place. This is what I do: I explore myself in my music. And if you came here thinking you were going to see a preservation project, well… [laughs].
I've never been in fear that my culture is dying. I don't have that hanging over my head and I think, as artists, it's important to let go of that. Preservation is important, but it's just as important for young, diasporic Sudanese people to include our voice as part of the conversation. Sudan's mass migration really didn't happen until later than most; we didn't start migrating until the mid-'80s, early '90s. My generation is the Sudanese diaspora. It's important that we participate and consume our own Africanness. It's important that we explore our identity. We are in a new space and we have a foot in both worlds — that is an asset, not a disservice. Knowing where you come from and not being afraid about where you're going, and knowing where you're going, is just as important. Manara is traveling towards this lighthouse, the anchor of your journey as you travel. As the writer Octavia Butler said, "God is change," you know?

I've never been in fear that my culture is dying. Preservation is important, but it's just as important for young, diasporic Sudanese people to include our voice as part of the conversation.
You've worked with director Maryam Parwana on the videos for "Habibi Taal" and "Ya Watan." How has your vision changed?
I love working with Maryam Parwana because she is a brilliant director. She really understands my visions and takes them to a whole new level, a whole new planet. Songs like "Habibi Taal" and "Ya Watan" are extensions of each other to me. The same soul that gives you a love song gives you sad songs. "Ya Watan" is almost like a heartbreak song, it's about having your heart broken by your country. There is pain that happens from separation and guilt associated with wanting to leave your home because it's literally suffocating and killing you sometimes. I wanted to capture all those emotions, the ideas of feeling estranged, like you're on another world or planet. That's the feeling I get when I think about having to go to new places and take new steps when you are forced, else you will literally die because the place around you is dying and waterless. "Ya Watan" is an exploration of how nation-states have been failing our humanity continuously and globally; not just Sudan, not just Africa.
How do you feel about how your music is categorized?
I have problems with labels like 'world music,' which are just so vague. I almost wouldn't mind 'African music' as long as [people] understood that it's not just from Ghana and Senegal. My music should easily fall within the category of African music but, for some reason, the world we live in today has a hard time computing [Arabic-speaking] parts of East Africa with the fact that we're African, or that you can have a multicultural experience in one single area. People are notoriously resistant to the fact that people can cross boundaries, you know? This is why I chose the label East African Retro Pop, because I didn't find any label that I felt comfortable with.