FADER Mix: Deejay Earl
The Teklife stalwart shares a mix of new and unreleased footwork gold.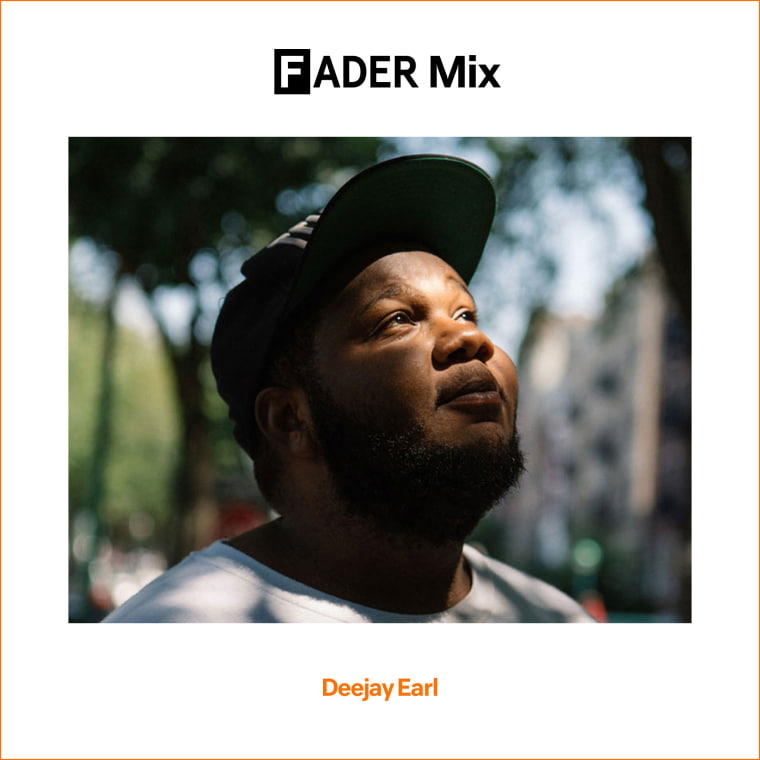 Deejay Earl has been embedded in the Chicago footwork scene for over a decade, having got his start dancing at events at the tender age of 14. Teklife dons Rashad, RIP, and DJ Spinn recognized Earl's skills early on, and he's grown to become one of the crew's most versatile members. In August, he released his new album, Open Your Eyes, which is a testament to both his elastic take on pace and near-spiritual sense of melody.
Today, Earl has blessed us with an hour of gold in the form of a FADER Mix of largely new and unreleased material. Over the course of 50+ tracks, Earl and his Teklife cohorts, including Spinn, DJ Manny, DJ Taye, and Taso, flex their sonics, and there's also gems from Suzi Analogue and an OPN collaboration. It's the real deal: a workout for the mind, body, and soul — just the thing to shake up your cells and get your synapses sparking. As one of the mix's flyaway lines goes, New shit on deck/ Where the smoke at?
Take a listen, and scroll for a catch-up with Deejay Earl, who is currently on tour in Europe (dates and tracklist below).
Where are you right now? Please describe your surroundings.
Right now on I'm on tour chilling in London. I'm at Ashes 57's office space writing these answers lol.
Tell us a bit about this mix — what do you imagine people doing while listening to it?
This is just straight up all exclusive Teklife material and a few guests as well. All mostly new unreleased material.
What's your earliest musical memory?
Playing in band in 5th grade. I used to play mainly percussion instruments and the drum set. But I played around with the trumpet and saxophone as well.
What did making your album, Open Your Eyes, teach you?
There aren't any limits to what your sound can evolve to. Also my album taught me focus as well.
Teklife founder Rashad helped take footwork around the globe. Do you feel a responsibility to help grow the music further, and if so, in what way?
In a sense that he was one of the people who took me and a group of people serious and worked hard and put that opportunity in front us. I understand what Rashad and Spinn did for Chicago and the footwork culture was one of the most important things ever to happen to Chicago. Teklife represents that — I know for a fact I'm forever grateful everyday how they changed all of our lives.
What's the last book you read that had a big impact on you and why?
The Four Agreements. It just taught me I'm responsible for how my life plays out and to be impeccable with my word.
Tracklist
DJ Earl, DJ Manny, DJ Taye, Lupe - We in The Land
DJ Earl, DJ Manny, DJ Taye - Where Yo Workz @
DJ Manny, DJ Taye - Life In This
DJ Earl, DJ Manny, DJ Taye - 144
DJ Earl - Tru Colors
DJ Earl, DJ Manny, DJ Taye - Get Down
Sirr Tmo, Hank - Don't Just Stand There
DJ Earl, DJ Manny, DJ Taye - Lotta A$$
DJ Earl, OON, MoonDoctor - Smoking Reggie
DJ Manny - Right Na
DJ Manny - Party Pack
DJ Earl, MoonDoctor - Too Throwed
DJ Earl, Mel G - Tell Me
DJ Earl - Summer Jazz NYC
DJ Earl - Sleep
DJ Earl, J Mundaca - On The Run
DJ Earl, DJ Chap - Hii Boa
DJ Manny, Boylan - 1 Dance
DJ Taye - She Thirsty
DJ Earl, DJ Taye - Lucky Bastard
DJ Earl - Future Kush Riddims
DJ Rashad - Took It Doggystyle
DJ Rashad - Acid Life
DJ Taye - Punjabi
DJ Earl - My Life
DJ Spinn - Off That Loud
DJ Earl - The Chase
DJ Earl, DJ Taye - Im Gonna Get You v2
DJ Earl, Sonic D - Face
Suzi Analogue - Girl Sweatshirt v1
DJ Earl, Mel G - Burnin Hott
DJ Earl, DJ Taye - JazzMan
DJ Manny - You N Me
DJ Earl - T UP
DJ Earl - Block Bass
DJ Earl, Kash The Kushman - Batman Teklife VIP
Suzi Analogue - DontClockInn
Suzi Analogue - Girl Sweatshirt v2
DJ Spinn - H8terz
DJ Rashad - IDGAF
DJ Paypal, DJ Earl - We Finally Made It
Mel G - Low Key Anthem
DJ Earl - Nightlife
DJ Taye, Taso - Thinkin Bout You
DJ Manny, Gant-Man - Snap Chat
Addison Groove - Smoke Wit Me
Mel G, Durban - The Plug
DJ Earl - Lock Your Door VIP
DJ Earl, Frost - Smoke It UP
Taso - LaBeezy
DJ Manny, Taso - We Getting It Bussin
DJ Earl - In The Jungle
DJ Spinn, DJ Manny - At All VIP
DJ Earl - Radio S Vip
Tour dates
09/30 London, UK • Tropical Waste
10/01 Rome, IT • Brancaleone
10/07 Oslo, NO • Revolver
10/08 Trondheim, NO • Bruk Bar/Blaest
10/14 Tenerife, ES • Keroxen Festival
10/15 Barcelona, ES • Trill
10/20 Krakow, PL • Unsound Festival
10/21 Amsterdam, NL • Amsterdam Dance Event
10/22 Graz, AT • Elevate Festival
10/28 Lyon, FR • Polaar
10/29 Lisbon, PT • Music Box
11/04 Berlin, DE • Ableton Loop
11/05 Madrid, ES • Post Club x Iberian Juke
11/25 Munich, DE • Blurred Vision (without dancers)