New York Photographer Brad Ogbonna Keeps It Raw
We visited the home studio of The FADER contributor who's known for his pre-digital style.
Brad Ogbonna has this thing of letting his subjects speak for themselves. A typical Ogbonna photo might highlight the smallest of details: a patch of brown freckles or a strand of jet black hair. His images recall classic movie posters, in the sense that they're simple and direct, yet hint at a more complex story.
Though Ogbonna's subjects are diverse — be it an empty pool in Cuba or rapper-actor Common — the results share a similar aesthetic: an emphasis on expression and texture. The 28-year-old has travelled the world with his camera, capturing slices of authentic culture everywhere from Nigeria to Hong Kong. In addition, he's shot for Paper Magazine, adidas, and Bed-Stuy boutique Sincerely, Tommy — not to mention shooting Mara Brock Akil for The FADER.
We visited Brad Ogbonna in his Brooklyn studio to talk about his process, his inspirations, and what he thinks of smartphone photography.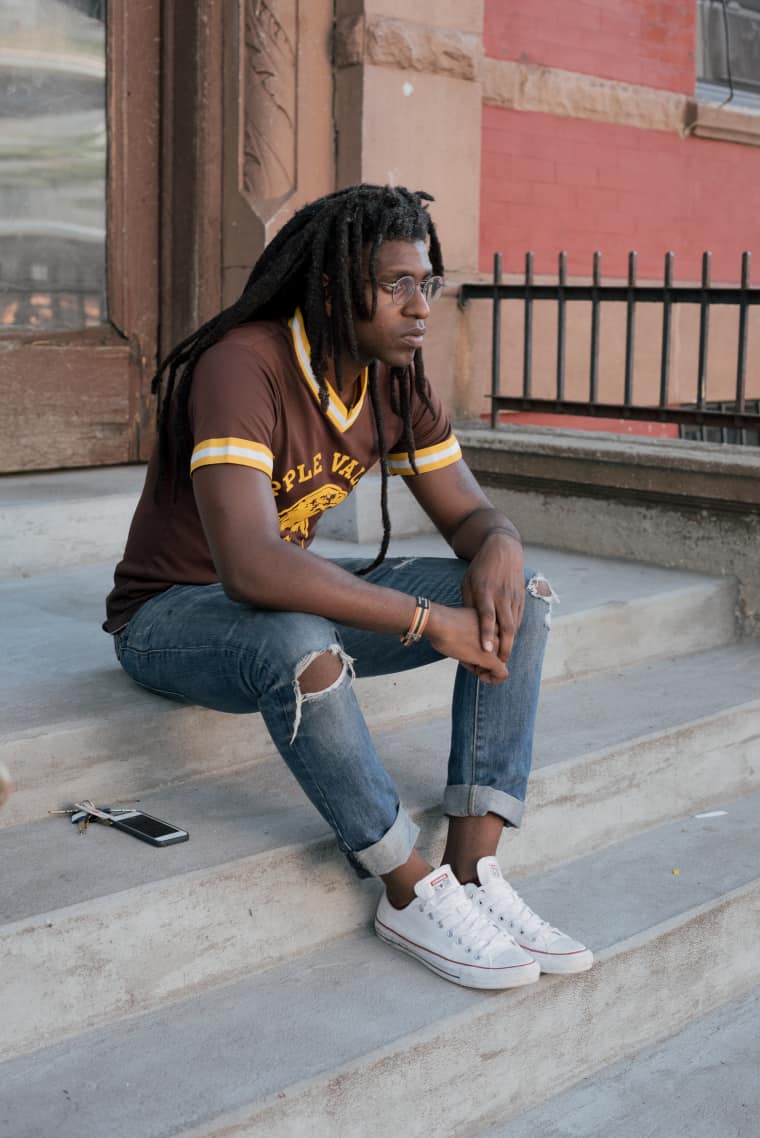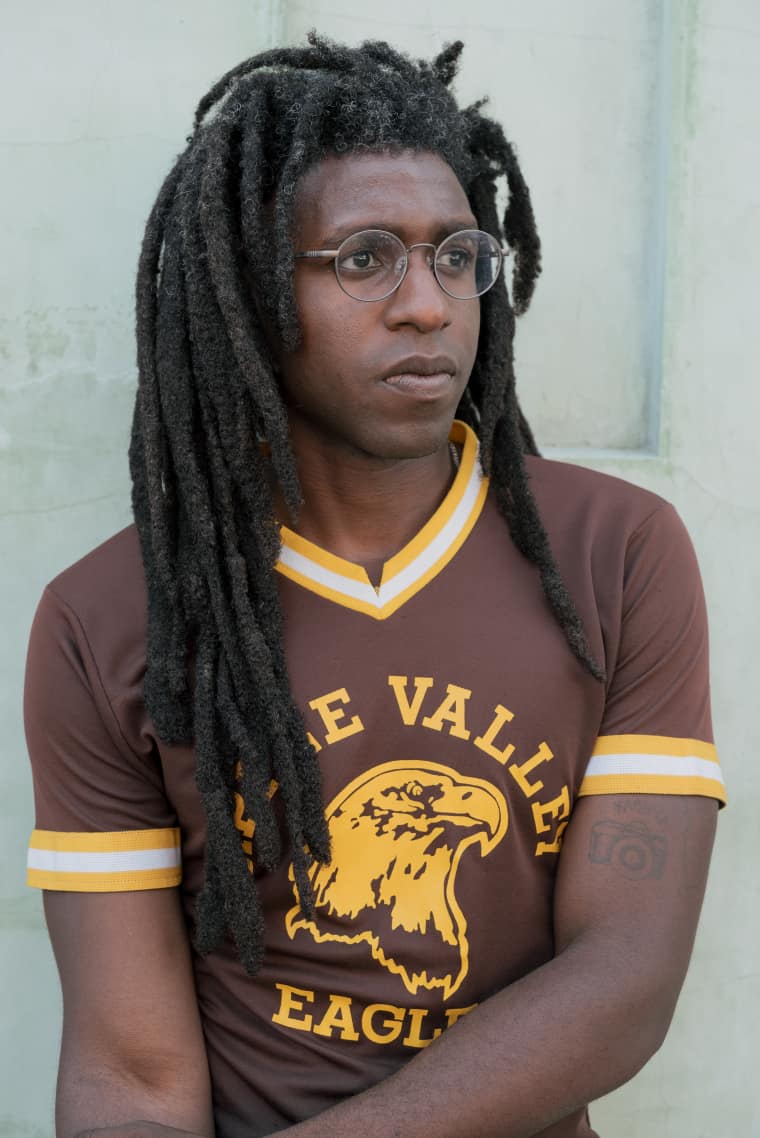 What made you want to be a photographer?

I just really liked taking photos of people and different places I've traveled to. I went to school for international studies and political science so I came out here looking for internships or an entry job but that didn't entirely work out. I got offered to cover a job during Fashion Week, just based off of photos I posted of friends on Facebook. Somebody came across them and offered me the chance to shoot some stuff. And then once I found out how much they were offering me to shoot it, I was like, you know, I could actually be a photographer for a living, as opposed to doing internships that didn't pay, expecting 40 hours a week out of you. I kind of became disillusioned with that feel. I just really enjoyed photography and being creative.

When you shoot, what do you shoot with?

I shoot with three different cameras. A 5D Mark III — I do a lot of digital for client work and a lot of video stuff. When I'm shooting a lot of my own personal work and doing certain portraits, I usually shoot with a Mamiya rz67, a medium format camera. And then I also shoot with a Cannon EOS-1, and that's 35 mm.
How would you describe your process?

A lot of times, when I'm shooting with people I like to just talk to them, see where they're from, and what their interest are so I can get to know them a little bit to break down that barrier and build a rapport. I just start shooting and let them get comfortable. I try to get something from them. I do a lot of portraits and I do a lot of travel photography so in that instance, I'm really just trying to capture something that catches my eye. So sometimes if I'm not interactive with somebody, I'm on the go, doing travel work. I really try to find something that's unique, that doesn't feel overdone but it still tells the truth about somebody — that's how I usually try to approach it.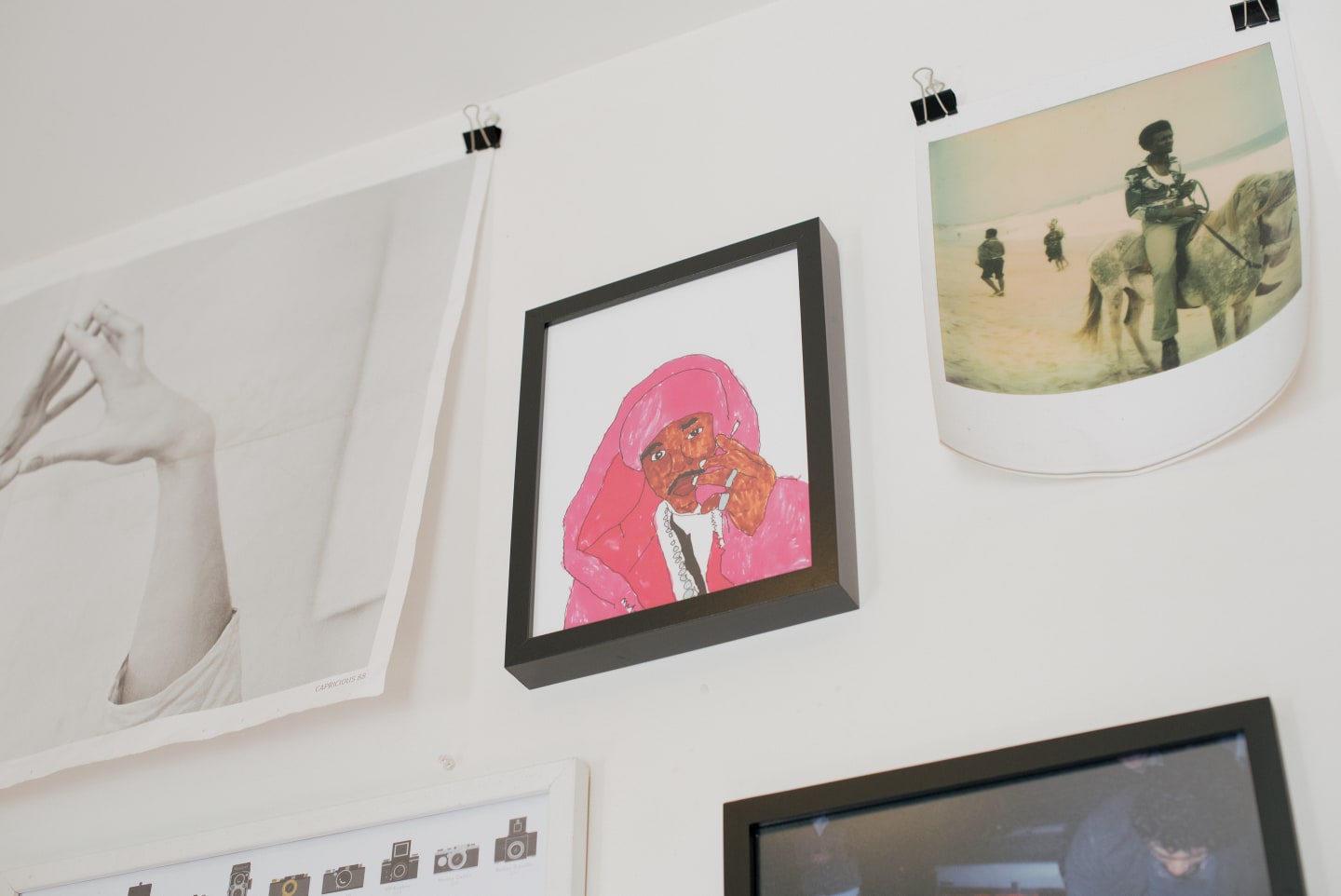 One thing about your photos is that they're not hyper-focused. Certain parts are fuzzy or out of focus. Is that something you do on purpose or does it just happen?

I usually shoot with a pretty wide aperture so that kind of blurs out the background. But yeah, I really just focus on the person and pull them out of the environment. That's probably why you get that feeling when you do that.

It bucks the trend of being super sharp and bright.

Yeah, there was a period where I was trying to do that a lot. For a while I was assisting with other photographers and they were all about the on-camera flash and heavy lighting. I found myself taking little things from their style of photography and bringing it to mine. It just didn't really work out with what I really like to do, so I just brought it back to keeping it raw and natural, shooting with natural light. When I do shoot with strobes, I try to keep it to a minimum so it looks even and not so dramatic.

Which photographers do you admire and why?

I really like Cass Bird, she's great. I really like the way she interacts with her subjects and gets something out of them; she's really funny. Juergen Teller, he's like an OG; he's great. Tyrone Lebon — he's great, super raw and natural, the same kind of aesthetic. I'm just generally a huge fan of photography. I check out people's websites for fun, just to see what people are up to. I'm competitive but not in that nature. I genuinely like looking at people's work and going to galleries, checking out people's stuff. Next to basketball, that's my biggest hobby, photography. So I'm happy I'm able to do that for a living and travel; that's nice.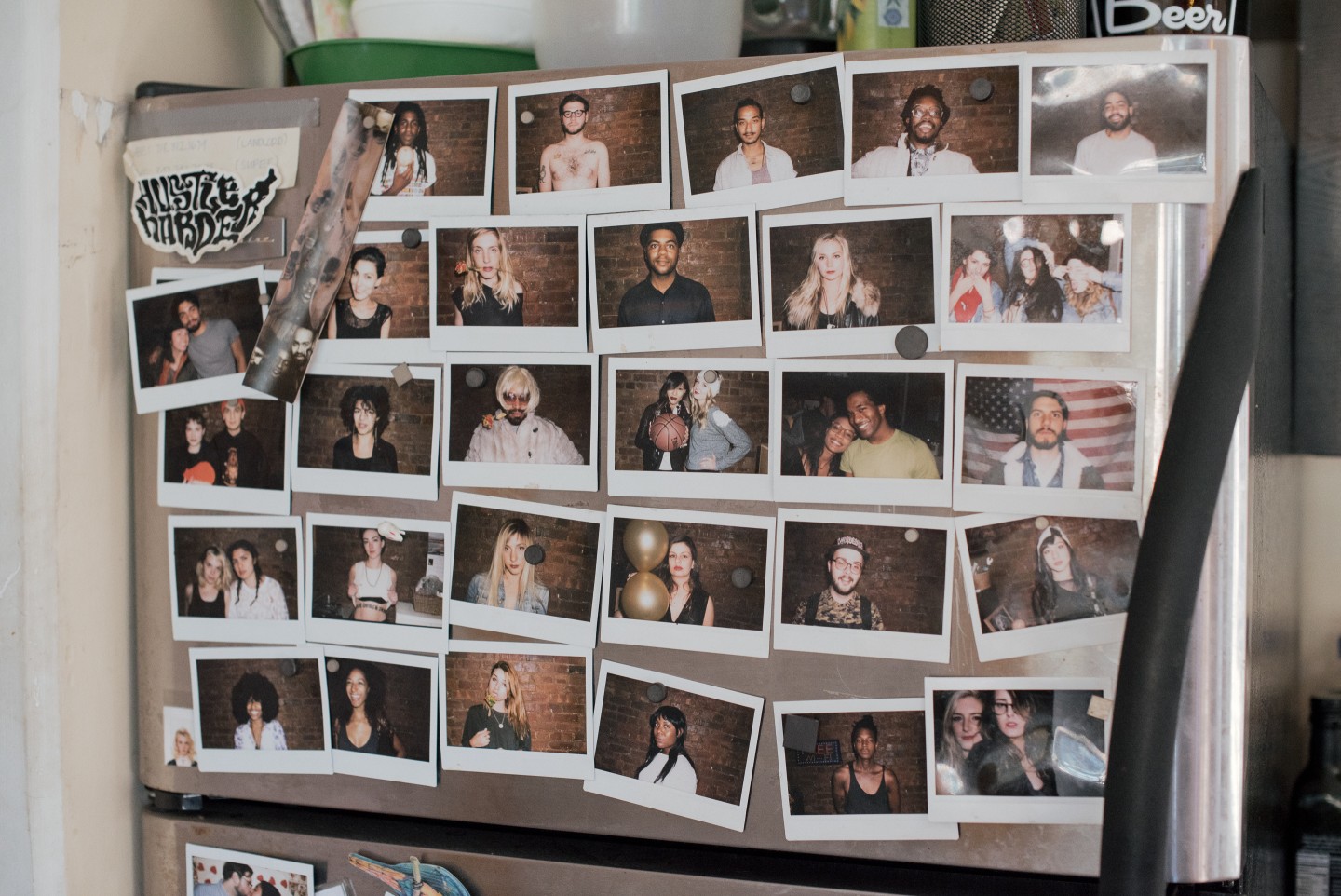 What do you think smartphone photography has done to the practice of photography?

I think it's great. I think people are more interested in photography now than they were in the past because they're being inundated with so many photos now-a-days, but I think it's nice. I feel like with the advent of smartphones and things like Instagram, I've discovered so many people via photography. When I go home to Nigeria to see family, I can relate to people who have followed me on Instagram and that wouldn't have been possible if it wasn't for smartphones.
When I was in South Africa for a project, I ran into these dudes who followed me on Instagram; it's the same kind of concept where photography just brings people together. A lot of people hate on iPhone photographers, but there are times when I only have an iPhone on me. I was in Japan a few months ago and I traveled there with a Contax T2, my Mamiya, and a digital camera, but I ended up just using my phone for a lot of stuff; it's just so simple, easy, and accessible. When you're shooting, especially in a different culture it's not so alarming to have an iPhone verses when I'm in Nigeria and I bring out the 5D; it turns into fiasco automatically. The phone is nice and it's easier to document stuff. I like that I can take a quick photo and send it to my mom like that.

I have a friend of mine who takes so many photos on his phone but he doesn't put them up anywhere, he just archives them in the same way as your parents would have family photos; you know, not necessarily sharing them. He just documents them and doesn't share. I think that's really cool too, how people approach it because there are certain people who, everything they think of, they're going to post it. But it's cool to see someone who kind of withdraws from that and takes photos just to take photos.

You're always shooting a new scene, what's your favorite kind of scene to shoot?
I don't want to say I have a preference. I feel like if I say I have a preference people are going to be like, "Oh nah, he doesn't want to shoot that." I love it all, I shoot everything. If you would have asked me five years ago, I would've been like, "Oh yeah, fashion is dumb," but now I've been able to branch out and see different photographers, and how they approach it. I feel like fashion has, as far as photography goes, transformed a little bit; it's a little more raw and back to how it used to look in the '90s, pre-digital stuff. People are bringing it back to a lot of film which I think is great. It makes it feel more real and not so processed so I really like that.
I'm trying to approach every project the same way whether its fashion or documentary, really just capturing something unique and for me at least, something playful and colorful, not so processed. What I'm shooting at is that I am thinking about things and how I want to be portrayed but I try to not construct a photograph. I try to let it present itself and that can be difficult sometimes with fashion where they kind of want to be very structured; they're trying to show something very specific a lot of times. That can be harder to navigate via a documentary where it's like fashion roulette kind of stuff, but it's fun.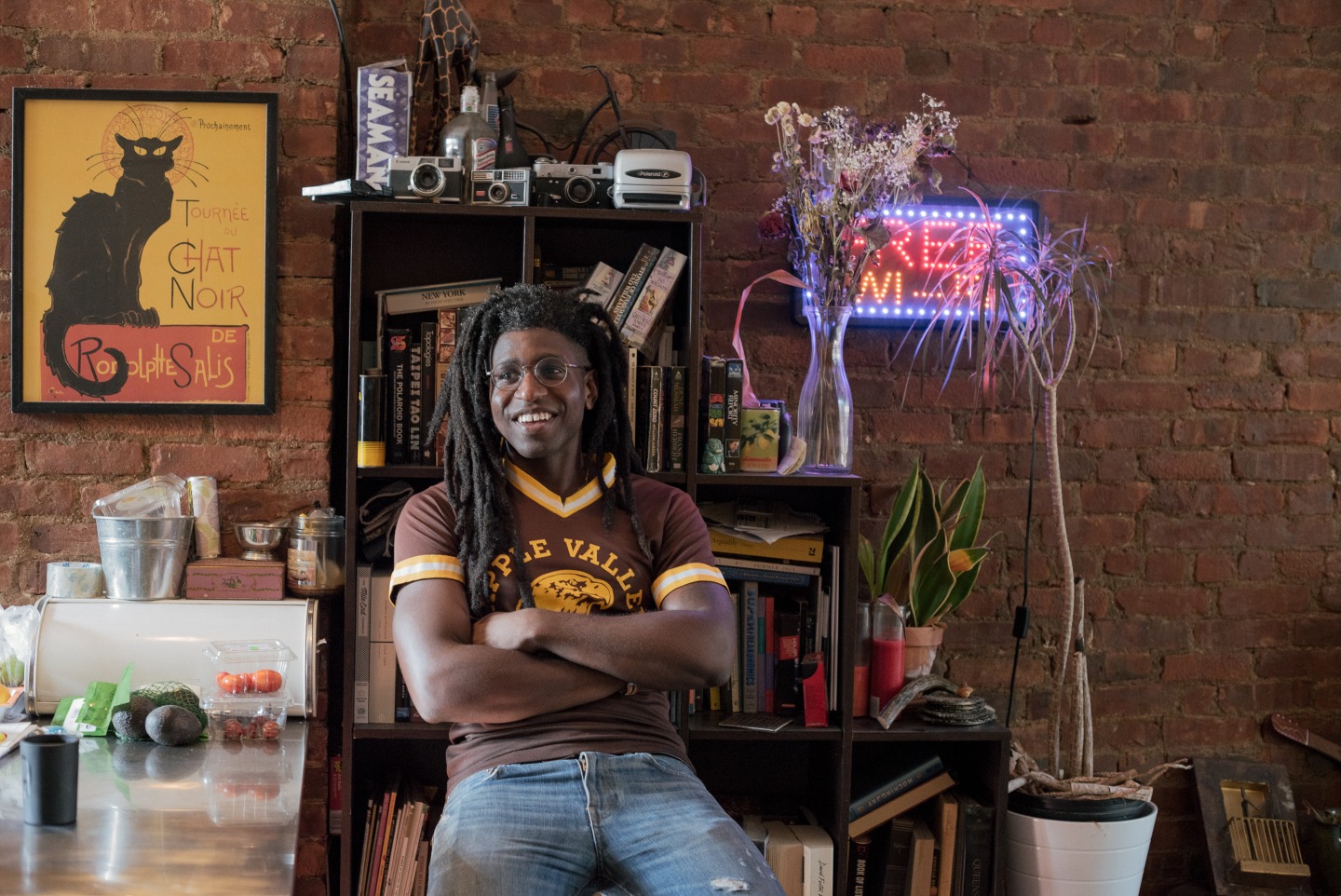 What's the best advice that you've been given?

I just got really good advice recently. I actually worked with this guy Virgil [Abloh] and he wasn't giving me advice per se, but he was giving someone else the advice and I overheard it. He said, "You should always be working on five different projects at a time, continuously work, and be very mindful of what you're putting out." That was something I took with me. I thought that was kind of cool where, it's one of those times where I can focus on work and shoot anything. For me recently, I haven't taken a photograph for personal work in a couple of weeks but sometimes it's nice to take some time off but when he said that I was like, "yeah, you only get so much time", so you really should be working on as much as you can.

[Abloh's] just so motivated in his work ethic; it's crazy, with different projects in different countries every day. I'm trying to get on that level of always working on something. I've been brainstorming and doing a lot of research on different things I want to do.
And finally, what do you listen to while you're editing?
It varies. My music taste is so eclectic but in a true sense I feel like I go back and forth with a lot of stuff I listen to. So one day it could be Young Thug. I've been really trying to get into Lil Yachty, so I've been trying to do that thing. But then there are days where I really miss the emo days so I'm listening to Saosin and Brand New. I listen to a lot of Frank Ocean obviously, he's great. And a lot of Prince. I'm from Minnesota so Prince is always heavy on the rotation.
In the mornings I do a lot of reggae. My dad is really into reggae and afro-beat. As a Nigerian I have to listen to afro-beat and high life, a lot of that. In the winter time I feel like listening to a lot of French disco and stuff to keep me upbeat because the winter in N.Y. is really daunting. I thought I was escaping the winter in Minnesota but N.Y. is as worse sometimes because you end up having to walk everywhere so I try to listen to stuff that's really upbeat. It can be baile funk from Brazil. It's all over the place really. I love French artists like Justice. Occasionally, occasionally I'll go back to some old country before the whole commercialization of that stuff. My roommates are really big music buffs also so they'll come home and I'll have a Carly Simon on or something like that.