These Boys In The Woods Are Making The Best Videos On The Internet
A group of friends are turning their boring lives in the middle of nowhere into some of the country's most exciting music.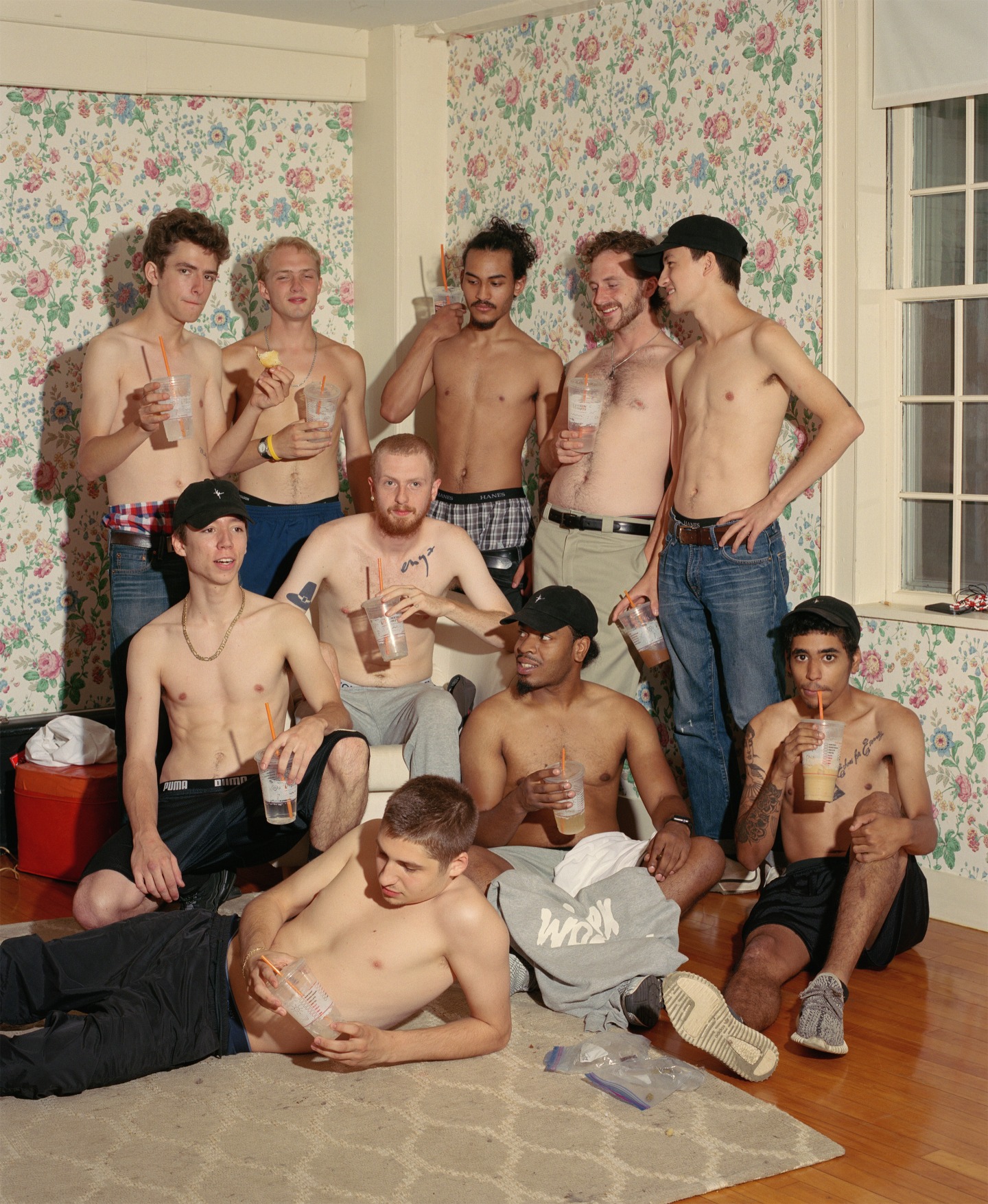 Dark World's YouTube page is easy to get lost in. There's a homespun video for a sort-of rap song called "Christian Dior," for example, that was made by a 22-year-old named Ruvi Ender Arnold, who records as Gods Wisdom. It opens with footage of sitcom legend Roseanne Barr talking about the CIA mind control in Hollywood. When the song starts, Gods Wisdom's delivery is coarse and phlegmy and slurred, sounding sort of like chopped-and-screwed screamo or some kind of evil, bedroom-pop approximation of crunk music. For a portion of the video, he wiggles around in a down comforter, like a lumpy caterpillar with a human head.
A few dozen clips later, there's an unhinged ballad called "She Say She Wana" by Cooper B. Handy, a baby-faced singer who records as Lucy. In the clip, he sits backwards on an old wooden chair and exaggeratedly mouths the words: She say she wanna dance with me/ But she don't know how. It's avant-garde in an innocent way: the production is tinny and cheap-sounding, and something about Cooper's vocal just feels off, as if English wasn't his first language.
With nearly 47,000 YouTube views at the time of this writing, "Creme De La Creme" — a murky earworm by 22-year-old Lucas Kendall, a.k.a. DJ Lucas — is probably the closest thing Dark World has to a "hit." Lucas raps on the track, his flow growl-like. The stumbly beat was made by Nick Atkinson, 20, who goes by Ghost, and the song features Cooper's angelically reverbed voice too. Filmed on VHS then crudely edited in iMovie, the video is a no-budget, vaguely gothic posse showcase that happens to be set in a barn. It's catchy and a little bit dumb, an unpolished afternoon project that sticks with you.
Dark World is a group of 20-plus boys, most of them from the woodsy towns of Western Massachusetts. It's a label and a collective, though its members don't often use those words, choosing instead to call it a "syndicate" or resisting classification entirely. A lot of their music is just as ambiguous, not just defying genre but also frequently defying normal standards of taste. Some of their songs seem to want to be taken seriously, and there are plenty of earnest moments in the Dark World catalog alongside all the jokes.
Within the scene, Lucas is like some combination of coach, starting forward, and team mascot. He puts in work every day to keep energy up: booking shows, emailing music blogs, and selling one-off merch pieces via Twitter DMs. "It's been his ship since day one," says Sen Morimoto, a Japanese-American multi-instrumentalist who's known Lucas since middle school. "He's good at keeping everyone together and giving everyone their shine." Lucas is also probably the scene's most visible character. This fall, he'll head on tour with Wiki, the Manhattan rapper best known as a member of Ratking.

On his own songs, Lucas raps about living in Western Mass. I grew up in the suburbs, where everyone hates one another, goes "Debt Collector," a mumbly track that also mentions buying blunt wraps at Cumberland Farms, or "Cumby's," a regional convenience store. It's the sort of day-in-the-life poetry that a lot of the most celebrated hip-hop is known for, but coming from a gangly redhead who lives in the middle of nowhere, it feels original, goofy, and a little sad. Maybe it's because of the rural setting, or maybe it's the feeling of futility that comes from a bunch of small-town kids trying to make it big, but some of the Dark World videos emanate a specific sort of loneliness — the same kind of all-American melancholy that Harmony Korine has built a film career around.
Lucas used to live in the oldest still-standing house in Hadley, a sleepy river town. He signed the lease a couple years back after the property turned up in the "For Rent" section of Craigslist, and stayed there with a few other guys from Dark World. That's where they filmed the video for "Creme De La Creme," and that's where Cooper makes Lucy songs in a shoebox-sized studio adjacent to his bedroom. These days, Lucas shares an apartment with his girlfriend in Northampton, an artsier neighboring city, but the Hadley place — a big, creaky, white colonial with 13 rooms — is still very much in the family; Cooper lives there full-time and so does Dom Poropat, a local-college grad who films a lot of the crew's music videos (a few guys who aren't affiliated with Dark World live there, too).
"We call it 'The Old House,'" Lucas says when we meet there on a muggy afternoon in August. We're hanging out on one of its screened-in porches, and Lucas is whipping darts at a laminated map of the U.S. that's been taped to the wall, each sharp thud a tiny blow to the house's historic exterior. He'd just given me a quick tour, which, because of the meandering floorplan and his jittery energy, was a little confusing. Each room is outfitted with its own amazing wallpaper, with patterns ranging from claustrophobic florals to creepy illustrations, like something out of a Depression-era children's book. The staircases twist sharply; some, like a maroon carpeted set on the second floor, literally lead nowhere.
On the porch, Lucas paces and smokes heavily. He has "Dark World" tattooed on his knuckles, and he's wearing a single pearl earring. Later, while driving around in his car, he puts on a song by his latest obsession, Reginald Wrangler, a black cowboy from rural Florida whose tracks muddle modern pop textures with old-timey country melodies. "I think that his only fans are really country people in Florida," Lucas says as we drive down a two-lane road that leads us past Emily Dickinson's house, which he happily points out. "He seems talented enough to be an enormous country star," Lucas adds. "I just want him to be famous."
---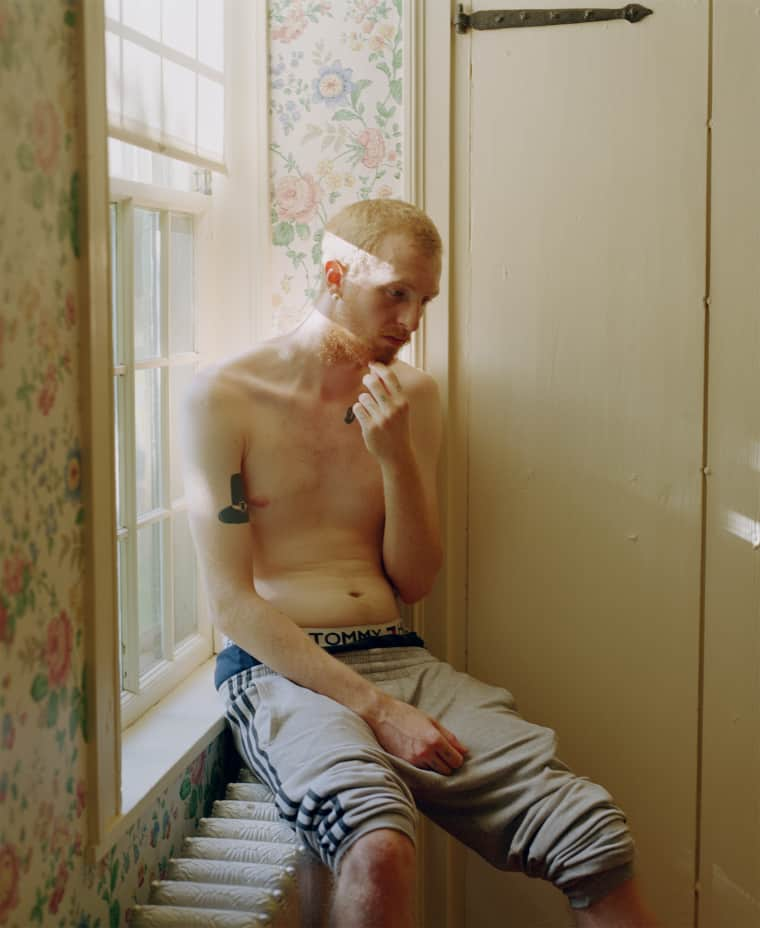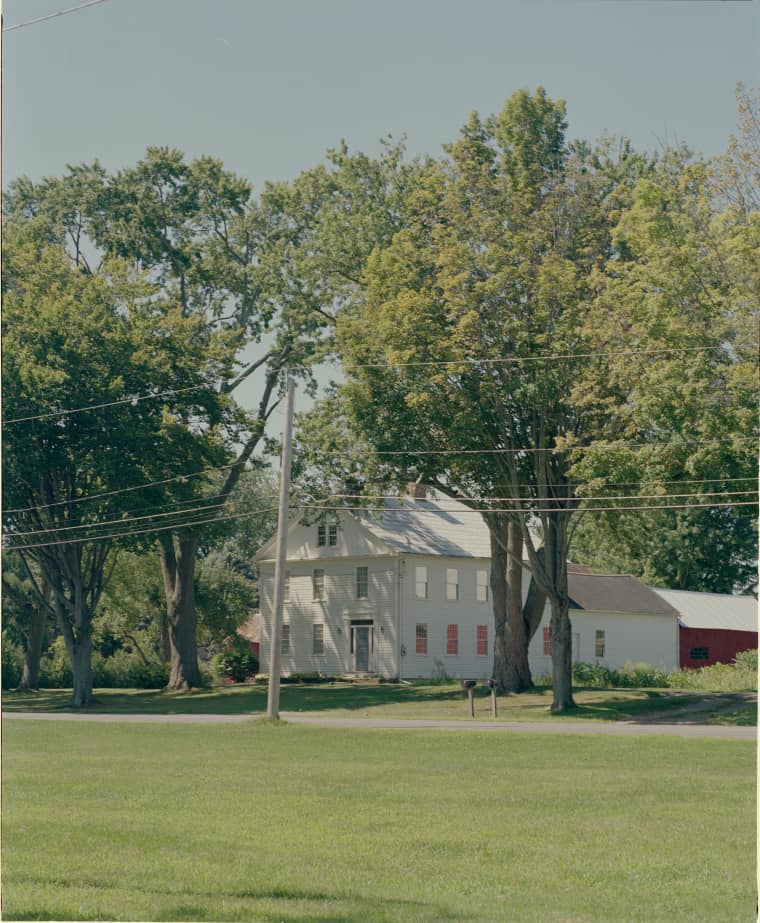 Lucas always had ambitious music dreams, even before Dark World. As a tween, he was the mop-headed frontman of Who Shot Hollywood, a post-Strokes garage rock band that he started in 2005 with his friends Eamon Wick, Lucas Graham, and his kid brother Dana — all of whom are members of Dark World today. Thanks to his father, who is a musician and show-booker, their demo CD got into the right hands. ("It wasn't like my dad was friends with the bands," Lucas clarifies. "He was friends with the sound guy.") They played one of their first shows opening up for The Fray, and they ended up doing a string of Northeast shows with some other medium-sized touring rock bands, like Tokyo Police Club and Ted Leo. At the time, they were all in elementary school. "Bands received us well," Lucas says, noting that the attention was likely due to their precociousness and the fact that they could really play.
As kids, Lucas and Dana's parents sent them to The Academy at Charlemont, a tiny day school near the Vermont border. Dana, who makes music now as Weird Dane, stuck it out until graduation and went on to study sound design at Boston's Emerson College, where he's about to start his final year. Lucas left Charlemont after 8th grade. He spent a year at PVPA, a performing arts school, where he hung around with Sen. (Now living in Chicago, Sen makes jazzy rap and works at a bar, and remains one of Dark World's core satellite members.) After PVPA, Lucas tried out public high school, but that didn't fit either. Three months into 10th grade, on the day he turned 16, he dropped out for good.
By that time, Who Shot Hollywood had already called it quits, but Lucas and his brother started a new band with their pal Chris Wardlaw. Originally called Whirl, then changed to Worms after a potential lawsuit, the trio had a louder, sludgier sound that lent itself to party-house basements and other more punk-leaning spaces. Lucas started building on his already solid network of high-school-aged musicians from Western Mass's knotty collision of towns, and near the end of 2010, a bunch of these misfits decided to come together — a decision partly spurred on by the formless success of another teen crew, Los Angeles's Odd Future.
"We were into the fact that Odd Future was a collective of kids that didn't give a fuck," Lucas remembers. For him and the rest of the boys, being in a group meant charging full speed into the darkness and not looking back. "I have a vivid memory of our first official meeting," says Eric Yelle, a 20-year-old kid with big eyes and an eyebrow piercing. "That was the same day I got nicknamed Eric the Ratt."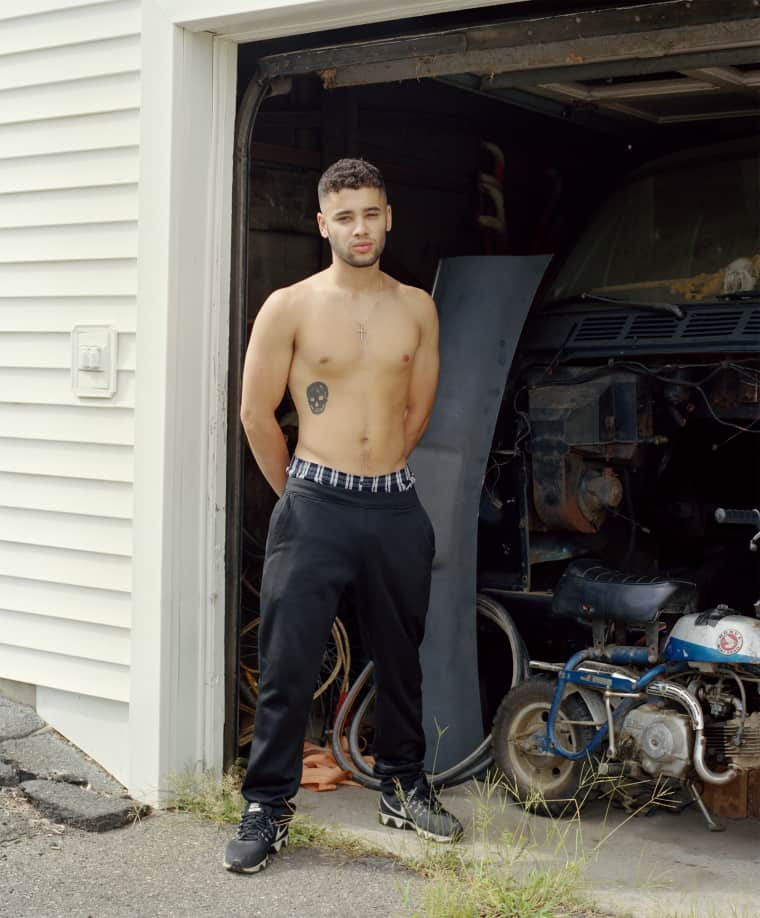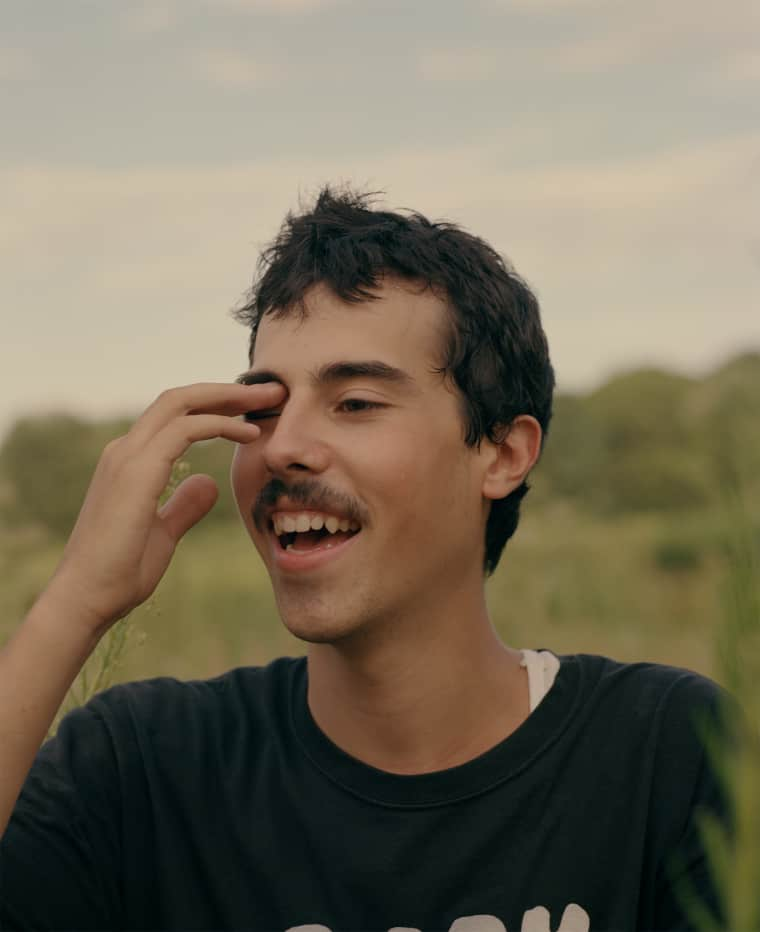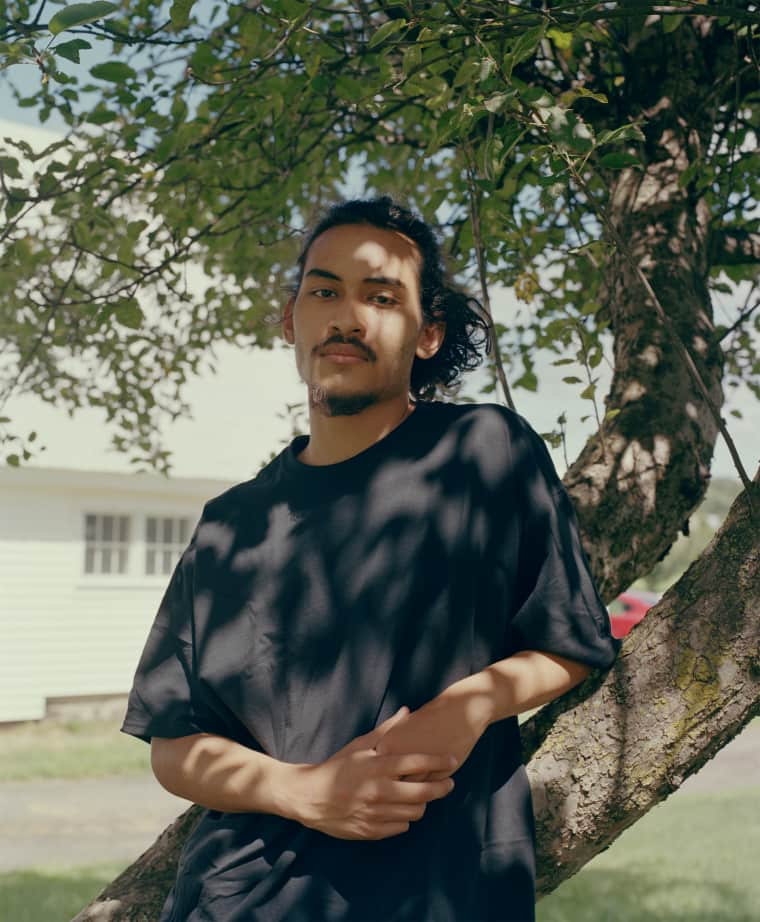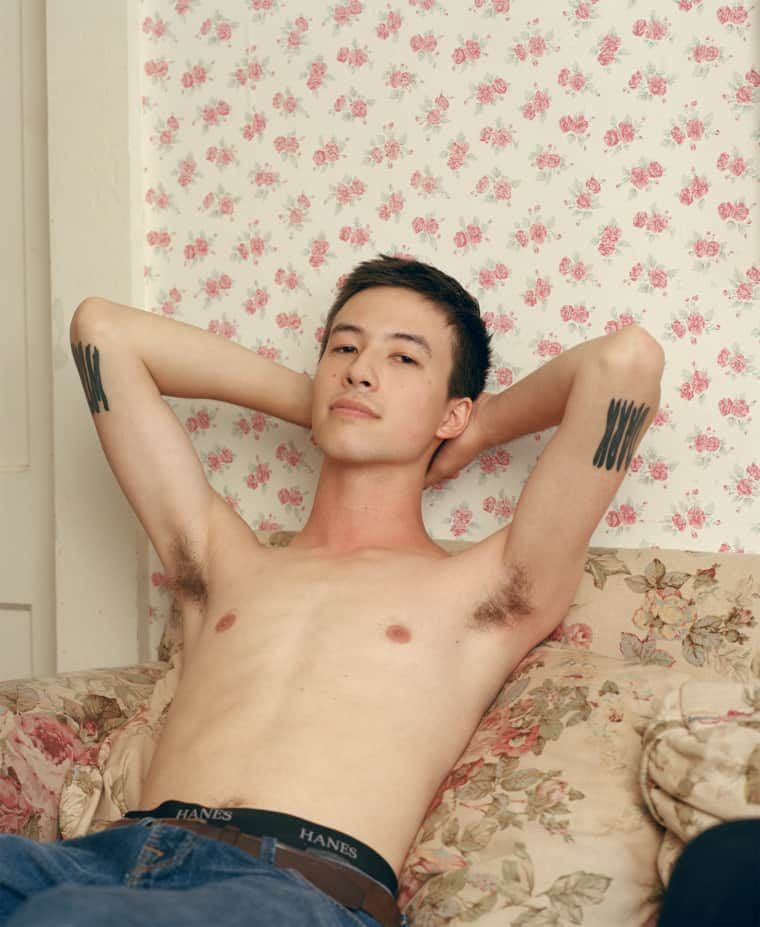 "I definitely want to stay out here as long as I can, but I got so much shit back home. My people — my day one people — they keep on asking, 'When are you gonna be back?'" —Sly C
A lot of the earliest Dark World music was noisy and punk-y, but there was always an interest in hip-hop, says Lucas, who made his first beats in 7th grade. Sen was one of the first rappers they all rallied behind, and then a bunch of them starting trying it. As Dark World has grown over the years, it has brought in artists from places other than Western Mass. Lucas spends a lot of time scouting talent online and in real life, and he's blessed with a sixth sense for judging who will vibe with Dark World and feel at home on their turf. It was he who first linked with Josue, a high-energy producer and songwriter from a nearby city. And it was Lucas who first found Sly C, a long-haired rapper and producer from Springfield, Tennessee.
"We were talking on Twitter and shit, you know how that goes," Sly C says. His Southern accent is subtle, but it comes out when he raps. "I got nothing where I'm from. I was like, I got nothing to lose, so I came up here in June. I never felt out of place. I definitely want to stay out here as long as I can, but I got so much shit back home. My people — my day one people — they keep on asking, 'When are you gonna be back?'"
After a chance meeting at the studio of New York City's cult underground radio station, Know Wave, Lucas also recruited Reed Napack, a prodigious freestyler with a thick New York accent who just goes by his first name. "He had never made a song until we were like, 'Yo, let's record,'" Lucas remembers. Reed still lives in the Battery Park section of Manhattan, but likes to visit Massachusetts. All of Dark World seems to agree that Reed's talent is pure. As of now, his songs aren't more popular than the others, but he has a preternatural gift for stoned wordplay that's more accessible than a lot of what Dark World puts out.
"I think Reed has the possibility to be extremely famous — more than any of us, honestly," Lucas says. "He has a lot of support. Jay Electronica loves Reed. Despot thinks Reed is the best rapper. I've known him for two years and he makes me laugh every day, all day. As an East Coast rap fan, he's just what you want from a New York rapper. He makes life sound fun even when it's not."
---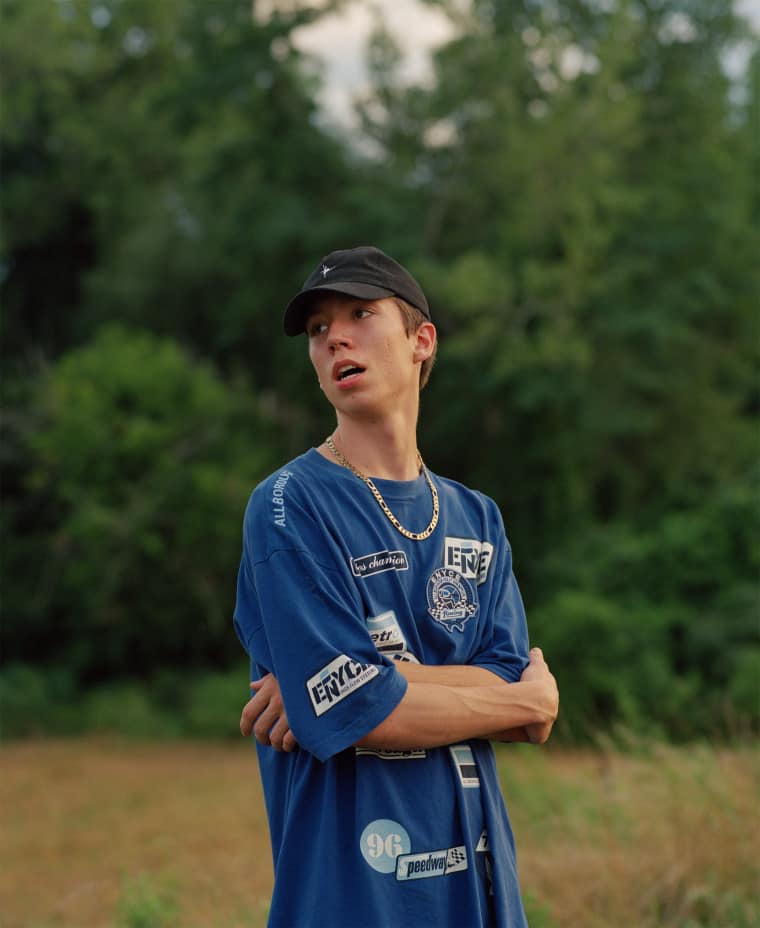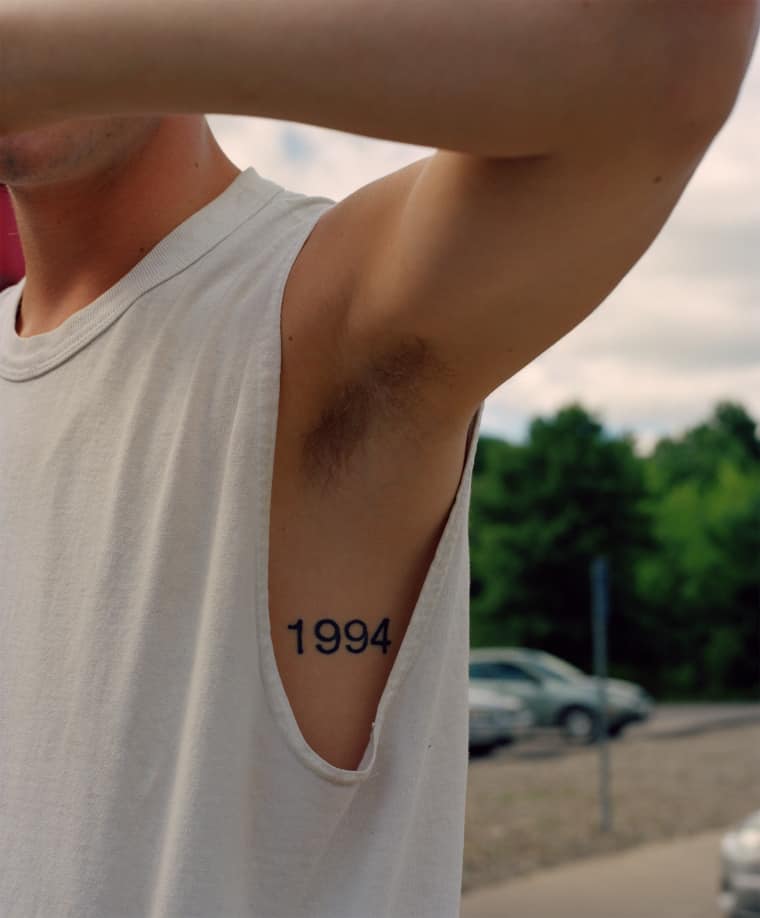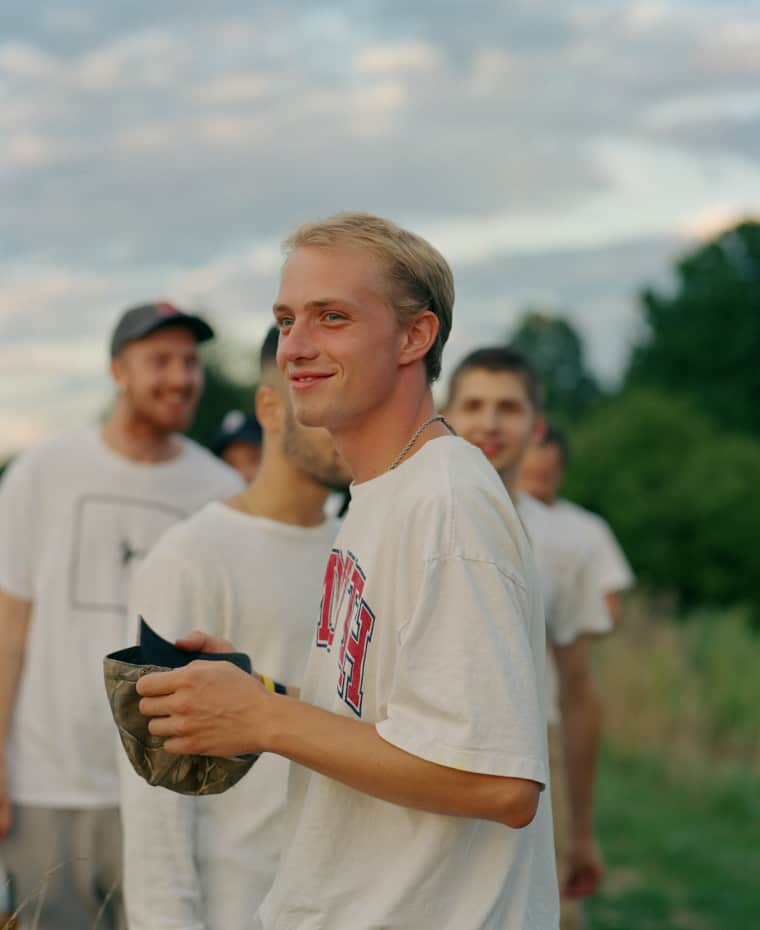 When you've known each other for as long as a lot of the Dark World guys have, inside jokes are just jokes, secret handshakes are just handshakes, and outsiders tend to stick out. You ain't from around here, so how did you get down here? Lucas sings on a generously Auto-Tuned ballad called "Nowhere." We're so out-there, we're from nowhere.
After we leave The Old House, Lucas and I drive to his friend Josh's suburban McMansion. Josh's parents are vacationing on Martha's Vineyard, and their house has become a temporary base for Dark World to work and play and sleep. Josh, who's not technically in Dark World but grew up shooting hoops with Lucas, is wearing a pink Martha's Vineyard crewneck. It's a typical bourgeois New England look, except for the "Entering Dark World" patch sewn on the breast. Little piles of weed are sprinkled on every conceivable surface, and a row of empty large-sized Dunkin Donuts iced coffee cups are propped on the counter like fence posts.
"Once I drove from Amherst to Hadley and I hit three Dunkins on the way and got coffee at all of them," Lucas confesses. "It was one of the most disgusting things I've ever done."
A laptop on the kitchen counter is open to Weird Dane's "Dust in the Wind" video, a deranged animation from 2015 that you can pretty much get a contact high just from watching. Everyone in the room knows the words, which Dana delivers in nasally sing-song. Cop a couple brewskis, send out a couple nudies/ Hit up a couple biddies, and hop into my Jacuzzi. You'd think it was a giant hit, as ubiquitous as a Drake song. So far on YouTube it has just over 2,000 plays.
"This song will never sound old," someone says.
"Permanently fresh," says someone else.
Everybody's here, or on their way. Some people, like Sen, came in from out of town just to hang for the reporting of this story. A couple other guys are coming off shifts at food service jobs, like Cooper, who turns up from his gig in the Amherst College dining hall wearing pleated pants and, somewhat inexplicably, a bright yellow Livestrong bracelet. Dana is here but has to split; he and his girlfriend, a fellow Emerson student named Hao, are composing a score for a computer game, and they're traveling to China to take some meetings. He plays it cool when he tells me about it, but you can tell he's flying high. Reed lurks around in a wifebeater and sagging shorts. Lucas paces in and out of the action, keeping an eye on the scene and occasionally tidying up.
In the basement, Ghost is posted up on a laptop, working on a beat as an old dog rolls at his feet, gnawing on some paper towels. "We should get Dej on this," he says, referring to Northampton songwriter Deja Carr, a 19-year-old who releases bluesy folk music as Mal Devisa. She's a peripheral Dark World character, and, as far as I can tell, one of the only women affiliated with the scene at all.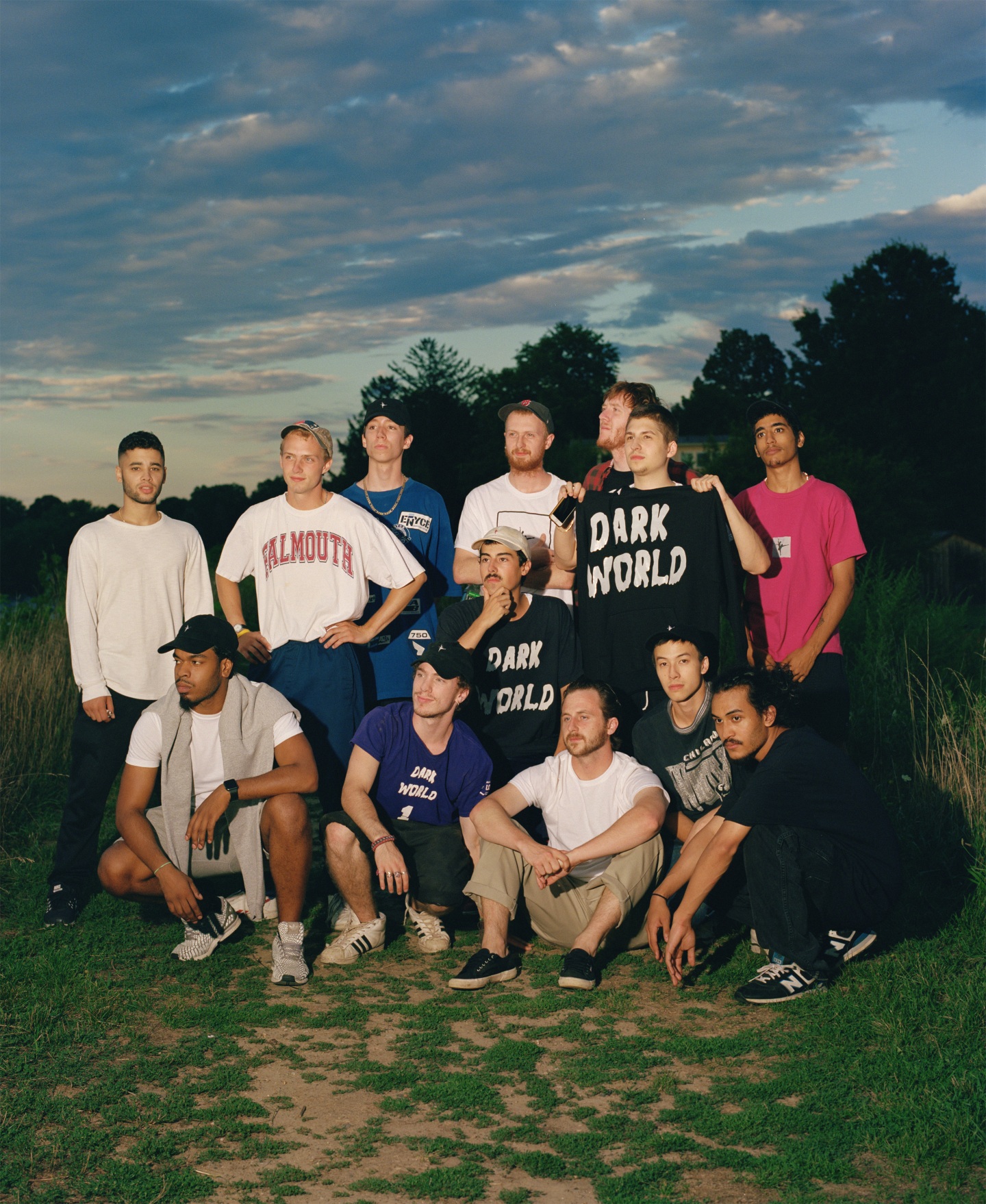 One of the Dark World universe's best songs, "2 Lives," features Mal Devisa's voice. It's a Gods Wisdom track with a DJ Lucas beat from 2014, and her booming vocals soar alongside Ruvi's trademark psychotic intonation; there's a lot of unfiltered honesty in both of their styles. Shouts out to the Bible/ Yeah it has some bad advice, Ruvi raps. I can't face the dreams so I didn't sleep last night. On songs like this one, Ruvi embodies a lot of the freaky, uneasy energy that makes Dark World tick. "The Gods Wisdom character is the inside of any middle class white boy's mind," Lucas says at one point. "That's how I see it: just pure energy. Just raw, unedited angst."
Back when Dark World started, the idea stemmed from a pretty normal creative teenage urge: to make raw shit with your buddies. But their tireless work ethic has given the project a peculiar momentum of its own, though where it's all headed is still a bit of a mystery. There have been some wild New York DIY shows lately, and a few freak big looks — like Dana being flown to China or when, in 2015, Rihanna wore a pink sweatshirt with a Gods Wisdom patch sewn on it, thanks to a well-connected L.A. designer that Lucas has collaborated with on merch. But for the most part their rise has been pretty gradual. What they do isn't exactly easy to market, and Lucas admits there's no real money coming in.
Now the guys are reaching the age when straight society expects them to start figuring shit out — to get degrees and consistent jobs, to move away from home. That pressure can be a lot, but everyone I spoke to had a similar outlook: don't think about life after Dark World.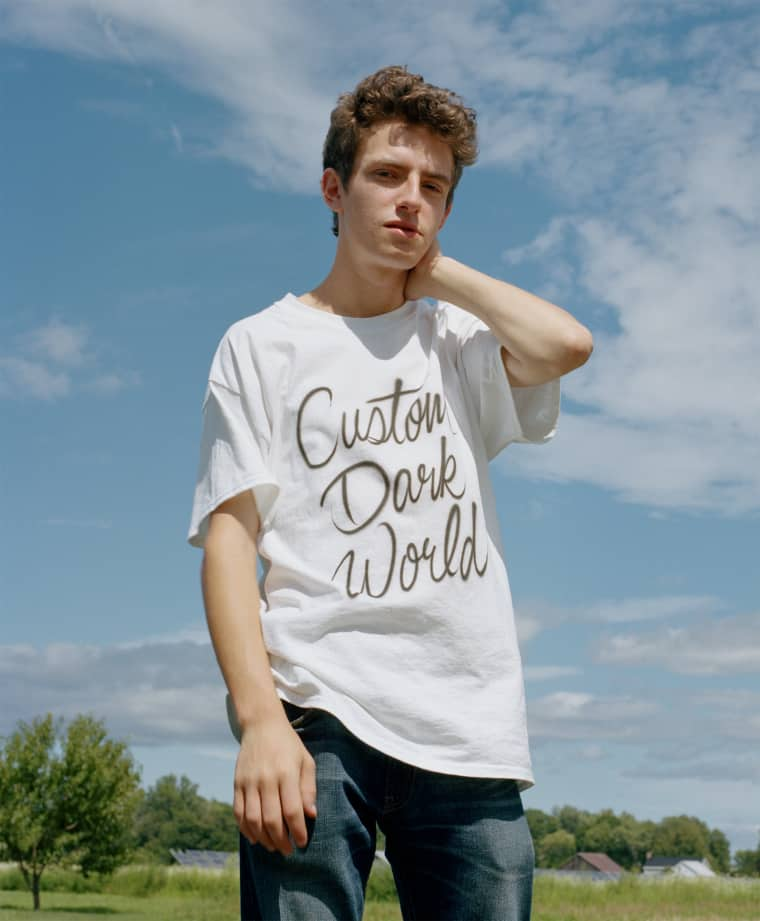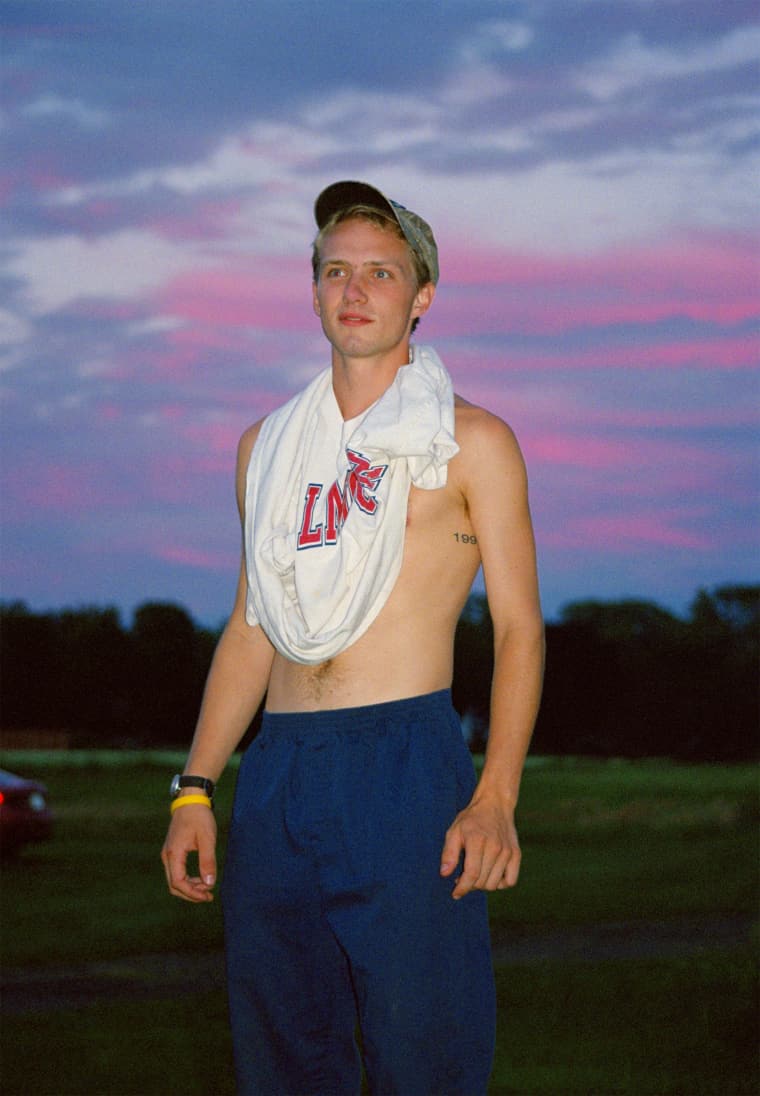 For Lucas, being able to parlay all of their experiences into behind-the-scenes careers in the music industry wouldn't be the worst case scenario. "A lot of us went to college and got degrees, and a lot of us didn't," he says. "Hopefully the work that we put in now in music will bring new opportunities down the line," he continues. "I know for a fact that I don't want to be making music all the time forever. What would make me happiest is if I was Reed's manager. Deadass. Like I wanna be Reed's manager more than I want to make music. Because he inspires me way more than I'll ever be able to inspire anyone."
By the time Odd Future started splintering, some of its members had already begun to identify themselves separately. Once Tyler and Earl and Syd became famous for being themselves, they needed the group less. Teenagers grow up and grow apart, that's just how it goes. But the members of Dark World still need each other, and it's easy to believe what you're doing matters when you've got 20 friends insisting that it does. Some of the music isn't that remarkable on its own, and it all feels most impactful experienced as part of something bigger.
Watch enough of the videos and it's easy to imagine that you're part of that bigger something too. If you're a creative kid from a nowhere town, Dark World's prolific output is actual proof that life doesn't have to be dull. For everyone else, especially those of us living in big cities, it's an entrypoint into a surreal universe that runs on nature and youth, a Neverland-like fantasy where 9-to-5 jobs are illegal and everyone's the Greatest Rapper Alive.
It feels good to think that Dark World could come from anywhere, any American town with trees and old barns and a bunch of friends with WiFi and GarageBand and hand-me-down camcorders. But at the same time, it couldn't exist somewhere else, not really. Lucas actually relocated to Brooklyn for a month this year, but didn't like it much. "He pretty much didn't leave the room," Ghost tells me.
So many young artists flee home in search of something, but what about the ones who want to stick around? Punk music might be about hating whatever butt crack of a town you came from, but Dark World is all about hometown pride; the punk part is the way they're setting their own rules about what makes music good — how a song should sound, how a video should look, each member actively working to disprove the idea that everything cool and good is happening somewhere else. Instead of changing to chase after his dreams, Lucas seems confident they're going to come straight to his little corner of the world, where Cumby's never runs out of Backwoods.
---
On my last full day in Western Mass, everyone meets at The Old House for a big group hang. Despite the humidity and lack of concrete plans, no one seems lethargic. There's a certain energy in the air when the crew all comes together — and who knows the next time that'll be? There's lots of weed and lots of cigarettes. Everyone's obsessed with talking about local hero Mike Hixon, the Amherst diver who just won a silver medal at the Olympics. Lucas won't stop playing Reginald Wrangler songs.
At one point someone says, "Let's go to fucking Dunkin," and everybody gets up and makes the trek, which is just a couple-minute walk up the road. On the way back, Chris Wardlaw — the classically trained guitarist who makes distorted psych music as Pale Horses, and is one of the crew's last surviving ambassadors of straight-up rock — points out the patch of sky where he saw a UFO once. He says a friend who was at a bus stop up the road saw a flash of green light, too, just in case there was any doubt.
One of The Old House's non-Dark World tenants fixes motorbikes, and later he lets the boys play with a tiny motorcycle. While the sun sets, they take turns driving it up the gravelly path that separates the two barns, turning around, and then driving back. When it's Ruvi's turn, everyone seems nervous. Someone whispers that he's not the best driver, and that he sometimes zones out. At first, he struggles to get it going. "Kickstart it with your foot," Sly C yells, "like in the movies!" Ruvi slams his foot down and the engine coughs to life. He's a little wobbly at first, like a baby animal. But then he levels out and starts cruising, a tad slower than the others but cruising nonetheless. For a couple of seconds while everyone's watching, it feels like he might just keep on going — past the barns, toward the horizon, where the big pink sky meets the trees.