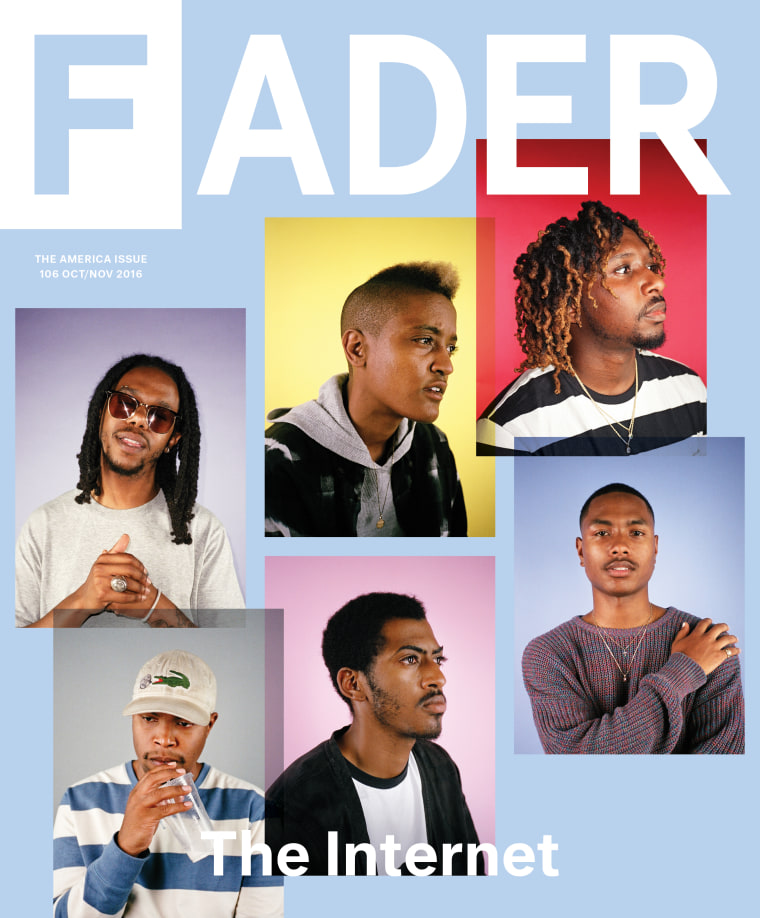 The Internet's Syd and Matt Martians will both release solo albums this fall, they announced in a new interview, for the cover of The FADER's America Issue.
The group's fourth album, a follow-up to 2015's Grammy-nominated Ego Death, is expected to be released in the spring of 2017. The band's six members — Syd, Matt, Steve Lacy, Jameel Bruner, Patrick Paige II, and Chris Smith — will begin writing and recording for the project this month, they said.
Syd's solo debut will be called Dive. Its title is a reference to the fact that "[t]his album is not that deep, but I feel like this is my descent into the depth I want the band to get to," she said. She's already written 14 songs, and recorded nearly as many, for the project, which will feature production from Hit-Boy and MeLo-X, among other well-known producers. It will veer more towards traditional pop than the hybrid R&B and soul for which The Internet has become known: "I grew up on Radio Disney and *NSYNC and Britney Spears and Backstreet Boys so I've always loved pop music. The soul shit we do is dope, but my solo shit is giving me the option to explore a poppier, more popular sound."
Matt's still-untitled solo project presents a similar opportunity to experiment. "My shit is very weird and wonky but it's very core-heavy and melodic. Syd's is more bouncy, very upbeat," he said. "They don't sound like Internet songs, [but] they sound like people that are in The Internet."

Steve is also working on a project of his own, though he's unsure about when it will be released. Like much of the production and songwriting he contributed to Ego Death and to songs by other artists, it will blend R&B, funk, and rock. "I've just been making songs. I've been working on an EP type of thing for a while. All me," he said. "I'm a producer-artist — a person who makes everything, sings everything, writes everything. I know what I want to hear."
Jameel and Patrick will also continue to release solo music, while Chris plans to begin doing the same. Everyone's interest in striking out on their own "only elevates the group," Syd said. For other collectives, it's often a bad sign when band members have solo ambitions. But for The Internet, it's the opposite: proof that they're stronger together than they are apart.
Matt said The Internet's next album will be recorded with the same strategy the group used when they recorded Ego Death's "Under Control." "We're gonna get in a room with some instruments and we're gonna make shit and come up with mad grooves and record 'em," he said. "'Under Control' to me sounds different than the rest of [Ego Death]; it sounds like the whole band's on that song. All the other songs, it wasn't six peoples energy spread out. That song is the first true Internet song."