FADER Mix: Yves Tumor
The globetrotting PAN artist shares a spellbinding collage of lo-fi psych.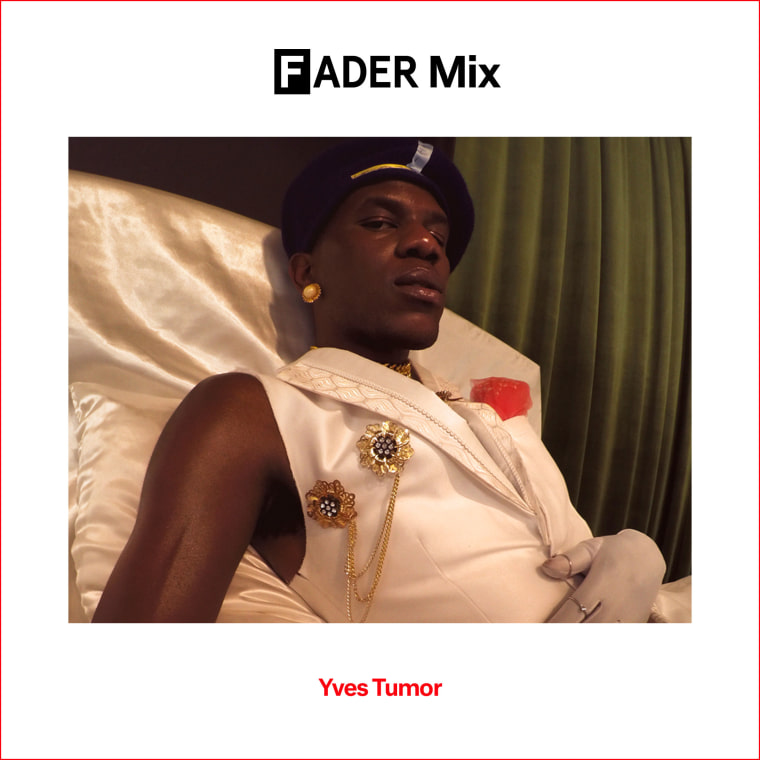 Although Yves Tumor's arresting new full-length, Serpent Music, was recorded between lots of different cities all over the world, there is an overarching soulfulness to the project. This new FADER Mix by the Tennessee-born artist feels both restless and focused, too. It opens with a three-minute field recording of birds, before unraveling into a collage of ambient, noise, and lo-fi club tracks by artists like Elysia Crampton, Delory Edwards, and several others. It's unnerving and psychedelic, conjuring up all sorts of images: scary movies, the sun rising after a night out, a cyclone drifting across an open field.
Hit play below, and read a brief interview with the inscrutable artist, who has made music using several different aliases over the years. Serpent Music is out now on PAN.
Tell us a bit about this mix. What do you imagine people doing while listening to it?
Collapsing.
Where are you right now? Describe your surroundings.
In the gardens.
Your latest album was made between Leipzig, Los Angeles, Berlin, and Miami. How do those cities manifest in the songs?
Just trying to show you who I really am.
What's your earliest music memory?
Riding Miami I-95 listening to dancehall & early-'00s rap with my cousins and uncles.
What's the last book you read that had a big impact on you?
What's your favorite dish to cook?
Revenge.
Tracklist:
Justine & Juliet - The Cage
Real Clothes - Byenvini (dwòg) // Welcome (drug)
Klein - Major Bitch
Toumani Diabeté - Bi Lamben
Hav Lyfe - She Started Off Bashful
Tribe of Colin - Communion Of Ancient (Protect Your Children)
Nurse With Wound - The Self Sufficient Sexual Shoe
Christoph de Babylon - Brilliance
Elysia Crampton - Recent Horizon (Vocal)
Inhalants - Chasing The Dream
Stock Feeder - 30 Shotgun Blast Beats
Delroy Edwards - Just 4 U
Vereker - Bedroom Jihad
Infaust - Aus der Tiefe
Wanda Group - Norman
Velvet Cacoon - Bête Noir