Meet Delroy Edwards, The Lo-Fi Club Producer Keeping L.A. Weird
The story behind one of the strangest, most personal beach albums in recent memory.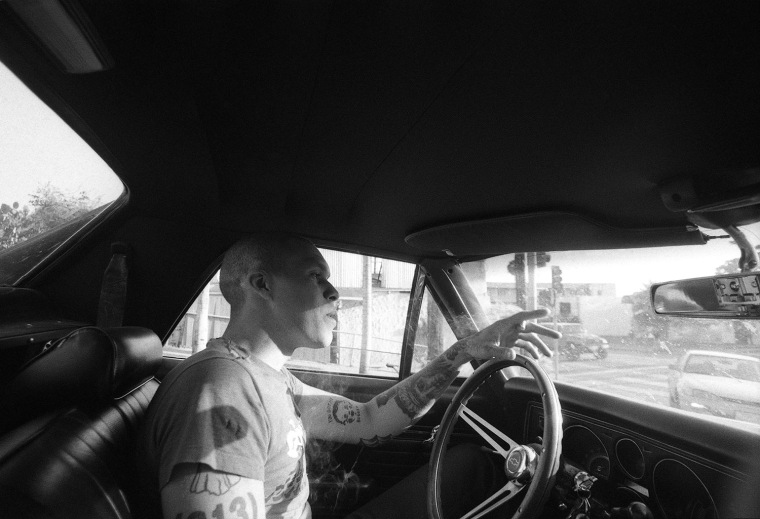 I've only been to California once, and I didn't clock enough hours to get a taste of the que sera, sera vibe that people tend to associate with the West Coast. If anything, I'm still skeptical of the state's propensity for enchanting jaded New Yorkers with the possibility of a chill-ass life out by the Pacific. Delroy Edwards, the electronic artist born Brandon Perlman, is likely never leaving Cali. It's a huge part of everything he creates: his own music, the records he releases through his label L.A. Club Resource, and the ephemera he sells with his friends Henoch Moore and Jimmy Mock through their digital storefront Gene's Liquor.
When I spoke to Edwards over the phone in August, the 26-year-old, previously known for his precocious ghetto-tech and raw house slappers, breezily chatted about a recent trip he took up north with his girlfriend. They brought their pooches, some Bubble Puppy cassette tapes, and drove north to Monterey and Big Sur. They slept in the car and likely saw life through an organic all-sepia-everything filter that only people who are in love can activate. "There's so much to see out there," he told me, almost dreamily. A few days after our chat, he would release his first full-length album, Hangin' at the Beach — 30 tracks of lo-fi instrumental experimentation that could easily provide the score to a romantic punk getaway.
Back in Los Angeles, Edwards recorded Hangin' in a speedy burst of creative energy, as if he had to get the ideas out before his head exploded. The way he talks about the album sounds like someone describing a box of intimate letters and snapshots that they keep under their bed. "The record may have a bit of a creepy vibe, but there's a lot of light and love," he explained. "That's what I saw at the beach and at the rocks."
That said, Hangin' at the Beach might test the patience of fans who know Edwards from his releases on L.I.E.S. and 12" records on LACR. Whereas past tracks like "The Fast Lane" and "4 Club Use Only" featured lush, four-on-the-floor grooves that were perfect for a dance-floor make out session, the songs that comprise his new album are made for anywhere but the club.
Hangin' at the Beach features an array of ideas and sketches that run the gamut in terms of mood and vibe, from noise loops and spooky soundscapes ("Surf's Up," "Safe Places") to gorgeous pop melodies ("I Love Sloane," "Wild Animals"). "If people don't like the new stuff, they can keep listening to the old stuff," he said when I asked about his fresh, sometimes-challenging productions. More than anything, though, he's trying to "focus on the fun," and hopes everyone will listen with "open ears and and open hearts."
The record is loose, flawed, and unprecious. Edwards likes to use the term "free." I like to say he's keeping L.A. weird. As a creator and a curator, he's shepherding a sort of genre-less, anachronistic music reminiscent of West Coast oddballs like Ariel Pink and the late Michael Sheppard. "We make the stuff in the city, and that's where we get our motivation from," he explained. "It's all from the city." Read our full conversation below, which touches on the U.S. government, hometown pride, and the formation of a record that couldn't have been made anywhere but California.
---
Over what period of time were you recording the music of Hangin' at the Beach?
I can't remember when exactly, but it was early 2016 for sure. I went to Big Sur and Monterey with my girlfriend, and I came back and finished the whole record over the course of a week and a half, maybe. I was really inspired by that trip. This whole thing was rolled out pretty quick. I went on that trip, came back, made the record, then kind of put it out. I had this idea of what I wanted to do, and I was inspired by the beach out in Monterey and Big Sur, and the cliffs and rocks and stuff. And just how much love is in the scenery. It was really beautiful, a little cold, crystal clear. It might have been in an off season because it wasn't very busy up there.
Tell me about it. What made the trip so special?
My girlfriend is named Francesca, and we went just the two of us. We grabbed the dogs, drove up six hours, and slept in the car. There's so much to see up there. That song, "I Love Sloane," which was written for my girlfriend, was pretty much the first one I wrote when I got back from that trip. She's a big, big inspiration for me and my music. I was just inspired by the scenery, the beach, and just being with someone that you care for and who you love. At this point in time, with what's going on in the world, there's a lot of darkness. The record may have a bit of a creepy vibe, but there's a lot of light and love. That's what I saw at the beach.
It is a weird time to be an American. Can you elaborate on what you mean by "Darkness"?
I personally have a lot of pride for America and the States. We're in a bleak time, but all I can hope is that one day we'll have a great leader again, and he'll try and guide people, and especially guide the youth. I haven't seen much of that recently. I make my music for people who want to learn and also feel stuff, so I hope that we have a leader that would instill those sort of things again. No matter what happens, I'm always proud of the history of America — well, some of it. No matter what happens, it's up to us to make our change by whatever means we can. Whether that's through our art, showing love to people on the street, being kind to people, that's our duty. We can't control the government at this point, so we have to just try and bring love back.
We've got to keep creating, too. It's often times of crisis where the best art is created.
Absolutely. Great musicians don't make the music because they just want people to hear it. They make it because they have to. There's something they're thinking about and they just have to do it. That's what is so great about this country. If you live and breathe your craft, you are making a change.
Part of what I like about Hangin' at the Beach is that it doesn't feel too precious. It feels like the output of someone who was just making a shit ton of music — kinda like prolific experimentation.
Yeah, exactly. I want to make music that's free, you know? I didn't want to use the confines of MIDI or anything like that. The basslines and the keyboard parts are all played live, which I wanted to have that "free" feel.
I'm a fan of all your 12-inch records and the stuff you've done with L.I.E.S., but it's exciting how different this record is. It makes me think of other experimental West Coast artists, and that you're holding the torch.
That's right on, man. I was trying to make it sound like this little bubble of what I was feeling at the moment. I like to inject some humor into the music and into what I do. I like to be playful, even if it doesn't make sense. There's a few tracks on this record, or maybe the B-sides — a lot of new stuff came out of the Hangin' at the Beach sessions — that are just fun and experimental. I experiment a lot with one of my bandmates, Jonathan. He has a lot of old, '40s-era, broken radio transmitters and compressors and stuff lying around. I really enjoyed playing around with that stuff.
Would you call it an optimistic record?
It's intimate, but there's definitely optimism in there too. I want people to listen to the record and be challenged. I want to show people something they maybe haven't heard before. In my process of doing that, I like to cut off from the world.
As a listener, it's easy to feel like you were there in the room while the track was being recorded. It's intimate, as you said.
Yeah, I spend a lot of time playing my instruments. I spend a lot of time using my Sequential Circuits Pro 1 synthesizer, and it's on the record a lot. I think before I sit down and record, I sit down just to play instruments. Everyday, I'm playing. I play bass on this record. I like to play music, to play instruments, and then I just press record once I figure out what I want to create.
Do you ever think about starting a band?
I've got a band going now actually. I play bass in it and write the music. You'll hear very soon what that's going to be like. That's all I can say about that for now. It's fun man. It's all supposed to be positive, just like this record.
"The record may have a bit of a creepy vibe, but there's a lot of light and love. That's what I saw at the beach."
I've always been impressed that your label is so clearly created by you and you friends, made for you and your friends.
Hey listen, man. The reason I like to work with my friends, and people who really care about the label, is because they're the people who have a personal connection to it, so they're going to treat it as such, with respect. If everybody has something invested, then everybody wants it to grow, and they work the hardest. Everybody who works at the label is super hyped about the label. They all live in the city. Not all the artists do, but we make the stuff in the city, and that's where we get our motivation from. It's from the city, too.
It's rad you've found creative collaborates who you vibe so well with.
They're the best man, and we get shit done. We try to release steady output in a world where it's extremely difficult to make vinyl. It's surprising that a couple schlubs from LA and SF can sell so many records in 2016. People are still into it, so I'm super stoked to keep doing it. And even when they're not into it, we'll still be doing it.
Is there anything else about the album that you would like people to know about, or pay attention to when they listen?
I hope that anyone who listens to it listens with an open mind, an open heart. Hopefully you have fun listening to it, and have fun going through it. There's a CD coming out, so put the CD in your car, bring your friends, bring someone you really care about — someone you'd really like to enjoy special scenery with — and head to the beach while listening to the album on the way.