Elliott Jerome Brown Jr.'s Photos Explore The Tension Between The Public And Private Self
A studio visit with the emerging New York photographer to talk inspiration, identity, and exploring the limits of the body.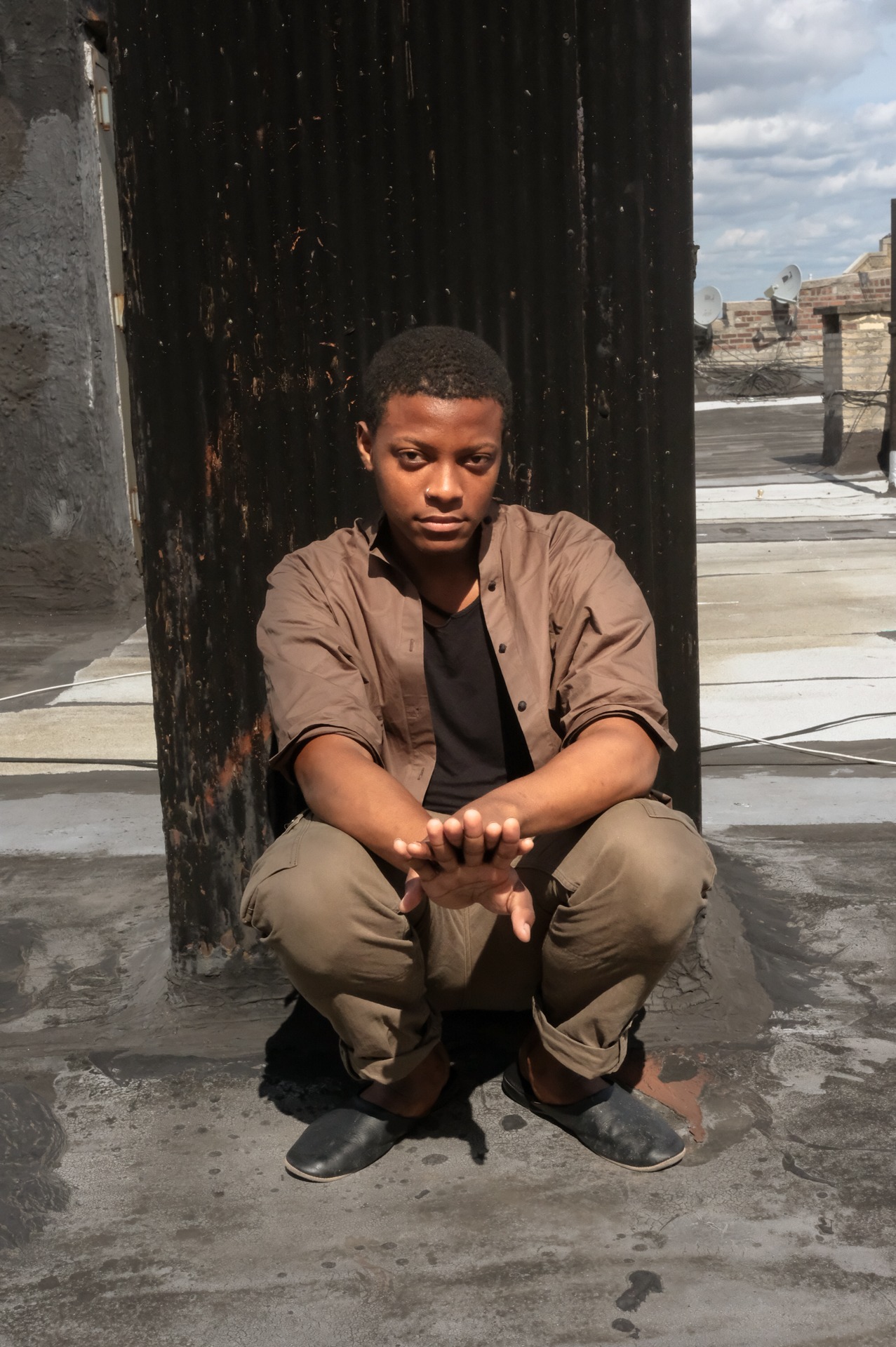 Elliott Jerome Brown Jr. is the picture of an up-and-coming artist figuring it out and making it work. On a visit to his Brooklyn walk-up this past September, the NYU graduate, 22, sat cross-legged on a bed that dominates most of his room as he talked about his inspirations and the way he photographs. Pictures of his family compliment the copies of his own photography taped to his walls, right above a shelf holding books like The Catcher In The Rye and The Mis-Education of The Negro. His friends' work also adorns his room, a testament of his commitment to his loved ones and to artistry as a whole.
Brown's work is striking for his daring use of setting and color. And just as his bedroom conveys something about who he is privately, Brown strives to capture the essence of his subjects by placing them in the spaces where they're most comfortable, and then adding a little of the unexpected. His work digs into identity, exploring the tension between the public and private self. His atypical twists have grabbed The FADER's attention and landed him commissions in New York Magazine, Gayletter Magazine, and Dazed Digital.
While he sat on an Astro-Turf carpet that he bought for a shoot and decided to keep, we talked to the Long Island native about the continuing growth of his artistic focus, what he looks for in an image, and who has inspired him along the way.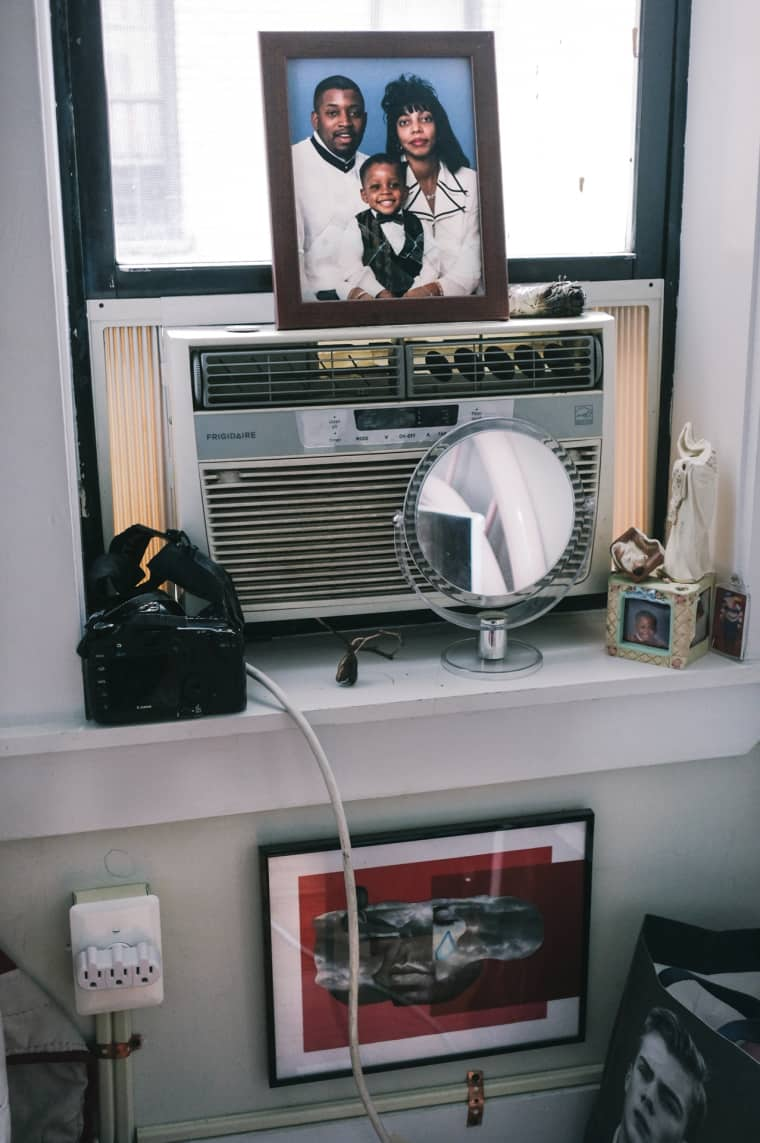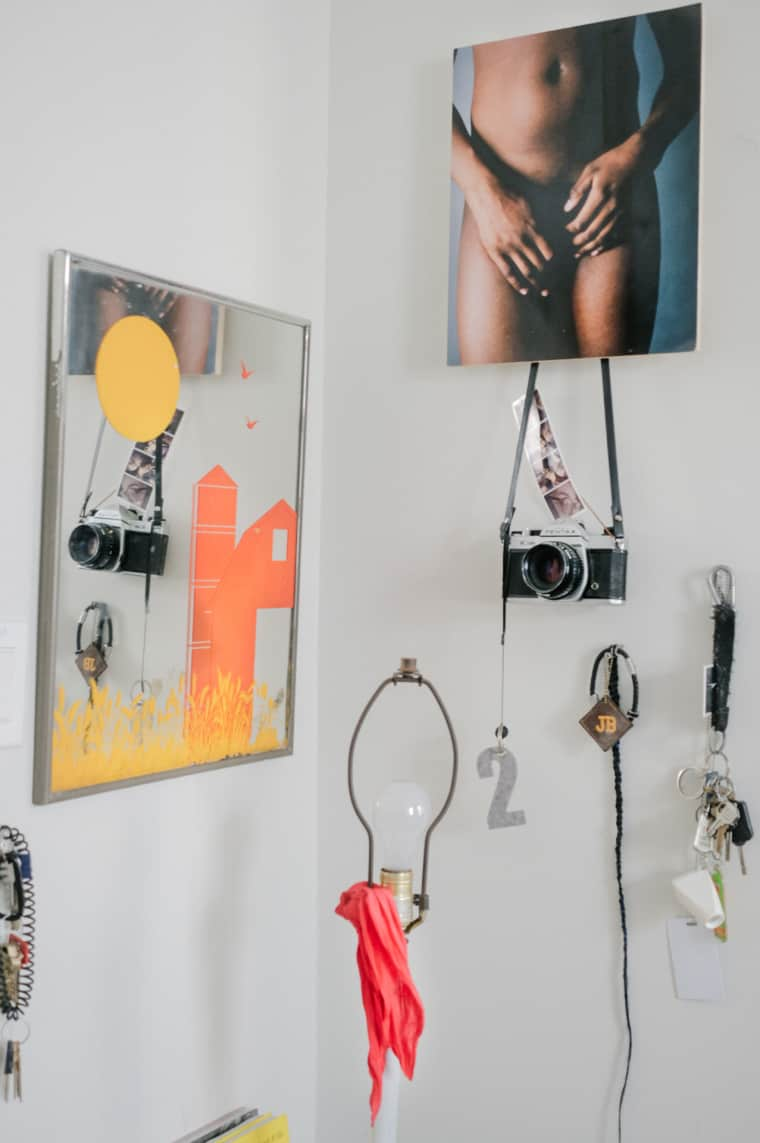 What made you want to be a photographer?
When I was younger, I was always taking pictures of things. I would go to the mall and take pictures of things that I wanted my mom to buy me. I would take pictures of my family members, like really close, non-aesthetic photographs of my family members. And then one day in high school — I guess, like, 10th grade — this girl told me that she wanted to be a fashion photographer. And I was like, "What is that?" and she was like, "Oh, you know, like on America's Next Top Model, like what Nigel Barker is." And I was like, "He makes money?" I didn't realize you could have a career in photography. So the second she told me that, I jumped. I was like, now that I know a career is possible from it, I would love to do it. So I joined the photo club at my school and then the next year I enrolled in the photography courses there. And that was pretty much how it started.
What do you usually shoot with?
I usually photograph with the 5D Mark II. It's just the easiest thing that I have available right now.
How would you describe your process?
I'm mostly interested in people that I live amongst, that I have some sort of communion with. I usually have an idea of people that I want to photograph, but I won't reach out to them until some moment happens between us or we just have some interaction that indicates that I should be photographing them. But I'm mostly interested in people that are interested in exploring the limits of their own bodies, whether that be through how they dress or something more physical, like stretching out their limbs and stuff like that. Just people who I identify as having an abundance of imagination within them. And who refer to themselves in these bizarre ways.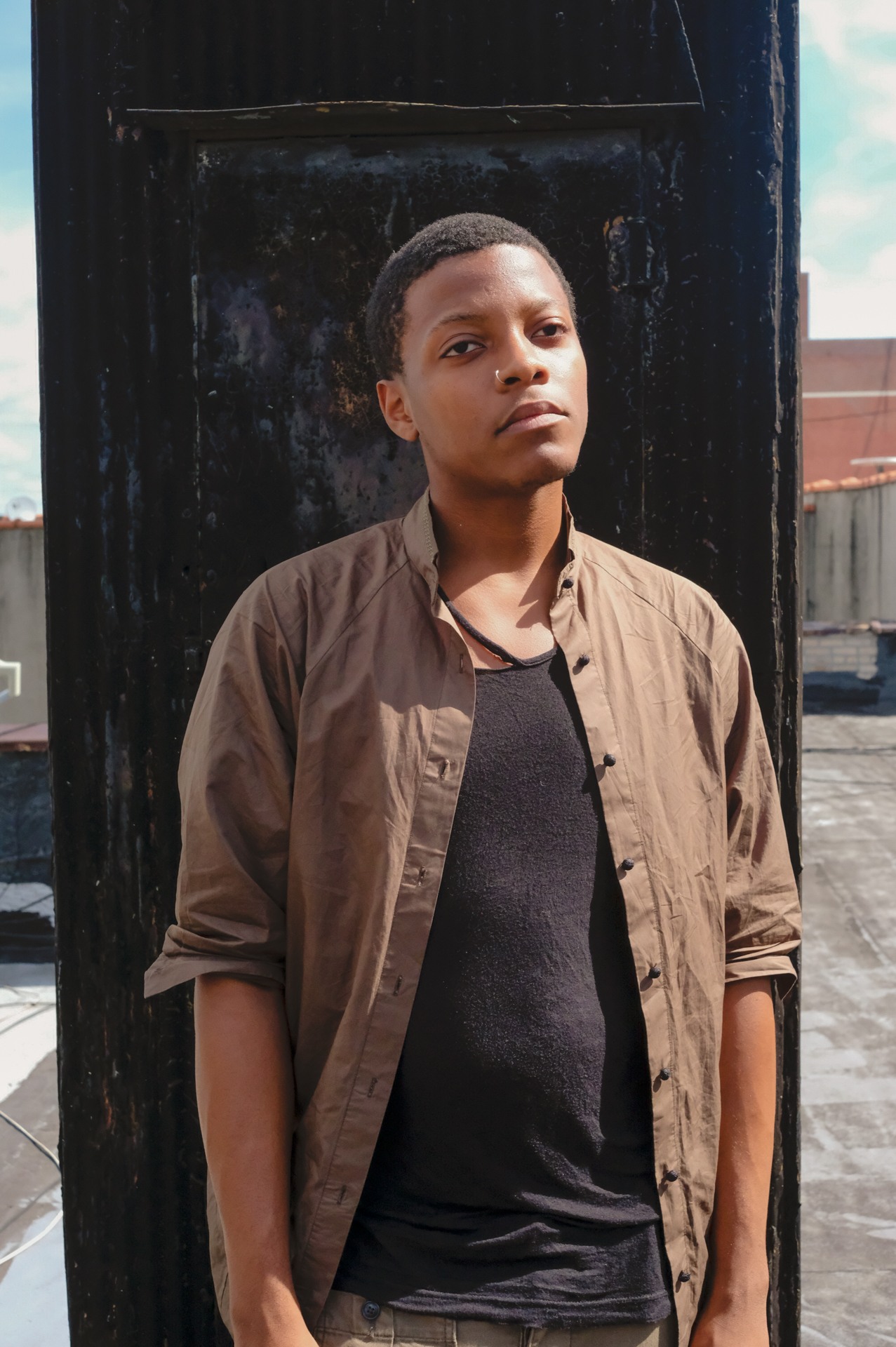 "I'm mostly interested in people that are interested in exploring the limits of their own bodies."
Your choice of settings really stands out in your work.
I mostly photograph people in their homes, which started as a means of convenience 'cause I don't have access to an actual studio. But then I've always loved the home. I did a project on my grandma's house on Long Island, which has this very decadent, silent glamour to it. I've always been fascinated with her house and the houses within my family and comparing the differences between them, like smells, the way everything feels, and how a person's home just informs that person's identity as well. So I mostly photograph people in their home for that reason. And then I also like photographing people in their private spaces. I'm very nosy. I always want the full tour.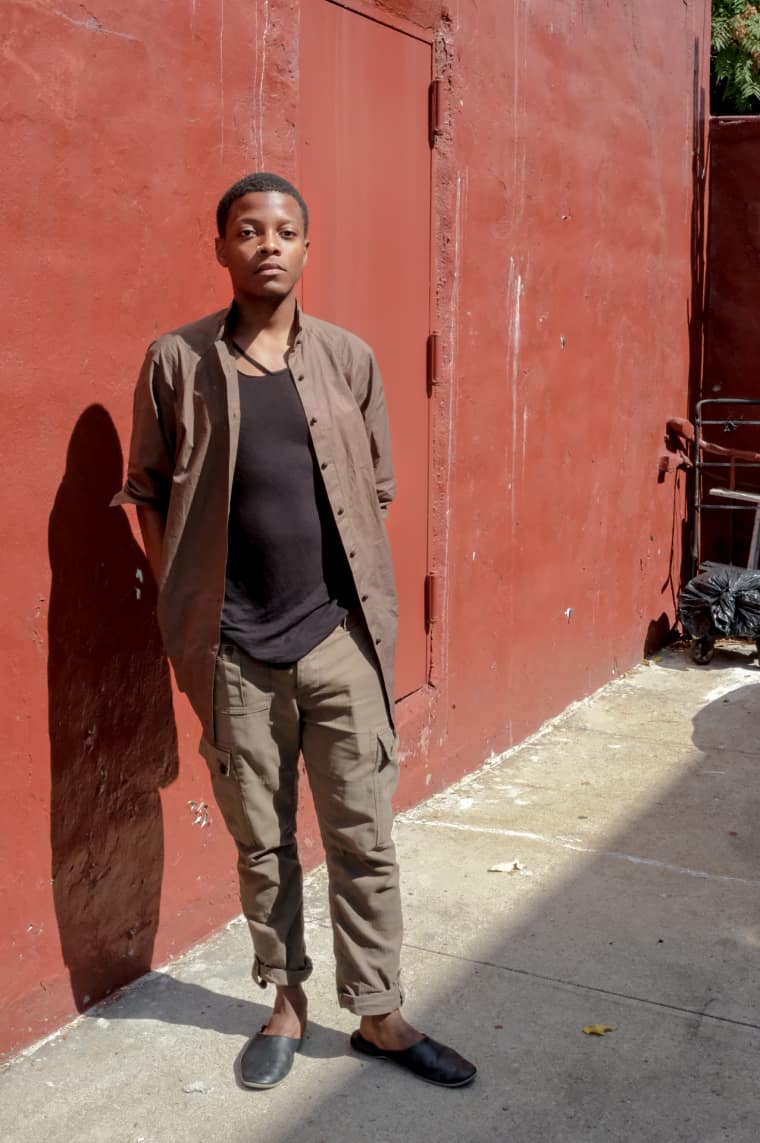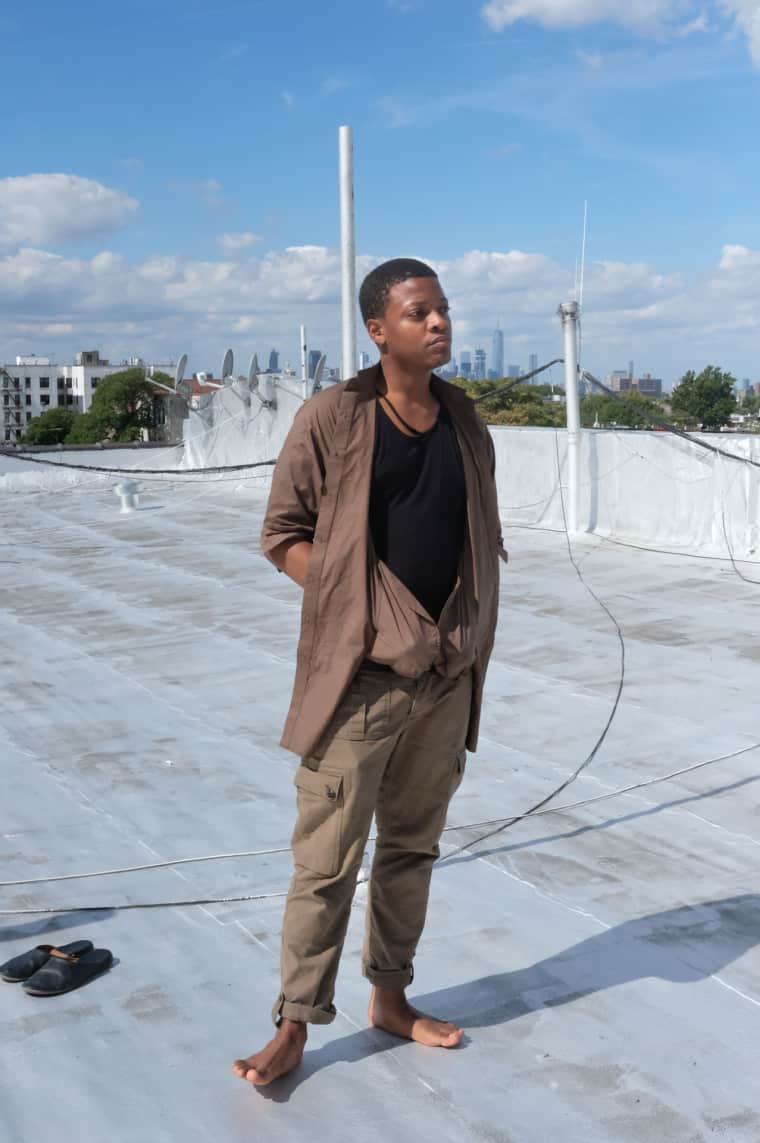 What do you look for in an image?
What I used to look for, and maybe what I'm trying to stray away from now, is very clean lines and everything to be very organized and straight, rigid almost. But now I'm looking for something that seems a little more performative or more documentary-esque. So even though everything that I do is more set-up and more narrative-based, I still want to approach it from the realist lens of a documentary-style image, or how you might approach somebody if you're doing photo-journalist work or something like that. So how I'm photographing now is looking for more movement in the work and trying to capture people doing things. So I'm probably going to actually leave the home for a quick second. And when I ask people to photograph, maybe I'll ask to accompany them on something they're doing that day and then I'll photograph them in that setting, just so that the settings don't become repetitive. And it also allows the person to move more naturally in the image.
I don't really work in projects, I work more by images. So I have an idea for a photograph I wanna take and I trust myself to be able to link those with one another when somebody asks me to do a show or put together a collection of images. But it's also kind of scary not working in a project-based way and I have less of a structure.
How is it different doing commercial shoots and your own projects?
I try to approach them in the same way. Especially as I'm 22, I just graduated, so I'm still looking for people to pay attention to me or just take interest in what I'm doing. So if I'm doing a commercial shoot, I want to make it look like an image that I would be taking, period. I try not to make too much of a distinction between the two shoots. And originally I wanted to be a fashion photographer, just because that world is so fascinating and it moves so fast and the imagination is just so vivid in fashion photography. I no longer want to be a fashion photographer, but I still reference fashion a lot. I still think about fashion in my work and try to study fashion as well. So when I approach commercial work, I try to take it as seriously as possible.
Which photographers do you admire?
I have three favorites, the holy trinity. Deana Lawson, Carrie Mae Weems, and Lorna Simpson. With Deanna Lawson, I think she just redefines what it means to sit in front of the camera, so she doesn't always opt for poses that reference classical or Renaissance paintings. She doesn't have reclining nudes or anything like that. And I think a lot of photographers, when they're trying to dignify their subjects, they often go that route of referencing classical painting. And I don't get it, especially with black artists, why you want to reinterpret that body language. So I admire her because I think that her subjects have an elasticity to them that is not traditional. And then Lorna Simpson, just the way she deals with ambiguity and the way she deals with hiding the figure is really nice. I think between all three of those photographers, there's a silence that I really enjoy. I'm not really a flashy photographer. I like something that seems a little bit more mundane because I think there's an opportunity to be a little bit more haunting in the mundane, these more simple gestures that can end up meaning a lot.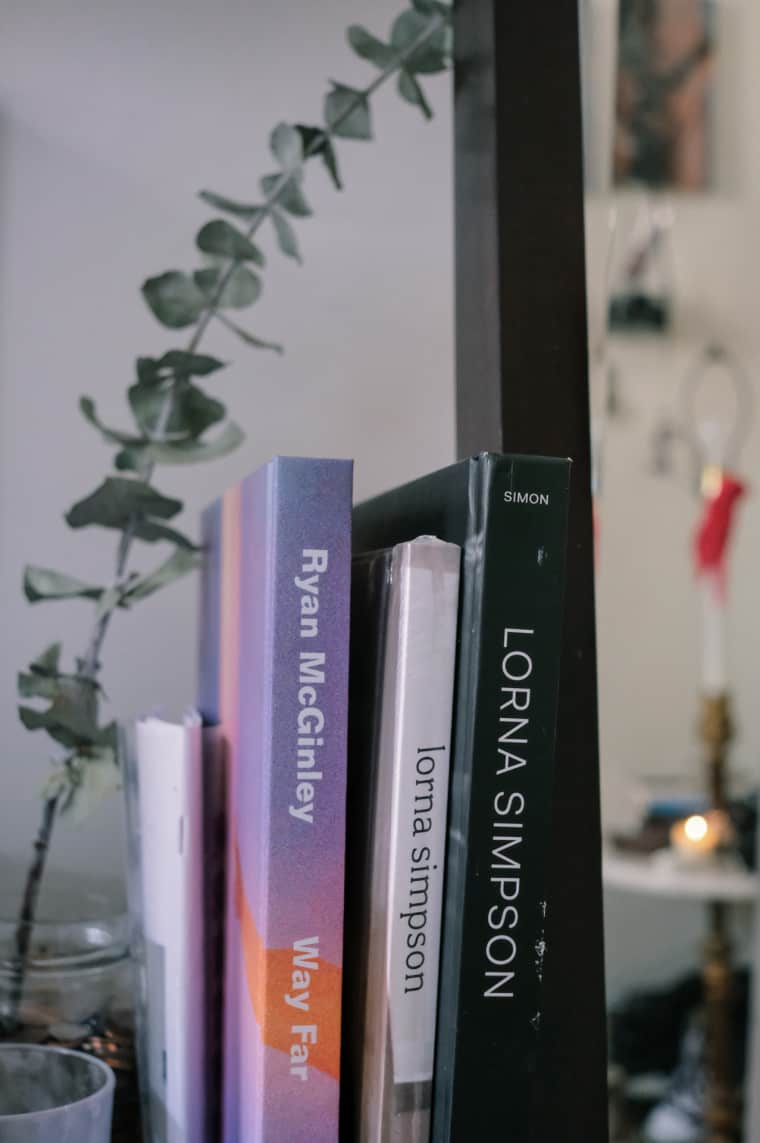 "I'm interested in that tension that can arise between your private, subjective self and the public, historical self that exists as well."
What do you think smartphone photography has done to the practice?
It's really helpful for me. I use my iPhone as a way to draft things or a way to just test light, because you know there are so few elements that you have to change when you are taking an iPhone image. I definitely use it as a resource, almost like a point-and-shoot camera. And then I think also just the ability to be able to share your work on Instagram and Snapchat and all that, to share your interests and your vision in that way is really helpful. When I edit an image, I'll send it to my phone and then look at it on my iPhone first before I'll say I'm done with it. I'm still not really sure why that is, but for some reason I'm able to approach it just a little differently. I get to spend time with it in a different way than having spent as much time with it on the computer. So I like it; I think it's great. And everybody has access to it and there's so many people who have formed careers based on the images that they take on their iPhone, so I think it's great.
Many of your pictures display common settings displayed in attention-grabbing ways. What are you trying to communicate with these twists on normalcy?
Well, there you go. I don't know. I don't really have a word for what I'm trying to communicate; that's just what I'm visually interested in. I think with the images with Styled by Ib, like the one with the bench press weights, that one I was thinking, Well, how can I talk about this person, how can I create this character without their face? Cause I used to do a lot of self-portraiture, and I think too many times people got caught up in what my face looked like, whether or not it was beautiful or attractive. The face just held a lot of weight as far as how people understood the image, so I've been taking a lot of photographs of people's backs turned to the camera and then trying to create a scene around them, or give them something to hold or do, just so that there are other elements. I think that when you don't have a face in the image, there are so many more things to get stuck on than when you do have a face being so central in the photograph. So that is one thing that I'm thinking about, particularly with that image.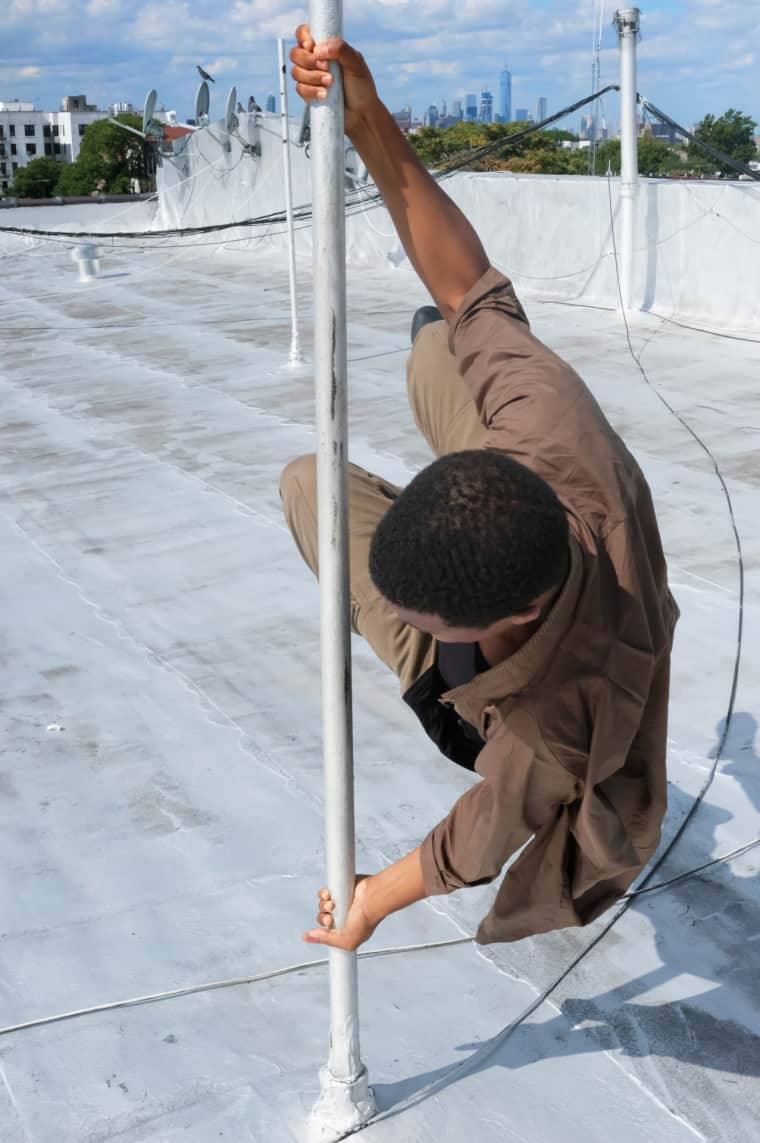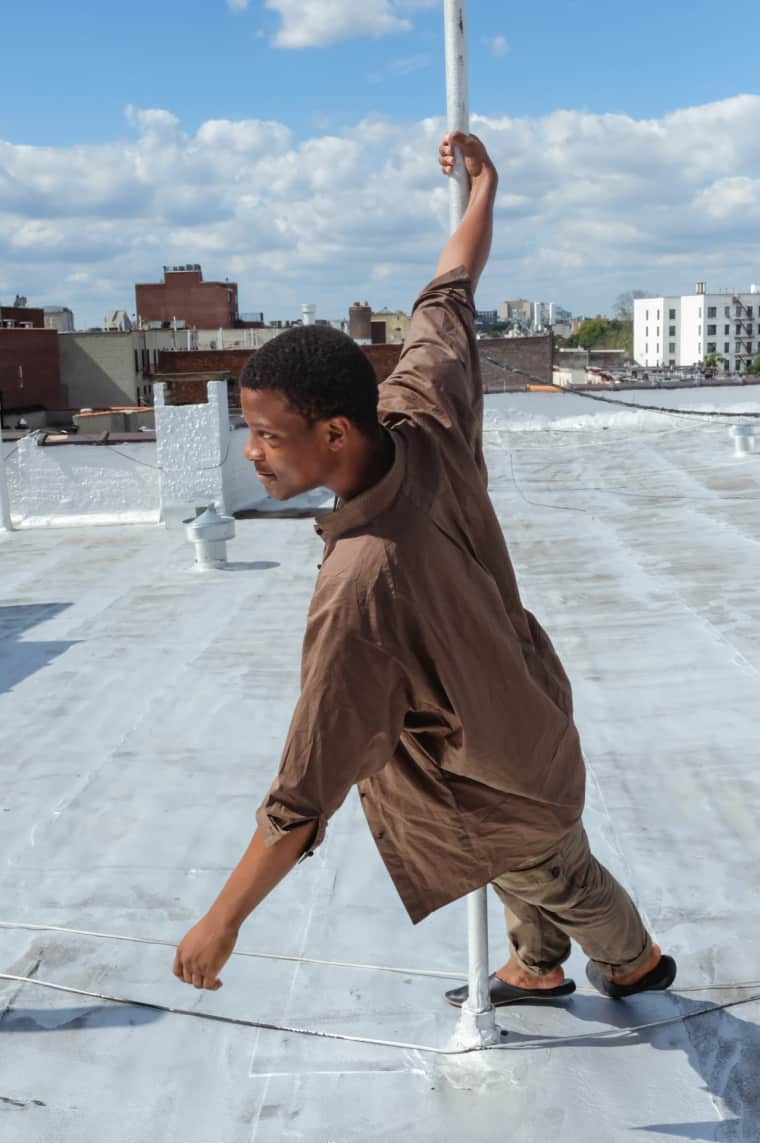 What made you get in front of the camera for your own projects?
I started photographing myself out of convenience. I was commuting to NYU the first two years and just having to work with other people's schedules was becoming kind of frustrating. So I was like, you know what? I'm here. I have the camera. I have a tripod. I have a remote. I can just take this picture myself and tell myself what to do. So I started doing it that way, for that reason. But I also started doing it because I really just needed to see myself, like actually see what I looked like and how I interacted within an environment. At that time I had just become a little more open about my sexuality, so I wanted to see myself just being a little bit more vulnerable for the camera.
I also wanted to further explore the nuances of my social identity. The best person to talk about that would be me. So as opposed to projecting or creating an idea of what I wanted to say in regards to the intersection of queerness and black identity, and then projecting that idea onto somebody else, I was just like, well, let me figure it out for myself first and then I'll branch out to other people. But now I don't really photograph myself as much. Primarily just because it's easier. It gives me a little more movement when I'm behind the camera. When I have the tripod, I can't get these more unique angles that I would be able to get if I was just photographing another person.
Have you figured out a way to project your ideas with other people now?
Well, I think I can best answer this as far as a timeline goes. So, I did the self-portrait thing, looking at myself. And then I started to reach out to other black queer men to photograph them, but that immediately didn't feel right. Then I did a project on my family, mostly looking at the relationship between me and my dad, but which also incorporated my grandmother, my mother and her sisters, and my brother as well. My family was some of the first people that I had begun to photograph, so I keep them in mind as I conceptualize or think of other photographs or other projects that I want to take. So now, I wouldn't so much say that my work has much to do with blackness and queer identity. I think that's an element of it, but I'm also trying to explore other things that exist within the work. So it's less about projecting an idea of what I think something is and more about listening to other people and creating something based on that.
What inspired your project The Ramble and was the experience different from your other projects?
That was the very first project I did during the spring semester of my freshman year, so it's in black and white because it was a black and white photography class. And that was actually the first time that I came to terms with my sexuality. I wouldn't ever say that I came out, but I just kind of made information available to people, and that project was a part of that. Just showing people that this was something on my mind and that I'd been considering for a long time, and this was just a way to directly confront that. I think the greater purpose of the project was just opening up, just allowing me to feel a lot more comfortable with myself, like putting my history on display or just my frustrations and issues on display as well. And that is kind of how I began to make more work.
I think because of that project, that's when I became more interested in how we make our private lives public and how much of ourselves is influenced by public histories. So especially being a black person and then also being gay at the same time, how much of myself really belongs to myself? Especially when we live in a climate of mass murder of bodies by the state. We have no choice but to kind of exist within a collective because of that. And there is something that is collectively referenced because of that. So a lot of who we are is informed by these things that happen in public. I'm interested in that back and forth, that tension that can arise between your private, subjective self and then the public, historical self that exists as well. So I'm trying to probe that a little bit more in my work, and I'm figuring it out by the day.