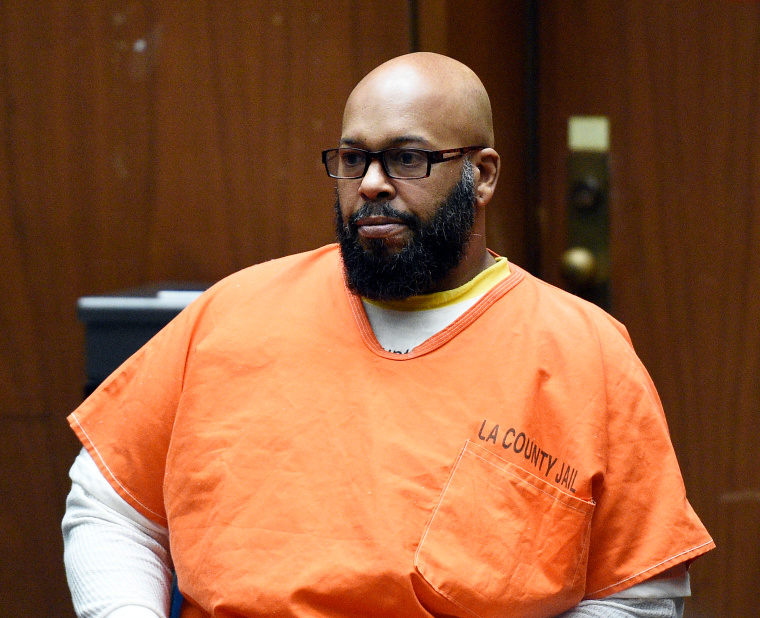 Suge Knight, former CEO of Death Row Records, has filed a lawsuit claiming that his former artist Dr. Dre hired a hitman to kill him, TMZ has reported. Knight is currently in prison awaiting trial for the hit-and-run murder of Terry Carter, which occurred on a promotional shoot for the movie Straight Outta Compton.
The dispute stems from a lifetime management deal Dre signed, entitling Knight to 30% of the producer's entertainment earnings. Apple, the company that bought Dre's headphone company beats in 2014, reportedly did not want Knight associated with the brand. Knight's lawsuit claims that to resolve this, Dre hired a hitman to assassinate Knight at the 2014 BET Awards. Knight was shot seven times at the show, but recovered from his injuries. According to the lawsuit, a man named T-Money was questioned by police and admitted to the shooting, and said that he was hired by Dre to kill Knight.
The suit also claims that Cle "Bone" Sloan was paid $300,000 to attack Knight when he visited the Straight Outta Compton set, which led to the incident that left Terry Carter dead.
Knight is suing for $300 million, roughly a third of what Dre made when he sold Beats to Apple.

Update: October 24, 3:09 p.m. A representative for Dr. Dre wrote in an email to The FADER: "Given that Dre has had zero interaction with Suge since leaving Death Row Records in 1996, we hope that Suge's lawyer has lots of malicious prosecution insurance."