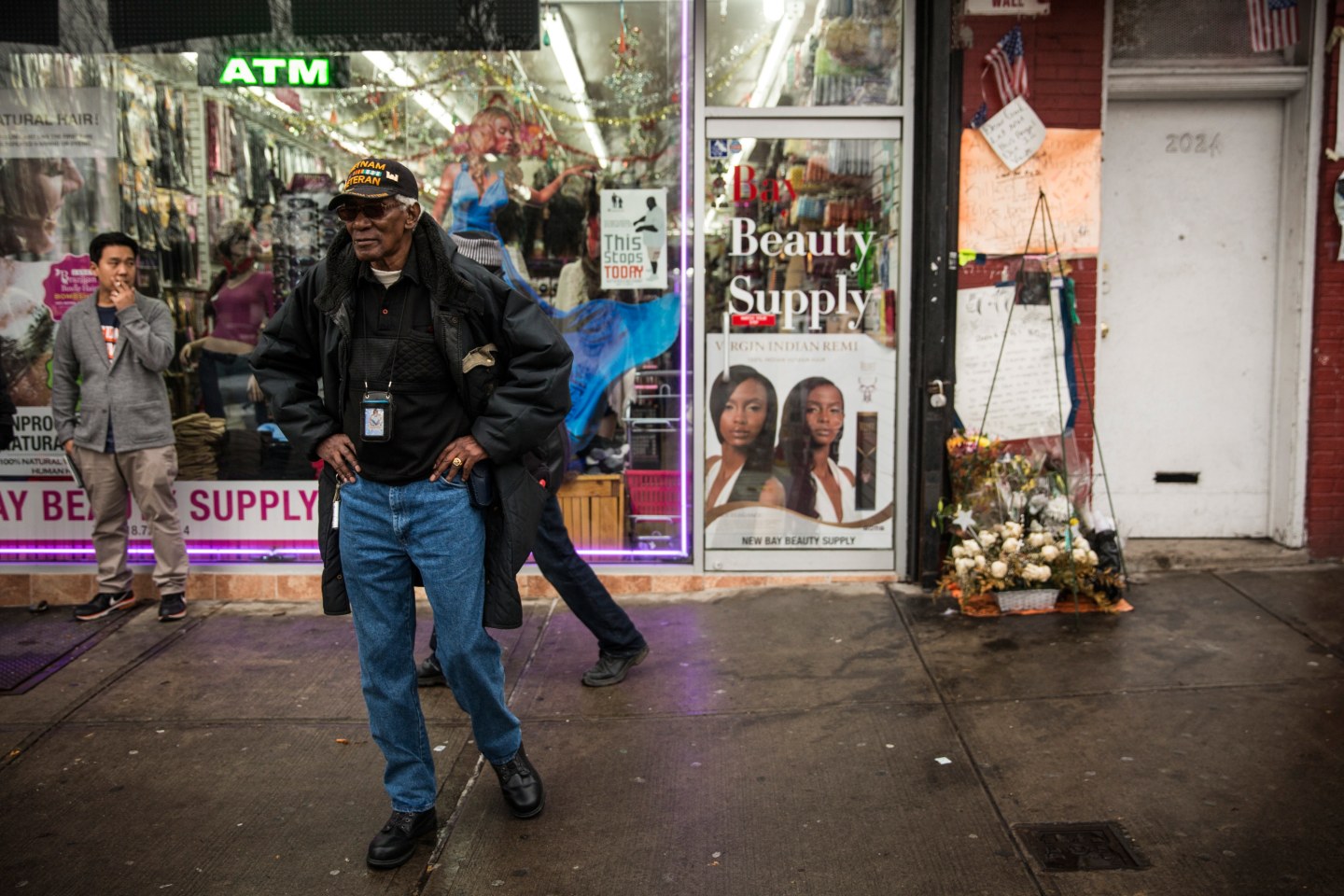 On Tuesday, The New York Times reported that the Department of Justice has shaken up its investigation into the July 2014 death of Eric Garner. "F.B.I. agents who have been investigating the case were replaced with agents from outside New York," says the Times. "Federal prosecutors in Brooklyn are no longer assigned to the case."
While the D.O.J. won't comment, according to the Times, the reasoning is simple. FBI officials in New York have been opposed to bringing charges against Daniel Pantaleo, the NYPD officer that killed Garner. Meanwhile the Civil Rights Division at the DOJ in Washington, D.C., believes they have a case to make.
To us laypeople, it seems ridiculous that this would even be up for debate. The infamous Ramsey Orta-captured footage shows, clearly as can be, Pantaleo placing Garner in a chokehold until the man is no longer breathing. It's a fair question to ask: what in the hell is taking the D.O.J. so long?
Pantaleo's legal defense is that the chokehold was accidental. Says the Times, "The officer said he tried to use a maneuver that involved hooking an arm underneath one of Mr. Garner's arms while wrapping the other around his torso. During the struggle, Officer Pantaleo said he feared he would be pushed through a storefront window behind him." In December of 2014, a state grand jury on Staten Island bought the argument: Pantaleo was not even indicted. Apparently, the NYC-based FBI agents that have just been replaced saw it the same way.
But the D.O.J., thankfully, is not walking away. Even before this shakeup, nailing a successful conviction was far from assured. Now it's a few ticks harder: this NYC-DC spat is (in the form of the eventual FBI reports) admissible in court. Still, the D.O.J. is marching on.
Maybe they're convinced they can still win a case against Pantaleo. Maybe they just understand the symbolic importance of not letting the case die. As the Times points out, "Two years ago, when Eric H. Holder Jr. was attorney general, he told colleagues that the evidence made clear that the Justice Department should bring charges … prosecutors might lose, he said, but the government had to bring the case."
Again and again, we've seen the officers involved in the police killings that have become national flash points go free. Some are acquitted at trial; some, like Pantaleo, are not indicted at all, and get to avoid a trial. But as the news of the Garner investigation shakeup indicates, there is still some small hope of a symbolic victory.
The D.O.J. is currently engaged in some form of investigation in the deaths of both Philando Castile, in Falcon Heights, Minnesota, and Alton Sterling, in Baton Rouge, Louisiana. In the latter case, United States Attorney Walt Green has said "a team of career federal prosecutors, FBI agents and support personnel have devoted hundreds of hours to the investigation" and that the investigation "remains ongoing, and will conclude only when we have gathered, reviewed and evaluated all available evidence. There is no timetable for when this will be finished." In the former, a D.O.J. spokesperson tells The FADER, "in the review of the death of Philando Castile, the Department of Justice will continue to monitor the state's process and stands ready to provide assistance as needed."
Meanwhile, there are more immediately auspicious signs of legal recognition. In South Carolina, Michael Shlager — the officer that shot Walter Scott in the back as the man was running away — is facing both murder charges from the state and violation of civil rights charges from the federal government. Last week, Deborah Danner, a 66-year-old mentally ill woman, was shot and killed by NYPD officer Hugh Barry inside her Bronx apartment. Said police commissioner James O'Neill, "What is clear in this one instance: We failed." (Officer Barry has been stripped of his gun and badge, and a full investigation has been promised).
It's harrowing to think of Garner's family. After killing Garner, Pantaleo was assigned to desk duty, but is still an active cop. Tuesday's news is good news: the D.O.J.'s removal of obstructionist FBI agents is promising. But there's still no clear indication of when, or if, the D.O.J.'s investigation will lead to charges. So two years since his death, Garner's family wait in pained limbo for some kind of official recognition of his victimhood.
Many of the activists involved in the movement wait with them. Earlier this summer I profiled Silky Slim, head of Baton Rouge's Stop The Killing Inc., and the man who distributed the footage of the killing of Alton Sterling. I asked him what would make him feel that the efforts of his group, and groups like it, had been worthwhile. "An indictment of a cop that had been involved in a shooting?" I offered. He cut me off. "A conviction! A conviction!," he shouted. "Even if it's just one! If just one get convicted! 'Cause then the next one knows there's a chance his ass could stand trial, too."
Speaking to the New York Daily News, Eric Garner's widow Esaw Garner voiced a strikingly similar sentiment. "I'm very pleased about it," she said about the investigation shakeup. "But I don't want to count my chickens before they hatch." As for the potential impact of a conviction, she added, "They don't want to make these goddamn cops accountable. If they would just put away one — not even all of them, just one — than the other ones would think about what they're doing before they do it."