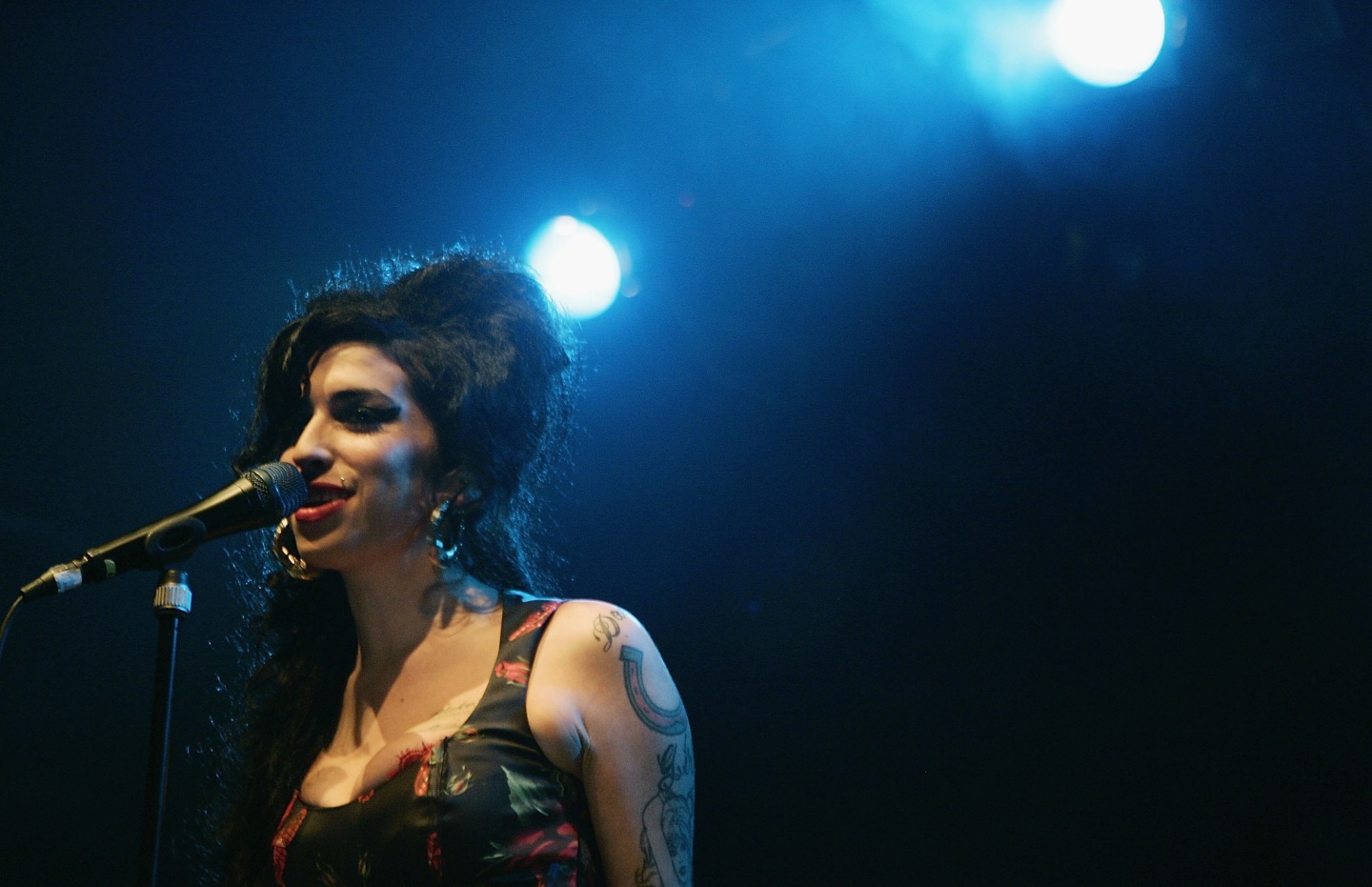 In 2006, I was 15 and wanted to wear my hair in a beehive like Amy Winehouse. With the release of her second album Back To Black, the singer was quickly becoming one of the biggest British pop stars ever, and also one of the most incongruous. Her 2003 debut album, Frank, had intrigued me with its tough voice and dirty jokes, and now Winehouse was breaking into the mainstream, and getting even rowdier as she did it. She had huge, often unruly, hair; she was heavily tattooed; she sang expletive-filled songs about messy situations. In her "You Know I'm No Good" video, she cradled whiskey and cried mascara tears on her kitchen floor, and waved away men with acrylic-nailed hands. I was captivated. The funereal march and gloomy nostalgia of her 2006 singles (like "Back To Black" and "Love Is Losing Game") had the same dark allure as the '60s groups that Winehouse emulated, like the Shangri-Las who sang melodramatic hits about doomed teenage romances and untimely deaths.
In reviews from Pitchfork to Rolling Stone, she was aligned with Lily Allen, another Brit who was also topping charts with her debut album that same year. The two sounded nothing alike, but both presented a new archetype for women in pop: Allen was the bratty tomboy who wore trainers and loved ska, Winehouse the booze-swilling, foul-mouthed jazz singer who could play the part of the pin-up or the sailor. In a landscape of girl groups who strove for sweetness and perfection, Amy was a middle finger to what pop expected women to be. Her messiness was exactly what drew me in.
Ten years later, I'm now a little older than Winehouse was when she wrote Back To Black, a little younger than she was when she died in 2011 at the age of 27. I feel uncomfortable recalling my obsession with her larger-than-life persona. It doesn't feel okay to refer to her with words like "messy" or "booze-swilling," knowing these were the descriptors that tabloids used to tear her down when she was publicly battling addiction and other issues. Sometimes it doesn't even feel okay to sing along to her best-known song, "Rehab," given the song documents a real-life, failed intervention. In general, I'm conflicted about still loving Back To Black as much as I do, knowing that Winehouse's ex-manager Nick Shymansky believes — as he stated in Asif Kapadia's unflinching 2015 documentary, Amy — that if the singer had sought help to get sober instead of making the album that launched her to worldwide fame, she might be alive today.
But Winehouse did make the album. And, perhaps owing to the turbulence in her life at the time, it's one of the truest, most devastating pop albums of the 21st century. As a teenager I was drawn to its sticky-eyed sadness and macabre glamor; as an adult, I keep returning to its emotional honesty. "A lot of the stuff that's out, it's not heartfelt," she told an interviewer with shrugging candor while promoting her first LP in 2003. "I just wanted to write music that was emotional, and that people would...connect with." In other interviews, she insisted "I always write autobiographically" about "things that conflict me"; she would disarmingly disclose that she was a "manic depressive." In an interview with The FADER in 2008, she said, "I wrote songs about relationships that almost ended me. When you write about stuff that's so personal, you don't have to dig that deep."
Back To Black depicts a woman struggling with temptation, misery, and loneliness. Though it's told — and was promoted — in the context of heartbreak, the album is actually more self-reflexive; it's not just a woman singing to an ex-lover, but a woman wrestling with herself. Back To Black describes depression, addiction, and self-sabotage, in ways that are startlingly unusual for a Grammy-winning, chart-topping, 21st century pop record. (What other recent number one single by a woman contained a line like, I'm gonna lose my baby/ So I always keep a bottle near?) It's important to acknowledge the singular way Back To Black treads this dark territory despite — perhaps even because of — what happened to Winehouse after its release.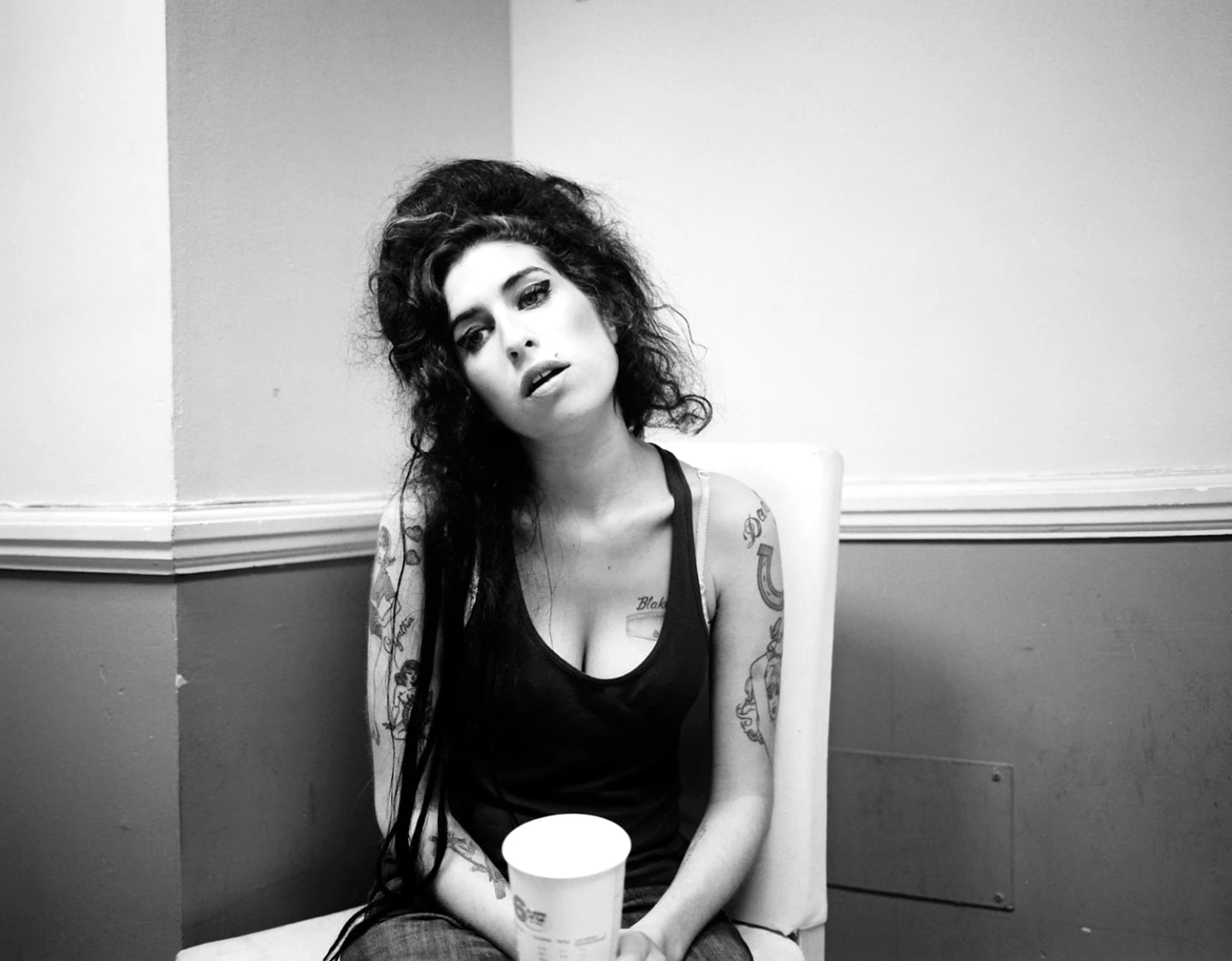 Winehouse didn't sugarcoat things. On Back To Black, her storytelling slices through the jangling '60s pop melodies with frank observations that feel bone-deep and real. (He said, "I just think you're depressed"/ This me, yeah baby, and the rest.) She speaks of truly disquieting feelings through songs you can turn up loud and belt out in your car; like the realization that rejection is only one part of your problems. (Why do I stress the man/ When there's so many bigger things at hand?) She leaves her body, and looks at herself with cool objectivity. (She's so vacant, her soul is taken,/ He thinks, what's she running from?) Back To Black contains no true optimism or solution. There are moments of clarity, but no epiphany. Discounting "Addicted," a bonus track about annoying dudes who smoke all of your weed, Winehouse's final words on the album are: He tries to pacify her, but what's inside her never dies.
These lyrics are worth noting, not to make a spectacle of Winehouse's suffering, but to shine a light on her truly original songwriting. In the footage unearthed for Amy, she spoke frankly about how music was her therapy for depression; the subject material was genuine, and that honestly was palpable. Winehouse's longtime producer Salaam Remi told Billboard that this was part of her bond with the rapper Nas. "They had a mutual respect for what was real," he said. Winehouse, whose idols were Donny Hathaway and Billie Holliday, was a truly distinctive pop writer of her time.
It's that searing narrative voice that makes Back To Black unique, and that can't be replicated in posthumous compilation releases like Lioness: Hidden Treasures or the Amy soundtrack. Winehouse was not just a stadium-filling vocal, or a vessel for covers and standards. She was a storyteller, whose best work hit deep. Her beehive might have been read as a caricature, but her substance was true. She made art about dealing with dark days; about crying too hard and drinking too much. In a stiff-upper-lip British culture where mental health is not openly discussed, she put her own issues squarely in the middle of the charts.
I want to believe that, as a society, we're getting better at conversations about mental health. The film Amy itself forced us to reflect on the role the press and the public had in Winehouse's own demise, a reflection that we can hope will have a lasting impact. Today, I take encouragement from pop stars like Halsey, Kid Cudi, and Zayn Malik who speak openly about their mental health issues in public. It's a promising first step. Talking is key. As Neil Hamilton, director of U.K. charity Help Musicians, put it to The FADER last year, "Let's try and break down the taboo. Let's try and open the conversation."
Remembering Back To Black as a brilliant pop album, a brave story battling depression, and a rare combination of the two, is difficult but necessary. It's difficult to remember what happened to Winehouse in plain view of us all, how consumption of her explicit pains makes us complicit in her death; but remembering is essential, to ensure it doesn't happen again. Winehouse deserves to be remembered as a truly groundbreaking artist, rather than a tragic story. This collection of empathetic, raw songs lives on as the worthiest treasure she could have left behind: an album you can blast on blue days, to make you feel a little less alone. "Tears Dry On Their Own" is the kind of bitter yet joyful song that I've turned to at low moments. Its tambourine shake helps me move again, even as it speaks plainly to loneliness and self-destruction. (I shouldn't play myself again/ I should just be my own best friend.) Sometimes, that's exactly the comfort you need.