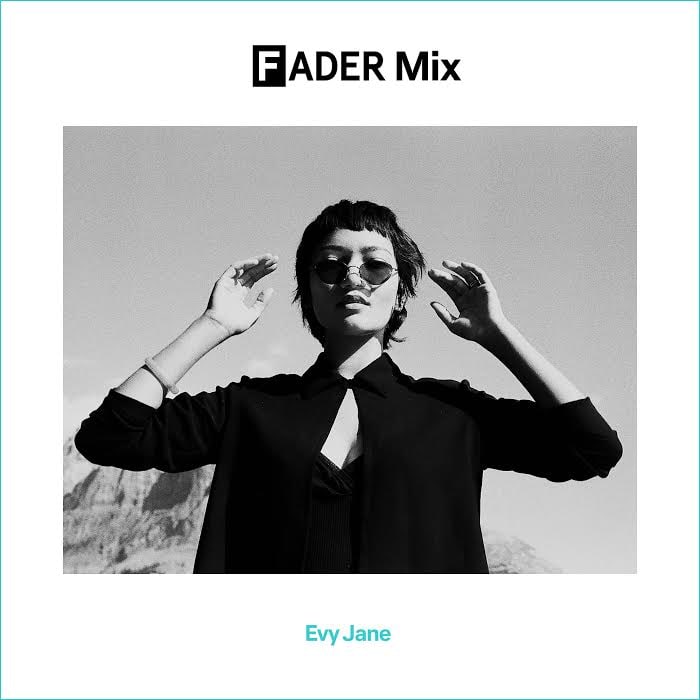 There's a track on Evy Jane's October LP, Breaking, called "Any Time" that feels like encountering a streetlight on a dark and rainy street, the moment when you can see the rivulets stretching down from the sky. "Any Time," is the bright spot in an album of Vancouver-informed mood music; it's the warm, dim light glowing in the fog that rolls off the ocean. And Evy Jane's FADER mix is a collection of similar sonic beacons; a group of songs, by women, that belie the emotional core behind Evelyn Mason's emphatically downtempo, insistently chill, sound.
Where are you right now? Describe your surroundings.
​​I'm in Brooklyn. There's a bottle of Aunt Jemima next to the trash — something to do with its problematic branding and corn syrup content.
Tell us a bit about this mix. What do you imagine people doing while listening to it?
This mix is pretty self explanatory if you listen to the words. I'm amplifying some of the many diverse voices of the feminine. We already hear a lot of everything else. Listen to the women. Listen to yourself. If you feel rage, let it galvanize you. If you feel joy, follow the bliss. Burn it all down and then get on a train, alone, headed to another place. The time is nigh. Listen to these songs on the way to your destination. We're headed to a new zone and these songs will help to solidify what you already know. You know just what you must do, and you're doing the right thing.
Lhasa de Sela, a French-Canadian singer with Mexican family sings in Spanish (which, translated to English, loses so much of it's lyrical poetry): "Today I go back to the border, I shall cross it again, The wind is the one sending me, Pushing me to the border."
You put out an EP and then took a break for a few years; how did you spend that time, and why is time important to music-making?
I took time to go deep into my world, in real life. I was a bit reclusive and internet-shy during this time because I wanted the next time people heard from me to be meaningful. But I can't really escape music-making even if I try. For about a year I would roll up to underground dance parties with my microphone and pedal and just freestyle over my friends's house and disco DJ sets.
I don't think time is linear. A lot can happen in a short span; little can happen over a long period. I think people should take whatever time they want on their art. Sometimes you lose control of what's happening to you and then you have to burn down like a phoenix. I'm lucky that the process of developing as a musical artist makes me into a better person as well.
What do you love about Vancouver?
In Vancouver I've seen wild dolphins and orcas swimming in the ocean. In the summertime you can go to an island where the water sparkles in the dark thanks to bioluminescent phytoplankton.
What's the last book you read that had a big impact on you? And why?
I have a pocket-sized book of Buddhist musings that helped me deal with a lot of freaky life moments. I also always return to All About Love by bell hooks.
And finally, what's your favorite dish to cook and how do you make it?
This time of year I like to do root vegetables roasted in the oven with garlic and rosemary; that's really easy and it's just 45 mins in the oven and then you can be doing your thing the whole time.
Tracklist
Yma Sumac - Chuncho (Forest Creatures)
Fairouz - Aloula
Anna Domino - Land of My Dreams
Nina Simone - Backlash Blues
Faye Wong - Smoke
Lhasa de Sela - La Frontera
Unknown Artist - Pony (Somali Version)
Mono - Life In Mono
Spirit2005 (Demo)
Soul II Soul - Pleasure Dome (Booker T Dub) [Live Rave Rip]
Parlour Tricks (4 AM Live Demo)