Meet AJ Tracey, The College Dropout Keeping Grime Fresh
This 22-year-old MC used to bump cabs to get to performances. Now he Ubers everywhere.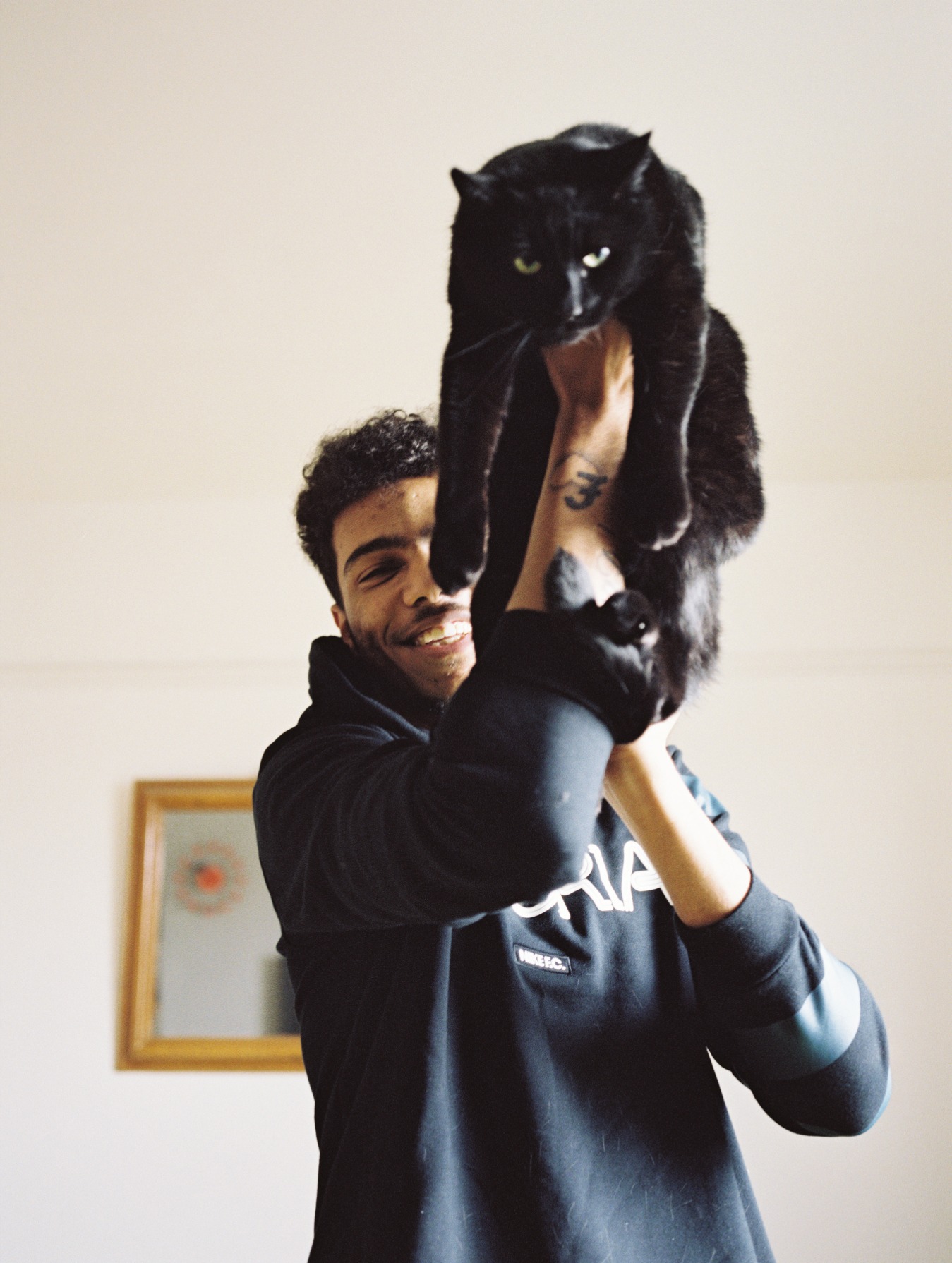 AJ Tracey doesn't usually spray champagne in his music videos. Typically, you're more likely to see him hanging out at a burger joint near his west London home, or repping his team's colors at the soccer stadium. "I never really do anything show-off-y, I keep it humble," he said when we met in his mom's living room, which overlooks a highway in west London. But for his latest visual, to accompany the low-riding rap joint "Pasta," AJ flew a group of close friends out to the Canary Islands for a rare moment of jacuzzi-and-sunshine indulgence. The joyful video is a cap on a successful 2016, showing off a playful new side to an artist full of surprises.
In many ways, the 22-year-old is a classic grime MC. He grew up following the same path to success laid by pioneers of the scene in the early-'00s. After dropping out of his Criminology degree at London Metropolitan University in 2014, he spent his nights clashing and freestyling on pirate radio stations like Mode, Deja Vu, and online start-up Radar. With 2015's "Naila," a straight-talking flex that showed off his densely referential lyricism, he proved that his radio chops could translate into hard-hitting singles. This year, his link-up with south London MC Dave over a classic Ruff Sqwad beat on "Thiago Silva" and the brash, screwface-inducing "Leave Me Alone" were two of grime's biggest tunes. Even Drake took notice, giving him a shout out on Beats 1.
But the Lil Tracey EP, released on December 2, shows that AJ is not easily pigeonholed. While the fearless independence of grime is ever-present, the EP blends tempos and textures from across genres (production comes from Canadian MC/producer Tre Mission, "Lock Arff" beatmaker Nyge, and Rinse FM mainstay Faze Miyake). On the neck-snapping 140BPM of "Buster Cannon" he's "turnt" and playfully rhyming about "bums and boobs." But "Pasta" and the Remy Banks-featuring "Hating On Gang" build on his hip-hop credentials, while the contemplative "Luke Cage" is part social commentary, part self-confidence anthem. From his sofa in Ladbroke Grove, with his cat named Bat running in and out the room, AJ chatted with The FADER about learning to MC on pirate radio, DMing with Drake, and the global future of grime.
You come from a pretty musical background, right?
My mum used to be a DJ. She's got these Technics [turntables]. She's got all the original N.W.A [records], two copies of each so she can spin one and keep one. She used to be on pirate radio, she used to play jungle, house, rap. It's actually mad that she's white, Welsh, middle-aged and can scratch.
My dad used to be a rapper, he had a rap group. They did proper old school, boom-bap music. He had a high top and everything. They made a little bit of money, they had a video on MTV. I'm determined not to tell anyone [who he is].
When did you start learning to MC?
When I was in secondary school, I cared about nothing but music. I didn't care about being late [or] getting kicked out. Every chance I had I'd be spitting bars. It got to the point where my friends were like, "Stop spitting bars, relax." [At 16], everyone used to find it hilarious that I was still spitting, and that disheartened me a bit — but I kept going. I went to college, linked up with a couple producers. After that, I jumped into uni and quit this music thing. I was like, I'm wasting my time. I'm paying for studio and nothing is really happening.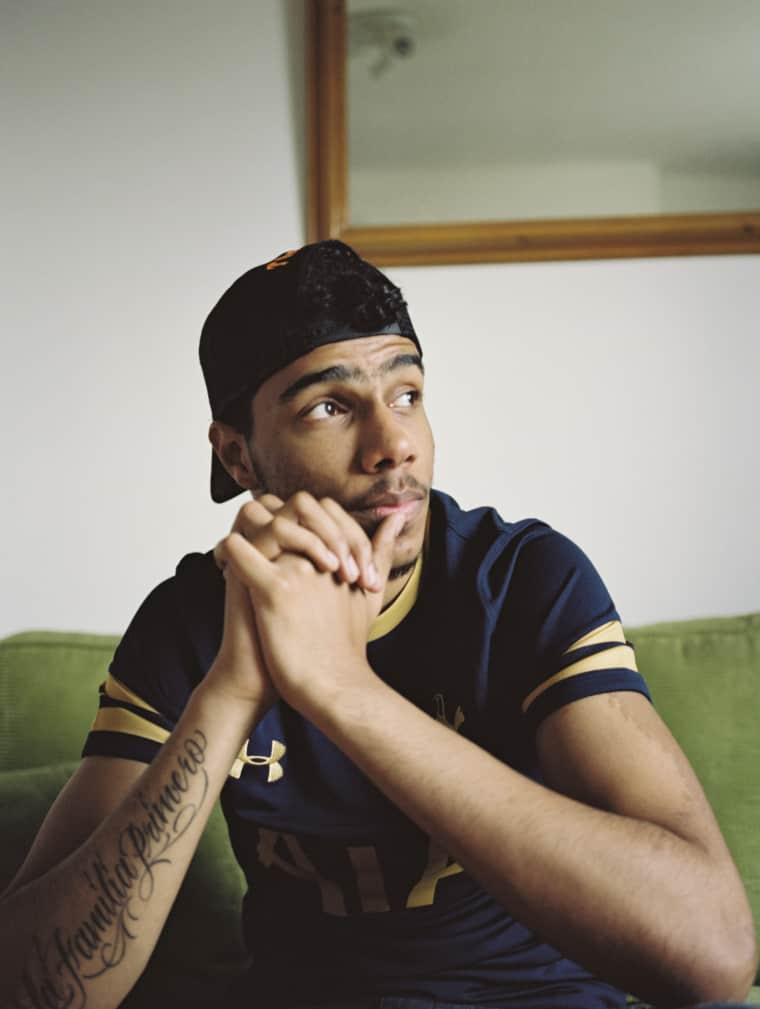 "If you have a platform, it is your role and your duty to enlighten other people on certain topics. I feel like I've got to put some meaningful lyrics in there."
What was your experience at university like?
I used to go to class, see if anyone wanted any drugs, and then leave. In lectures, I would sit in the back, and I actually liked what they were saying...I guess I was cocky, [thinking] I'm smarter than everyone here, this shit is so lonely. When people look at me, how I dress and the things I say, they might think I'm stupid. But I'm so far from stupid.
I did enjoy Criminology, but I didn't really want to do it. To be honest with you, I wanted to sell drugs. It sounds shit, but I had to give my mum some money. I was like, why am I going uni and getting into debt? But the respect I have for my mum and everything she's done for me as a single mum, I couldn't bring police to the house and bring her all the stress.
What made you go back to MCing?
I was in uni, and an MC called Jammz hit me up and was like, "Bruv, I just heard your bars, you're actually sick, why don't you come radio?" The first time I touched radio, I got a reload, and I was like, yo. I told my mum I was gonna drop out of uni and do music. I thought I was gonna get a slap across the face, but she was like, "I know you love music. If you wanna try that, give it a try."
My grandma's from Trinidad and she's proper strict...I told her [I was dropping out] and she wasn't having it. She said, "Education is the most important thing, music's not a job, it's not gonna pay you." Three months after that, I came in the house and I showed her one of my booking fees. It was my first grand [£1000]. She was like, "Why would anyone pay a grand for you to perform?" But once she saw that, she kinda understood. I think she still wants me to finish education though, but that's never gonna happen.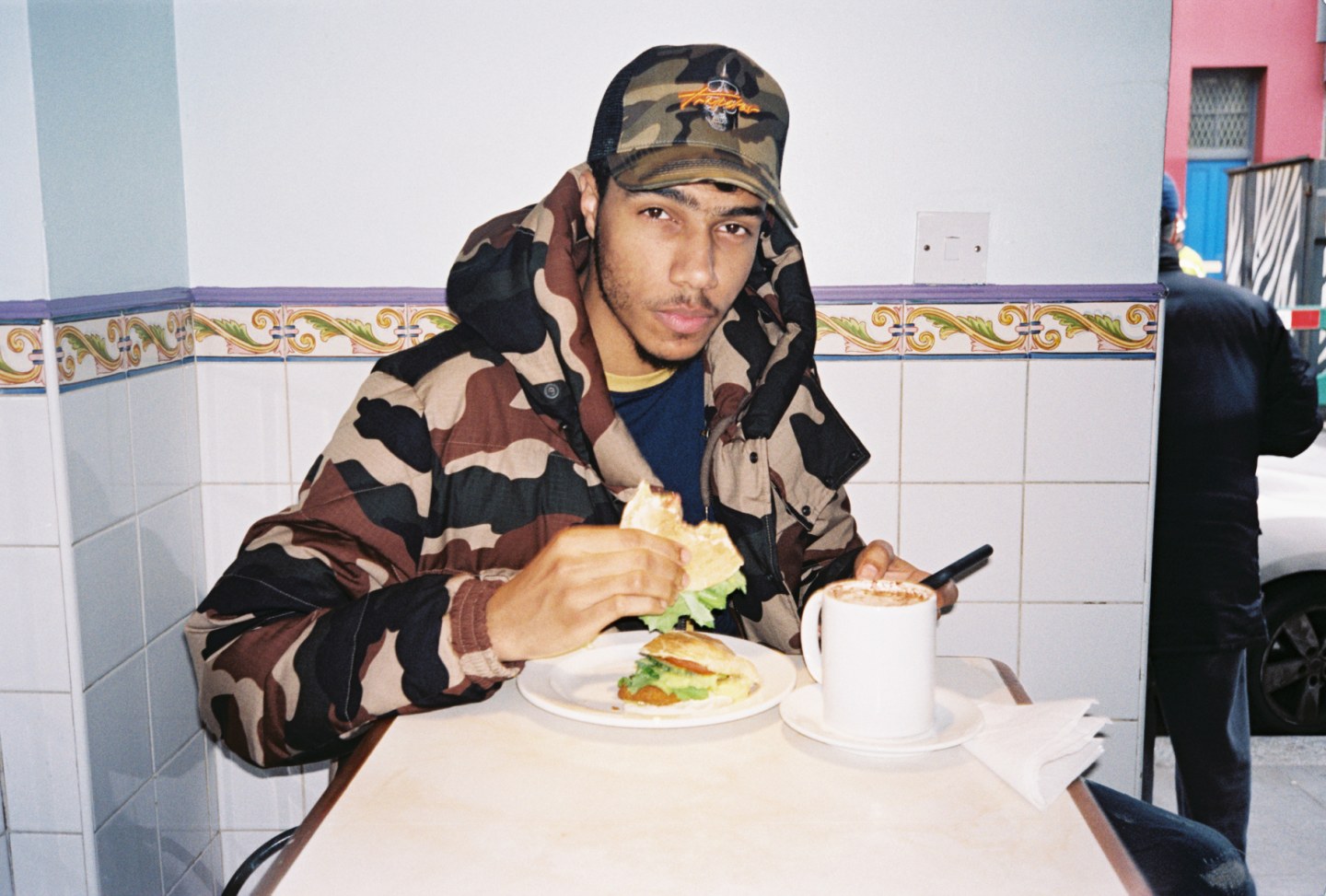 So that's when you started hitting the pirate/online radio circuit.
I was going to radio five days a week. Flex FM, Deja Vu — I didn't really like going there, because east and west [London] traditionally have a lot of beef, so it was kind of dangerous — then Mode FM, and Rinse FM. I was super broke as well. [I was] bumping cabs, bumping train barriers, getting buses; I was driving stolen mopeds at one point to get there. As soon as I [MCed on the radio], it gave me bare confidence. I knew how to channel my breathing properly. That taught me a lot.
I went Mode FM the most. Mode is unlocked, it's super pirate radio. You can just walk in and there's bare mandem there. I used to go do sets with [producer/DJ] Spooky at 2 a.m., finish at 4 a.m. Getting home from Enfield to Ladbroke Grove with no money or buses [takes] at least two hours, so I used to get in at 6 a.m. I had a [bar job] at the time as well. It makes character, innit. Now I just take Uber everywhere.
What albums or records shaped you as an artist?
Linkin Park made me change the way that I spat, because I'd put more emotion into it. The main music I listen to is U.K. garage. Nas is my favorite rapper. Immortal Technique made me my change my outlook — like, you can rap about hood stuff, but every now and then you should just open up a bit and try and listen to some conscious shit.
If you have a platform, it is your role and your duty to enlighten other people on certain topics. Stormzy uses his platform for good a lot of the time and I admire that. I feel like I've got to put some meaningful lyrics in there. Like [about] how all races usually put their money back into their race at least once, but black people receive money and then spend it with other races. We earn money and just give it away, which doesn't help us build our community up.
There's a monthly initiative by an artist called Chino Amobi in America called "Black Fridays." The idea is that on his version of Black Friday, people should only buy from black-owned businesses.
That would be sick if everyone did it. The only black product that people like buying is Caribbean food because obviously everyone loves Caribbean food. We have things to offer but people just don't want to buy them. To better your community you need to invest in it.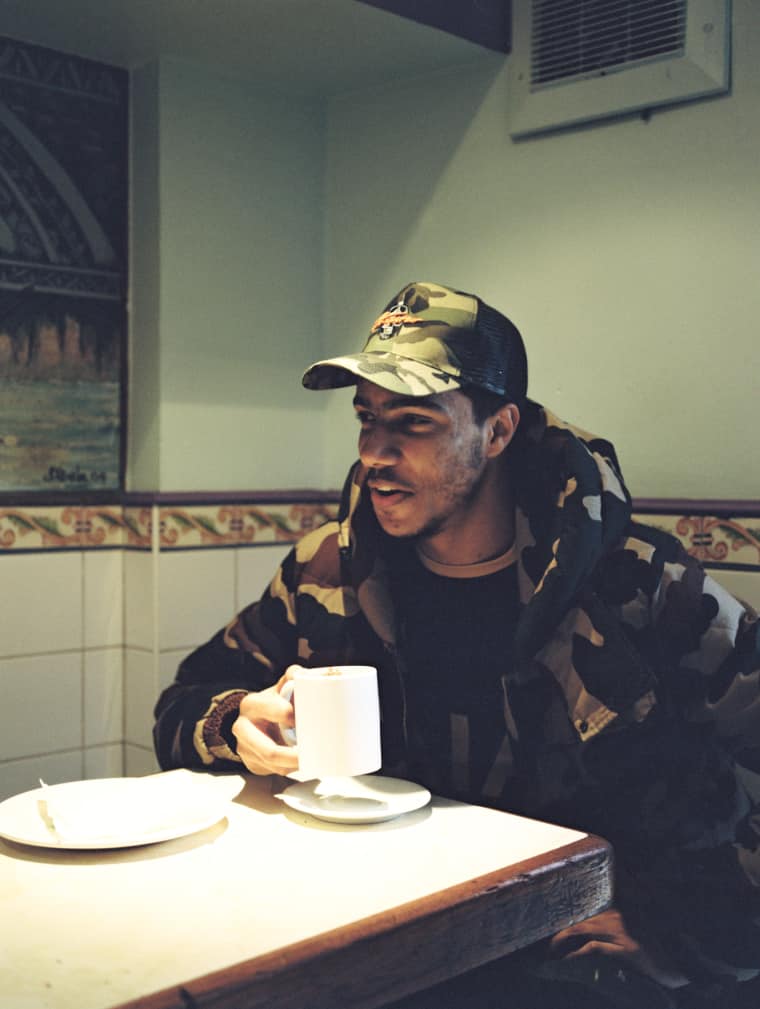 What themes did you want to explore on this EP?
This EP is like me trying to show everyone that I'm a bit more mature, I can do things on my own. I'm trying to show people the transatlantic connection as well. I want to showcase my talent, I'm not just a grime MC, I'm an artist. A lot of my friends are purists about grime, they just want to spit on straight nostalgic 140[BPM]. That's fair enough if that's what you want to do, but I want to make all types of music.
Tell me about "Luke Cage," what does that song mean to you?
I was sitting in the studio and I heard this beat, and it touched me a little bit. Obviously I had been watching the news about all the black killings. I thought, here's a way for me to give people a tune that they might see as gassed up, but it's got a deeper message. The concept of Luke Cage is sick. That's what black people want right now — imagine if they were bulletproof. That's what a lot of black people wish for.
The message [of the song] is about black killings, but it's deeper than that, it's about people believing in themselves even if everyone hates on you. You just have to ignore it and focus on what you're doing; get tunnel vision and forget everyone else.
There's so much international attention on grime right now. What do you think needs to happen for the genre to keep the momentum and keep moving forward?
I think it needs the olders of our generation to be more open to the youngers. There's youngers right now on radio who are younger than me, who are going to be the next ones after me, so you just have to embrace it and encourage them. A lot of the olders are like, "Who are the new kids spitting grime, that's not grime." You can be sour if you want, but it's actually not helping anything. We should just come together. In America you see the way that they all uplift each other, like a Chicago rapper will shout out an L.A. rapper just to show the love. That kind of thing needs to happen here. I feel like our generation is more open to working together so I think as long as we do that, grime will get bigger.
Have you spoken to Drake since he shouted you out on Beats 1?
I shot him a DM with a devil hand and a heart because he bigged me up, and then he was like "You're a mad MC, I watched your Fire In The Booth [freestyle], when I come over in January we're going to link up." And I was like, "Cool."
Where would you like to be five years from now?
Big diamond chain, Ferrari… No, I'm joking. Obviously I want more money, but aside from that, I would like people to open their ears to U.K. music a bit more. And I [want to] put my mum somewhere else from here. I like my house, but it's kind of bait, everyone knows where I live. The better I do, the more haters I get, and I don't want my mum to be around any of that. If I could put her up somewhere else it would be lovely.