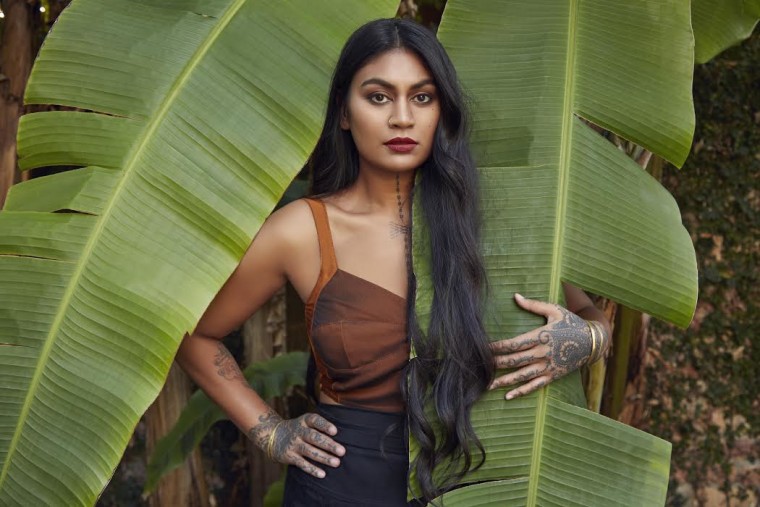 Aaradhna Patel is a singular voice within New Zealand's growing R&B scene. Over the past decade, the singer has built a steady fanbase writing soulful, personal songs for three albums that have all gone on to become top 20 hits on the New Zealand charts. And earlier this summer her fourth LP, Brown Girl, went to number one. Brown Girl is Aaradhna's most introspective album yet, exploring her personal experiences as a mixed race New Zealander of Samoan and Indian descent. Through this, as well as stories about love and bravery, Patel creates a way to connect with young women and girls who feel judged, scrutinized, and hindered by stereotypes attached to their non-white skin.
Aaradhna took another stand, this time in front of her peers, at November's Vodafone New Zealand Music Awards (VNZMAs). After winning the award for Best Hip-Hop Artist she refused to accept, gave the prize to hip hop group SWIDT, and took the mic to say: "If you're putting a singer next to a hip hop artist, that's not fair. It feels like I've been placed in a category for brown people. We need a soul and R&B category." Aaradhna is one of many musicians, around the world, demanding change within their local industries. The FADER spoke with her about what it's like to navigate New Zealand's music scene as a brown girl.
What was it like growing up as a brown girl in New Zealand?

It started with name calling at school when I was a kid. I'd be called a 'curry muncher' or a 'dumb coconut.' I also saw people being ignorant towards my mum or dad, and judging them for the way they spoke, how they looked, and how they dressed. As I got older I noticed it would come from my own backyard too, with me being seen as not Indian enough, or not Samoan enough. I was being judged for what I looked like, and I came from two different cultures which made it hard for small-minded folks. But I always knew who I was and continued embracing my roots.
How did you get started as a musician?
In 2002, I saved up some cash from my job stacking bundles at the newspaper factory. I bought me a mic and a bunch of blank cassettes and recorded homemade demo tapes using the overdubbing method and the two decks on the family stereo. I recorded some songs that I wrote and used beatboxing as an instrumental, with a whole heap of harmonies and extra background vocals. Everything was all slowed down because of all the over dubbing but you could still hear the ideas. I sent the demos to an indie label called Dawnraid Entertainment,' that was run by Polynesians who were going against the grain and making a name for themselves in New Zealand. One of the CEO's, Brotha D, came to my hometown of Porirua, Wellington and was getting his hair braided by my auntie, and my family put me on the spot and told me to sing. He arranged for me to record in a proper studio, and after that I was given the opportunity to spread my music everywhere I could.
On the title track from Brown Girl you sing, "I'm more than urban and R&B, more than a slang that I speak." Can you talk about this?
I'm deeper than limited labels and am constantly evolving. Why should I accept someone else's definition of me? So when I refused to take the VNZMA I meant what I said in my song: To me urban is not a genre but a boxed term used for people of color, and the only genre represented was hip hop and I'm not a hip hop artist. Being placed in that category was unfair to me as an R&B artist, and also unfair to the hip-hop artists I was placed with. Our music is different and deserves separate categories. I always wondered why that was even a thing, so when they called my name I had to speak my mind. I'd be full of shit if I was to accept it, say my thank you's, and move along. Apparently a Samoan-Indian-New Zealander that sings soul and R&B is too complicated for some to comprehend.
In addition to standing up for yourself, you're also vocal about Indigenous rights in New Zealand. Why is that cause important to you?
I live in a country with a colonial history, and we have to accept that reality so we can move forward and create a positive outcome for all people. The bottom line is all Indigenous people have a voice, and we need to make every effort to be heard. I used to be scared to bring up serious issues because I'm not so much an expert on politics. I speak with a slang, skipped a whole lot of classes in my school days, and know nothing about debates and shit. But I know what's right and what's wrong, and if I have the power to help raise awareness to certain issues then I'm going to use that platform, even if a whole bunch of mofos disagree. Stand for something or fall for anything.