Ezale righteously carries Oakland's history, even when he's out of his mind.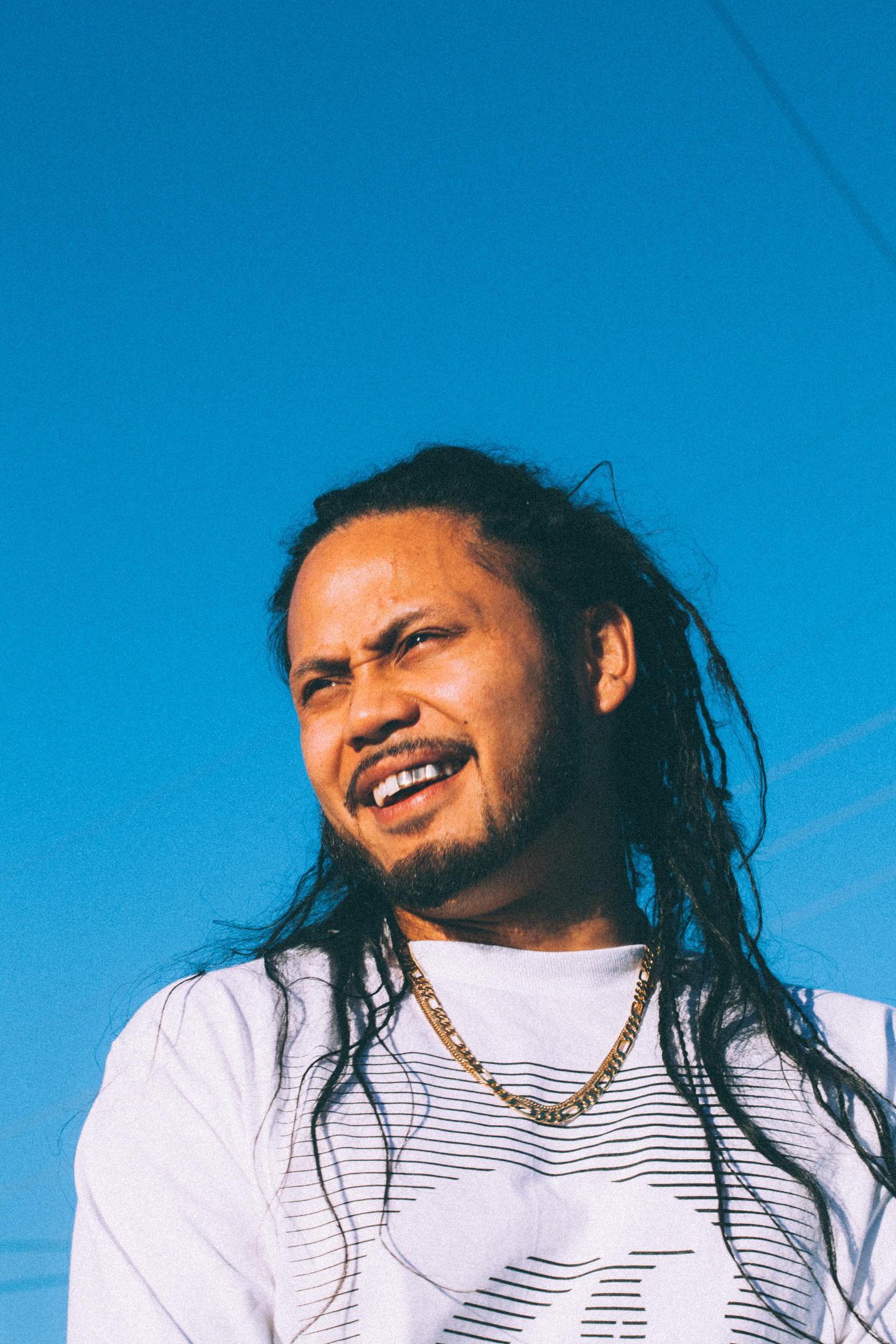 It doesn't take long for a conversation with Ezale to drift toward the word "funk." The East Oakland rapper is drenched in the stuff. For one, it's the sound that defines his work, an echo of that 808-knocking, jheri-curl-dripping electro funk that ruled in the '80s. It's also the neighborhood that raised him, colloquially known as Funktown, a name inherited from the Funktown U.S.A. gang that ran it back in that same decade. Though the 27-year-old is too young to remember this era first-hand, he carries its hand-me-down history with a sense of responsibility.
Check his breakout YouTube clip from 2013, "5 Minutes of Funktown." The track, which was recorded a few years prior, catches Ezale spitting slithery post-hyphy raps over a medley of throwback slaps: Whodini's "Five Minutes of Funk," Rick James's "Superfreak," and Connie's "Funky Little Beat." The video is distilled joy in hip-hop form: a few dozen friends partying all over the Town with Ezale smack in the middle, wearing a bulletproof Gucci vest and the world's widest grin. "Funktown" racked up a million and a half views and would provide a strong blueprint for Ezale's career to follow.
On his debut mixtape, 2013's Drug Funnie, he expanded on his '80s aesthetic, bouncing off the walls of Run DMC and Guy instrumentals. (And when, last year, Kendrick Lamar came to Oakland to shoot the video for his anthem "Alright," Ezale was right there next to him mobbing, seemingly reenacting the "Funktown" energy to a more cinematic end.) His just-released sophomore effort, The Tonite Show, continues in kind. Co-produced by his in-house DJ Hawk Beatz and veteran Oakland beatsmith DJ Fresh, the project is a condensed 30-minute burst, which further reveals Ezale as a lightly conscious street jester in the tradition of fallen Bay Area legend Mac Dre. Like Dre before him, there's an undeniable sense of optimism to his work, even when he's popping pills or a pistol.
So it's only appropriate that he's rocking a "Dre Guevara" tee — Mac Dre's profile refashioned as the classic Che Guevara stencil — when I meet him at East Oakland's FM Smith Park on a sunny afternoon. He is the Ezale of the Ezale videos, that much is certain: golds in his mouth, beard unkempt, and scraggly tiny braids hanging well past his shoulder. He's small in stature but enormous in presence. As he talks, he beams and squawks and laughs and trips over his own words constantly. His eyes frequently widen like those of either a genius or a madman. He also attracts a crowd. At first he arrived with a posse just two deep — Hawk and a childhood friend by the name of Anthony, who had some pointed and on-point opinions about both gentrification and 2Pac — but after a short walk to the liquor store he runs into a few more folks and the clique doubles in size. These are Ezale's brothers, the "us" that he continuously refers to throughout our conversation. The crew is always present, always sharing in and spreading that Funktown pride.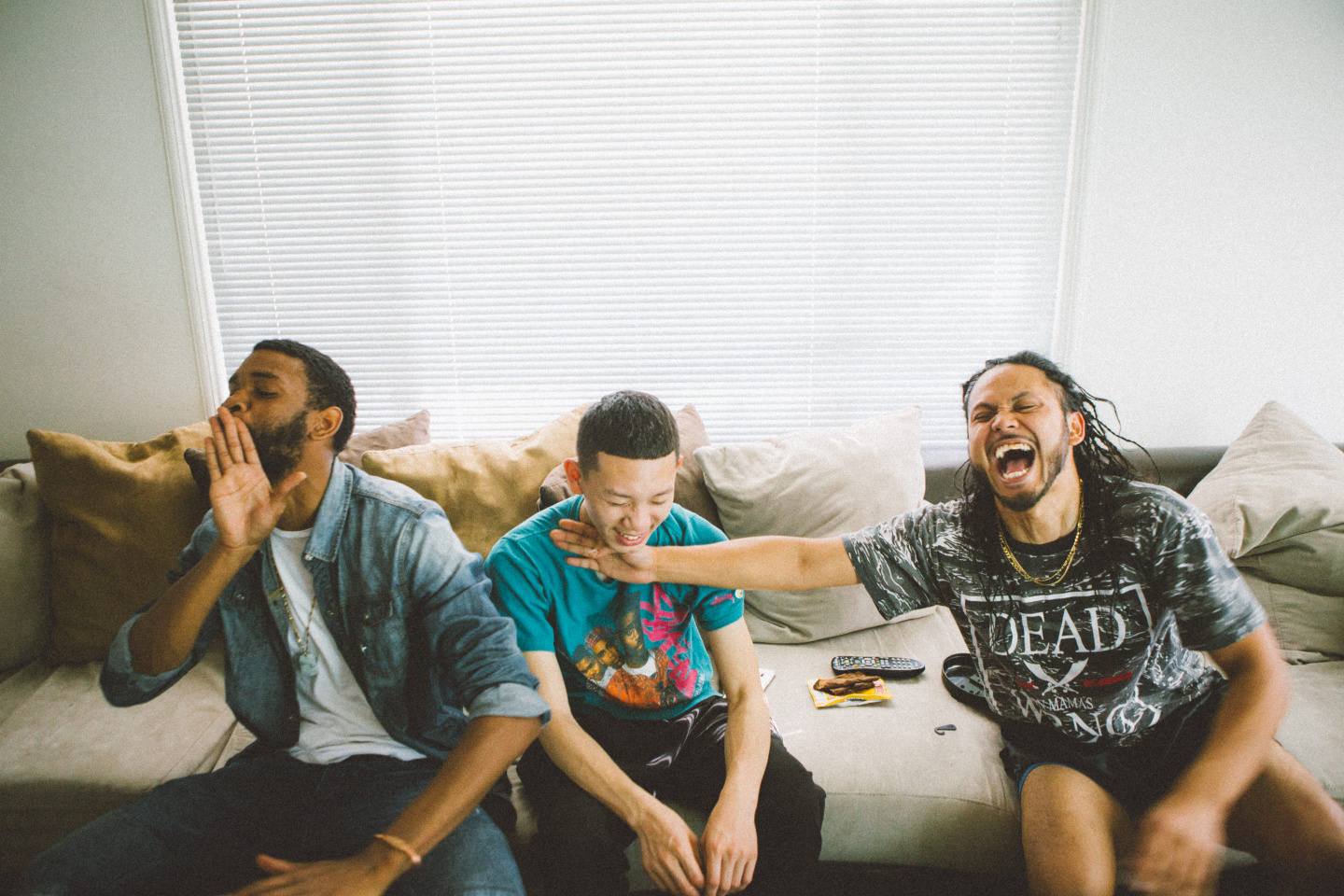 How did you get started rapping?

I always was fuckin' around, rapping around. When I was little I was listening to whatever was on the radio. My brother used to [listen to] 2Pac. What was that with "Dear Mama"? Me Against the World! He used to be playin' the cassette and I was just putting words together. I remember my first rap: "I was playin the dice game for some brand new shoes/ K-Swiss, Nikes, and Adidas too. Ah! For real!" I was in middle school. I recorded my first song over [Dem Franchize Boyz] "White Tee." We did ours called "Yup! In My Beanie." We used to go crazy.
Did you get any attention locally off these little things?
Fuck no, hell no. I was never known for no music until [hums Whodini melody]. But "5 Minutes of Funktown" is hella old though. I recorded that in… '08 or '09? It used to be a hood hit but I didn't know how to promote it. How was I gonna promote it? How was I gonna show the world my hood, my whole life in five minutes? I didn't know how to do it until I just wrote out the video schemes and did it.
Well tell me about Funktown.
It's a beautiful place, at times. It's wild, it's the wildest place. Funktown a big ass hood. It's a community, we love each other. If individuals don't know, this is really one of the first hoods ever made in Oakland.
Can you tell me a little about that history?
I ain't finna get all into it. [Funktown U.S.A. leader] Harvey Whisenton, Harvey Whisenton.
What are your earliest memories of growing up there?
Just being crazy on the roof of Franklin [Elementary], throwing eggs at cars. Kid shit!
Where did the neighborhood get its name from?
Shit, from gettin' funky. You know it! Real funk. It was the funk era. "You jive mothafucka." That was what they was on. It was a big part of [the music] too.
"Now funk music's starting to be cool again. You see Bruno Mars. Our shit getting cool."
Is that what draws you to stuff like Whodini?
Back in the '80s they was off that shit! You gotta remember I really got it from Mac [West Oakland street legend Mac Blast, whose own freestyle to the Whodini track is sampled at the beginning of Ezale's version] when he said: This when them Funktown niggas came out. I was like, Yeah, that's hella tight, took that. We got the Whodini beat and just started adding kicks and shit on Reason, just soused it up.
It's tight how you've adopted the sound of that era and ran with it ever since.
Hell yeah. But it's crazy cause it's like… I ain't even adopt it. What do adopt mean? When a person adopts a child? This was already in me, baby. This is us. This funk shit wasn't cool! It was another whole different realm of music. Now funk music's starting to be cool again. You see Bruno Mars. Our shit getting cool.
What type of music do you listen to typically?
Shit, real funk! I ain't gonna lie, I don't like listening to a lot of mainstream shit. I only listen to a lot of Bay Area music. Young Chop, Idaho Jdoe, Lil Blood, Lil Goofy. I like our shit. Even niggas from out the way too. [Vallejo rappers] Cousin Fik and Nef The Pharaoh. This Bay shit cool. We fuck with it all. Tony! Toni! Toné! That era. I like finding shit that's from the soil, that's from right here. Like the song ["Time Brings About Changes"] I found from Mickey Moore [an '80s Oakland drug kingpin turned pastor]. You know when he was in that group [Numonics]? "I remember when… you used to wear your hair in braids..."
What does the average day in the life of Ezale look like?
Right now? Shit man. Smokin' [coughs], trying to enjoy life. I don't know, every day is different. It's hectic, a whole bunch of ruckus.
Well it seems like you've got the right energy for dealing with that.
Bruh, I could run for a hundred miles off a hundred grams. But no, for real, I just be all over the place. What really be hard, who go through the hectic[ness], is the crew. Everybody going through a headache because it be so many creative things going [in my head]. I just watched The Dave Chappelle Theory about his third season and he was like, "What people don't understand is it's a tremendous amount of work that goes into this show." People don't understand it's a tremendous amount of work that goes into damn near every project that somebody put out. Niggas be stressing! You gotta make sure the songs is good, you gotta make sure your album cover right. It's just so much, hella shit. But for an average day, I don't know, shit. Get high, go to the nest, be creative.
You're pretty candid about drug use. Do you ever worry about putting that information out there?
Yeah, you gotta think about it. I do a lot of shit. But it's like… you want a fat chef and a buff personal trainer. So I'mma turn up. What, you want me to fake turn up and act like I don't do these things? I'm the real thing. I can't be fake. I do drugs, I get high as shit, but I'm righteous. I love these kids, I love my hood. If I see some suckas coming around here, we on 'em. Don't bring that shit over here, brah. It's like that. It's all fun and games, but this shit is real, this shit is still Oakland.
How did you end up linking with DJ Fresh?
Cousin Fik made the play. We always loved DJ Fresh. To an Oakland nigga back in the 2000s, that was Mannie Fresh! He was making slaps with everybody, and whoever he was making slaps with, it was bringing that person to a certain platform to make you think like, Oh shit, that person made it. But Fresh was touchable, feasible, I could reach him. I didn't know that at the time.
Me and Hawk, we got something going on right now. We bringing that [sound] back, that shit that never left. Uh uh uh uh uh. It's on the right path. Fresh, he already seen it. He OG, he Mr. Miyagi. He really let me do what I had to do on this, and I think it's doing good. For it to be a CD. For me to only drop one project [previously] then drop something like this, I think it's going pretty good.
It also seems like you keep to yourself in a way. Not just in terms of focusing on full length projects but I don't see you doing many features either.
That's cool or that's weak about me?
I think it's cool!
Alright, hell yeah. I needed that.
How'd you end up in the Kendrick video?
I'm in that video?! [Laughs] Well look, [director] Collin Tilley was there. He really was orchestrating niggas and let me go in the front regardless. But what's hella funny is Kendrick heard me saying "CTE!" Ain't that their shit? No it ain't CTE, that's Jeezy's shit! I said "TDE! TDE! Kendrick!" I'm goin' crazy. He already see me, I'm going crazy, doin hella shit. I see Kendrick, I'm hitting him in his chest, giving him hella love. So he was like, "Yeah, we need him in the front." And it was a few slithering snakes about to get in front of me, but I was like, 'Hold up, back up.' So I was in the front. But yeah, that was tight. I just went down there and it was cool.

That probably increased your visibility a lot. Does getting recognized as a rapper change the way you go about your life?
Is you trying to say it like I'm hella famous? Is that the question?
Well you're definitely recognizable. Just walking up the street I saw a couple strangers stop you.
Hell yeah. It can be hard. Especially when you trying to do some normal shit, like move your car because it's street sweeping. You in your draws, sleep in your eye, no shirt, running to your whip. Niggas like "Aye!" Come on brah! But it's gonna get bigger in a minute.
Where do you see things going in terms of your career?
Shit man, shit. Man, shit. To the top, brother. I don't know. [I've got] more shit with Hawk. We writing raps, making beats, doing something, staying up. We just using music as one platform and bouncing out of that — movies, voiceovers. United progressions, that's what we pushing. That's what we live by, that's our code. Making sure we always up and being productive.
I'm just trying to represent my hood and the city of Oakland the way it's supposed to be seen in the light. Just trying to be perceived in a way where a nigga can be like "Aye, them Oakland niggas is cool." We cool, brah. We'll still get on your ass but we really cool. I'm trying to have enough finance to rebuild this shit, to put more money into it. Making Oakland known to where it's like Miami. Making Oakland the spot. This where the best athletes come from, the best whatever. I want it to be like that. It will never get better if we don't start embedding [these ideas] and letting the youth manifest on real righteous shit.