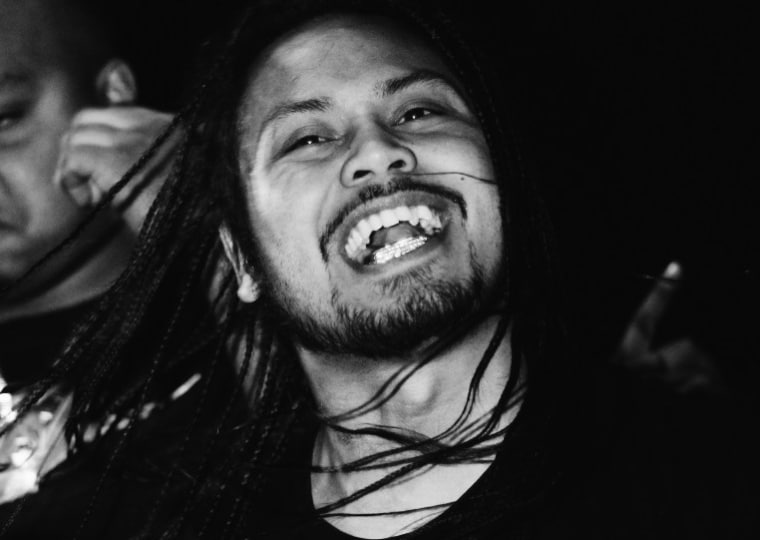 I still remember the first time I watched Ezale's "Five Minutes Of Funktown" three years ago. His remix of an '80s classic and sheer exuberance made me push aside all the questions I had — where he got that fancy bulletproof vest, for one — and just enjoy myself. Later, Ezale would be revealed as a rapper from Oakland with a mixtape called Drug Funnie, and today The FADER is premiering its follow-up, The Tonite Show with Ezale. This is the latest addition to Oakland producer DJ Fresh's Tonite Show series of tapes, and collects "We Want Some Pussy" and "Day Ones." And luckily, on The Tonite Show you can still hear Ezale grinning through his raps; whether that's because of his naturally impish personality, the substances he extolls on record, or the golden retro funk underneath him is irrelevant. It's just good to be back in Funktown.
In an email to The FADER, Ezale wrote that he was humbled to have his own edition of The Tonite Show. "For anybody in the Bay Area growing up, you damn near thought anyone DJ Fresh did an album with was signed. And I thought they were signed to a major label. That's how much I loved DJ Fresh. I always wanted to do a Tonite Show and I knew that if I ever got to do one, I wasn't gonna play with it."
And why does he use so much music from the '80s in his songs? "I like to sample real music with songs that have messages that move you. For the project, I got Teena Marie, Alexander O'Neal, Surface, New Edition (must be from the era when Bobby was still in the group), and Cameo, one of my favorite groups in the world. These are just a few that I'm looking at from my record collection, REAL RECORDS - the kind that you can sling out your window and shoot with a shotgun."