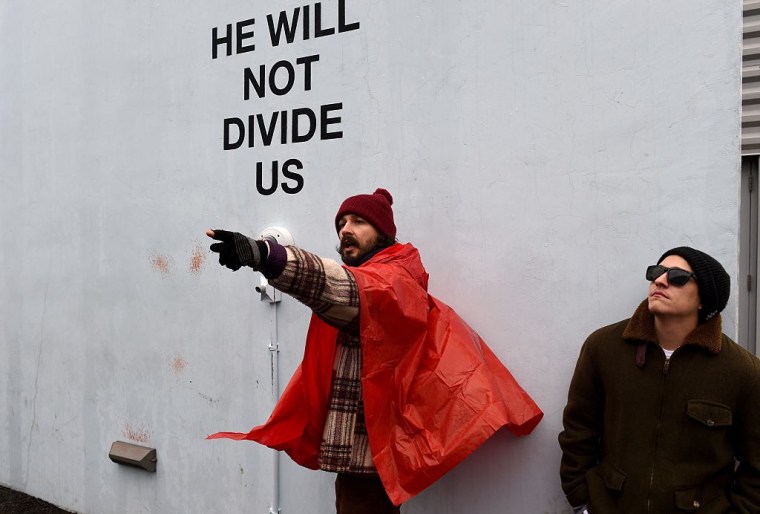 Shia LaBeouf was arrested by police Wednesday night at the site of his new performance art piece. As reported, "He Will Not Divide Us" is an installation in Queens, New York where a camera will broadcast live footage of passers by repeating that phrase for as long as Donald Trump is President. The project has already been targeted by white supremacists, one of whom LaBeouf clashed with earlier this week.
The same thing happened again on Wednesday, only this time LaBeouf was taken away by police in the aftermath. As The Guardian reports, the official Twitter feed for #HeWillNotDivideUs shared a 13 second video in which the actor briefly shoves a man who addresses the camera with the words "Hitler did nothing wrong."
Shia LaBeouf has been arrested by NYPD, because of this video #HeWillNotDivideUs #FreeShia pic.twitter.com/Sj8RqP7uGm

— #HeWillNotDivideUs (@HWNDUS) January 26, 2017
Later tweets from the same account expand the report by saying: "Shia was attacked by a Nazi. Shia got arrested. Nazi got away."
Shia LaBeouf just got arrested on livestream after an allegedly attacking Neo-Nazis #FreeShia. #HeWillNotDivideUs pic.twitter.com/uQ81TyyZQM

— #HeWillNotDivideUs (@HWNDUS) January 26, 2017
Since the arrest supporters, including Jaden Smith, have been tweeting #FreeShia as a show of support.
January 26, 2017