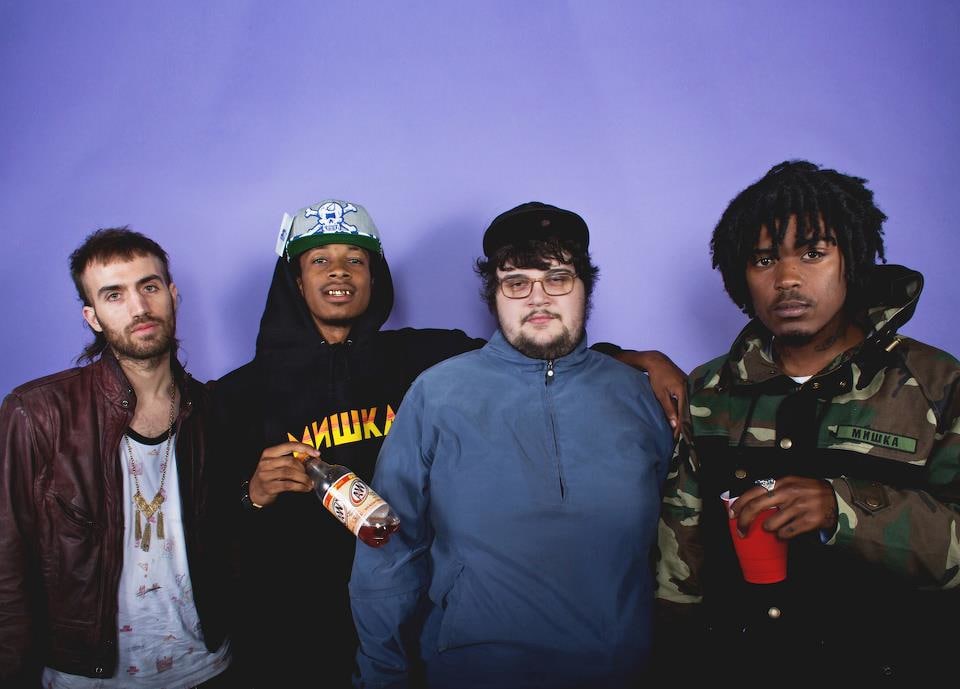 On Sunday night, the news broke that James Laurence — one half of Bay Area production duo Friendzone — had passed away at the age of 27. As Friendzone, Laurence and his production partner, Dylan Reznick, had pioneered a sound that was coined as "cloud rap," borrowing from seemingly disparate influences like Italian ambient producer Gigi Masin and Japanese pop group Perfume, among others, to soundtrack rap songs for Main Attrakionz, Yung Lean, A$AP Rocky, Mykki Blanco, as well as their own solo albums and mixtapes.
Oakland rap duo Main Attrakionz were Laurence and Reznick's closest collaborators, combining for some of the group's earliest tracks and producing the entirety of their 2013 full-length album, 808s & Dark Grapes III. Speaking to The FADER on Monday, Squadda B and Mondre M.A.N. of Main Attrakionz remembered James Laurence as a brilliant musician and loving person, who lived for making music with his friends.
Squadda B: He hit me up on Twitter and we DM'd about it for a minute. They were new producers at the time. They hit me saying how much they loved my stuff and they felt like we could vibe with them. I heard their stuff and it was like, "Yeah, we could work with this." We went out there and they were just super loving — let us come record, smoke, all this shit.
We vibed with the sound super easy. All the stuff that y'all heard was in the first two sessions of us recording. "Rap Paradise," "Perfect Skies," a lot of that stuff came from our first time meeting. We did it super organic. We didn't go through no email, we went to go meet up with them and record at their spot. That was like, a risk on our part. You know, Moms was like, "Don't be meeting up with people off the internet." But we did it and it was the shit.

They had [their sound] packaged already. It was so consistent. They had found their zone and it only grew. Any time we went over there to listen to a new batch of beats, it was consistently hard and it was original.

When we would go over there, we'd record but we'd also geek out to the latest music that was out too. That was the thing about James: We made music together, but we were fans of music first. A lot of times we'd just be in there, smoking and joking, watching music videos, talking shit. That was what fueled a lot of the sessions. We'd record six songs, seven songs at a time, running through beats for like five hours and we'd wanna chill.

It's crazy. Like we have shit going on and we want them to be a part of it. It's the same thing when [A$AP] Yams passed. It was like, "Damn. So Yams not gon' be able to hear the future of the music that he loved so much?" It's the same shit with James. We gotta keep doing it for them and just know they were the people who gave a fuck. They were people that wanted the music to be a certain way, a certain quality, a certain freedom, a certain expression. James was one of them people. It's sad to lose that. It's sad to lose life period, but as far as music goes, we all took a loss.
We all wanted the music to be beautiful. We all searched for that, we all studied that, and put that over everything and anything. James didn't have to make 3,000 beats. He was studying every day.

He was dedicated. First and foremost, he was loving and kind, but he was dedicated. It was right there on his face. He was about the shit, about the music. He was a dedicated musician. Those are the type of people I'm inspired by. He gave a fuck about music. A lot of people, I can't say that they don't, but I saw it instantly with James. That was one thing about hanging with him every day or talking with him every day: He gave a fuck about music. It wasn't just music to him, it was everything.
Mondre M.A.N.: It doesn't seem real to me yet. Another day, and another question to ask God why.
Squadda met James first, he did a couple joints with him. Then one day, they just picked me up and we headed to the studio. The first time I heard his music was when "Perfect Skies" got made. I think that was damn near one of the first songs we made together. I never heard their type of shit before. [Making music] with him never felt like work, we was always just chilling. Deep down in my head, Main Attrakionz and Friendzone felt like the same people.
It was like a puzzle when we made 808s and Dark Grapes III, we didn't even know what we was doing at the time. We'd go over to their house and just record, and it came together. It felt like a beginning. We still have a bunch of unreleased stuff from that project.
Me and James, we had our own type of relationship. He always put a smile on my face. We'd talk about our problems with women, video games… One time I remember sitting with him, listening to the Mortal Kombat soundtrack and liking the Sub-Zero tune. I sat and watched him sample that motherfucker, man. He'd get in his zone and I'd leave him alone. And that shit came out crazy. I learned a lot from him.
Friendzone definitely influenced a lot of producers, whether they know it or not. A lot of people was hating on them, I was almost jealous, like "Damn, Friendzone got more haters than us!" But that didn't stop them, because nobody was doing what they was doing. A lot of young producers took their styles and ran with it. And I hear the Friendzone influence in a lot of their beats. But they made their lane and demolished it.
I don't even know if there's such thing as friends no more, but he wasn't my friend, [James] was my family. That ain't no producer to us. Everybody's been distant lately and for us to come together over some shit like this… There was a star inside of his heart that made you feel welcome. Can't nobody take his place, and not too many people can do what his did. He's gonna live forever, because up here it's a cloud lifestyle, and that cloud gon' forever be here.