Stormzy's "Big For Your Boots" Director On Why It's So Important To Show Another Side To Grime
Filmmaker Daps explains the powerful statement that the MC's video makes about U.K. culture today.
Stormzy's "Big For Your Boots" video is a multi-layered tribute to the complex and contradictory corners of his London home. The U.K. MC perches on the counter of a fast food chicken spot, dances in a typically-British pub with his crew, is flanked by a squad of powerhouse women and squares up to gang of white young men on an estate.
The video for the Gang Signs & Prayer lead single was made by Oldapo Fagbenie, a.k.a. Daps, a Nigerian-British filmmaker originally from north west London who recently directed Migos's "Bad and Boujee," and co-directed "T-Shirt" with Quavo. The FADER spoke with Daps on Friday night over the phone from Los Angeles, to chat about "postcard London," Morely's Best Fried Chicken, and how Stormzy represents the diversity of Britain today.
---
How did you first connect with Stormzy?
I met Stormzy years ago, back when I was making music. [U.K. hip-hop producer] 6ix was mixing my songs for me, and [Stormzy] was there at the same time, [also] getting his songs mixed by 6ix. There were talks last summer of doing some work, and then he just DM'ed me a couple weeks ago like, "Yo, let's go." He kind of left it up to me. I just wrote out a couple of paragraphs and sent it to him on WhatsApp.
So the shoot was only a couple of weeks ago?
Yeah, we shot the video like, 10 days ago. We shot it in one day. It was a long day — 18 hours or something. We just got it done.
What was the energy like on set?
It was crazy. [Laughs] I just forgot how popular Stormzy actually was, because I met him years ago. Wherever we went, there was throngs of people everywhere wanting to touch his shirt or take a picture, like everywhere. I was like, 'Oh shit, this is actually a big person.' You forget because of how cool and normal he is.
Stormzy's girl squad are shown in an empowered way; they're not just there to look hot. Whose concept was that?
That was me. People have girls in videos always looking a certain kind of way, so I wanted to actually have them looking like the guys in the video — dressed in streetwear, on the block, acting rowdy. All those ladies are really cool, and really down for the project and for the cause.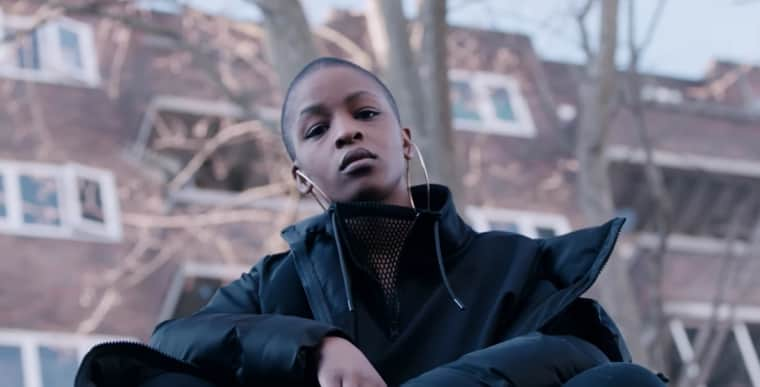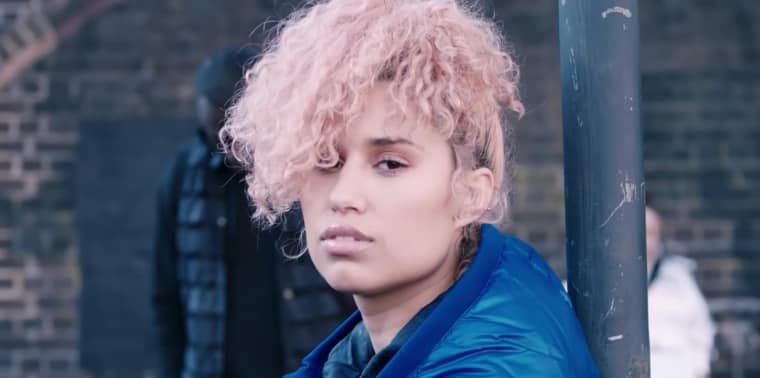 "Stormzy's for the people. Stormzy represents coming from nothing to something. Stormzy represents minorities."
In the first fifteen seconds of the video, you see an England flag. In the final few frames, Stormzy confronts an all-white gang. Was the video a deliberate political statement?
Those are just white guys with shaved heads. They were literally cast from a casting agent — those are all actors. There was no deep political statement there. I was just creating a contrast of skin tones, really.
It's interesting to hear you describe the confrontation in that scene as a purely visual thing, because I read it as political symbolism.
I mean, obviously you can read into it as to why there was that look [on the gang members' faces]. That wasn't a mistake. But it wasn't political either.
Can you tell me about the scenes with the police car going over Westminster Bridge?
We'd been in pubs and estates for the whole video then boom — you quickly cut to postcard London. When people come to London to shoot a video they always want to [be like], 'Here's Big Ben, here's the London Eye.' It's normally so cheesy, so I'm thinking, What's a way to do it where it's actually kind of abrasive?

Why did you choose to shoot in [south London chicken shop chain] Morely's?
I feel like [Morley's is] one of the most popular places to get late-night food or a snack. What's funny is that I actually wanted The Chicken Connoisseur to be in that shot, but it didn't work out. It would've been funny, but in the end, it's actually his girlfriend in there [Maya Jama].
At a time when British national identity is a topic of much conversation, it's great to see a London artist embodying a version of the U.K. that feels authentic. What do you think Stormzy represents?

I think Stormzy's for the people. I think Stormzy represents the youth, I think Stormzy represents coming from nothing to something, I think Stormzy represents minorities, I think Stormzy represents entrepreneurial spirit and self-confidence. You can be you and do what you wanna do and still get recognized by the establishment. That's what Stormzy represents to me.