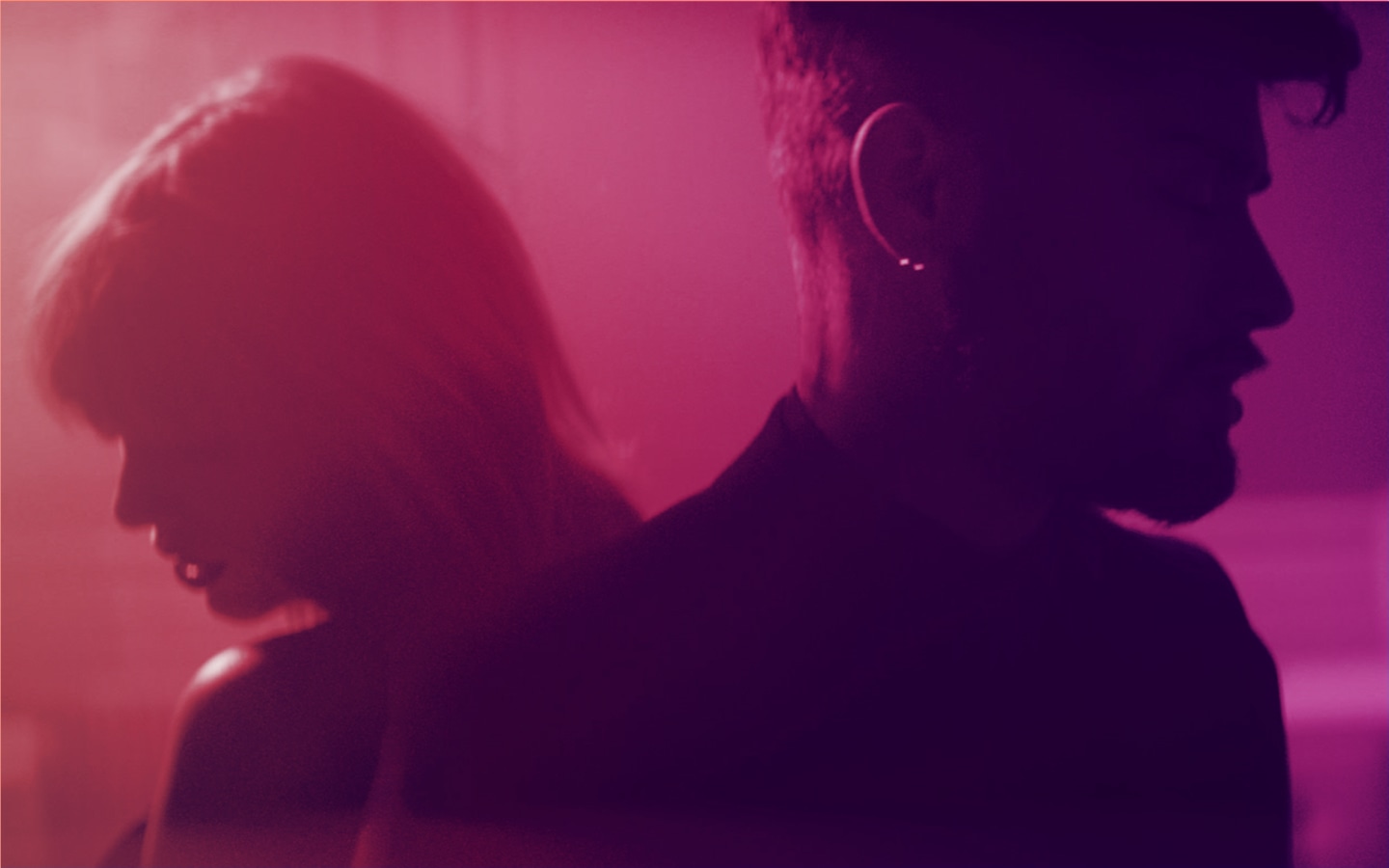 The storyline of Fifty Shades Darker, the follow-up to erotic blockbuster adaptation Fifty Shades of Grey, doesn't initially seem that much darker. While the first film in the trilogy showed moody protagonist Christian Grey (Jamie Dornan) seducing the oblivious Ana (Dakota Johnson) into the world of BDSM, Darker, out February 10, wanders more into the realm of classic Harlequin romance. In this instalment, sadistic lone wolf Grey attempts to abandon his BDSM lifestyle, and — spoiler alert — eventually proposes to Ana. It might be a more conventional romantic model than the first film, but in the context of Ana and Christian's toxic relationship, it's also much more unnerving.
For the most part, the Fifty Shades Darker soundtrack album (also out February 10, via Republic Records) follows the same lovey-dovey trajectory as the film: less dirty talk, more sweet nothings. The first movie's soundtrack, released in 2015, had an undercurrent of seedy, forbidden sex. With mostly a slow and sultry R&B direction, the lyrics frequently played to the most desperate romantic tropes: Beyoncé recorded a husky, sinister version of "Crazy In Love," stripped of the horns and confidence of the original, while The Weeknd was featured on the tracklist twice. "I'm in control, when you give me your body," he sings on "Where You Belong."
The Fifty Shades Darker soundtrack is not as overtly tormented, and it's definitely not as filthy. In fact, for a soundtrack to the biggest erotic fiction franchise of the decade, it feels almost sexless. The only track you might consider adding to your bedroom playlist is Nick Jonas and Nicki Minaj's purring, lusty collab "Bom Bidi Bom." You could say the same of Halsey's "Not Afraid Anymore" (sample lyric: "Watching my dress now/ Fall to the floor") were it not for its menacing atmosphere and stadium-sized chorus. The album's pop-banger highlights come mostly in the first 20 minutes. In Zayn Malik and Taylor Swift's "I Don't Wanna Live Forever," Zayn's brooding falsetto chorus meets Swift's evocative imagery ("I've been looking sad in all the nicest places," she sings), while Swedish star Tove Lo floats through the catchy "Lies in the Dark."
The record is most disturbing when it offers pure and simple love songs — because Fifty Shades is not a pure and simple love story.
Still, the majority of this 19-track album treads safe, schmaltzy ground. Sia belts out a piano ballad built around a familiar visual metaphor ("Your love lifts me up like helium/ And if you let go, I float towards the sun"). British singer-songwriter Frances muses on the meaning of love in a soft-edged song fleshed out with cinematic strings. Corinne Bailey Rae delivers a lovely, if very straight, piano cover of Coldplay's "The Scientist," and John Legend promises to be a "One Woman Man" in a full-chested soul song. There's a dash of carefree tropical house on "Cruise," courtesy of Norwegian DJ Kygo and songwriter Andrew Jackson. Even The-Dream, writer of many a sex jam, croons about the price of true love on a rock ballad reminiscent of Beyoncé's "1+1."
While the majority of this soundtrack plays it safe thematically — and mostly avoids talk of sex, let alone BDSM — it feels sinister in a different way. As a standalone album, it wouldn't raise any eyebrows, but in the context of the Fifty Shades universe, anything that indicates that Ana and Christian's relationship is aspirational, or even normal, feels off. As the film's trailer insists, "EVERY FAIRYTALE...HAS A DARK SIDE." The most troubling part of this is not the implied darkness, but the suggestion that Fifty Shades is a fairytale at all.
Fifty Shades of Grey, both in book and movie form, has been strongly criticized by a long list of academics, critics, survivors of domestic violence, and BDSM professionals, who have highlighted the ways in which the story glamorizes abusive relationships. Kinky sex is not itself abusive, but what author E.L. James writes in her trilogy is not a healthy kink relationship. Rather, it's a story of a man who wants to control every aspect of his partner's life. Christian not only wants to whip Ana, but also wants to stalk her, control how much she eats and drinks, and dictate which birth control she uses. Rather than Ana and Christian both being informed, happy, and consenting in the bedroom, they're both portrayed as pretty messed up: Christian's into BDSM because he has unresolved issues from childhood abuse, and Ana, seemingly prioritizing Christian's pleasure over her own, goes along with his urges, even when she doesn't want to, or is in actual pain.
It's this power imbalance and bad communication that makes Christian and Ana's story so sinister — not the sexual acts themselves. Many BDSM advocates have spoken out about how little Fifty Shades resembles their lifestyle. "BDSM is about creating vulnerability, opening yourself up to your partner," a professional Dom told The Huffington Post in 2015. "Christian continuously violates [Ana's] trust and her ability to feel safe...any person in their right mind would get out of a relationship that's like that."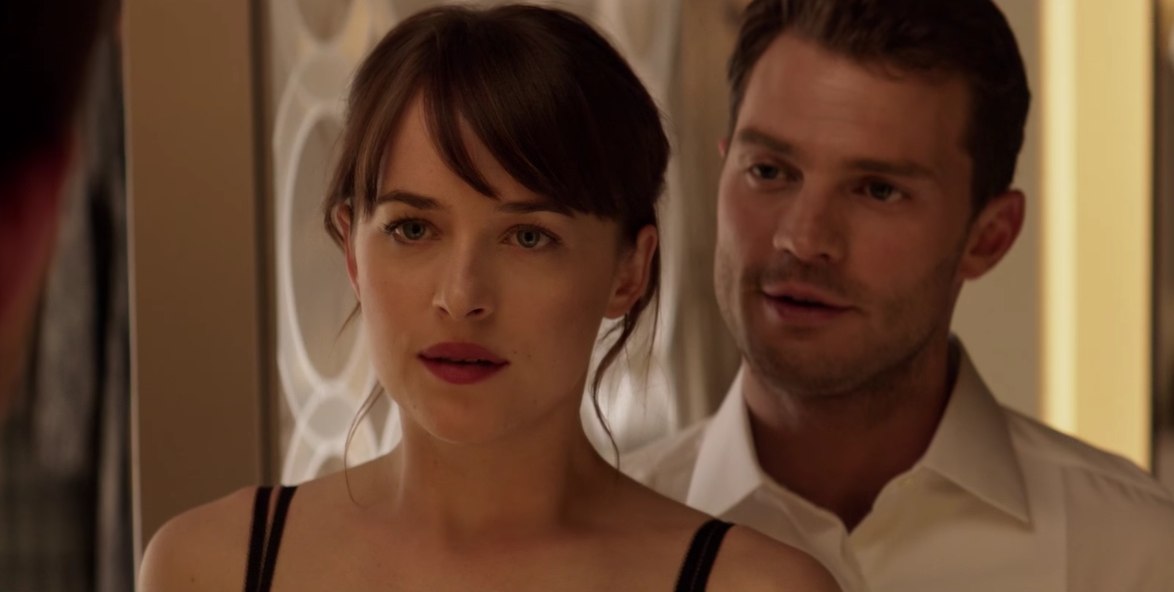 With Fifty Shades Darker, this problem only becomes more enhanced. By pushing the narrative that Christian Grey is "changing," and the story is becoming a "fairytale," the second part of the trilogy upholds a central myth of abuse: that abusers, if forgiven, will change their ways. U.K.-based initiative Fifty Shades Is Abuse, who protested at the premiere of the first movie and plan to do so again at the premiere of the second, put it this way on Twitter: "Hoping an abusive partner will change is something that keeps people in toxic relationships. The 'Grey changes' defense is unhelpful."
This unhealthy dynamic casts a harsh light on the accompanying soundtrack. Sia's image "I'm stronger/ 'Cause you fill me up" brings to mind the feeble, empty portrayal of Ana, who overlooks her own happiness for Christian's. When Tove Lo sings that "Love and pain go hand in hand," or when The-Dream claims "That's what I get for loving you," the words can so easily be imagined coming out of the mouth of someone in a desperately toxic relationship.
While the music might have lost its sinister edge, the second Fifty Shades album is more dangerous than the first. The record is most disturbing when it offers pure and simple love songs — because Fifty Shades is not a pure and simple love story. The fact that this film and its album are debuting around Valentine's Day only bolsters the idea that Ana's and Christian's is being marketed as the ultimate romance. Between its piano-led ballads and joyful tropical house, this album signals the transformation of the Fifty Shades series from a sordid sexual fantasy to a legitimate romantic one — idealizing an abusive dynamic in the process. It doesn't get much darker than that.