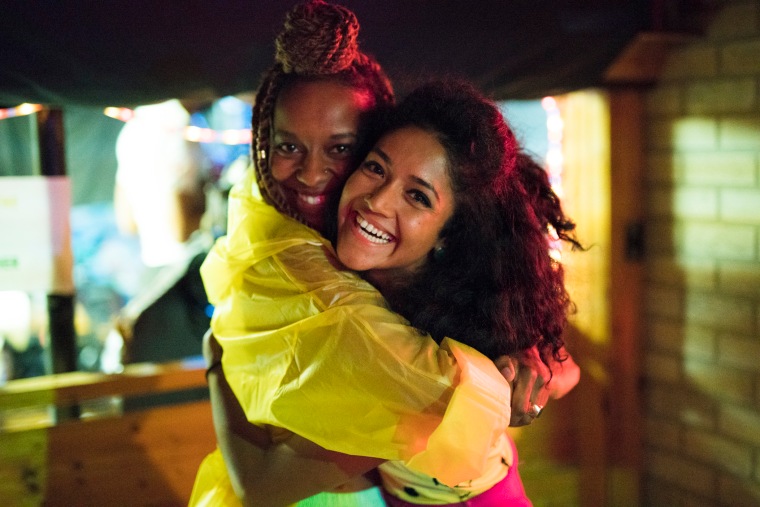 In 2016, the storytelling in comedy-dramas like Atlanta and Insecure stood out because they brought something honest and rare to television: young people of color telling their own stories. In their lineage, director Sam Bailey and writer Fatimah Asghar created a web series called Brown Girls, an intimate story of two friends navigating the messiness of their twenties in Chicago.
Brown Girls is based on the real life friendship of Asghar and series music consultant and GEN F alumn Jamila Woods. Leila, the character based on Asghar's real life, played by Nabila Hossain, is a South Asian Muslim writer freshly owning her queerness; Patricia, who is played by Sonia Denis, is a sex-positive black musician struggling to commit to her job, art, and relationships.
To be clear, this isn't the "brown version" of Lena Dunham's sitcom — "People started hearing the title and being like, 'Is it like Girls?'" Asghar told The FADER. "And I was like, 'No! I haven't seen Girls.' If anything, my beef with it is through my friends, [who are] women of color let down by the series." This team, comprised almost exclusively of women, queer folks, and people of color, has a different vision in mind.
"The young women remind me so much of the interracial friendships I have and how they really help shape the woman I am," Bailey, the series's director, told The FADER in an email. "It's rare for us to see women of color of different ethnicities sharing space together, especially in a loving way-without much conflict."
Asghar thinks these representations have become ever-more critical in the era of the Trump presidency: "In politically turbulent times, these representations are important as we're being silenced on an identity level." But she recognizes that her latest offering is a big win in a long history of not being seen.
"For all people of color it's been hard, for like, ever in this country." Asghar said. "Writing this came out of seeing my friends at Black Lives Matter protests, fighting tirelessly against this machine you feel like you can't win against. I think the whole mission of writing this is providing joy — seeing a room full of my friends laughing for an hour. Having joy is what arms you to fight."
Asghar, referencing Issa Rae's pre-HBO, self-produced web series, The Misadventures Of Awkward Black Girl, is optimistic about the heights Brown Girls could reach. "Both [shows] have writing rooms and directors/creators attached that are filled with people that look like the characters they're representing, and I do think that makes a big difference," Bailey added.
Those affirming examples only fueled her crew's momentum.
"We're really excited about the potential of a second season, because there's so much that's ripe to explore," Asghar said. "This is the first of what's to come. We're hoping to keep growing and growing."