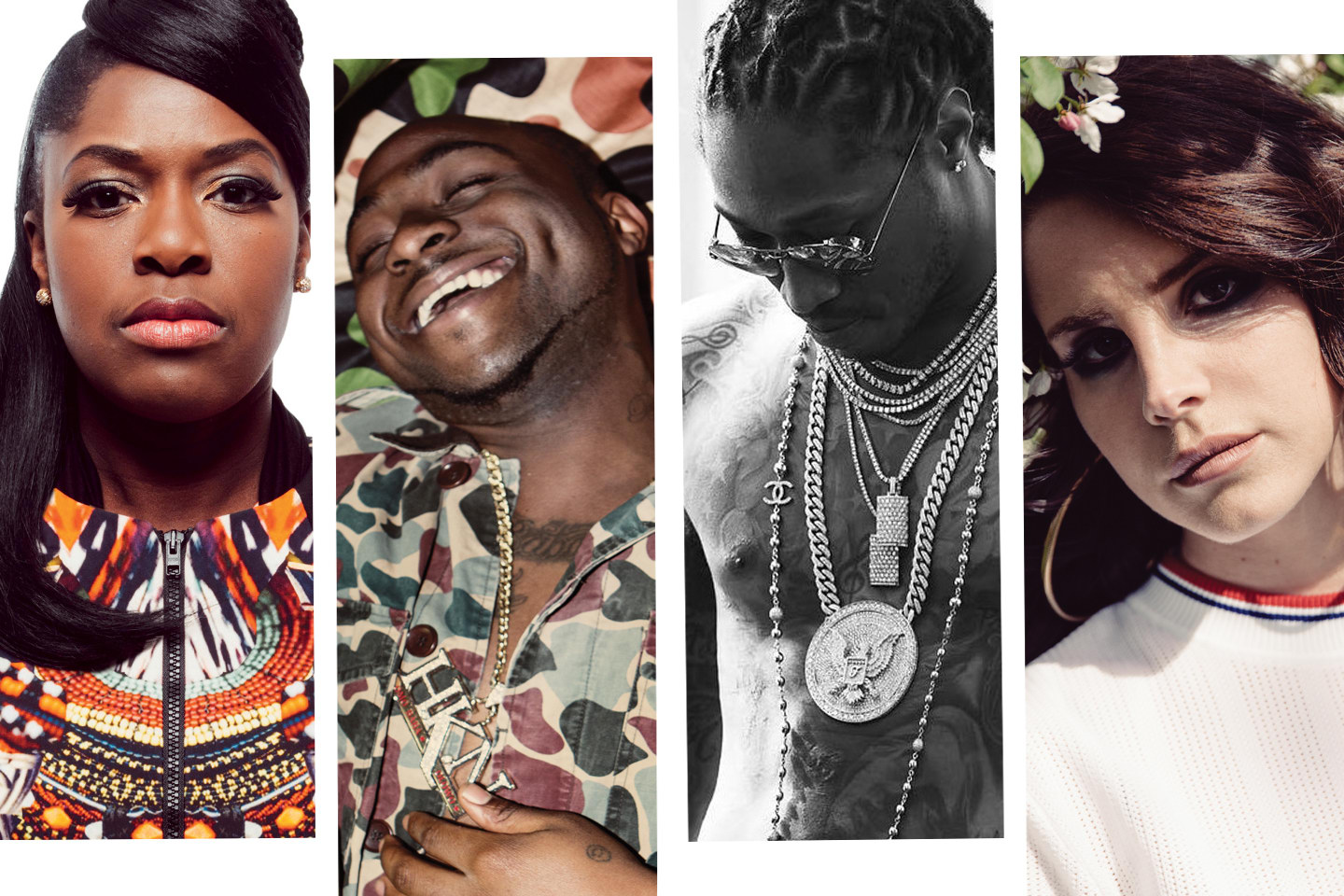 1. Future's self-titled record sees the man on a braggadocio stride, as evidenced by one of our first favorites, the high-flying "Draco."
2. "Love," like all the best Lana Del Rey songs, balances quaint nostalgia with veiled fatalism; it's exactly the kind of widescreen escapism we've been craving.
3. On "Dark Red," young Steve Lacy, sounding soulful as ever over masterful grooves, grapples with heartbreak and self-doubt.
4. "Lil Kodak they don't like to see you winnin'/ They wanna see you in the penitentiary," goes Kodak Black on his reflective "Tunnel Vision." The official video is a political smack in the face — burning cross et al.
5. MadeinTYO and Big Sean rap about Gucci and diamond McFlurrys on "Skateboard P," which is a jam-and-a-half.
6. Lifted by soft trumpets and a breezy beat, Davido's very romantic "If" is just as radiant as the Nigerian star's wide smile.
7. London duo AJ x Deno are a force of rap and R&B, respectively, and "Ride or Die" is a Gen Z take on all the best loved-up anthems.
8. After funk legend Junie Morrisson passed away, Sporting Life put a gentle spin on Kanye's "No More Parties In L.A.," looping the Junie vocal samples alongside some wistful-feeling keys.
9. Tory Lanez and fellow Torontonian Pressa hooked up for "Oh My," a silky "DTF" track that makes us wish it was Friday, really really badly.
10. Kirk Knight's "Magic Mirror," which just got a video, is like a moodier version of MJ's "Man In The Mirror" — a song you can sway to while also getting really pensive about your life.
11. Here's a very Montreal collaboration: Jean-Michel Blais and CFCF mesh their classical and electronic sensibilities to magnifying pop effect on "Hypocrite."
12. Doom metal band King Woman's "Shame" is a sludgy power ballad that sounds like an overcast afternoon feels: beautiful in its bleakness.
13. New wave-afropop fusion? Yes please. Ibibio Sound Machine's "Give Me A Reason" hits all the right notes. For the most lit parties only.