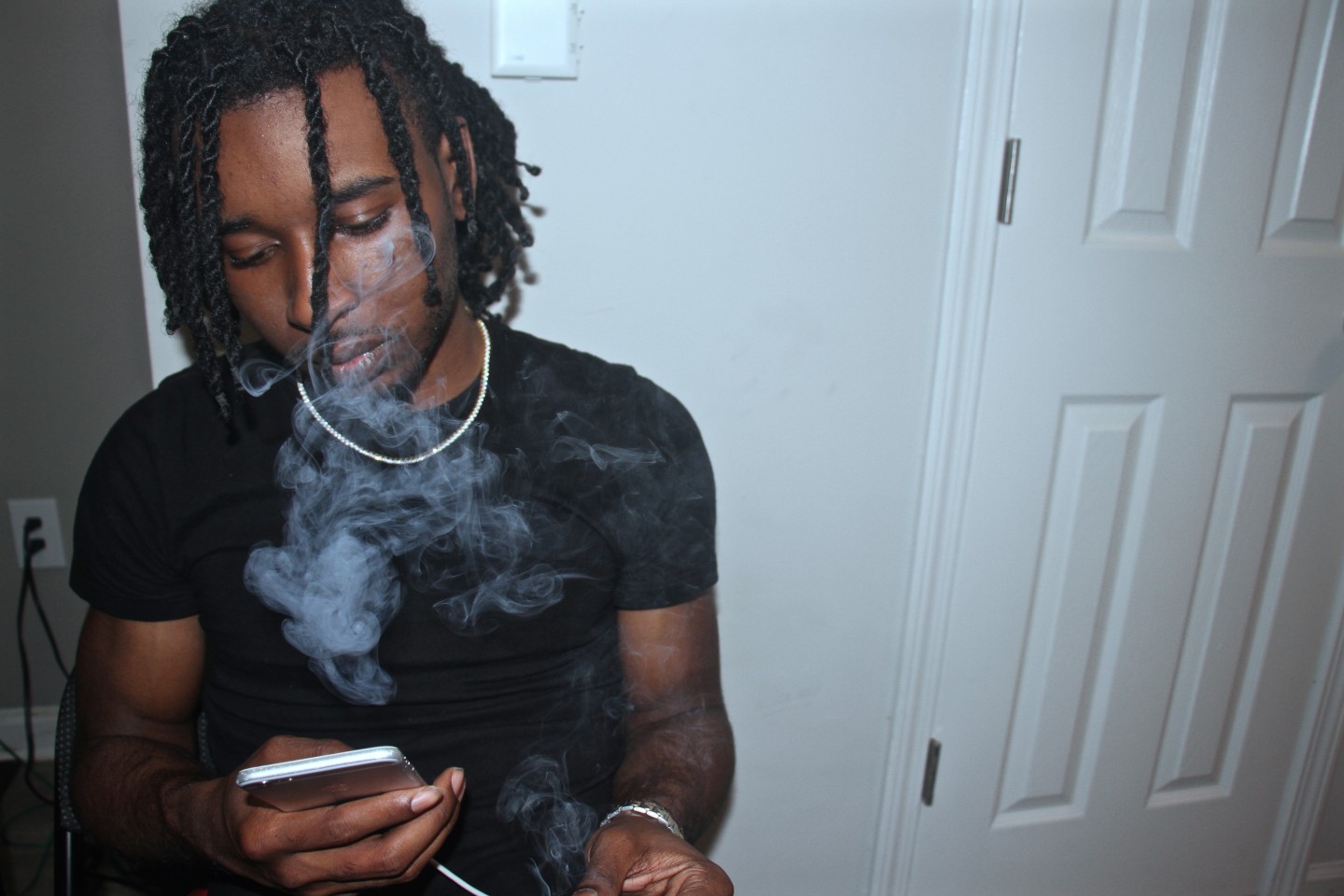 Courtland Johnson, better known as producer Spiffy Global, was born and raised on Atlanta's Cleveland Avenue. Growing up in the city's public school system, he entered Atlanta's burgeoning late-aughts rap scene, first as a rapper and then as a producer for his close friends, like Rich Kidz and Johnny Cinco.
With recent placements like Jose Guapo's "Run It Up" and an executive producer credit on Hoodrich Pablo Juan's mixtape Master Sensei, Spiffy hopes to take his sparkling, ominous sound beyond Atlanta, and pay what he's learned forward to other artists. Over the phone, he spoke about the lessons he learned on YouTube, the scene at Quality Control's Atlanta studios, and the challenges young creators face when working independently.
---
What got you into making music?
My little brother, who's actually deceased. He used to rap. I always wanted to be with him doing it, so I started making beats. We got in a group in middle school called Splash Set. I was always interested [in producing]. One of the other members in the group was a producer. He was older than all of us. I asked him to show me how he made one beat that I could never [figure out]. He started by saying I was a bad learner, then he started fuckin' with me. I've been a producer for about 8 years, now.
What did you listen to growing up?
I grew up with my mom and grandma who raised me. My mom hated rap. She hated it — the lyrics. So I grew up on a lot of R&B. Those tracks are timeless. R&B songs from back in the '80s and '70s at times, you can listen to today. You still feel like everything can relate to your life.
I had three rap albums that my mom bought for me. I had 50 cent's first album Bulletproof, The Carter II by Lil Wayne, and I think I had College Dropout. Of course I heard the Goodie Mob, Outkast. I grew up on that, but I always had my own taste, and at the time it didn't include any Atlanta artists.
I used to listen to West Coast artists a lot. My uncle had Dr. Dre's The Chronic album. Dr. Dre was definitely ahead of his time. Some of his beats could still be used to this day to make great songs. He made a lot of good melodies. With a lot of Dr. Dre's stuff I used to think, "How the hell? What were they using in the '80s and '90s that sounds like this?" Not stepping on anybody's toes, but a lot of stuff today doesn't sound half as good as that. That whistle that all West Coast artists use, that one sound is like their trademark, and I can never find it! I can never find a program that has that.
What kind of gear do you work with?
I used to get on YouTube and listen to Zaytoven, Vybe Beatz, and Metro Boomin. This is very early Metro, probably when he came to Atlanta for college. He always used to make "behind the beats" videos and I would watch him. Metro is like six months older than me and I had never known anybody around the same age as me that did the same things. It's been interesting to see how far he's come in such a short amount of time.
Now I work with Fruity Loops, FL Studio. I tried Reason, I tried Logic, but I don't think I'd be producing if I was introduced to those programs first. FL Studio just seemed good for me at that time in my life.
What about FL Studio was such a good fit?
Around that era of of music, when Rich Kidz was happening, the underground wave started to really crank up in Atlanta. When I got into the [Atlanta] producer community, I noticed that everybody was using FL Studio. At first I wanted to change programs because I thought that using the same program would make me sound like everyone else. But once I really got my feet in the door, I started realizing it's up to you and your own creativity, to make your own style. I started to focus on my own craft and my own sound.
These days you work with Johnny Cinco and Jose Guapo quite a bit. What's your relationship with Quality Control, their label?
I'm a free agent. I'm not signed to anybody. [Johnny] Cinco and Jose Guapo are also from the inner city of Atlanta, so I always knew them in the streets. We always had a relationship with music, but we got closer when we began actually working together. Everybody else came together because of Cinco's relationship with QC.
You said you're a free agent, even after eight years in the game. Why?
I don't think anybody wants to stay a free agent, I just think it's always about the best situation. I've had several offers but I never really found a situation that fits me.
Anybody I've ever worked with, I like. I never force anything. I don't care how big you are. If I work with you, it's because I wanted to work with you, because I felt like we could make good music. I don't think anything should be forced. A lot of times I make beats alone, not because I don't like people around, but because it's like a hobby and a job, so I always want to be in the right mind to always do the best.
Jose Guapo's "Run It Up" was a huge record last year — the remix with Takeoff and YFN Lucci has over 11 Million plays. Tell me how that song came together.
QC's Coach K and Pee the C.E.O, they have a studio in Atlanta. Almost every night there's a session there. It was a late night: me, [YFN] Lucci, Cinco, Jose Guapo, Rich the Kid, I think the Migos were there. There are four rooms in the studio, and out of all the rooms we were in the smallest. I played the beat for Cinco, and he didn't initially like it. Then when I played it for Jose Guapo, he stopped me. He laid the hook down immediately. Flav — he's a big face now in the streets, and he used to be a part of the Rich Kidz — he actually gave Jose Guapo the idea of putting Lucci on the record. At first it was only Skippa Da Flippa and Guap, and it still felt like something was missing. So Lucci got on the last verse. I don't think any of us knew immediately what the song was gonna do, but we had high hopes and we knew it was a good song. The chemistry just felt right.
You executive produced Hoodrich Pablo Juan's Master Sensei project. It seems like the two of you have good chemistry.
I used to see Pablo and bump into him but we would never speak about music. Then Cinco and Pablo dropped a mixtape together. For our own personal reasons, I didn't have anything to do with the tape, but I would bump into Pablo and he would always tell me, "Man I wish I had you on me and Cinco's tape, it would have been better." We made the name and cover for Master Sensei in January 2016 even though we didn't drop it until August. It was always in our minds.
No two days are the same with Pablo. We always have fun in the studio. I make beats off my mood, and I was always in a positive mood with Pablo. He hates bad vibes. I never knew why some of my days would go they way they'd go, then I realized, "Damn, I must be around a bunch of negative ass people!" Pablo helped me realize that, and he used to tell me that I had good energy. I started realizing that people might be your friends, but if there's a bad vibe that comes with them, then you shouldn't be around them. I'm not saying you should cut them off, but that's something I had to learn.
So Master Sensei was not only a positive musical experience, but more or less a positive spiritual experience too.
It was a lesson. Master Sensei was a real journey. We didn't force it. We found ourselves recording so much that we kind of forgot like, "Damn we were supposed to be doing this damn project. We got like 30 songs!" When I really focus on a project, I put my heart into it. We hang and we go ahead and we kick it, because you get the best music when you know the person.
On that project, Nard & B, DJ Plugg, and DJ Spinz are all credited as co-producers. What does it mean to co-produce, in your case?
Before that tape, I had never made beats with anyone. It's weird. I think it's something you definitely need to experience, to learn how to play with others. The particular people that I did co-produce with, I had wanted to work with them. I used to always listen to a lot of Nard & B and Spinz — he's got a lot going on, but he's low-key with it. He's definitely someone I wanted to learn from.
Recently, you've been branching out beyond Atlanta and working with other artists from the South.
You can be big in your region and that don't mean nothing at all. Me working with artists from different states became a reason to get better at what I had going on.
You've mentioned before that you want to help rising artists in different regions with a mixtape series. Why is that important to you?
Yeah, the whole point of the [mixtape series] is to break the artists in a specific region. I just want to do whatever I can for them. I might come to N.Y. or Jersey, find that person that kind of stands out, and be that person that supports them. I was overlooked a lot and some people don't know how to deal with that. Some people feel like they aren't working hard enough. But they really just need that little bit of help from somebody on their side.
Was there someone that supported you in that way?
I don't really think nobody did that for me. Honestly, Metro, he reached out to me a couple of times. He shows me love, but as far as somebody putting me on the forefront? I always had to work for it.
What do you hope to achieve in the coming year?
Right now I'm working on my tape, Global Business. Everything on there's gonna be brand new, and exclusively produced by me. I'm working on Dae Dae's new single, this song that's coming up on his new project Five Reasons. 300 was interested in sitting down with me and talking further about that. Mostly, I just want to keep progressing. I want to wake up and make sure I'm doing something positive that's gonna move me in the right direction.