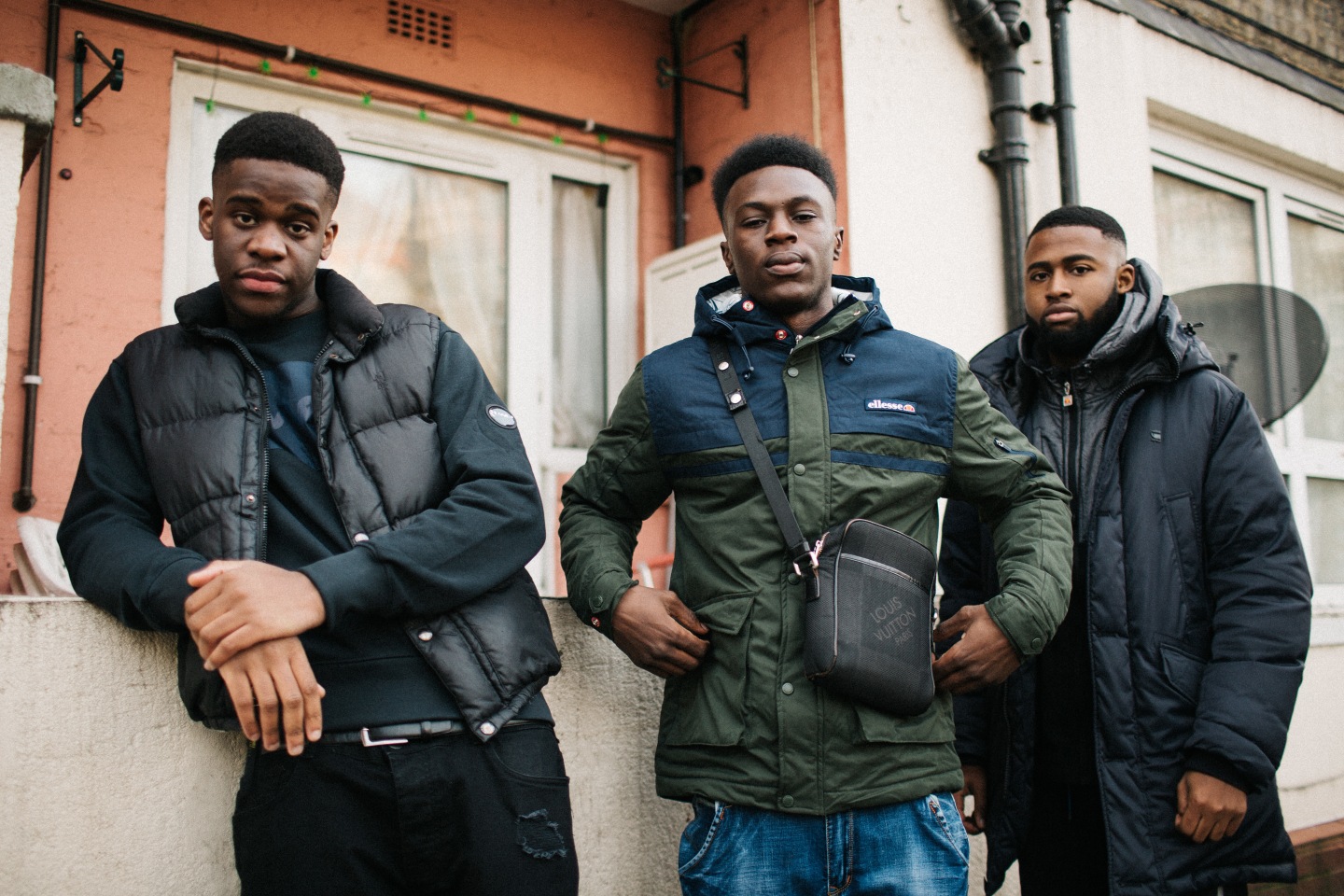 "When you hear our music, you instantly know it's us, because we've created that proper sick sound of dancehall, rap, and afrobeats," said Ross Jombla, a 20-year-old London MC and one-third of U.K. rap group Belly Squad. On a dark and chilly day in late February, the trio were describing their sound as we sipped drinks in a pristine hotel bar overlooking the Olympic stadium in Stratford, east London. Like their contemporaries J Hus and Yxng Bane, Belly Squad are blurring the borders between genres to create a new diasporic sound, weaving the street sounds of the U.K. capital with the afrobeat and reggae their parents raised them on. But when you hear a Belly Squad song, you instantly know it's them by the punchlines, the winking innuendo, and the need to hit replay on their irrepressible hooks.
The group also includes Ross's cousin Ty Jombla, and Yung Max (real name Remmi Maxwell), both 18. After forming at high school in 2014, Belly Squad began racking up followers by putting their own vibrant spin on tracks like Stormzy's "Not That Deep" and Travi$ Scott's "Pick Up The Phone." But it was the melodic, sultry dancehall of their original tune "Banana" that was their true breakthrough. Beginning life as a catchy (now-deleted) Vine loop in 2015, it quickly became one of London's hottest street tracks once they fleshed it out with proper afrobeats-leaning production by G.A. and flirty bars. The mellow remix, with verses from underground MCs Abra Cadabra, Young T & Bugsey, and the late rapper Showkey, has already clocked double the YouTube views of the original since it dropped in December.
Last week, Belly Squad served up their first five-track EP, also called Banana, showcasing five sharply defined tunes of bubbling afropop (including "Banana" and its remix). The FADER had a meandering conversation with the trio to find out how they turned a Vine loop into a street hit, and the ways in which their music connects them to their parents and their heritage.
---
How did the song "Banana" come to life?
TY JOMBLA: "Banana" popped after I posted a Vine two years ago. I sang the top line of the chorus, "Baby girl quit all the ban-tah-ah/ Come round and come take the ba-na-na." I think I captioned it "Mood," and uploaded it. It got bare loops.
ROSS JOMBLA: We got on the bus and heard someone playing it on loudspeaker. Then I walked past some kids playing it outside [supermarket] Tesco on their phones — it was mad! That's when we knew we had to make it into a song. My dad built a little studio in our spare bedroom. It's a decent set-up, and we've got an engineer who comes and works with us. We recorded "Banana" in there and it was produced by G.A. [a south-London based afrobeats and hip hop producer]. The video cost less than £500 to make and we put it out. The track wasn't listed on radio, but it started getting a lot of smoke online.
How has your background and cultural heritage informed your music?
TY JOMBLA: Music's been around me from early. My dad plays piano and the guitar. My parents are from Sierra Leone and Guinea, so I used to hear African music at home, stuff like P-Square, Sarkodie, D'Banj, and Wizkid. By the time I found [U.K. rap/grime music channel] Channel U in secondary school [in 2009], it was a straight grime ting. Skepta, N-Dubz, and Chipmunk were poppin', and all that music was on TV, YouTube, and on Limewire.
ROSS JOMBLA: Ty and I are cousins, and I grew up in Greenwich [south east London]. My roots are in Sierra Leone and Liberia, so I was around the same stuff as Ty, and I listened to a lot of afrobeat at home. I started to spit grime bars in year 8 [aged 12-13].
YUNG MAX: My dad was in [roots reggae band] the Revolutionary Dub Warriors, and toured in the 1990s. He's Jamaican and he listened to Bob Marley and Barrington Levy, so I guess that's where the dancehall element in our music comes from.
"I feel like we're pioneering a new sound. 'Banana' is a new kind of afrobeats." —Ty Jombla
Do your parents encourage your music careers?
ROSS JOMBLA: It used to be an issue but now my mum sees it herself — she's been on the train and sat next to people listening to "Banana." She's like, "My son did that!" When my parents saw our progression they said, "Don't give up, keep doing your thing."
With Yung Max studying creative media production at school full time, how do you find time to record?
TY JOMBLA: We'll link up in the evening and go to the studio, play a couple of beats, get some melodies down. We do everything between us, but producers help make the beats. We can spend all night in the studio. We'll start at 8 p.m. and go through to 9 a.m., just waving it.
Why do you think the afrobeats genre is having a moment in the UK right now?
TY JOMBLA: Afrobeats [has] been poppin' in the U.K. for a long time; there was Wizkid, Timbo [of South London collective STP (Struggle to Proceed)], and they were shutting down shows across London and the Midlands. I feel like we're pioneering a new sound. I feel like "Banana" is a new kind of afrobeats. You can hear our influences and what we were raised listening to.
YUNG MAX: It's where we live in London now, and [our heritage] in Africa and the Caribbean coming together. We don't want to be giving out [copying] what next man's doing. In the long run it won't get us anywhere.
---