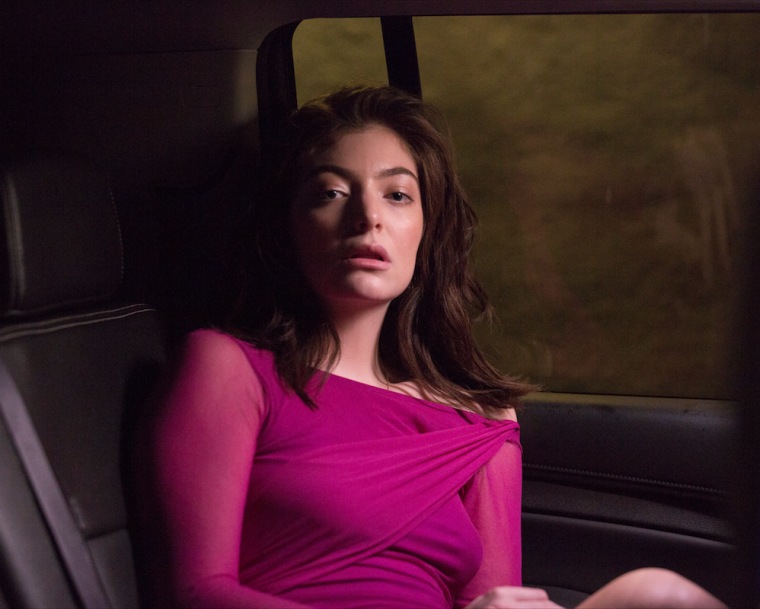 Lorde has given her first interview off the back of new single "Green Light," and hinted at what to expect from her upcoming album Melodrama. After teasing her new video with screening events in New Zealand, and sharing a clip of the visual online, Lorde released the video for "Green Light" yesterday.
Speaking to Zane Lowe on Beats 1 shortly after the premiere, Lorde explained that "Green Light" is a breakup song and was inspired by her first experience of heartbreak. "This is that drunk girl at the party dancing around crying about her ex-boyfriend who everyone thinks is a mess," she said of the inspiration behind the song. "That's her tonight and tomorrow she starts to rebuild."
Lorde went on to talk about her second album, Melodrama, which is slated for a summer release. The record was made in collaboration with Jack Antonoff of Bleachers, someone Lorde said pushed her "to make stuff that is better than anything either of us have ever done."
"We are totally like best friends and family at this point," she told Lowe. "We've spent 18 months every day together working on this recording in his house. We wrote the song together. Oh God it was just such a collaborative thing with him. He's so wonderful and totally understands me and is such a great listener. And the stuff that we've made I just really feel like we've pushed each other to make stuff that is better than anything either of us have ever done. I tell him everything, he knows everything about me. And it's a very special kind of rare thing that we have."
Speaking more specifically about "Green Light," Lorde added: "We produced it together, we've produced the whole record together. Then the wonderful boy wonder Frank Dukes came in and gave us the little drum break. He's a tiny little boy wonder, always in his little hats and stuff. So the production was a big thing for me [on] this record. I'm a producer on every song. And this song in particular, it took us so long to kind of craft what it was. My role as a producer is I am an editor. I will pull that away or I'll push that forward. And when I listen to this it's cool for me. I'm like 'ah God that's what I can do now.'"