How Drake's More Life Connects Music Across The Black Diaspora
On the playlist, each sound is geographically mapped and celebrated.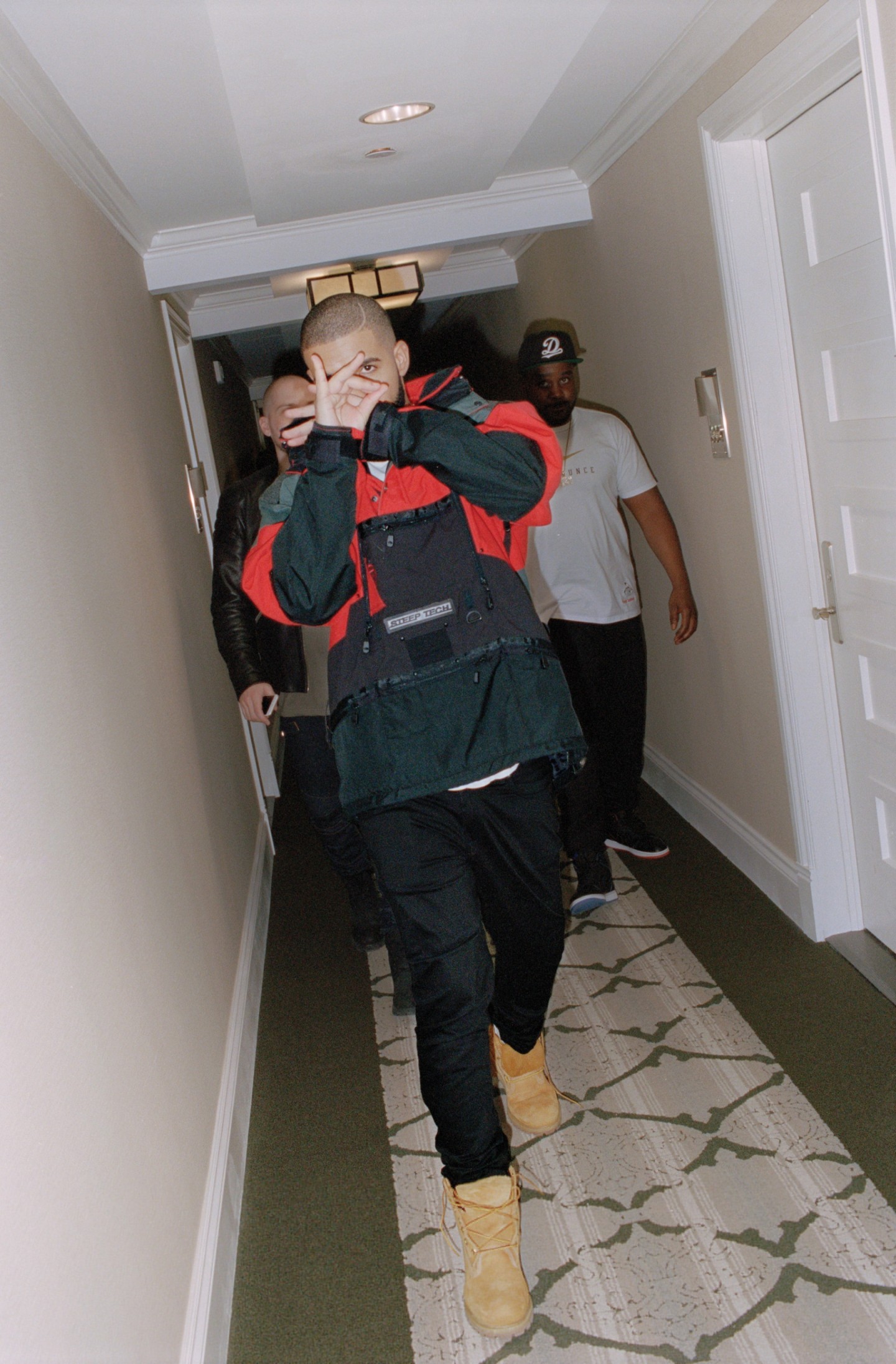 In the days that followed the release of Drake's More Life, a meme circulated online in response to the appearance of British rapper Giggs and other U.K. artists on the playlist. It depicted irate supporters of the far-right U.K. political party English Defence League (EDL) with the caption, "Who is Giggs? U.K. rappers are trash." The post was a satirical take on aggressive white nationalism in the U.K., making a statement about the pride which British people feel for our country's music — while simultaneously reminding us that it couldn't exist without the contributions of immigrant populations.
Historically, black working class culture has largely been experienced internationally through the lens of hip-hop. On More Life, Drake shifts from that perspective, (happily) disrupting the U.S. dominance of how the black experience is represented in western pop culture. He takes production cues from London producer NaNa Rogues (Section Boyz's "Trapping Ain't Dead") on one of the project's high points, "Passionfruit," and on the euphoric "Get it Together" Drake incorporates diasporic sounds by South African house producer Black Coffee, to mesmerising effect. "4422" features Sampha, the British artist influenced by Ghanaian highlife, his cousin grime MC Flirta D, and the Malian folk music of artists like Oumou Sangaré. Alongside Skepta's British Nigerian grime narrative, all the featured artists tell their own story.

Drake's ear is undoubtedly influenced by the sound of immigrant communities in Toronto, which has long functioned as a port of global cultures, styles, and sounds. The 2011 National Household Survey reported that 49 percent of Toronto residents are immigrants, with over 230 different ethnic origins represented among the city's dwellers. Just two days after More Life dropped, Prime Minister Justin Trudeau made a Nowruz addresses to Canada's Iranian community that celebrated the traditions and music of the Iranian diaspora, and encouraged recognition for "the contributions of Persian, Central Asian, Kurdish, and Ismaili Canadians across the country." Drake is a direct byproduct of his environment. As someone who has never been to Toronto, I wonder how well it represents the streets and experiences of life there. How much do Drake and OVO really flag up the creatives that populate each corner of the musical communities?
Hip-hop fans in both Britain and Canada are used to receiving American slang while listening to music, not having our own lingo picked up and aped. So it's thrilling and comical in equal measure to hear lingo on More Life like "wasteman" and neologisms like "Gyalchester" (a reference to the U.K. city of Manchester). On the playlist, Drake borrows the bold idiosyncrasies of Britain's cultural capital and flings it right back at us, packaged with slick production. With More Life, Drake lets people see us more clearly, even the ones on our own doorstep.
Some have criticized Drake's tendency to borrow from musical genres such as Jamaican dancehall, and London grime. And maybe they have a point, but one could also argue that More Life tastefully explores musical pathways in a globalized world, with each sound geographically mapped and celebrated, from London housing estates and South African townships to Atlanta's southside and Toronto house parties. An important takeaway from More Life is just how well Drake has connected music across the Black Diaspora. Gone are the days of white heritage rock music that historically has come to mind when people think of British music. Now, they think of grime, of hard-edged beats, and sounds that come from immigrant communities. It is Giggs and Skepta as much as Lennon and McCartney.
For those of us who have always known that the best British music comes from the marginal corners of our communities, it's exciting to see homegrown talent catapulted onto the world stage, but it's even more exciting to think about what comes next. For the U.K.'s music scene, a Drake co-sign is an entry point into the international mainstream. It makes the world look, pay attention, and ask, "What else you got?"
---
Read why Drake's More Life might be the key to the music industry's future.