Meet Sevdaliza, A Dutch-Iranian Roamer Finding A Spiritual Home In Music
The experimental pop songwriter also speaks four languages and funded a masters degree after running away at 15.
"My friends used to call me a nomad because I always carry a massive bag with me," Sevda Alizadeh told me over Skype from her apartment in Rotterdam. "It contains a laptop, my sports gear… But when I started making music, I found a spiritual home. Inside my songs, inside my studio, and eventually inside my house." As she was speaking, a palm sitting on the mantle behind her cast a tropical halo around her long black hair. Throughout our talk, she described a life that has been defined by change, sometimes forced, mostly chosen — but today, the 28-year-old avant-pop artist known as Sevdaliza has settled enough to become a plant collector. "They're my pets," she cooed, as a hand crowded with gold rings traced an aloe vera leaf.
Alizadeh's strongest memories are linked with music. At the age of 5, she had just left her birthplace of Tehran with her family as refugees, and was on a bus in a small countryside town in the Netherlands. She marvelled at the song she heard in a gibberish language, Dutch, which would later become hers. "Besides being an immigrant, I was already weird," she remembered, sighing. "I didn't really care what people thought of me, but at the same time I was really lonely."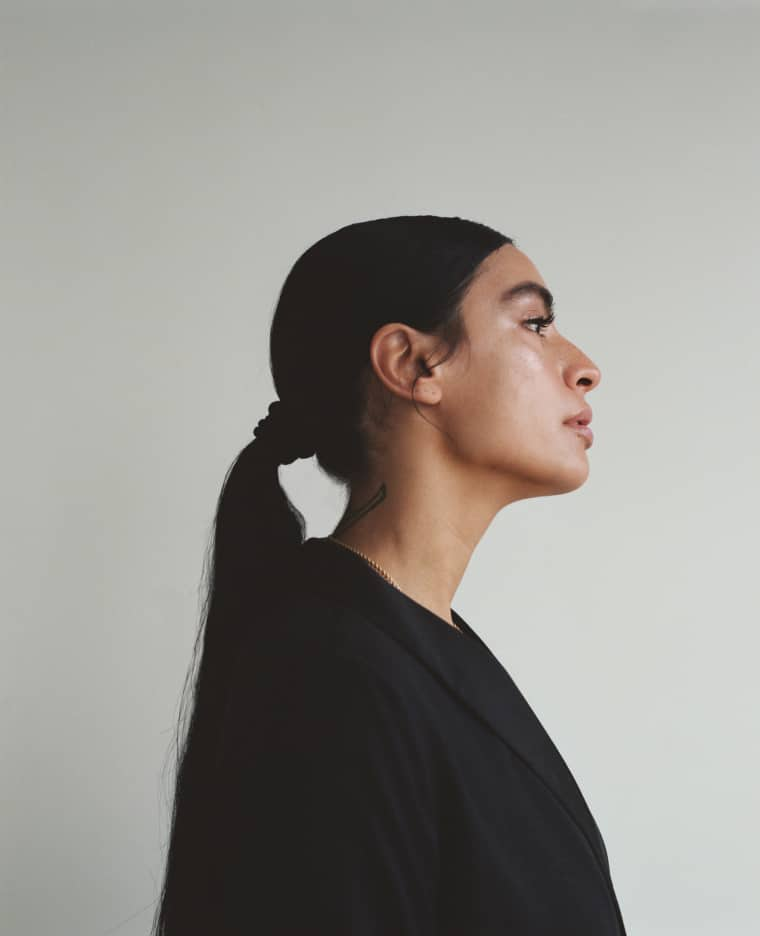 "I didn't necessarily previously identify in my music with being Iranian. But I definitely see some things coming back in weird ways."
At 7, she found a remedy for her isolation in pirate radio: Alizadeh would record golden-age rap — The Notorious B.I.G. was one of her heroes — memorize the lyrics, and dream of different, far-away lives. She moved out at 15 and spent years "just surviving," and suddenly music helped her navigate the real world. "I bought the CD of The Velvet Rope by Janet Jackson at 16," she said. "That was a big record for me, for getting to know myself sexually." She was doing a lot, too: she paid her own way through school for a master's degree in communication and a position on the Dutch youth national basketball team. "I didn't want to live the life that my past had chosen for me, because it was mostly based around suffering," she said.
By the time Alizadeh started to make music of her own, at 24, she was already fluent in a number of languages — Farsi, Dutch, English, French, and Portuguese. But it took a year of intense work with Mucky, her co-producer, for her sonic vocabulary to emerge. In 2015, she released two EPs, The Suspended Kid and Children of Silk, of regal, vaporous tunes about individuality, love, and disconnection. Alizadeh molds these core themes with versatility: in the video for "Amandine Insensible," she stars as different stock characters, purposefully flat in their projections of sexuality, business, and athletics, all designed to highlight the limiting roles women are expected to adhere to. Video clips of each character are available for purchase on Shutterstock. "It's about exploring other types of presentation, outside of the imagination of capitalism, as a way to repair," she said of the concept.
This year, Alizadeh will release her debut album, ISON, via her own label, Twisted Elegance. It's where her artistry coalesces into an identity: she reconfigures trip-hop with her own florid sense of melody, against the increasing genreless landscape of modern production. Bjork's Homogenic and Portishead's Dummy are in ISON's orbit – the music on all three albums surrounds the lead vocalist's vulnerability in an intoxicating, polyglot ceremony. But ISON's uninhibited and prismatic passion is all hers. "The songs reflect a lot of fears," she said, "and things that feel limitless, [like] growth and experience." As elusive as she can appear on Twitter and in her videos, "mysterious" is a flimsy description for songs this raw. On the album's closing track, "Angel," a piano mingles with dubby effects as Alizadeh draws heartsickness in a single repeated sentence: "It shouldn't hurt this much to be your angel," she sings, her voice revealing a new dimension of sadness with each utterance.
ISON is named after a sungrazing comet. The title came to Alizadeh as she was drifting into sleep, and perfectly matched the project she glowed with excitement talking about. "You know when you're working on something for so long that it becomes bigger than yourself? That's what my album means to me." She swore up and down that she'd never heard the name before, that it was placed in her mind. Sometimes things just come naturally: there was a conservatory teacher at one of her shows, she told me, and he explained that her singing contains a lot of core notes, a trait of Persian music. "I didn't grow up listening to music from Iran, and I didn't necessarily previously identify in my music with being Iranian. But I definitely see some things coming back in weird ways." Like a comet? "Yes, exactly," she said, laughing.
From The Collection:
GEN F