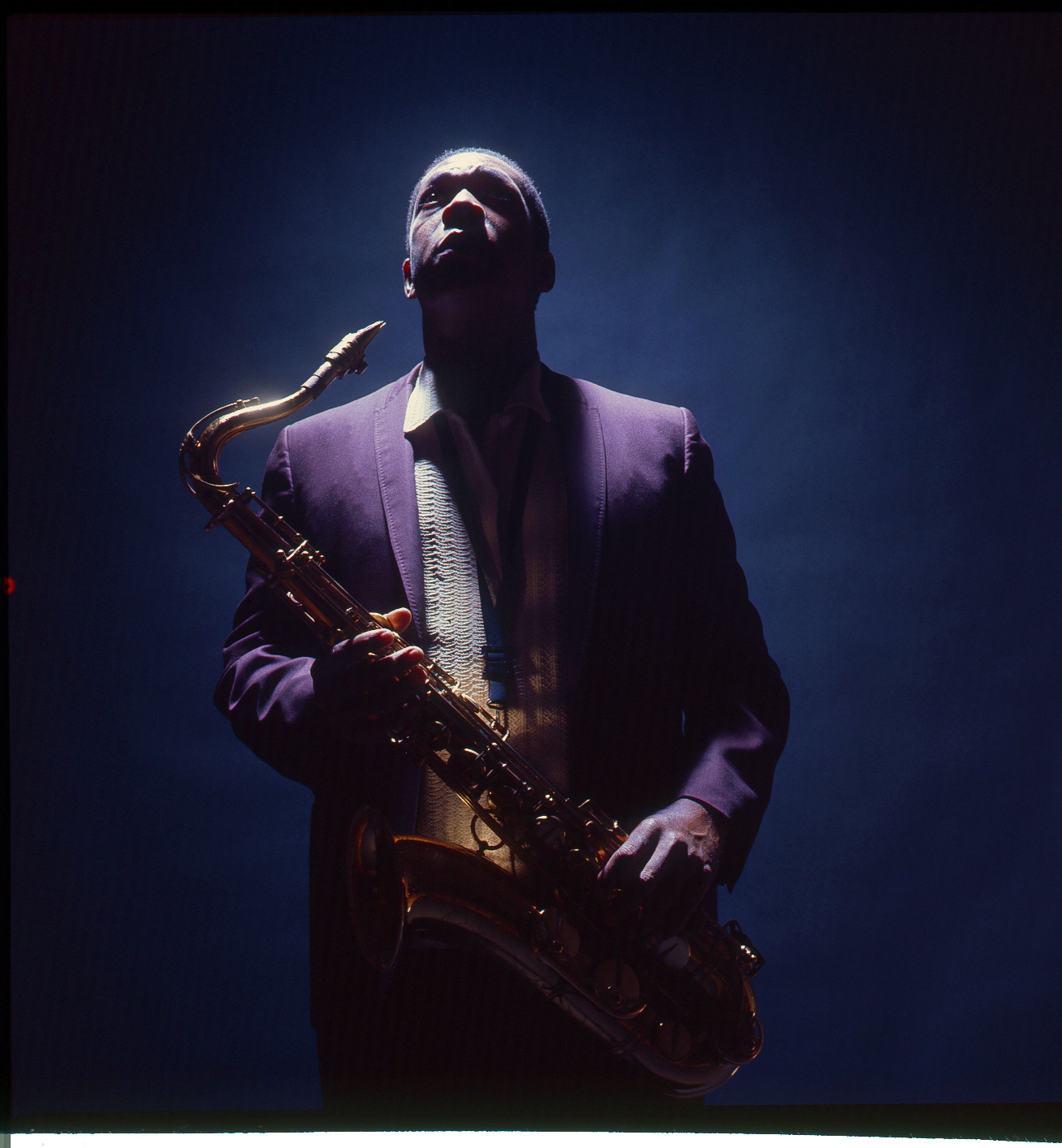 John Coltrane was spellbound with movement. In both his personal life and in his dimension-defying music, he was endlessly concerned with direction, distance, and the speed at which he zipped from one point to another. The music moved, and Coltrane moved through it and with it. Or maybe it is more appropriate to say the music moved through him. Sometimes, like when he labored as a member of Dizzy Gillespie's and Miles Davis's respective bands during the early-to-mid 1950s, Coltrane moved recklessly and wild-eyed, constantly drinking to excess and getting high on heroin. The distance Coltrane attempted to put between himself and his demons was slippery, growing and contracting often over the course of his 40-year life (he died of liver cancer in 1967). John Scheinfeld's new documentary, Chasing Trane, reintroduces us to the music and the creative magnetism of one of jazz's most formidable titans in a refreshingly potent manner: by laying his demons bare.
To listen to John Coltrane was to try and understand the magnitude of human life — its hopes and its unavoidable hazards. He made music that bled from the soul, that answered questions as much as it posed them. Born in Hamlet, North Carolina in 1926 to a Methodist family (both of his grandfathers were ministers), Coltrane gravitated toward music in his pre-teen years. He took up the clarinet and eventually the alto saxophone. Later, traveling the country, the racial realities of his native South would inform the DNA of his music as much as his desire to define a new sound and to push the boundaries of black expression (I dare you to listen to "Alabama" and not crack with emotion). As friends and family members attest in the film, Coltrane was an incessant study: he constantly practiced and looked for inspiration around him. "It was like he was trying to best himself," jazzman Benny Golson remembers.
From '55 to '57, Coltrane was a member of Davis's five-piece ensemble, the First Great Quintet, but, after a time, he was let go from the group because of his gnawing drug habit (for Coltrane, a great regret one friend remembers as "the shark of his life"), and finds himself at a crossroads: continue down a self-damaging path or clean up. He eventually quit cold turkey, locking himself in his Philadelphia home as he battled withdrawal. "Each night," Antonia Andrews, Coltrane's step daughter recalls with tears in her eyes at one point in the film, "he seemed to not be as sick."
To listen to John Coltrane was to try and understand the magnitude of human life — its hopes and its unavoidable hazards.
Here, jazz scholars might theorize, is where history shifted. "When he cleaned up, things began to unfold," bassist Reggie Workman says of his former bandmate. At the close of '57, his habit fully shaken, Coltrane says he experienced "a spiritual awakening," which led him to a "richer, fuller, more productive life" (Coltrane's words are culled from various interviews and narrated by Denzel Washington throughout the film). From that point forward, he promised to use his music to enliven the lives of others. Back in New York City and free of the demons that for so long nipped at his feet, Coltrane thrived: he informally teamed with Thelonious Monk, a cultural giant and a master architect of jazz improvisation, and re-joined Davis's band with a renewed sense of self. He began to take more risks, too. "Miles is a strange guy — he doesn't talk a lot, and he rarely discusses music," Coltrane said of his mentor and friend. "It's very hard, in a situation like that, to know what you should do. And maybe it's because of that, that I started to do what I wanted."
At that point, Coltrane started moving with deliberate alchemy. In August of 1959, Davis released Kind of Blue — an era-defining jazz album (perhaps the greatest of all time), and one on which Coltrane was featured as the lead saxophonist. Less than five months later, Coltrane released his fifth album, Giant Steps, the near-perfect collection of songs that many consider his best (he composed every track). In his own words, he was inspired by great minds like Albert Einstein and universal questions about life and love and time and death. On his own, Coltrane's music became a cosmology: his solos were transcendent and structureless, episodic bursts of light. "I've got to keep experimenting. I have a part of what I'm looking for in my grasp, but not all," he admits midway through the film, ever on the move. Stagnation seemed to be the antithesis of John Coltrane's creative output, a definitive trait in the artist's outsized career. The film does well to dwell on this point: though Coltrane did not always know which direction the music would take him or what awaited him in life, he kept moving and creating and heaving forward. "It's that universal side of music which interests and draws me, and that's where I want to go." And so he went.