A Raw Conversation With SOB x RBE
The true story of the Vallejo boys setting the Bay on fire, in their words.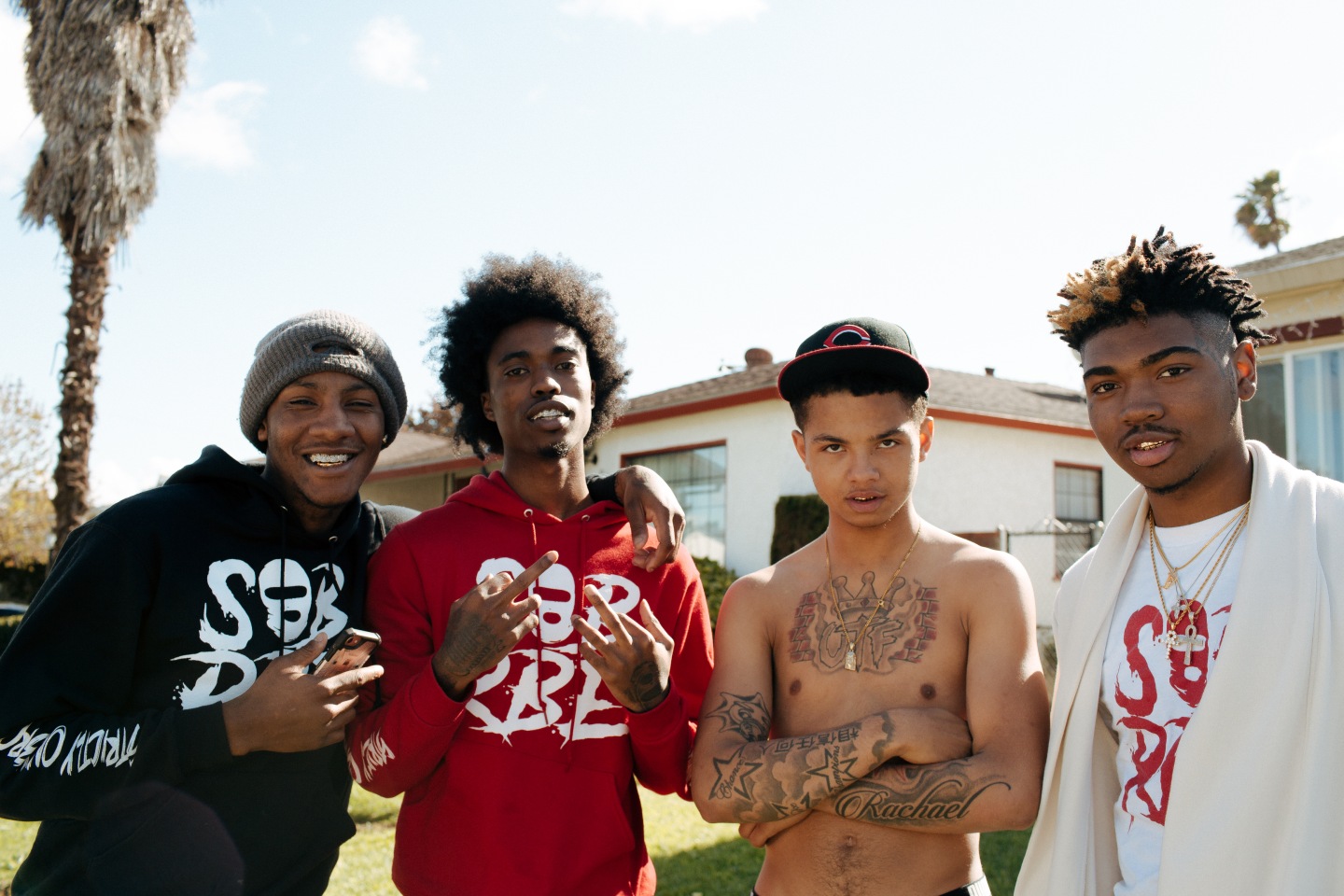 Yhung T.O. was shaking off a cold when I spoke with him in front of his auntie's house in Vallejo. The 18-year-old vocalist left California for the second time ever a few weeks back, to join Slimmy B, DaBoii, and Lul G — his SOB x RBE bandmates — halfway across the country in Austin. A few weeks before that, the group wrapped up their first-ever West Coast run backing Sage the Gemini. On the tail end, they touched down in New York for the first time, where E-40 hosted them for dinner. T.O. has bad anxiety, he told me. Being around too many people for too long can take its toll.
When we spoke, he and the rest of SOB x RBE were surrounded by familiar faces, at home in the Country Club Crest. The block filled out the longer the guys hung around outside. Slimmy held court in a dice game. A pair of tiny cousins chased Lul G around while he threw up shots on a creaky portable hoop.
Around the time three of SOB's members were born, Mac Dre imagined he might "put the Crest on the map like N.W.A. did Compton." Twelve years after Dre was gunned down, his legend looms large over the neighborhood. Across the street from where we're standing lives Kilo Curt, Dre's Thizz Nation confidant and torchbearer for the label after his death. "That's Dre's Benz right there," T.O. told me, pointing out the silver S-class parked in the driveway.
Just over a year ago, a few blocks closer to the Six Flags park that borders the neighborhood, T.O. and Slimmy shot the video for a song called "Cautious." It's a straightforward visual — mostly them, DaBoii, and some friends from the neighborhood flexing in front of bandos and swinging a '90s Mustang — but its co-stars' chemistry is obvious. The song is a frenetic, high-energy take on mob music, but it's driven by T.O.'s easygoing sense of melody. It's something like a proof of concept.
Hundreds of thousands of views later, T.O. and Slimmy united their respective efforts, each bringing a childhood friend with them, in Lul G and DaBoii. In the year since, the four-piece has created a legitimate groundswell. "Anti" and "Different," songs that are already becoming signatures for the group, are racking up millions of plays and garnering major label attention. Both are anthems about the importance of self reliance and trust in a hectic world. At the heart of their appeal is the same tension. Slimmy and DaBoii drop fierce, no bullshit bars, while T.O.'s glossy baritone adds a layer of drama.
SOB is a vibrant set of personalities, each with their own strengths, ambitions, and even signature songs. Slimmy's a charismatic leader, T.O. exudes a quiet confidence. G cracks jokes but offers insight, and DaBoii is mostly silent and stoic, despite being the group's rowdiest voice on record. The group's combination of rawness and natural pop gifts have put them in position to be a mouthpiece for their city, but also, hopefully, to transcend the boxing-in that often follows breakout artists from storied regional scenes. Here's the SOB x RBE story, in their own words.
---
YHUNG T.O.: At the start, it was me and DaBoii. We started making music on a Playstation. He was rapping into an iPhone, and he'd put it over a beat through the Playstation. Taking people's instrumentals and recording verses over the phone — we was doing that type of shit. That was like three, four years ago.
LUL G: Slimmy and I both hooped, so we brothers through that. I've known TO since elementary. I been knew TO from doing music, and I did too. We all grew up right here in North Vallejo. Vallejo is a small city, so everybody knows each other. Everybody's related in some way.
SLIMMY B: Me and G used to go to the Boys and Girls Club, so we really met right there. Then, we started recording at our patna Kyhree's house, and Wayman (DaBoii) brought this nigga TO over, and that was our first time really meeting. I had seen him around, I knew him but I never really knew him. After that I went over to his house all the time to record. We just locked in after that.
YHUNG T.O.: That was a year ago when we dropped the "Cautious" video, and that took off, so we just combined it. I was doing Real Boi Entertainment, and they were SOB. After that, instead of dropping a song as Yhung T.O. or DaBoii or Lul G, it all became SOB x RBE. We did it all under one name so everybody could come up together.
SLIMMY B: You can't really call us a group, because it's more like a family. We brothers, and we make music together. Strictly Only Brothers. If one of us make a song to the neck, that's just one of our brothers, doing what he do. We don't need each other to bubble, but together, we're perfect.
LUL G: We're better together.
YHUNG T.O.: It's forever gonna be a family.
SLIMMY B: One, two, three, four brothers right here. We got a couple more that don't rap too. It ain't no gang, but it's a family. It's way bigger than music. If we weren't doing music right now, it would still be strictly only brothers. It's a lifestyle, it's something that you live. You live for your brother, you die for your brother, you ride for your brother.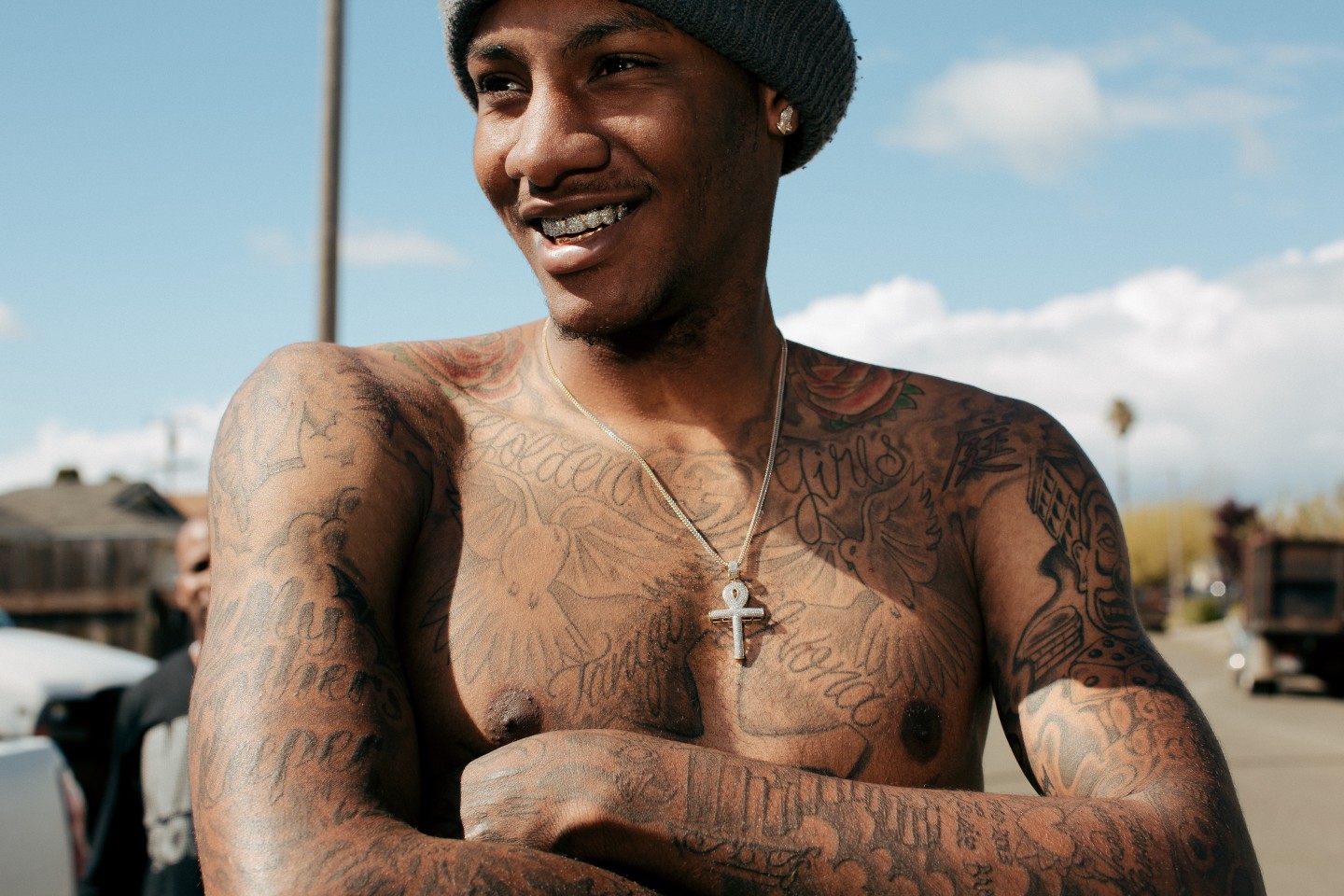 "We don't need each other to bubble, but together, we're perfect."— Slimmy B
SLIMMY B: We were just making music for the streets. In my mind, when I first started making music, I was like, I just need one song that I can just get some Bay Area love from, so people just know me in the Bay. I never thought it was gonna be taking off like this. I just wanted the streets. That's where I'm at every day anyway, so if people in the streets fuck with me, I know I can keep doing this.
YHUNG T.O.: For me personally, I was singing some gangsta shit. So how I got people's attention was like, how is this nigga singing, but they got guns in the video and he's talking a whole bunch of hot shit. That caught a lot of people's attention.
LUL G: It's crazy. Sometimes we drop songs and before the night's even over, before we wake up, it's going crazy on the internet. Like damn, that fast? The fans really be pushing that shit.
SLIMMY B: It's people that have been in the industry that don't do those numbers. If you go by the views and stuff. It's more to it than YouTube views, but l don't know, something ain't adding up, something's wrong. To my eye, it look like we doing way more than people that's up there that got deals.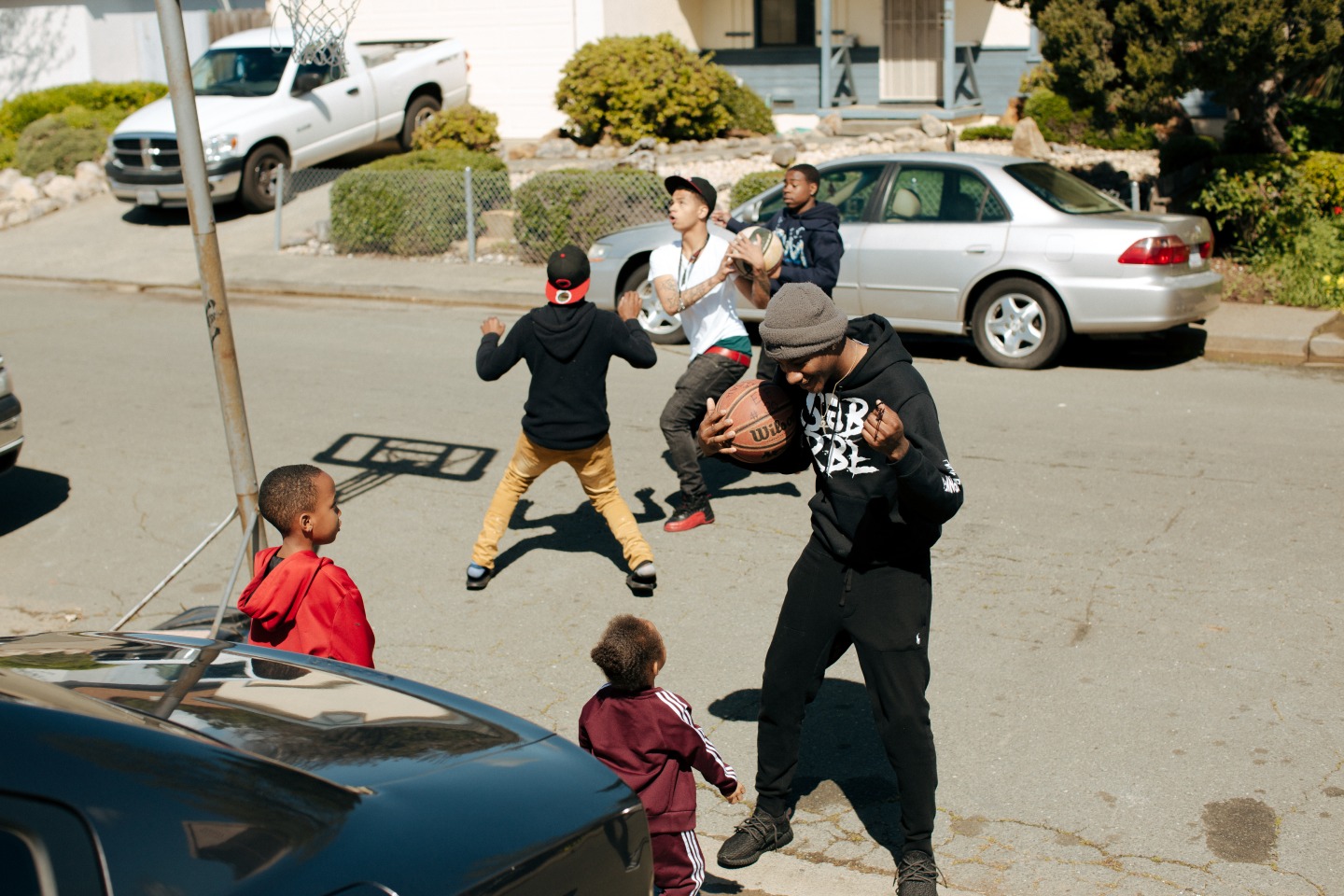 YHUNG T.O.: Some people be excited. Your close family — your mom, your grandma, be happy for you. But then you have some real close friends, cousins and shit, they might feel different. We don't do this for us, that's why it's strictly only brothers. But people don't look at it like that. They feel like, oh you doin' something and I'm not. You ain't doin' nothing for me. You leaving me behind. People say when you get money or fame, people change, but I feel like the people around you change, because they look at you different.
We're young African-American men, and we're growing up in a society where there's a lot of black-on-black crime, there's a lot of violence, there's a lot of police brutality. So we're targets. Also, when you do something and you're becoming somebody in your city, you become a target. Everybody's not happy for you, because they want to be somebody too.
SLIMMY B: People look at you like you can easily be touched. It's a lot of hate, and with that comes a lot of problems. So you want to move your family away from the negativity and the bad shit, and get them in a place where you can be stress-free. We're always gonna give back to the city, help the city. But that don't mean we gotta be here everyday.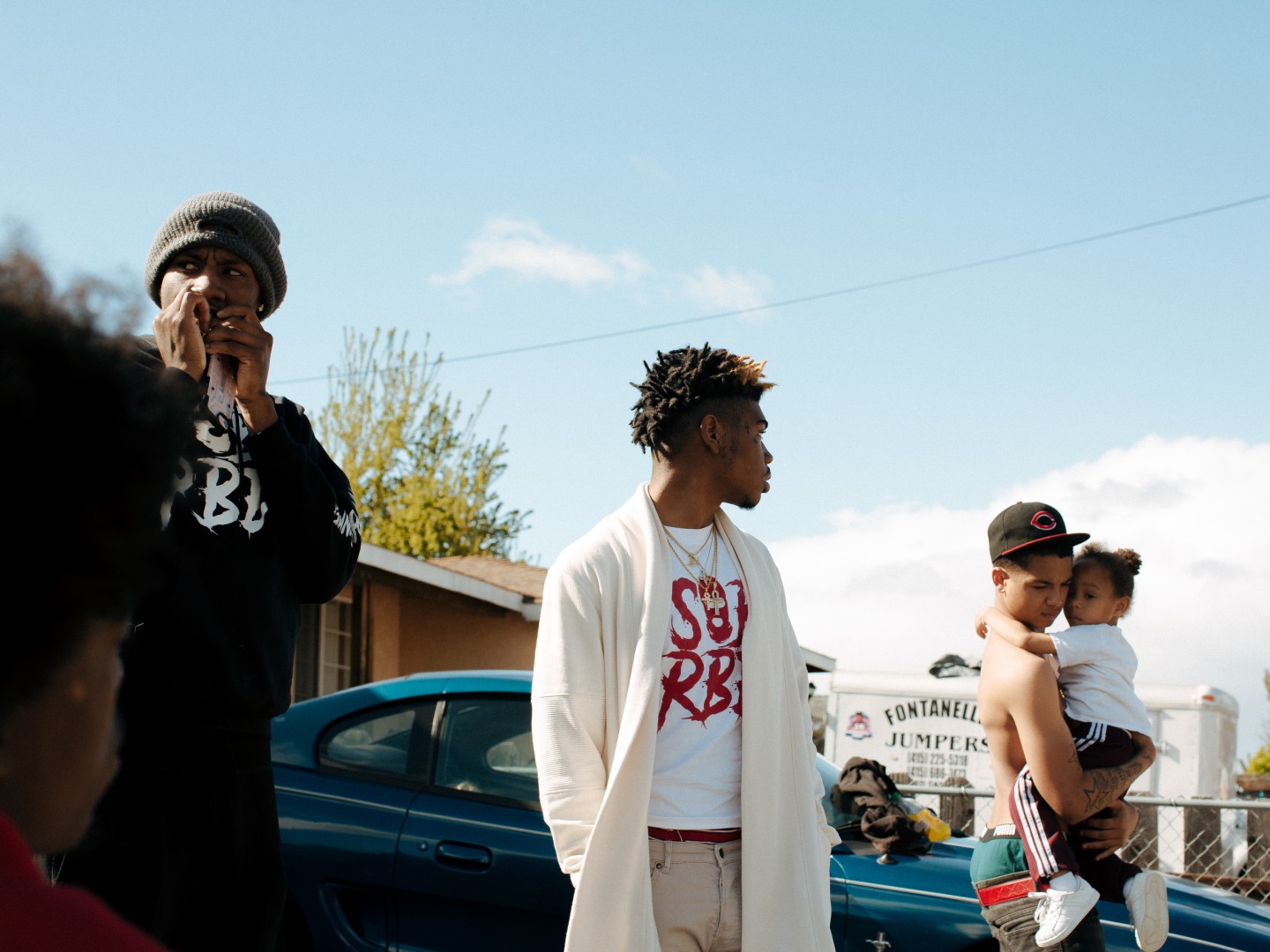 "When you're becoming somebody in your city, you become a target. Everybody's not happy for you, because they want to be somebody too." — Yhung T.O.
YHUNG T.O.: Growing up in Vallejo made our music what it is, because growing up in Vallejo gave me the experiences we've had. To be honest, America is fascinated by the poverty, the lifestyle, by the hood. That shit sells. Look at 21 Savage, Mozzy too. They just rappin' about the struggle, violence, and that shit sells. Growing up in that type of environment gave me the authenticity to know how to talk about it.
LUL G: I feel like when different trends was coming through, from Detroit or Chicago, when everybody was following those trends and trying to rap like them, we didn't do that. We had our own style, we made music how we thought our music should sound. So therefore, we are our own artists. Everybody in this group can be mainstream, that's obvious. For the future? We just tryna advance, get better.
SLIMMY B: We want to do more than music. Put shit together like the Jay Zs and 50 Cents. Don't just be in the game for one year, two years, and then oh I remember him. You made that one song. We don't wanna be them dudes. We want to give back to the community, all that. Music is one thing, but there's a lot more you can do. It's a key that can open up hella doors.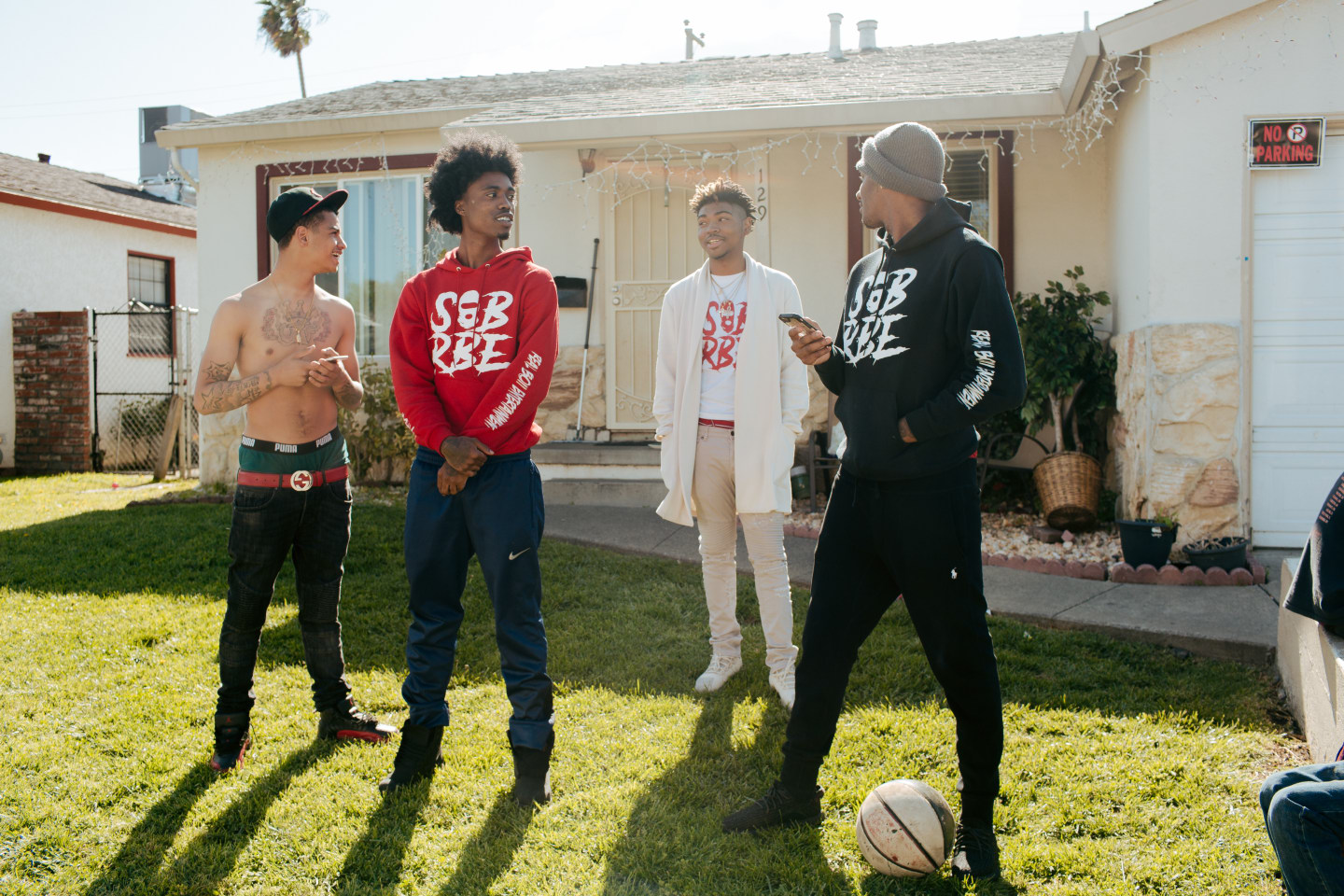 SLIMMY B: Sometimes I do feel pressure, like I can't drop the ball. But I know I'm not going to, because we have so many hits. And the music is good, and it's authentic. We ain't striving, like oh we gotta make a hit tomorrow, cause all we do is make hits. This is easy, this is without trying. So imagine when we do try.
There's been some sacrifices. I just got a newborn. I love my son to death. He's five months old right now and I have to sacrifice time with him and my baby mama. In the long run, it's all gonna work out when our bank account is six-seven figures and you ain't gotta work no more. It's a lot of sacrifice, but it's paying off so far.
YHUNG T.O.: Music is how I release, because I feel like can't a lot of people relate to me. So I can't really have a conversation sometimes with someone and have them feel where I'm coming from. But I know if I say it in a song, somebody will know what I'm talking about. They'll understand what I'm going through. So that's how I get through my feelings. Being around who I'm around, growing up how I grew up, it's weak to be soft or to be emotional. So I don't get emotional around niggas, I just put my emotions in my music, and I stay solid in person at all times.
That was what happened with "On My Momma." Everything in that song was real, nothing about it was fake. And that song did numbers. That just shows a lot of people are going through the same shit. I'm telling you about everything we go through out here day to day, having to do this and that, worried about police, smoking, having shootouts. But you can listen to it in a cool vibe. You can vibe, but you can also peep the knowledge and understand where we're coming from.
Now I can switch up, I can not always talk about that. I can talk about females now, I can do the kind of music I really want to do. But I feel like first you gotta get people's attention so they can see who you are. You give em what they want, and once you got them, you can show them exactly who you are. You can take them anywhere, but you gotta get 'em first.
Watch the "Lane Changing" video: